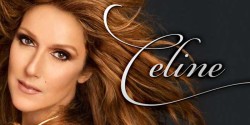 Performing in the awesome Caesars Palace Colosseum, Celine Dion's voice rings through her revamped production show entitled simply "Celine".
"Celine" will transport you to a unique theatrical world in which each song will evoke a different visual experience of love and grand romance from the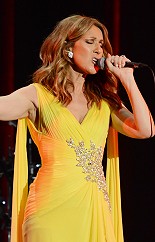 classic movies of Hollywood to covers of well known standards. The fusion of an intimate yet immense set, the subtle beauty of the costumes, dramatic lighting and spectacular surround sound work together to create a public place, an environment of engery and space, of everyday life. This is where the music is not merely played, but lived.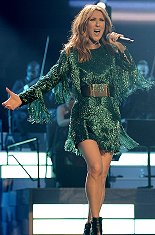 The all new show, which features a full 31 musician orchestra band is directed by Ken Ehrlich a historic GRAMMY® Awards producer.
Celine presents about a dozen songs revisiting all of her greatest hits from "My Heart Will Go On" and "I Drove All Night," the opening number, which features a brand new video of her fans helping her perform the hit, through her newest "The Power of Love" as well as covers of others from Janis Ian to Journey.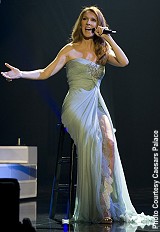 Dion makes many wardrobe changes throughout the show switching from one glamorous, elegant gown made exclusively for her by the likes of Schiaparelli, Atelier Versace, Mugler and Elie Saab, to another. This show also reveals many high and low-tech surprises, including Celine singing duets with holograms of legendary singers, a sit-down unplugged session with a segment of the orchestra and even throws in some retro laser lights to boot.
For Celine Dion fans, this all new show is a must see.
Tickets go fast and are often sold out weeks in advance, so it is best to order online before traveling to Las Vegas.