NEW YEAR'S EVE IN LAUGHLIN!

The Edgewater and Colorado Belle will host New Year's Eve Fireworks in the sky above the Colorado River with viewing from the Riverwalk between the two resorts at midnight on Dec. 31.

There will be two big shows in town ending the year.

Vicki Lawrence is appearing at the Riverside in Don's Celebrity Theatre Dec. 27-31 with her one-woman show, "Vicki Lawrence and Mama, A Two Woman Show." This show has been so successful that she is currently on the road performing the 40th Anniversary Tour. Lawrence's Mama character became enormously famous on "The Carol Burnett Show" where she spent 11 years and earned one Emmy Award and five Emmy nominations. Show tickets are $32 and $36 on New Year's Eve.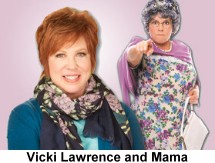 At the Edgewater's E Center will be "Drinkin', Singin', Swingin' - a Salute to Frank Sinatra - Sammy Davis Jr. and Dean Martin." The show's creator Rick Michel, who plays the Dean Martin role and has for years, loves the entertainers from the bygone era when there was clubbing and camaraderie. The Edgewater is recreating the old-time Vegas show period when dinner shows prevailed. What Michel produces with his vintage show is life-like but more current with the kind of show Frank, Sammy and Dean would put on today if they were still alive. Michel will appear with Ryan Baker in the Sinatra role and Doug Starks playing Davis Jr.'s character. The filet mignon with Lobster Newburg dinner is at 6 p.m. with the show following. Tickets are $80, $90 and $100.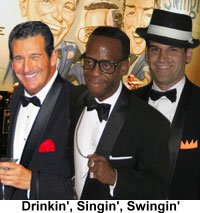 NEW YEAR STARTS OFF WITH CHILI COOKOFF AND CAR EVENTS
First up will be the "Laughlin Regional and Nevada State Chili Cook-offs" at the Golden Nugget the weekend of Jan. 10-11. The Laughlin Regional is on Saturday and Nevada State on Sunday with both events featuring red chili, chili verde and best salsa categories. Cooking will start at 10 a.m. both days. There will be music, tasting samplings, raffles, and more. For more information, visit www.chilicookoff.com or call Dawn Nehf at 775-727-9790 or email at dawnschili@hotmail.com.
The next event will be the 6th Annual "Cruizin' on the River" car show presented by the River Cruizers car club Jan. 15-18 in the South Parking Lot at the Riverside. This event is open to all years, makes, models, street rods, muscle cars, trucks, classics, specialty vehicles, 4X4, and motorcycles. Incorporated activities will include an auto parts swap meet, car corral for vehicle sales, vendors, music, contests, raffles, poker walk, and more. Hours will be Thursday noon-6 p.m., Friday and Saturday 8 a.m.-6 p.m., and Sunday 7 a.m. breakfast with awards following. Cost is a $2 spectator entry and $40 car entry; call Ellen Bridges at 928-505-8457 or visit www.rivercruizers.com.
COMEDY PREVAILS AT THE EDGEWATER
Comedians are booked every Friday-Sunday at 7 p.m. at the Edgewater in the showroom. Tickets are $10 and on Sunday veterans get a $2 discount.
The "Comedy on the Edge" upcoming roster includes: Jan 2-4-Nathan Timmel and Jeremy Wieand; Jan 9-11-Julia Scotti and Chad Shapiro; Jan 16-18-Kevin Barber and Rick Bryan; Jan. 23-25-Sean McBride and Alexander Assefa; Jan. 300-Feb. 1-Nick Cobb and Johnny Osburn; Feb. 6-8; Feb. 13-15-Travis Howze and Corey Sweeny; Feb. 20-22-Ed Hill and Bobby Wayne Stauts; and Feb. 27-March 1-Bob Meddles and Cliff Yates.
Nathan Timmell will start off the New Year and appear with Jeremy Wieand Jan. 2-4. Timmel started in comedy at age 6 when he conned his grandmother into buying George Carlin's "Class Clown," record album for him. Soon Timmel was the only kid running around the playground shouting the "Seven Dirty Words You Can't Say On Television." That was the introduction to a career in standup comedy. Timmel has performed at comedy clubs around the country, recorded several comedy CDs with two of them receiving regular airplay on Sirius/XM Satellite Radio, and been overseas eight times entertaining American Troops including stops at hotspots such as Iraq and Afghanistan. Timmel has a degree in English and now writes about his exploits as a comedian. His musings are published most prominently in the global military newspaper "Stars & Stripes" and currently writes for Rooftop Comedy, posting a mix of original work and interviews with comedic celebrities. Timmel's material sticks close to home. He lives in Iowa with his wife, two children, one cat, and a puppy named "Kitty."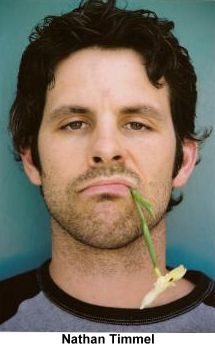 Julia Scotti is paired with Chad Shapiro Jan. 9-11. Scotti was selected as one of the winners Laughlin Comedy Festival in 2014. Her material is topical and observational. She is changing how we think about age and a whole lot more. Originally headlining across the country in the 80s and 90s as Rick Scotti, she appeared on the original Comedy Central and was the winner of Showtime's "Funniest Person in America" contest for New Jersey and lost at the finals to Ellen DeGeneres. In 2000, she left comedy and after much soul searching underwent her life-changing transition. Following a stint at teaching, Scotti returned to the stage in 2011. Scotti is a regular at Planet Hollywood, Las Vegas and the Borgata, Atlantic City and will soon be coming out with her memoir.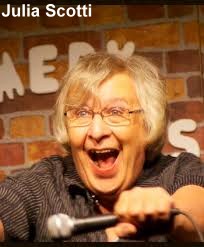 It will be Kevin Barber with Rick Bryan Jan. 16-18. Barber has a unique perspective of seeing life "from the couch" as well as from "behind the couch." Barber talks about dysfunction while his alter ego "Squishy Man" shares stories of his own family's dysfunction. Barber acts as a comedy clinician and traveling therapist bringing therapy to the masses. When he's not touring, he is a practicing licensed psychotherapist. In 2009, Squishy began his "Split Personality" Tour taking on the topics such as healthcare, or lack thereof, war on terror, election results, child rearing in the new millennium, etc.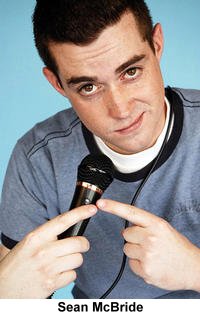 Closing out January's lineup will be Sean McBride with Alexander Assefa Jan. 23-25. McBride began his career as a sports broadcaster but found that relaying nightly scores wasn't nearly as important to him as fitting his next joke into the sportscast. McBride performs regularly in the Comedy Clubs around Southern California and was a 2007 semi-finalist in the California Comedy Festival. He works with headliner Vic Dunlop on the road and also appeared in the film "Dirty Jokes: The Movie" starring "The Unknown Comic" Murray Langston.
TOP OF NEXT COLUMN
RIVERSIDE PAYS TRIBUTE TO ELVIS' BIRTHDAY
From Jan. 7-11, the Riverside will feature "Happy Birthday to the King starring Don Rose" in Don's Celebrity Theatre with performances at 7 p.m. Tickets are $30.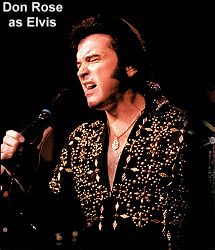 Rose has made a career portraying Elvis and has performed his tribute show across the United States and Canada as well as in Germany and Switzerland. Vocally trained in Orlando, Fla., and Nashville, Tenn., Rose works hard to make every event a special occasion and looks forward to meeting Elvis fans new and old across the country. He sings the many songs Elvis made famous such as famous including the "Hawaiian Wedding Song," "Rock-A-Hula Baby" and "Can't Help Falling In Love."
Rose has a following across the country and an affiliation with the Jailhouse Rockers of California and TCB for California Elvis Presley Fan Clubs. His stage charisma and his strong voice are what fans most compare him with to Elvis. Rose knows that there will never be another Elvis Presley and considers himself a bigger Elvis fan than an impersonator.
HARRAH'S FEATURES RETRO DOO WOP CONCERT IN JANUARY
The Drifters and The Original Cornell Gunter's Coasters will appear in concert in the Fiesta Showroom at Harrah's on Saturday, Jan. 17 at 8 p.m. Tickets are $42.70.
The original Drifters influenced American pop music by introducing strings and au orchestral sound to the Doo Wop genre. Today, a group of performers with a background firmly rooted to the legacy of early rock 'n' roll salute the original act and their great music.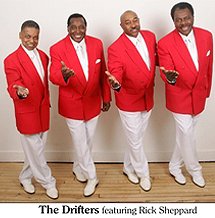 Cornell Gunter's Coasters are an American Rhythm & Blues and rock 'n' roll vocal group that had a string of hits in the late 1950s. Their most memorable songs beginning with "Searchin" and "Young Blood," were written by the songwriting and producing team Leiber and Stoller. Although the Coasters originated outside of mainstream doo wop, their records were so frequently imitated that they became an important part of the doo wop legacy through the 1960s. The Coasters' hits also comprised a major portion of the song score for the 1994 musical revue "Smokey Joe's Café," which was a retrospective of Leiber and Stoller songs.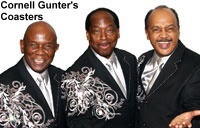 THE KINGSTON TRIO VISIT THE RIVERSIDE
The Kingston Trio will headline at the Riverside in Don's Celebrity Theatre Jan. 13-18 with shows at 7 p.m. Tickets are $32.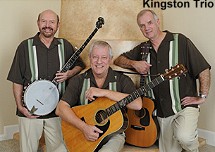 The Kingston Trio emerged in 1957 from San Francisco and took country by storm bringing the rich tradition of American folk music into the mainstream for the first time. During the late 50s and early 60s, The Kingston Trio enjoyed unprecedented record sales and worldwide fame. Fast forwarding through changing times, the threesome group has played on, remaining popular today because of their great songs. And 56 years after "Tom Dooley" shot to the top of the charts, the trio is still on the road 30 weeks a year, bringing back great memories.
THE DANCE CLUB CARRIES ON AT THE RIVERSIDE
The Dance Club at the Riverside continues on in 2015 starting on Saturday, Jan. 10 from 1:30-4 p.m. Cost is $12.50.
The party features lots of dance mixer games, snacks and dance music along with an opportunity for both students and veteran dancers to practice. The dances offered by the Tom and Sharon Craddock include west coast swing, fox trot, rumba, cha-cha, salsa, tango, waltz, polka, quick step, mambo, meringue, disco hustle, nightclub two-step, country western two-step and swing.
Tom Craddock has nearly 30 years of teaching experience and is a certified instructor who has received many dance awards including Top Teacher with the Arthur Murray organization. Sharon Craddock has more than 25 years of training and teaching group exercise classes and holds an aerobics and fitness certification.
DOUG KERSHAW LIVENS THINGS UP AT THE RIVERSIDE
Doug Kershaw affectionately known as the "Ragin' Cajun" will appear with special guest Steve Riley Jan. 20-25 at 7 p.m. Tickets are $30.
Kershaw performs a highly energetic mix of rock, blues, jazz, country and Cajun music. His signature hits include "Diggy Diggy Lo," "Hello Woman" and "Cajun Baby." As a world-renowned fiddle player and talented singer/songwriter, Kershaw continues to expand his musical boundaries while remaining true to his Cajun roots.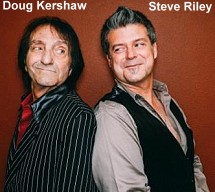 Kershaw's friend Steve Riley is a widely acknowledged master of the Cajun accordion and its powerful sound.
EDGEWATER HOSTS LAUGHLIN COIN, CURRENCY, JEWELRY & STAMP EXPO
Celebrating its 12th year, the Laughlin Coin, Currency, Jewelry and Stamp Expo will be held Jan. 2-4, 2015, in the Rio Vista Room at the Edgewater. Cost is $3 adults, $2 seniors, children under 14 free - admission good "come and go" all three days.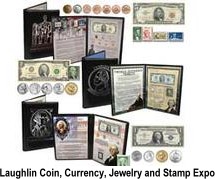 This expo will feature dealers from all over the United States exhibiting, buying, selling, offering expert advice and appraising millions of dollars worth of collector and investment grade gold and silver coins, precious gem jewelry and stamps. The Expo also offers a wide selection of coin and stamp supplies, memorabilia, postal history and assorted collectibles in all price categories. Door prizes will be called every hour.
Another attraction will be a Special Exhibit of Stamps, Coins and Memorabilia commemorating the 50th Anniversary of John F. Kennedy's death.
The Expo participates in the "Stamps For Soldiers" program, whereby used stamps are sent to VA hospitals and rehab centers across the country for manual rehabilitation and artistic expression by injured veterans. To date, the Expo has collected more than a million stamps for this worthy cause.
Exhibit hours are Friday 11 a.m.-6 p.m., Saturday 10 a.m.-6 p.m., and Sunday 10 a.m.-5 p.m.
FAST TRACK ITEMS
For the third consecutive year, the Shows of Integrity: Gem, Mineral, Jewelry and Bead Show will return to the E Center at the Edgewater Jan. 15-22. This one-week show will feature a large array of vendors selling beautiful gems, minerals, jewelry and beads. Attending the show is free. Hours are 10 a.m.-5 p.m., Jan. 15-21 and 10 a.m.-4 p.m. on Jan. 22.
Later in January, "America's Got Talent' winner Terry Fator will headline the Edgewater E Center on Saturday, Jan. 24.
John Michael Montgomery will close out the first month of the New Year at the Riverside with shows from Jan. 29-31 in Don's Celebrity Theatre.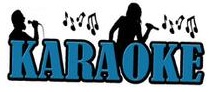 For people who love karaoke, the Riverside promotes singing every Thursday-Sunday with Chris & Susie of Earthbound and Monday-Wednesday with guest DJs from 8 p.m. to midnight. There's no charge.

CONTINUE ON TO...:

THIS WEEK'S >LAS VEGAS NEWS
LAST WEEK'S >LAUGHLIN NEWS
>VEGAS VIEW FULL ARCHIVES
Return to >"Heard Around Town"
Return to >Las Vegas Leisure Guide