WINTER BREAK STARTS OFF 2009


The seventh annual Winter Break event is a festival celebrating life for the 50-plus age group. The town-wide event taking place from Jan. 9-15 always motivates, educates, stimulates and offers nonstop entertainment and activities. There will be all types of dancing including a sock hop, bingo and slot tournaments, financial and healthy lifestyle lectures and screenings, exercise classes, wine tasting, a polar bear dip in the Colorado River and much more. A trade show and live entertainment will also be showcased. The producers of Winter Break provide activities allowing visitors to achieve their dreams and goals, gain strength and confidence, and pursue health in mind, body and spirit.

Other functions will include activities for Red Hat Ladies, singles functions, karaoke, and more. A car rally and cruise will highlight the weekend with the prizes being awarded at the Winter Break Sock Hop. Reining homecoming queen and king Patricia Starr and Greg Klazura will turn over their crowns to the winners of the 2009 Homecoming Queen and King Contest.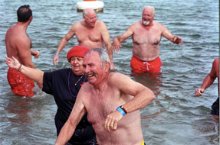 In 2008, Winter Break drew more than 5,000 guests. With more than 10,000 hotel rooms and nine casino hotels, Laughlin is the perfect host for this festival.
One admission price of $49 entitles guests to one full week of official Winter Break activities. Optional day tours and golf outings are also available for an additional charge. Tickets and inclusive hotel / activity packages are available from any professional tour operator or travel agent. For more information, call Arko and Associates, Inc. at 480-926-5547.
2009 GPAA GOLD & TREASURE SHOW
The Gold Prospectors Association of America (GPAA) will host their 2009 Gold & Treasure Show on Jan. 24 and 25 at the Mojave Crossing Event Center in Fort Mohave, Ariz. This event is for prospectors and outdoorsmen. Show hours are 10 a.m. through 5 p.m. each day. Admission is $5 and children under 12 years of age are free. For additional information, call 928-330-2505 or visit the GPAA Web site at www.goldprospectors.org.
Gold Shows were started more than 35 years ago to expose the public to modern day prospecting and treasure hunting. Thousands of recreational gold prospectors, miners and outdoor enthusiasts from all over the United States gather each year to exchange information and check out state-of-the-art prospecting, treasure hunting and outdoor equipment.
You can discover the "tricks of the trade" shared by the "old timers" and modern day miners alike, where to look for gold and how to mine it. There will be seminars and lectures throughout the day.

TOP OF NEXT COLUMN
OFF-ROAD RACING TAKES OVER LAUGHLIN
It will be that time for off-road racing again when the Laughlin Desert Challenge takes place Jan. 22-25. For the 15th year, Laughlin is the title series sponsor in the six-race circuit of SCORE International Off-Road Racing event where 16 classes of desert race cars and exotic race trucks will participate. The racers will heat up the nine-mile desert course with a start / finish in a specially made stadium-style spectator area located at the Laughlin Events Park.
Ancillary events will include a Contingency Row / Tech Inspection and the always popular "Laughlin Leap" jump contest where competitors get their vehicles airborne for 100 feet or more.
The town-wide event offers many hotel packages.
The Aquarius package starts at $199 and includes a three-night stay and one day at the races.
The Colorado Belle and Edgewater have multiple packages ranging from a two-night stay with perks for $147.01 to three-night stays with added offers for $206.63.
The Pioneer room rates will be $19 per night during the week days, and $30 per night on Friday and Saturday.
The Golden Nugget package will be $150 for Friday and Saturday night accommodations, two general admission tickets for one race day of choice and $10 in free slot play; or $175 for a three-night hotel stay, two general admission tickets for one race day of choice, and $20 in free slot play. For both packages, refer to code: SCORE 9.
LAUGHLIN OFFERS MISCELLANEOUS ACTIVITIES
Laughlin's only working railroad at the Tropicana Express is "The Gambling Train of Laughlin," Old No. 7, a replica of the Genoa, a turn-of-the-century steam train. Train enthusiasts also enjoy the train memorabilia displayed throughout the hotel and casino. Old No. 7 offers train rides around the 27 acre hotel/casino property, Saturday - Wednesday from 10 a.m. - 5 p.m. The fare is a smile.
There's plenty of shopping in the middle of the town's hotel/casino strip with the Preferred Outlets of Laughlin, which is a brand name outlet center featuring more than 55 stores. The outlet also has a nine-screen cinema, indoor food court and eight acres of convenient covered parking. It is a fully enclosed two-story mall displaying a distinctive Art Deco design throughout with merchants offering prices 20-50 percent below average retail on a variety of top-name products. The outlet is open daily except for Easter, Thanksgiving and Christmas.
The Riverside has Classic Auto Showrooms located on both the street level and on the casino's third floor in the South Tower. These car collections feature more than 70 unique, classic and rare automobiles, trucks and motorcycles, as well as antique slot machines and vintage gaming tables. Admission is free. It is open Sunday-Thursday from 9 a.m. - 10 p.m. and on Friday and Saturday from 9 a.m. - 11 p.m.
For movie lovers, the Riverside Resort has the Cinema Six-Plex that offers first run moves. All of the auditoriums feature advanced State-of-the-Art THX, Dolby Digital, DTS Surround Sound.
The Riverside also offers a state-of-the-art, 34-lane bowling center on the 2nd floor with Frameworx seating and automatic scoring, and Cosmic Bowling (a glow-in-the-dark laser light and music type of extreme bowling). In addition, there is a full service pro shop, snack bar, and sports bar and lounge area.
CONTINUE ON TO...:
>THIS WEEK'S LAS VEGAS NEWS
>LAST WEEK'S LAUGHLIN NEWS
>VEGAS VIEW FULL ARCHIVES
>Return to "Heard Around Town"
>Return to Las Vegas Leisure Guide