STEVE WYNN'S ENCORE OPENS


Everyone is talking about Steve Wynn's new $2.3 billion, 2,034-room Encore resort that is attached to his 2,700-room Wynn resort and opened on Dec. 22. Former Mirage headlining impersonator Danny Gans will open the Encore's showroom on Feb. 10.

The resort's centerpiece and main attraction is the new XS nightclub that resembles a showroom with gold and classical sculptures and embraces a pool and night-life culture.

Column Continues Below Advertisement



MÖTLEY CRÜE JOINT CLOSING ACT

The Hard Rock resort will close its legendary concert venue, The Joint, in February 2009 to make way for a brand new expanded Joint. As part of their Saints of Los Angeles 2009 Tour, Mötley Crüe will help close The Joint doors in rock `n' roll fashion with two closing weekend performances Feb. and 7.

Scheduled to open in April 2009, the new Joint will be twice the size, feature an innovative sound and lighting system, and offer seven premiere VIP hospitality suites.

The original Joint was opened in February 1995 and was the first rock venue in Las Vegas to be built at a high-end boutique property. AEG Live was contracted in February 2007 as the exclusive promoter and booking agent for The Joint and will continue in that capacity in the new venue. The venue will be able to accommodate boxing, wrestling, mixed martial arts events, corporate functions and trade shows, as well as red carpet movie premieres and advanced screenings.

The Joint's $60 million project is part of the $800 million expansion the Hard Rock broke ground on in 2007; slated for completion in late 2009. The expansion will include the addition of approximately 860 guest rooms, including an all-suite 15-story south tower, a new 17-story north tower, approximately 60,000 square feet of meeting and convention space, and approximately 30,000 square feet of casino space. In addition, the project includes the expansion of the Hard Rock's award-winning pool, several new restaurants and bars, a new nightclub, multiple new retail outlets, as well as a new spa and health club.

DISTURBED TO PERFORM AT THE PALMS

Disturbed with special guests Sevendust and Skindred will perform at The Pearl at the Palms on Friday, Jan. 30, at 8 p.m. Tickets are $41.50, call 702-474-4000.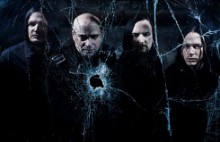 After the release of their debut album "The Sickness" in 2000, Disturbed performed in Ozzfest in 2001 and consecutively topped Billboard's album charts with "Believe" and "Ten Thousand Fists." The Chicago-based foursome have topped the charts again with their newest 2008 self-produced album "Indestructible" that has the hit "Inside The Fire," which garnered the band their first Grammy nomination in the Best Hard Rock Performance category.
`LEGENDS OF MOTOWN OLD SCHOOL TRIBUTE SHOW' AT CANNERY
The Cannery in North Las Vegas will welcome the "Legends of Motown Old School Tribute Show" on Jan. 2 and 3. The Motown-era show will feature acts paying tribute to The Supremes, The Temptations, Smokey Robinson, Aretha Franklin, Stevie Wonder, The Ojays and more. Admission to the 8 p.m. shows is $5 at the door.
This faux star-studded show features tributes for more than 30 different legendary acts and gives a brief biography of each act before they come out on stage to perform. This gives audiences from every generation an opportunity to learn about the musical legends they are about to see. The "Legends of Motown Old School Tribute Show" has a traveling cast of 15 members including nine great vocalists.
CANNERY AND SANTA FE STATION HONOR `THE KING' IN JANUARY The Cannery will celebrate the King's life on Jan. 9 and 10 with special performances by Johnny Fortuno, The Stamps Quartet as well as other special guests, friends and co-stars of Elvis Presley. The concerts begin at 8 p.m. at The Club. Admission is $10 at the door.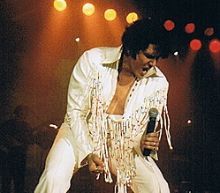 Fortuno is a top Elvis Presley tribute artist singing his hits and wearing costumes that pay homage to the late singer.
One of Elvis' musical influences came from gospel music and his favorite gospel group was The Stamps Quartet, who performed regularly with Presley on many recordings and at concerts as his back up.
Other special guests will include: Elvis' personal friend and bodyguard, Sonny West; Elvis' "Kissin' Cousins" co-star, Cynthia Pepper; Elvis' "Blue Hawaii" co-star, Darlene Tompkins; DJ with "Elvis on Air," Steve Christopher; Sandy Pichon and Sandy Miller.
Other activities taking place throughout the weekend will include memorabilia dealers and fan club displays. The Cannery Row Buffet will host a special "Food that fed the King" section with Elvis' favorite dishes.
At the Santa Fe Station in North Las Vegas, "A Tribute to the King Show" starring Dennis Wise will take place in the Chrome Showroom on Jan. 10 at 7 p.m. Tickets are $10.
Wise's tribute to Elvis turned professional one year after the King's death, when he auditioned as an impersonator in Florida and was offered the job halfway into his first song. Now with more than 10,000 shows under his belt, Wise has been deemed one of the top three Elvis impersonators by the legendary Dick Clark. Over the course of his career, he has performed on shows including "Good Morning America," "Today," "Oprah" and "American Bandstand," among others.
AARON LEWIS
Lead singer of Staind, Aaron Lewis, will perform on Jan. 2 at the Ovation at Green Valley Ranch and at the Access Showroom at the new Aliante Station on Jan. 3. He'll do 8 p.m. shows at both places and tickets are the same prices: $39, $49 and $59.
Front man Lewis of Staind blends heavy metal with soulful melodic rock, sensitive lyrics and an emotionally vulnerable image. After recording their first album "Tormented" in 1996, the band reached No. 1 in 2001 on The Billboard 200 with "Break The Cycle" and again in 2005 with "Chapter V." Through the band's success Lewis has shined as a solo act, rocking mainstream radio with "Outside," a live collaboration with Limp Bizkit's Fred Durst during the 1999 Family Values Tour, which hit No. 1 on Billboard's Main Stream Rock Tracks in 2001. Staind's newest album, "The Illusion of Progress," is already hitting the charts with "Believe." The versatile artist is currently on a U.S. solo tour and concurrently on a world tour with Staind.
BOB ZANY HEADLINES RIVIERA COMEDY CLUB
Funnyman Bob Zany, 46, famous for his off-the-wall humor and one-liners such as "I'm self taught, I went to public schools" and "Take the law into your own hands, hug a cop" will headline at the Rivera's Comedy Club with comedians Tom Clark and Wendy Kamenoff, Jan. 5-11. Tickets for the 8:30 and 10:30 p.m. shows are $24.99, call 702-794-9433.
Known for performing with his trademark cigar on stage, Zany, born Robert Tetreult, is a veteran of stand-up comedy. He started out as a contestant on the `70s game show program "The Gong Show," and moved on to being a contestant on "To Tell The Truth" in the mid `90s before earning his living as a full-fledged comedian. Zany now appears on "The Bob and Tom Show," in the "Zany Report," and also guest hosts on the "Jerry Lewis Labor Day Telethon."
Clark was one of the college guys from the Movie Tickets.com commercials. He has written for "The Man Show" and has appeared on "The Late Late Show with Craig Kilborn," as well as Comedy Central's "Premium Blend."
Kamenoff has extensive television and movie credits including "The Oprah Winfrey Show," "The Bernie Mac Show" and "All My Children." She currently co-hosts "New Jewish Cuisine" for the Jewish Television Network.
EASTSIDE CANNERY'S NEW YEAR'S EVE AT THE ONE SIX SKY LOUNGE
The Eastside Cannery's brand new 16th floor, 11,000-square-foot ONE SIX Sky Lounge that opened on Dec. 19 featuring a three-sided balcony with awe-inspiring views is offering affordable options for celebrating New Year's Eve 2008.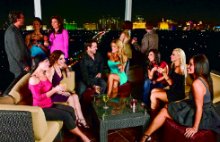 For $20.09, guests can party in the lounge. Prior to the count down, guests can enjoy a six-course luxury dinner at ONE SIX for $79.99 (alcoholic beverages are not included) from 8 to 10:30 p.m., call 702-856-5432.
NEW REALITY TV SERIES `FUEGO EN VEGAS' DEBUTS
"Fuego Raw Talent," the high-energy Latin dance production and video illusion show produced and hosted by Latino star, actor Rene Lavan, which has been performing at the Sahara since last October, is launching the Spanish language reality television series, "Fuego en Vegas." that will air on Saturdays at 6 p.m. beginning Dec. 27 on KBLR Telemundo Las Vegas (channel 39). The half-hour program delves into the lives of the cast members, performances, behind-the-scenes drama, gossip, rivalries and love triangles, etc. "Fuego Raw Talent" will be closing at the Sahara on Jan. 4.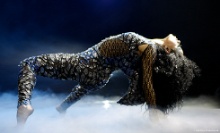 QUICK CLIPS
It was a quick sale that no one saw coming. Phil Ruffin who sold his New Frontier resort last May for more than $1.24 billion to Elad Group that plans to build a new resort to resemble The Plaza Hotel in New York City is buying the Treasure Island (TI) from the MGM Mirage for $775 million.
Flamingo headliner George Wallace is offering a special dinner and show deal through Valentine's Day - Feb. 14. The special package is two VIP show tickets and two dinners at the Paradise Garden Buffet in the Flamingo for $99. For information, call 702-733-3333.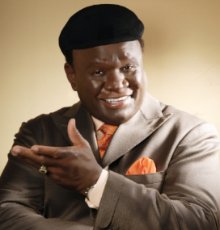 Emmy award-winning comedian Wayne Brady, who headlines in his one-of-a-kind show, "Making It Up," that opened at the Venetian in April 2007 has been nominated for a Grammy. Brady released his debut album, "A Long Time Coming," in September and is now vying for Best Traditional R&B Vocal Performance for his soulful rendition of "A Change Is Gonna Come" by Sam Cooke. The Grammy Awards will be presented on Sunday, Feb. 8.
Trump Hotel is starting the New Year on Jan. 1 by implementing a guaranteed complimentary late 4 p.m. checkout for all guests. For direct reservations, call 866-939-8786 or 877-878-6711.
The M Resort has begun accepting room reservations for the $1 billion property's opening sometime in March, call 877-673-7678. The hotel will have 390 rooms on 90 acres at the southeast corner of St. Rose Parkway and Las Vegas Boulevard.
David Osborne, who is known as the pianist to the presidents, performed at President Bush's final White House party before Christmas. Osborne played piano at Caesars Palace for 11 years and then moved to the Bellagio's Baccarat Lounge in April 2007.
At the Riviera, "Crazy Girls" is closed until Jan. 13, and "ICE - The Show from Russia" and "Fab Four Mania" will be dark Jan. 16, through Feb. 8.
It's rumored that Donald Trump's Miss Universe pageant may be headed to Las Vegas and be held at Planet Hollywood.
Sorry to say both of chef Louis Osteen's restaurants in Town Square, Louis's Fish Camp and Luis' Fine Dining are casualties of the poor economy and had to close.
This winter, MGM Grand, a AAA Four Diamond hotel, and The Signature at MGM Grand, a non-smoking, non-gaming luxury resort, are partnering with MasterCard Worldwide to offer a valuable savings to cardholders. Now through Jan. 30, 2009, guests can book a suite, from $129 per night, at The Signature at MGM Grand or a room at MGM Grand, from $89 per night, with a valid MasterCard card and receive 30 percent off bars, restaurants, select retail outlets, shows and spa services by charging to the room and paying with a MasterCard card, call 800-929-1111 and use booking code "SIG007" for The Signature at MGM Grand.
With three well known nightclubs under its umbrella, Pure Management Group's PURE, LAX and Christian Audigier The Nightclub collectively have received seven nominations in the 7th Annual Club World Awards. Winners are chosen by a panel of industry-expert judges and will be announced at a ceremony in early 2009.
Opportunity Village welcomed 6,119 Santas at the fourth annual Las Vegas Great Santa Run that took place on Dec. 6 at the Fremont Street Experience.
CONTINUE ON TO...:
>THIS WEEK'S LAUGHLIN SEGMENT
>LAST WEEK'S LAS VEGAS SEGMENT
>VEGAS VIEW FULL ARCHIVES
>Return to "Heard Around Town"
>Return to Las Vegas Leisure Guide