HAPPY BIRTHDAY TO THE KING!
Timeliness has Don Rose bringing his "Happy Birthday to the King" show to Don's Celebrity Theatre Tuesday-Sunday, Jan. 3-8 in time to celebrate Elvis' birthday, which is Jan. 8. Rose's stage charisma and strong voice are why he is compared to Elvis. Tickets are $30.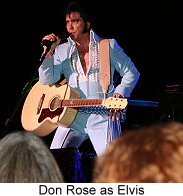 SENIORS GAMES ARE PLAYED IN JANUARY
The Bullhead City/Laughlin Senior Games will be held Jan. 8-27 throughout the two sister communities. The three-week event has the potential to bring a record number of athletes and visitors to the area and to eventually become a ranking meet for the Arizona, Nevada, and California State Senior Games. The goal is to make this event the largest Senior Games in America.
The Senior Games offered this year include a 5K run, bowling, golfing, shooting, swimming, softball, beanbags (cornhole), horseshoes, pickleball, soccer, table tennis, power lifting and volleyball. The Games will feature opening and closing ceremonies, athlete socials, medal awards and gift packages to all athletes. Folks interested in attending, competing, and/or volunteering can go to the Bullhead City/Laughlin Senior Games website or call 855-924-6882. Entry fees vary from event to event and from as low as $1.25 for some swimming events to $100 for the golf tournament; however, most are $5 per event.
The Bullhead City/Laughlin Senior Games will be the only Olympic-style event to feature gambling offering blackjack, poker, craps and slot tournaments.
POINTER SISTERS WILL APPEAR AT THE EDGEWATER
The Pointer Sisters will headline the E Center at the Edgewater on Saturday, Jan. 7 at 8 p.m. Today the group includes original member Ruth Pointer, her daughter Issa and granddaughter Sadako. They perform the music of The Pointer Sisters all over the world. Tickets range from $35 to $65.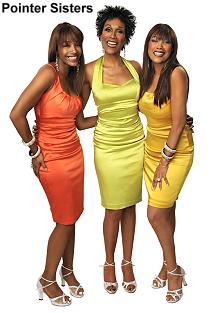 The four original members of the American R&B singing group were June, Anita, Ruth and Bonnie Pointer. The ladies are the daughters of Reverend Elton Pointer and they began their formal vocal training in their father's church in West Oakland, Calif. The ladies went on to achieve worldwide fame and secure a place in pop music history.
Their first performance was at the Troubadour club in Los Angeles and debut album was in 1973 with the single "Yes We Can, Can," which reached No. 11 on Billboard magazine's pop singles chart. Over four decades, the sisters' repertoire included such diverse genres as pop, disco, jazz, electronic music, bebop, blues, soul, funk, dance, country and rock. The group had 13 U.S. top 20 hits between 1973 and 1985, have won three Grammy Awards, and received a star on the Hollywood Walk of Fame in 1994.
PAM TILLIS - LORRIE MORGAN BRING 'GRITS & GLAMOUR' TO AVI
Singers Pam Tillis and Lorrie Morgan are currently traveling across North America on their Grits and Glamour Tour and will visit the Avi Grand Ballroom on Saturday, Jan. 7 at 8 p.m. Veteran performers and recording artists, they grace the country format with style, flair, and undeniable talent that is captivating and timeless. Tickets are $30 to $50.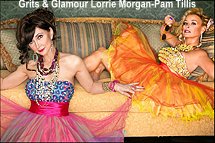 Combined in their nearly four-decade careers, they have recorded 28 top 10 hits, sold more than 18 million records sold, and had 12 number one songs. They have rocked arenas, helmed world-class symphonies, and toured most every continent. They have garnered Grammys, CMA Awards, movie credits, television appearances and Broadway performances.
AQUARIUS PRESENTS HOMEGROWN SOUND SERIES IN SPLASH
The Aquarius will be presenting the Homegrown Sound Series at Splash during the month of January. The Homegrown Sound Series is built on the idea of highlighting the professional, local talent in the Tri-State area. The featured bands are not the typical "local" bands but are made up of musicians and singer songwriters who have toured with other bands professionally throughout the country. They have returned to their "homegrown roots" to set up base and continue to perform locally. All shows are from 7 p.m. to midnight in Splash. The Aquarius has worked with Bill Westbrook, from Perfection Entertainment, to bring bands with a diverse array of genres for everyone to enjoy.
Kicking off the month Jan. 2-4 will be The Krisy Thompson Band, which plays locally in Kingman, Ariz., and offers a variety of classic country to current country.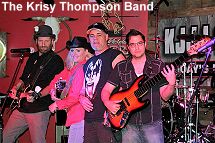 The Mustangs will perform on Jan. 5-8. They play locally in Laughlin and offer a variety of classic rock and blues with a mixture of country.
Art Michaud & Johnny Hot Rod will appear Jan. 9-11. This duo plays locally in Lake Havasu City, Ariz., and offers a variety of old time rock 'n' roll mixed with the 60s and 70s.
The Class Act Band plays locally in Bullhead City, Ariz., and offers a country variety, standards and oldies but goodies. Their dates are Jan. 12-15.
Crosscut will perform on Jan. 16-18. This group plays locally in Lake Havasu City, Ariz., and offers a variety of classic rock and blues mixed with 80s rock.
The Briana Payne Band's dates are Jan. 19-22. They play locally in Kingman, Ariz., and offer classic country and top 40 country.
Offering classic rock, Antiquated Systems will perform Jan. 23-25. Their stomping ground has been in Golden Shores/Topock, Ariz., and they offer classic rock.
The Catbone Band, which plays locally in Bullhead City, Ariz., offering a variety of classic rock and blues, will take center stage Jan. 26-29.
Closing out the month will be Chuck E Bumps and the Crocodiles Jan. 30, 31 and Feb. 1. This Lake Havasu City, Ariz., group offers a variety of rockabilly and swing.
TOWER OF POWER WILL BRING RHYTHM TO HARRAH'S
American R&B-based horn section and band Tower of Power will bring their original kind of soul music to Harrah's Fiesta Showroom on Friday, Jan. 20 at 8 p.m. Tickets are $45.
For close to 50 years, Tower of Power has been touring the world. The group's sound can be hard to categorize, but the band's leader and founding member, Emilio Castillo, has labeled it "Urban Soul Music." Tower's rhythm section lays down a groove like no other band. The way they approach everything, from writing and arranging to mixing and performing, is totally their own. Combine all of that with an outstanding lead vocalist and you have a dynamic group of musicians.
FAST LANE NEWS
Alan Jackson will headline the Laughlin Event Center on Saturday, Feb. 24 at 8 p.m. with tickets $40 to $200. Jackson has been providing a soundtrack for American life for more than 25 years. "Angels and Alcohol" is his 20 album released in 2015 and first studio album of new music in three years.
Marking the calendar, the 35th Annual Laughlin River Run attracting thousands of - motorcycle enthusiasts and vendors will descend on Laughlin Wednesday through Saturday, April 26-29.
The New Year's Eve acts ringing in the New Year include: country recording artist Ty Herndon at the Riverside; a Doo Wop lineup with three vocal groups - The Legendary Monroe Powell & his Platters Revue, The Original Cornell Gunter's Coasters, and The Legendary Bobby Hendricks & his Drifters Revue at the Edgewater; "The Rat Pack Is Back" tribute show to Frank Sinatra, Sammy Davis, Jr. and Dean Martin at Harrah's; and Sam Riddle at the Avi.
TOP OF NEXT COLUMN
TERRY FATOR VISITS E CENTER WITH CAST OF CHARACTERS
Terry Fator, who became a household name when he won Season 2 of "America's Got Talent" in 2007, will perform at the E Center at the Edgewater on Saturday, Jan. 21 at 8 p.m. His TV show talent win secured him a headlining spot since 2009 at The Mirage in Las Vegas. Tickets range from $35 to $90.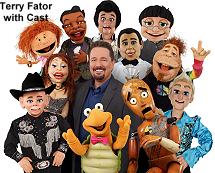 Fator combines singing, comedy and unparalleled celebrity impressions featuring his many sidekicks including: Winston, the Impersonating Turtle; Emma Taylor, the little girl with the big voice; Maynard Thompkins, the Elvis Impersonator; Duggie Scott Walker, the annoying neighbor and many others,
After 25 years of honing his skills at county fairs and venues across the country, Dallas-bred Fator's huge "America's Got Talent" win at age 42 catapulted him into the upper echelon of entertainers, landing him at No. 3 on Forbes list of the top earning comics in 2015.
RIVERSIDE RESORT KEYS IN ON HEADLINERS
Don's Celebrity Theatre at the Riverside Resort has a variety of headliner acts lined up for January including The Kingston Trio, The Righteous Brothers, and Doug Kershaw.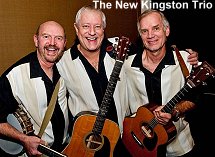 In the middle of the month, Jan. 10-15, The Kingston Trio will perform Tuesday through Sunday at 7 p.m. The Kingston Trio emerged from San Francisco's North Beach club in 1957 scene to take the country by storm, bringing the rich tradition of American folk music into the mainstream for the first time. During the late 50s and early 60s, the trio enjoyed unprecedented record sales and worldwide fame. The threesome, 58 years after their hit "Tom Dooley" shot to the top of the charts, is still on the road 30 weeks providing great memories. Tickets are $32.
The Righteous Brothers featuring Bill Medley and Bucky Heard will appear Wednesday-Sunday, Jan. 18-22 at 7 p.m. The Rock and Roll Hall of Fame duo, which was Medley and Bobby Hatfield before his passing, topped the charts in four decades. Now Medley joins forces with one of the most versatile vocalists in America, Bucky Heard, bringing the Righteous Brothers back to the stage with such hits as "You've Lost That Lovin' Feelin'," "Unchained Melody," and Medley's Grammy-winning "Dirty Dancing" theme "The Time of My Life." Tickets are $35.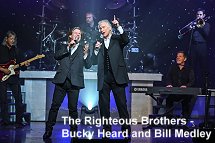 The "Ragin' Cajun" Doug Kershaw will bring his fiddle to the Riverside Wednesday-Sunday, Jan. 25-29 at 7 p.m. Since his early days on a Louisiana bayou, Kershaw has been a phenomenal fiddle player and by many he is consider the king of this instrument.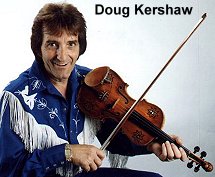 He plays so incredibly fast that clouds of rosin soar from his horse hair bow, giving the impression that it is smoking. He can wear out two or three bows per song - playing, dancing and singing simultaneously. Kershaw has mastered more than 20 instruments.
Tickets are $25.
EDGEWATER COMEDY CLUB REOPENS IN JANUARY
The ongoing "Comedy on the Edge" at the Edgewater will start up again on Jan. 6 after the Inferno Showroom room has been closed in December for renovation. Two stand-up comedians are featured each Friday-Sunday at 7 p.m. Tickets are $15 with a $2 discount on Sundays for U.S/ veterans with an ID. Upcoming comics include: Jan 6-8 Bob Zany and Tim Bateman; Jan 13-15 Jason Cheny and Deric Poston; Jan 20-22 Manny Maldonado and Phillip Medina; and Jan. 27-29 Robert Duchaine with Pete Hall.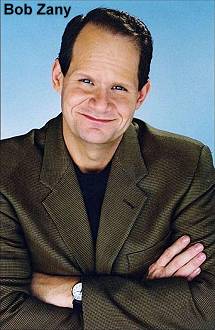 Bob Zany will take center stage with Tim Bateman. Zany is a 39-year veteran of the comedy circuit and actor. He has performed with many major players such as Rodney Dangerfield, Roseanne, Steve Martin, Drew Carey, Jerry Lewis and Billy Gardell at major comedy clubs and entertainment venues across the country. He's appeared in more than 1,000 national TV shows from "The Tonight Show" to "Last Comic Standing" and was co-host for the national Jerry Lewis Telethon for 17 years. His acting career includes playing Matt Damon's attorney in "The Informant" as well as parts in "Joe Dirt" and "23 Minutes to Sunrise."
Jason Cheny is paired with Deric Poston. Cheny's comedy material includes many family jokes, the Asian-American experience, and generally saying what people are thinking. He was born in Taiwan and partially raised in Canada and America. He attended 10 different schools and one was military. Through his many experiences, he shows the humor he finds in the melting pot of differing cultures. Cheny has performed in a number of major comedy clubs in his five-year career, and performed with many well-known comedians.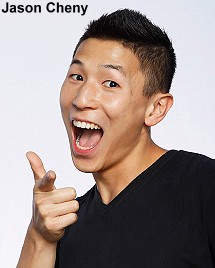 Manny Maldonado will provide the laughter with fellow comedian with Phillip Medina. Maldonado has been performing his cutting-edge comedy over his 19-year career. His comedy journey wasn't planned. He wanted to be a professional football player but he was vertically challenged. He then pursued sports broadcasting and while giving speeches in college found out he was always funny. Ten years later he was one of hottest rising Latino comics. He's worked with many major comedians including Dave Chappelle, Paul Rodriguez, Tommy Davidson and George Lopez. Maldonado's TV credits include BET "ComicView," "Latino Laugh Festival," "Comics Unleashed," and "Que Locos" to name a few. He recently appeared on Comedy Central's "Comedy Rehab," and was a guest panelist on "Dr. Phil."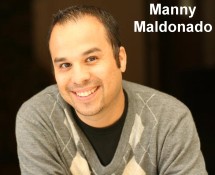 AQUARIUS TEAM MEMBERS WEAR R.E.D. TO SUPPORT U.S. MILITARY
Aquarius Team Members recently raised another $4,320 for the Tri-State Military Moms, a local nonprofit organization that sends care packages to U.S. troops deployed overseas, organizes coming home celebrations, and supports military members in other ways. The money was raised when Aquarius employees were given the opportunity to donate $5 and receive a R.E.D. (Remember Everyone Deployed) T-shirt to wear at work during a "Casual for a Cause" Friday.
AQUARIUS PROMOTION HELPS FEED LOCAL FAMILIES
The Aquarius' fifth annual "Feed A Family" program provided Thanksgiving meals to 410 local families thanks to the generosity of ace | PLAY™ card members, Aquarius guests and team members. The resort's "Feed A Family" program, which continues through Dec. 25, combines ace | PLAY points contributed by card members to provide families in need with holiday meals at Thanksgiving and Christmas. For every 12,000 ace | PLAY points contributed, Aquarius provides a box filled with a complete holiday meal for four.
CONTINUE ON TO...:

THIS WEEK'S >LAS VEGAS NEWS
LAST MONTH'S >LAUGHLIN NEWS
>VEGAS VIEW FULL ARCHIVES
Return to >"Heard Around Town"
Return to >Las Vegas Leisure Guide