PUBLIC HOUSE AT VENETIAN OPENS NEW YEAR's EVE

The new Public House located on Restaurant Row in The Venetian will open on New Year's Eve and have Nevada's first Certified Beer Cicerone, which is a program started three years ago that now has more than 330 Certified Cicerones. There will be more than 200 beer selections, including 24 beers on tap and three seasonal cask beer selections from specialty artisanal cask brewers. There will also be a climate controlled "wine cube" storing wine and 40-plus aged whiskeys, scotches, bourbons and beers. Interestingly, the ice for drinks will be made from reverse osmosis and carbon filtered water and formed into perfect squares.

The cuisine described by corporate executive chef, Anthony Meidenbauer will be "fun spins on refined food" and include selections inspired by beer such as Bouchot mussels made with Hogarten beer. The menu will feature small and large plates, salads and sandwiches, steak frites, shellfish and bar snacks, as well as selections from the "Butcher Block" and "Cheese Shop."

The 8,000-square-foot Public House will celebrate the classic tavern with a comfortable, hip atmosphere reminiscent of a Prohibition-era speakeasy but seen through the lens of modern design. Different environments will be revealed through various nooks in the dining room, while the 60-seat lounge will have a 40-foot-long bar anchored by a DJ booth. An accented gold leaf classic draft system will frame one side of the bar.

Other Block16 Hospitality restaurants include: Holsteins Shakes and Buns, LBS, The Barrymore, and the Vegas outpost of Pink's Hot Dogs. Public House will be open daily at 11 a.m. and serve lunch and dinner.


Column Continues Below Advertisement



COSMOPOLITAN DEBUTS POP-UP WEDDING CHAPEL

In time for New Year's Eve, the new street-level Pop-Up Wedding Chapel at The Cosmopolitan with a Strip view will open on Dec. 28 and even give passersby a chance to partake in the legal or just-for-fun festivities. This chapel, which will open daily at noon, will cater to everything from a traditional marriage, vow renewal and commitment ceremony to pet and faux weddings.

The chapel's retail space will include items such as wedding bands, faux wedding announcements and apparel as well as beer, wine and champagne. There will also be a photo booth which will post pictures to Facebook and Twitter, and an artist's take on the iconic Welcome to Fabulous Las Vegas sign that will serve as a photo backdrop.

Three packages: Hitched In A Hurry; On A Whim; and Going To The Chapel; will be available and include a 20-minute ceremony, champagne poppers and Molla Space eraser rings dispensed from a gumball machine.

HYDE BELLAGIO OPENS FOR THE NEW YEAR

Another new nightclub venue, Hyde Bellagio, is opening at Bellagio for a day-to-night experience with legendary DJ Paul Oakenfold playing a set on New Year's Day, Jan. 1, from a DJ booth above the fireplace in Hyde's "grand salon." Hyde Lounge Bellagio is the first nightlife venture in Las Vegas by renowned hospitality leader sbe.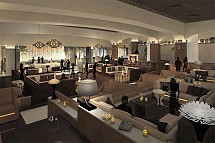 With floor-to-ceiling windows, it will feature an expansive terrace that showcases the Fountains of Bellagio and an early-evening nightly experience beginning at 5 p.m.
VANESSA WILLIAMS PERFORMS NEW YEAR's EVE AT RIVIERA
Singer and actress Vanessa Williams will headline inside the Riviera's Royale Pavilion on Dec. 31 at 9:30 p.m. This room has nine private viewing skyboxes available for the evening that can accommodate up to 36 people with 24 seated and 12 standing. Tickets come in three price ranges: general admission $82.50; preferred $110; and VIP $170.50, which includes unlimited drinks.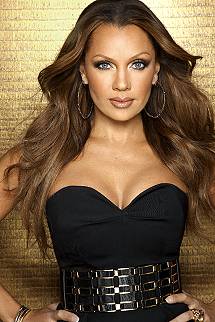 OSCAR's AND SIMPATICO OPEN AT PLAZA
Oscar's, the new 120-seat steakhouse named after former Las Vegas Mayor Oscar Goodman and located in the Plaza's iconic dome overlooking Fremont Street on the second floor, has opened to the public for its preview period through Dec. 30. During this time, customers can receive a free chef's choice dessert by providing their feedback.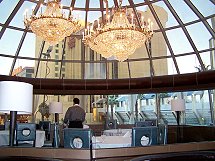 The whole space has been remodeled and the bar has been further elongated. Behind the bar is a huge image of Goodman with a clear door leading to his new office that will include memorabilia from his 12 years as Las Vegas' famous mayor.
Adjacent to the steakhouse and through a door that is camouflaged by the wall and has only a tiny knob, you can enter Simpatico, "An Italian Speakeasy and Grill" that seats 75 and serves dinner nightly.
ANNABELLE THE COW IS ON DISPLAY AT CAESARS PALACE
Annabelle, Old Homestead Steakhouse's brown-and-white celebrity cow, completed her cross-country journey and was recently unveiled at the new Old Homestead Steakhouse at Caesars Palace. The new dining venue opening this month replaces the old Nero's restaurant near the Colosseum showroom and is in the proximity of the new Nobu eatery.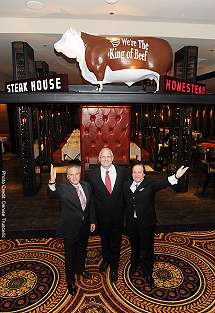 RICK FAUGNO TACKLES FRIDAY NIGHTS AT HILTON
Song-and-dance man Rick Faugno, who was the original Frankie Valli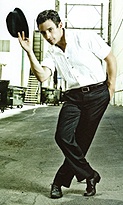 in "Jersey Boys," performs in the Shimmer Cabaret at the Las Vegas Hilton every Friday night at 8:30 p.m. in his "Body & Soul" show. For Dec. 30, his holiday special is $15 and after that $29.
Finally got to see the one-man tour de force at work. He opens with an incredibly upbeat James Brown-type number and proceeds to move through all sorts of music genres and show his expertise at the piano and especially on the dance floor where he moves with ease and displays tap dancing qualities reminiscent of Gregory Hines. What's nice in the Shimmer Showroom is its small and you really get a close up connection with the artist.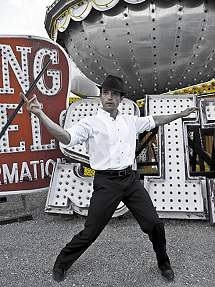 Faugno has been performing professionally since the age of 12 when he played Will Rogers, Jr. in "Will Rogers Follies" on Broadway. He's appeared on television programs including the Tony Awards, "America's Got Talent," "The Jerry Lewis Telethon," and "LIVE! with Regis and Kelly." In October 2011, Faugno won the award for "Best Performance" at the Orlando Film Festival for his portrayal of Alexander Mann in "Virgin Alexander."
NEW OFFERING - 'RIDE YOUR BIKE' THIS NEW YEAR's EVE
Drive This! Entertainment, an event planning company, is offering a "Ride Your Bike" New Year's Eve event offering three stops. The celebration will begin from 8-9 p.m. with an East Coast countdown at Tacos & Tequila at the Luxor. Partiers will bike next door to the Excalibur for a rocking good time at Lynyrd Skynyrd BBQ & Beer with a live band performing from 10 p.m. until midnight. Hitting the road again, the night will be topped off at RHUMBAR inside The Mirage. The price is $175, call 702-735-8322.
'FANCY SAUCE' PREMIERS AT MOON NIGHTCLUB IN JANUARY
The Palms Casino Resort is introducing a new industry night, "Fancy Sauce," described as a gourmet blend of the best party ingredients. The weekly event will be held inside Moon Nightclub every Tuesday night beginning on Jan. 17.
TOP OF NEXT COLUMN
CANNERY ONCE AGAIN CELEBRATES ELVIs' BIRTHDAY
Close friends and co-stars of Elvis Presley will join together again as part of "A Celebration of the King's Life" honoring Elvis' music and legacy at the Cannery in North Las Vegas on Jan. 6 and 7. The commemoration coincides with Elvis' birthday weekend and will feature a performance by top Elvis tribute artist Johnny Fortuno as well as The Stamps Quartet. In addition, special guests include co-stars of Elvis, Darlene Tompkins and Cynthia Pepper. Other guests include Sonny West, Elvis' personal friend and bodyguard, Steve Christopher who hosts "Elvis On Air" and a special guest appearance by Sammy Shore. Tickets are $10 at the door.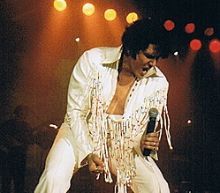 The Cannery Row Buffet will also honor Elvis with the "Food That Fed The King" special buffet featuring many of Elvis' favorites including Deep Fried Pickles, Southern Fried Chicken, Smothered Pork Chops, Collard Greens, Green Bean Casserole, Ham Hocks and Potato & Cheese soup.
DEADMAU5 LAUNCES EXCLUSIVE PARTNERSHIP WITH WYNN
Mayor Goodman is declaring Jan. 2, 2012, "deadmau5 Day," which will mark the date the electronic music phenomenon launches his exclusive partnership with Wynn Las Vegas after debuting at XS nightclub during New Year's Eve weekend. Deadmau5 will continue with additional dates at both Encore Beach Club and XS through 2012.
Deadmau5 was recently nominated for three Grammy Awards. At the 2010 MTV Video Music Awards, he was the official house artist.
QUICKIE ITEMS
The Beach Boys are planning to open the Beach Boys Good Vibration Restaurant at Bally's sometime next summer, which is during the year of the iconic group's 50th anniversary. The restaurant will be casual dining and feature a diverse menu and bar with affordable prices.
Next year will be the 20th anniversary for the Forum Shops at Caesars, which opened in May of 1992. Look for the premier shopping plaza to plan some festivities and offerings.
Brad Garrett's Comedy Club at the Tropicana has officially closed and the three-time Emmy winner will reopen it on March 30 at the MGM Grand. In addition, he has landed a small role in an upcoming movie "Burt Wonderstone" about rival magicians and its set in Las Vegas. The movie will star Jim Carrey and Steve Carell.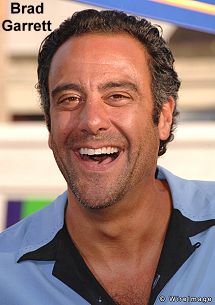 Love Burgers has opened a second Las Vegas location in Town Square.
Guns N' Roses has announced that they will be joined by Sebastian Bach and Las Vegas' own Adelitas Way for their Dec. 30 and 31 shows at The Joint at Hard Rock. Sebastian Bach has sold in excess of 20 million records worldwide as lead singer with his former band, Skid Row and as a solo artist. Adelitas Way recently released their second CD, "Home School Valedictorian."
Actress Taryn Manning will ring in the New Year by spinning a special DJ set on Dec. 31 at Tabú Ultra Lounge in the MGM Grand. She is known for her roles in "8 Mile," "Hustle & Flow," "Crossroads," "Crazy/Beautiful," "Sons of Anarchy" and "Hawaii Five-O."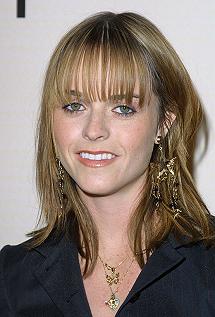 Matt Goss who performs at Cleopatra's Barge at Caesars Palace is taking time off over the holidays and will return on Jan. 7, 2012. He will be releasing a new album next spring.
Heavyweights in the UFC, Brock Lesnar and Alistair "The Reem" Overeem, will fight live from Las Vegas on Friday, Dec. 30. Cabo Wabo Cantina in Miracle Mile Shops at Planet Hollywood is holding a viewing party with admission $30.
PBR Rock Bar & Grill will offer a 10 percent discount off patrons' dining bills when they present their badge from Las Vegas' Consumer Electronics Show (CES) from Tuesday, Jan. 10, through Friday, Jan. 13.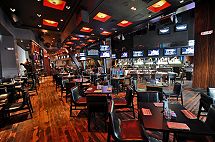 Through January, you can get a round of complimentary Central holiday egg nog by ordering a $12 snowman vacherin at Central Michel Richard at Caesars Palace and posting a photo of it on Facebook Twitter.com/CentralLV. The snowman vacherin, a slowly baked French meringue dessert filled with ice-cream, is a signature dish and $2 will benefit St. Jude's Children's Research Hospital.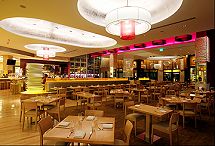 "Ultimate Fighter 5" winner, Nate Diaz, will host the UFC 141 after party at Gallery Nightclub inside Planet Hollywood on Friday, Dec. 30.
LBS BURGER AT RED ROCK WILL OFFER CHAMPIONSHIP SPECIALS - ANTI VALENTINE's DAY
In honor of the two top-ranking Bowl Championship Series teams, LBS Burger Joint at Red Rock Resort will offer game-time burger specials on Monday, Jan. 9: the down-home Alabama Roll-Tide Barbeque Burger and the LSU Bayou Burger. Both are $12.50. The number-one ranked team, Louisiana State University, will play against the number-two ranked team, University of Alabama, for an all-out play-by-play showdown. In addition, guests can purchase a draft beer at full price with each refill costing only 10 cents.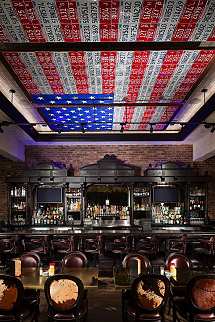 The LBS Burger Joint at Red Rock Resort is urging diners to ditch Tuesday, Feb. 14, and celebrate stag for "Anti Valentine's Day." You can celebrate a "single" relationship status at LBS Burger Joint with specialty, "Anti Valentine's Day" cocktails, a $14 shot and cocktail combo.
SEVENS RUGBY TOURNAMENT RETURNS IN FEBRUARY
Thousands of fans from around the world will migrate to Sam Boyd Stadium for the USA Sevens International Rugby Tournament, Feb. 10-12. Fans who purchase tickets prior to Jan. 2 will receive a 33-percent discount.
Las Vegas is the fifth of nine stops on the 2011-12 HSBC Sevens World Series. The three-day tournament is returning to Las Vegas for the third consecutive year and is the only North American stop. Fans will see 16 national teams play 44 matches during the three-day competition.
COLLECTIVE ZOO THROWS NEW YEAR's EVE BLOCK PARTY
Event planning company Collective Zoo is holding a downtown block party on Saturday, Dec. 31, with doors opening at 8 p.m. and featuring the sounds of three different DJs: DJ Zo from VegasStrEATS; MikeysWorld; and Kid Conrad from the Griffin. There will also be live reggae performed by Oneness Vibe and fire dancers at Bar + Bistro along with the eclectic sounds of an acclaimed French DJ at The Artifice.
General admission includes a premium open bar package sponsored by Bacardi and Martini & Rossi from 9-11 p.m. and a champagne toast for every U.S. time zone until the West Coast countdown at midnight for $40 at Bar + Bistro. To purchase tickets or packages, visit collectivezoo.ticketleap.com/nye/.
LYNYRD SKYNYRD AT EXCALIBUR HAS LIVE BANDS
Lynyrd Skynyrd BBQ & Beer at the Excalibur will offer live music Dec. 29-31 at 10 p.m. Wolf Creek will perform on Thursday, Dec. 29; the Ryan Whyte Maloney Band will take the stage on Friday, Dec. 30; and the Ryan Whyte Maloney Band will ring in the New Year on Dec. 31. Admission for the New Year's party is $75 and includes an open bar for beer, wine and well cocktails from 9 p.m. until midnight.
Column Continues Below Advertisement
CONTINUE ON TO...:
>THIS WEEK'S LAUGHLIN NEWS
>LAST WEEK'S LAS VEGAS NEWS
>VEGAS VIEWS FULL NEWS ARCHIVES
>Return to "Heard Around Town"
>Return to Las Vegas Leisure Guide