NEW YEAR'S EVE HAPPENINGS!

Most of the casinos are having balloon drops and champagne toasts at midnight with hats and horns handed out to guests. Some resorts will have "invited guests only" parties hosted by the casinos. The Edgewater and Colorado Belle are putting on a fireworks display in the sky above the river at the two properties at midnight on New Year's Eve. The fireworks are best viewed best from the Riverwalk that runs pasts the hotels along the shoreline.

Two dinner shows are set at the E Center at the Edgewater on Dec. 30 and 31 at 6 p.m. The show is "Superstars Live In Concert" with remarkable tribute artists who look and sound like the original legendary performers recreating singers such as Elton John, Neil Diamond, Bette Midler, Cher and Shania Twain. Tickets are $85.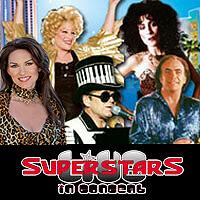 The Inferno Nightclub at the Edgewater will have a DJ playing top tunes with VIP booths available on New Year's Eve from 10 p.m.-4 a.m. Also on the main casino floor, a DJ will provide party music from 9 p.m. - 2 a.m. and sister property Colorado Belle will also have DJ party music at the same time in the River Bar Lounge.
At the Riverside's Dance Club, there will be a New Year's Eve celebration hosted and performed by Chris and Susie of Earthbound featuring oldies, country and big band music. The cover charge at the door is $10 with doors opening at 8 p.m. and music from 9 p.m.-1 a.m.
Also at the Riverside in the Losers' Lounge, 3 Digit IQ will provide rock dance music from 7 p.m.-12:30 a.m. Chyll Factor will take over the stage for the late sets from 1 a.m.-5:45 a.m. There is no cover for the Losers' Lounge.
At the Aquarius, singer and guitar player Mark B will kick off the celebration with free live entertainment inside The Cove Bar & Lounge, located just off the casino floor, on Friday, Dec.27 through Monday, Dec. 30 from 9 p.m. to midnight. On New Year's Eve, Tuesday, Dec. 31, Mark B will perform from 9 p.m. to 1 a.m. He will be performing favorite songs from Earth, Wind & Fire, Prince, The Beatles, Stevie Wonder, Santana, Robin Thicke, Bruno Mars, Motown and more.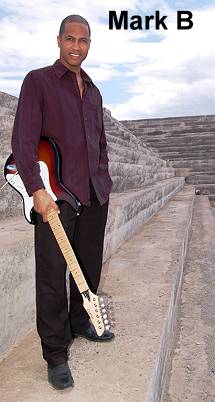 On the casino floor at the River Palms, Pat O'Brien will provide music on New Year's Eve from 9 p.m.-1 a.m. O'Brien is a staple of the River Palms' sister property, the Tropicana where he plays his wide range of music in the Caboose Lounge each week. In addition to the midnight Champagne Toast at the Tropicana, there will also be one at noon at the Trop Advantage Club to coincide with the "New Year's Free Play Drawings."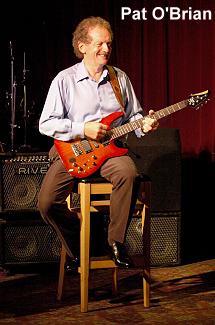 The Gold Digger's Nightclub at the Golden Nugget will be hosting a New Year's Eve party with doors opening at 8 p.m. DJ Anvareyan will be spinning the "Best of 2013" countdown. Cost is $20 per person, or $30 per couple.
On the main casino floor at the Golden Nugget, popular Sax Man Brown will provide smooth jazz and pop sounds from 8 p.m. - 1 a.m. Sax Man has taken over this area for the past two New Year's Eves and has proven to be quite a draw. There is no charge.
Krisy Thompson will start in the Caboose Lounge at the Tropicana with and early set from 4:30 - 8:30 p.m. providing the best contemporary and classic country music. A "Neon Party" will follow with neon giveaways and music by the party band Block Party from 9 p.m.-2 a.m. There is no charge.
The Regency is also holding a Neon Glow in the "Dark Black Light Party" with music provided by DJ Loke Lau starting at 9 p.m. It's suggested you wear white and black to the party and neon ink will be available. There's no charge.
Harrah's is going the "Polynesian/Island" route for New Year's with the main casino decked out in an island atmosphere. The Island theme will be carried into the Fresh Market Square Buffet with a steel drum band providing music for diners from 5 -10 p.m.
The Avi will host a "Blast Out 2013, Rock in 2014" New Year's Eve Party in the Native Harvest Buffet from 9 p.m.-12:15 a.m. featuring dance music by DJ Morales, hors d'oeuvres, cash bar, champagne toast, party favors, and balloon drops. Cost is $25, call 866-495-0061.
RECKLESS IN LAS VEGAS RINGS IN NEW YEAR AT AVI
Also at the Avi in the Arrowweed Lounge from 9 p.m. to 2:30 a.m., the band Reckless in Las Vegas will be ringing in 2014. The trio is made up of Michael Shapiro, Ryan Low aka Dr. Fu and Mario Cipollina.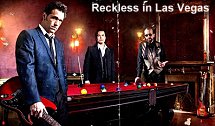 Shapiro was born in San Jose, Calif., raised in Las Vegas and now resides in San Rafael, Calif. He picked up his first guitar at age 13 and trained hard in guitar, vocals, piano and trumpet and attuned his ear to classical opera as well as rock. At age 16, he jammed with Bruce Springsteen. After stints in various cover bands in his teens, Shapiro formed the band Trip, released a few CDs and toured as part of the VH1 Rock Across America Tour. During an ill-fated gig opening for Great White, a tragic fire struck and changed his life. He bounced back, releasing his first solo album, "Somehow, Someway" and toured nationally opening for the band Live. After moving to San Rafael, Calif., he formed Reckless in Vegas.
Drummer Dr. Fu was born in San Francisco's Chinatown. Besides being a performer and session player, he applies his classical music training and is a committed teacher of drums and music. Dr. Fu is a true lover of rock and funk drumming. He also has extensive recording experience with almost 13 records under his belt.
Cipollina is a San Francisco Bay area icon. He was co-founder, producer, and bassist with Huey Lewis & The News, and has also performed/toured and/or recorded with an incredible list of names including Bruce Springsteen, Foreigner, Stevie Ray Vaughn, Bob Dylan, Van Morrison, Ray Charles, Doobie Brothers, Jerry Garcia, and Bonnie Raitt to name only a few. When Cipollina was 7 years old, he started to play upright bass in school. At 13 years old, he started to play electric bass and began with classical music.
BINGO ON NEW YEAR'S EVE AND DAY
The River Palms will hold a "New Year's Eve Bingo Party" at 11:30 p.m.: $10 per pack; nine games for $200; double action coverall for $2,014 ($2 per card buy-in; $2 use fee and three-pack minimum for electronic units).
The Avi Bingo Hall will host New Year's Eve and New Year's Day Bingo specials. "New Year's Eve Bingo" session times will be 6:30 p.m. and 9:30 p.m. "New Year's Day Bingo" session times will be at 1 and 4 p.m.
IT'S MAGIC TIME AT HARRAH'S WITH DIRK ARTHUR
Magician Dirk Arthur and his exotic animals will be performing at Harrah's Fiesta Showroom Dec. 27-30 and he has more dates in 2014: Jan. 18-26; Feb. 4-March 9; and July 1-Sept. 21. Tickets for his "Wild Magic" shows at 8 p.m. are $27.50 and $38.50.
Arthur presents illusions with some of the rarest animals. He has been featured on NBC's "World's Greatest Magic," "David Lettermen" and his own documentary "Big Cat Magic" on Animal Planet.
TOP OF NEXT COLUMN
CLAIM JUMPER RESTAURANT OPENS AT GOLDEN NUGGET
A new Claim Jumper restaurant has opened in Laughlin at the Golden Nugget in the space adjacent to the entryway that was formerly occupied by Harlow's Restaurant. The first Claim Jumper opened Sept. 27, 1977, in Los Alamitos, Calif. Today there are 41 of the casual dining places in eight states and five are in Nevada with three in Las Vegas and one in Reno.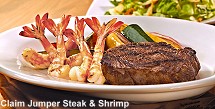 A nice plus for the Golden Nugget is the California Gold Rush-themed eatery serves breakfast all day. The extensive lunch and dinner menu is available starting at 11 a.m. Another thing that's quite agreeable is pricing with most items under $15 and most breakfasts under $10. The restaurant opens daily at 6 a.m. and closes at 10 p.m. Sunday through Thursday and midnight on Friday and Saturday.
MICKEY GILLEY HEADLINES AT THE RIVERSIDE
Mickey Gilley will headline Don's Celebrity Theatre at the Riverside Dec. 17-31 and he'll perform two shows on New Year's Eve at 7 and 10:30 p.m. Tickets start at $38.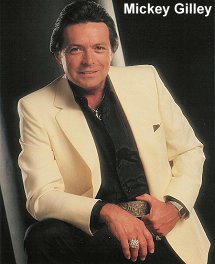 Gilley learned to play piano at an early age but did not achieve success like his cousin Jerry Lee Lewis until the mid-70s. In 1971, Gilley and a partner opened Gilley's, known as the world's largest honky-tonk. It was there Gilley started experiencing his first success when he released "Room Full of Roses."
DICK FOX'S GOLDEN BOYS HEADLINE E CENTER
It's a triple threat when Dick Fox's Golden Boys starring Frankie Avalon - Bobby Rydell - Fabian take over the stage at the Edgewater's E Center on Saturday, Jan. 4. Tickets start at $25.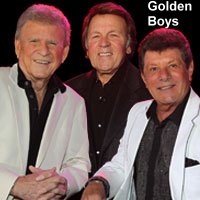 Frankie Avalon made the transition from teenage idol to mature professional with a career that has spanned three generations of music, TV and motion pictures. His recording of "Venus" was one of the biggest selling hits of the era.
Bobby Rydell made his debut in the late 50s as a rock and roll teen idol starring in movie roles and plays and appeared on the "Red Skelton Show" and American Bandstand." His recording career earned him 34 Top 40 records, putting him in the top five of all single artists from his era. Some of his songs are "Volare," "Wild One," "We Got Love" and "Forget Him."
Fabian was discovered at age 14 sitting on his front steps in Philadelphia. Fabian produced dozens of hit singles, eight albums, earned gold records for "Turn Me Loose" and "Tiger" and a gold album for "The Fabulous Fabian."
DON ROSE TRIBUTE TO ELVIS AT RIVERSIDE RESORT
"Happy Birthday to the King" - tribute to Elvis Presley starring Don Rose will be at the Riverside in Don's Celebrity Theatre Jan.3-5 and Jan. 7-12. Tickets for his 7 p.m. shows are $30.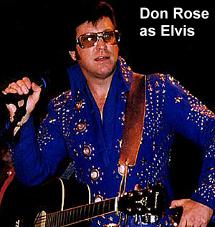 Rose started performing his Elvis® show a few years after Elvis® passed away. He has since made his career as an entertainer not only doing Elvis® all across the United States and Canada, but also with his own show group, The Don Rose Revue. He makes his home in Las Vegas where he spends about half the year and the other half on the road.
JIMMY DELLA VALLE - DANNY VILLALPANDO VISIT THE EDGEWATER
Every week Friday through Sunday, two comedians headline the Edgewater Showroom. Tickets are $10 for the 7 p.m. shows and ACCESS Club card receive a $2 discount. Future comedians include: Jan. 17-19 - Bob Kubota with Lyall Behrens; Jan. 24-26 - Todd Johnson with Virginia Jones; Jan. 31 - Feb. 2 - Wayne Francis with Jimmy Abeyta; Feb. 7-9 - Marc Yaffee and Myk Powell; Feb. 14-16 - Dennis Ross and Gary Keshner; Feb. 21-23 - Leif Skyving and Lew Sall; and Feb. 28-March 2 - Davin Rosenblatt and Joe Currie.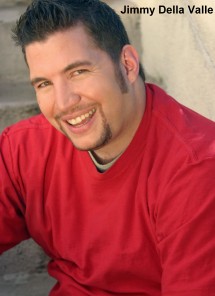 Jimmy Della Valle and Tim Homayoon will headline Jan. 3-5. Born and raised in New York, Della Valle's streetwise edgy flare, macho vulnerability and blue-collar twists are his trademarks. For almost 20 years, he has been a standup comedian entertaining at comedy clubs, casinos, corporate events and colleges. In addition, he's a character actor/comedian, voiceover artist, writer and master of improvisation and accents. Della Valle appeared on three episodes of NBC's "America's Got Talent."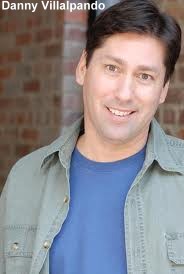 Danny Villalpando will appear with Dave Devito Jan. 10-12. Villalpando has been performing standup comedy for more than 16 years. His comedy has taken him to many foreign countries. He has also performed on television 17 times. He's been seen on NBC's "Friday Night" as well as "The Latino Laugh Festival" and Comedy Central. Villalpando's acting talents were also displayed as a bartender on NBC's "Meet My Folk's" and he worked on an independent film with Second City called "Time Square."
TRAILER PARK REBELS APPEAR AT THE AVI
The Trailer Park Rebels are appearing in the Arrowweed Lounge at the Avi Dec. 30-Jan. 4, 2014, with special times on New Year's Eve from 3 - 8:30 p.m.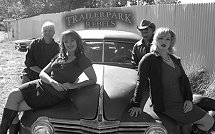 Soon after meeting at an audition for a classic rock cover band in 2005, John and Amber Beck began writing the songs that would become the foundation upon which Trailerpark Rebels would grow. The couple honed their musical skills as veterans of the Utah club circuit, performing together for several years in the classic rock cover band Up In The Night. Since 2009, Trailerpark Rebels have been touring the western United States, playing all types of venues.

Sisters Amber Beck and Desiree Vanderpool grew up in a musical environment and were performing with their mother and two younger sisters as Choice. Beck continued her journey into the world of music by performing lead roles in school musicals and later as a celebrity impersonator, all the while writing and recording her own music. Vanderpool pursued dance becoming a dance instructor and owner of Flava's Dance Academy. She is currently a certified Zumba instructor.

John Beck grew up in southern California and was immersed in the L.A. rock scene of the '80s. Moving to Provo, Utah, in 1994, Beck formed After Eden, releasing two self-produced albums, touring relentlessly opening for national acts and appeared in the Adam Sandler film "Punch Drunk Love."

The fourth member drummer Kevin Sunday is a longtime veteran of the Utah country music scene. He has performed with members of country music star Chris LeDoux's band and Elvis Presley impersonator Kerry Somers. He's the son of a U.S. Air Force Band drummer.


CONTINUE ON TO...:

THIS WEEK'S >LAS VEGAS NEWS
LAST WEEK'S >LAUGHLIN NEWS
>VEGAS VIEW FULL ARCHIVES
Return to >"Heard Around Town"
Return to >Las Vegas Leisure Guide