<!A-- Left Column -->

It'll be nostalgia time at Harrah's when Todd Luxton brings his "Ultimate Elvis Tribute" to the Fiesta Showroom at Harrah's, Jan. 10 -22 at 7 p.m. Tickets go on sale Dec. 26 and start from $18.95.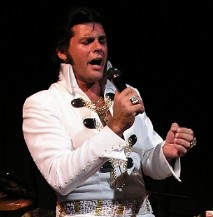 Luxton's tribute to Elvis Presley has taken him across the country delighting audiences for more than 17 years. Wearing the trademark Elvis jumpsuit, Luxton transforms himself into Elvis and performs his legendary hits.
The Riverside will headline Don Rose's "Happy Birthday To The King" show at 7 p.m., Jan. 2-8. Tickets are $25,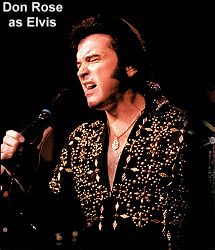 Rose has performed his Elvisr tribute all across the United States and Canada. He has toured in Germany and Switzerland, and played in showrooms on major cruise lines. He now makes his home in Las Vegas where he spends about half the year with the other half spent on the road, playing major casinos, doing corporate and convention work, along with concerts and one-night gigs.
At the Tropicana Express, there's the Vegas-based band San Fernando and Pat O'Brien. San Fernando's early sets are easy listening and their later sets feature dance tunes that span from disco to salsa to hip hop. O'Brien is an Irishman from Galway who has mastered the art of blending his musical talent with the latest in sound technology to create a one-man-band that really sounds like a band. He involves his audience as well as his computerized guitar and delivers everything from Sinatra and Tom Jones to Johnny Cash and Andrea Bocelli and does impressions. He has a fan base that always makes for a crowded room.
The house band Four of a Kind plays their non-synthesized version of classic R&B and rock 'n' roll hits at the River Palms and on Mondays at the Tropicana Express. The foursome is made up of Nooney Rickett, Ray Torres, Oscar Vildasola and Bill Foss.
Gino Gagliardi is a new addition to the River Palms lineup. This master pianist and keyboard player has been booked to play dinner music in The Lodge restaurant on weekends.
The Kid & Nic Show at the Avi is put on by the husband and wife duo, Kirk "Kid" and Nicole "Nic" Tracy. They have the nightclub sound. John Encinio and the Full House Band are another staple at the Avi. Former rodeo rider Encinio brings a blend of rock and country music to his act while combining dance music with a light-hearted delivery.

TOP OF NEXT COLUMN
Two Dixieland jazz bands bring the heart and soul of New Orleans to the Mississippi riverboat-themed Colorado Belle every weekend with live entertainment. The Laughlin Dixie Boys perform Thursday though Sunday from 4 to 7 p.m. The Dixie River Band wanders from playing more traditional Dixieland to a more diverse musical style, Thursday-Saturday, from 9 p.m. to midnight.
The Laughlin Dixie Boys, a band made up of old-school musicians who don't know a thing about mp3 players and synthesizers, gather and perform their sets at the Colorado Belle's main entrance stage. The "boys" are Bob Thompson (sax), Johnny Hull (banjo and vocals), Jon Stenber (bass) and Dick Wright (trumpet and trombone).
Thompson is well known locally having for years performed with various Dixieland groups at the Colorado Belle and for playing every honky tonk, saloon, bar and main showroom in the area for years. After performing in Las Vegas, Thompson made his way to Laughlin about 14 years ago with a show that was playing at the former Flamingo Hilton called "Jukebox Giants" and decided to stay in the area.
Hull who was with the original Dixie Band at the hotel has been playing there since it opened in 1981. Hull feels the current line-up of The Laughlin Dixie Boys is the best. In the group, Hull is the singer and contact guy with the jokes and smiles. He's played with various groups from Bourbon Street to Disneyland.
Wright, who has been classically trained, has had experience playing with bands lead by Maynard Ferguson, Warren Covington, Buddy Rich, Si Zentner, Ray Anthony and Frank Sinatra, Jr. He also played with the USAF Band in London for five years. For a three-year stretch, he had a nine-piece band that played at the Colorado Belle every Sunday.
The youngest group member is local resident Stenber, who has shown versatility playing show tunes in the bands of various Rat Pack shows; rocking with a variety of rock bands at casino clubs; and producing blues tunes with The Rich Harper Blues Band during the annual Laughlin River Run.
The Laughlin Dixie Boys have recorded a CD that you can learn more about during their breaks.
---
Sax Man Brown-Brown, who performs regularly at the Golden Nugget in Las Vegas, squeezes in Laughlin appearances at the Golden Nugget. A true showman, he delivers silky sax on a wide variety of tunes for easy listening and dancing. In addition, DJ Creative plays dance music depending upon what the crowd wants.
In Affect is the band playing at the Aquarius in the Splash Cabaret, which is home to Las Vegas style nightclub band.
At the Riverside a variety of bands perform in the Loser's Lounge, which is the longest running nightclub in town. Music goes until 5:45 a.m. Tuesdays through Saturdays and until 2:45 a.m. on Sundays and Mondays.
Bob Gulley is playing at the River Palms in the Bermuda Club. He just recently moved over from the Tropicana Express, which is owned by the same company. Gulley has two CDs released on the Netrock Records label entitled "Everybody's Love Song" and "Yippi-yi-o," produced by his friend Bill Medley.
Gulley performs at the Bermuda Club, Tuesday and Wednesday from 5-8:40 p.m., and on Sunday after the football game at approximately 9 p.m.
CONTINUE ON TO...:
>THIS WEEK'S LAS VEGAS NEWS
>LAST WEEK'S LAUGHLIN NEWS
>VEGAS VIEW FULL ARCHIVES
>Return to "Heard Around Town"
>Return to Las Vegas Leisure Guide