'LEGENDS IN CONCERT' WILL OPEN AT FLAMINGO IN FEBRUARY!

After a four-year engagement at Harrah's, the acclaimed tribute artist show "Legends in Concert" will celebrate the beginning of its third decade on the Las Vegas Strip with a new long-term home at the Flamingo beginning in February 2013. The show's last performance at Harrah's will be Sunday, Dec. 30. Initial show times will be daily at 4 p.m. and also at 10 p.m. on Sunday and Monday.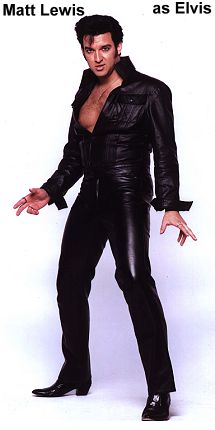 "Legends in Concert" began in 1983 with a limited six-week engagement in the Imperial Palace featuring a rotating cast of live superstar re-creations backed by a live band and singers and dancers.
Column Continues Below Advertisement
TWO GORDON RAMSAY RESTAURANTS OPEN ON THE STRIP
Gordon Ramsay Pub & Grill will open at Caesars Palace on Dec. 18, and Gordon Ramsay BurGR will open at Planet Hollywood on Dec 22. These two eateries follow the highly successful opening of Gordon Ramsay Steak at Paris in May and offer distinctly different concepts. All three resorts are part of Caesars Entertainment Corp.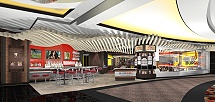 The 290-seat Gordon Ramsay Pub & Grill will open for dinner Dec. 18 and lunch in mid-January and offer an authentic English pub experience. The restaurant's center piece will be a striking bar with an array of beer taps and a backdrop reminiscent of iconic British telephone booths. A patio area will extend the restaurant towards the casino floor. The uniforms are inspired by the English punk scene.
Gordon Ramsay BurGR will be Ramsay's first burger experience and located at the hotel entrance adjacent to the Extra! Lounge. With a modern ambience, the vividly colored room will seat 200 and be accented by an undulated ceiling, steel and concrete floor, keg display, open kitchen and 30-foot fire feature.
'THE PHAT PACK' OPENS AT THE PLAZA
Former cast mates of "Phantom: The Las Vegas Spectacular" at The Venetian have banded together in the spirit of The Rat Pack era and created a brand new show for Las Vegas called "The Phat Pack." It stars three extremely talented gentlemen who each starred in other major theatrical productions. Ted Keegan was the Phantom on Broadway and on tour. Randall Keith played Valjean in "Les Miserables" on Broadway and on tour. Bruce Ewing was Jinx in "Forever Plaid" on the National Tour and in Las Vegas. They are accompanied by their musical director Joey Singer who was with Debbie Reynolds for 28-years.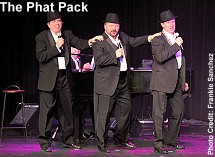 Four men on stage is plenty when they are each at the top of their game singing and playing Broadway tunes, American standards and fun-spirited original songs like "The Phat Pack" and "Men of A Certain Age." All four men take a turn at telling you how they got hooked to show business. It's fun to learn and appreciate each man's journey. They end the show featuring each of the three singers performing their "big moment song" from the show they starred in and you could hear a pin drop.
Performances are at 5 and 7 p.m. on Tuesdays, Thursdays and Fridays. Tickets start at $34.95, call 702-946-8934.
KELLY'S PRIME STEAK AND SEAFOOD OPENS ON PARADISE
The California-based restaurant Kelly's Prime Steak and Seafood has opened in the former Ruth's Chris Steak House at 3900 Paradise Road. Established in 1958, Kelly's of Naples is the oldest and most preferred steakhouse in Long Beach on Naples Island, Calif. The new 12,000-square-foot eatery can seat approximately 450 and features separate restaurant and banquet kitchens, bar and lounge, private dining rooms, and three banquet rooms for large groups or special events. The lounge area is old school with a pianist, musicians or singers nightly. Hours are 11 a.m. to midnight with Happy Hour from 3 – 6:30 p.m.
福FÚ RESTAURANT NOW OPEN AT HARD ROCK
福Fú, meaning "luck" in English, is an Asian dining destination that has opened at the Hard Rock. 福Fú features a fusion of Asian fare with Chinese Korean, Vietnamese and Thai. The main dining room seats 160 guests and a private dining room can accommodate 40. Las Vegas resident and Executive Chef Ming See Woo and family have had a long and successful career in the Chinese restaurant business in Las Vegas since 1976 owning past Mayflower restaurants in two locations and Woo at The Palazzo.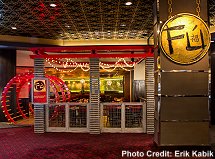 WYNN HOSTS INAUGURAL WORLD OF ART SHOWCASE
A true celebration of the visual arts and artists, the World of Art Showcase will debut at Wynn Las Vegas, Dec. 20-22. The focus of the show is to promote the arts and explain how, why and when to purchase paintings and sculptures for both pleasure and investment purposes while having the opportunity to purchase original master paintings by masterful artists who rarely leave their studios.
The artist roster boasts numerous iconic painters and sculptors from across the globe including: master portrait painter Nelson Shanks; Academy Award winner for "Alien" and Swiss surrealist artist H.R. Giger; Bali-based Austrian painter Wolfgang Widmoser; Daniel E. Greene; Ukraine-born, suburban Chicago-based painter Leon Oks; Jota Leal; Vladimir Kush; Steve Hanks; Sally Maxwell; Tony Pro; Morpheus Fine-Art Gallery; renowned Chinese artists and many others.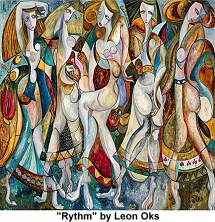 Thousands of original contemporary paintings will be on display for purchase and two vast ballrooms will feature the multi-faceted three-day "Celebration of the Senses" which will include live demonstrations from famous artists, plus live music and entertainment paired with gourmet food, fine wine and spirits.
In addition, "Horse and Rider," currently on display through Jan. 27, 2013, at The Venetian as part of the Da Vinci – The Genius exhibit will be on display. It is the only known three-dimensional piece of art created by the renowned Renaissance artist still in existence.
This event is open to the public 11 a.m. – 7 p.m. each day. Admission is $55 each day for $125 for a three-day pass.
LINKIN PARK TO PERFORM AT PLANET HOLLYWOOD
Grammy-Award winning, multi-platinum alternative rock group Linkin Park will perform their only North American show in 2013 at PH Live at Planet Hollywood on Saturday, Feb. 16 at 9 p.m. Tickets range from $75.50 to $89.50 and a percentage of the proceeds will go towards the Music For Relief fund.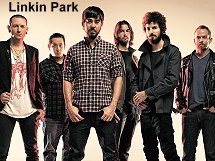 Linkin Park has sold more than 50 million albums worldwide, and is the biggest band on Facebook with over 45 million fans. Their latest album, "Living Things" reached No. 1 in more than 20 countries.
MATT GOSS RETURNS TO THE GOSSY ROOM THROUGH MARCH
Multi-platinum recording artist, Matt Goss, will continue with his smooth vocal styling at Caesars Palace with extended Friday and Saturday evening dates through March 2013. The Gossy Room is transformed into a vintage-like Vegas lounge for the British crooner who is backed by a nine-piece band and sexy female dancers known as The Dirty Virgins. Tickets range from $40 to $100 for his 9:30 p.m. shows.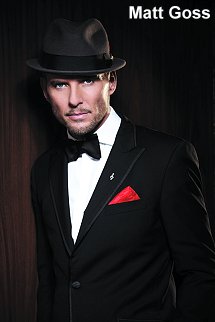 CELEBRITY COLORIST KIM VŌ OPENS NEW SALON AT THE PALMS
Celebrity hair color expert Kim Vō opened his Las Vegas flagship salon at the Palms this month. Vō has been featured in hundreds of magazine articles and TV shows such as "Extreme Makeover" on ABC, "Daily 10" on E! Entertainment, red carpet reporting for TV Guide Channel, and his hit show "Shear Genius" on Bravo. He is perhaps best known for his Baliage technique of coloring and as the creator of "the smudge," a 30-second hair color application.
The new salon features colorists and stylists personally trained by Vō and it is part of the resort's $50 million transformation. The salon is open daily from 9 a.m. to 7 p.m.
TOP OF NEXT COLUMN
KENNY 'BABYFACE' EDMONDS RETURNS TO THE ORLEANS
Songwriter, producer and recording artist Kenny "Babyface" Edmonds will return to The Orleans Showroom Jan. 19 and 20. The 10-time Grammy® Award winner with 11 solo albums is currently working on new material for his next solo album. Some of his successful collaborations include working with Toni Braxton, Eric Clapton, Whitney Houston, Mariah Carey, Brandy, Boyz II Men, Pink, and Madonna. Tickets start from $49.95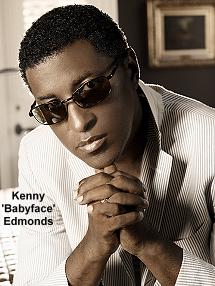 FLAMINGO HOLDS BEER PONG TOURNAMENT
The 2013 World Series of Beer Pong (WSOBP VIII) is the largest, longest-running organized beer pong (aka Beirut) tournament in the world, created for beer pong players. This year's tournament at the Flamingo is expected to draw more than 500 teams from at least 48 U.S. states and nearly a dozen countries. Grand prize is $50,000 and there's $5,000 in costume prizes.
JEWELER SCAMP & SCOUNDREL'S OPENS AT MIRACLE MILE
Upscale fashion jewelry boutique Scamp & Scoundrel has opened its second U.S. location and its first shop in Las Vegas inside the Miracle Mile Shops at Planet Hollywood. The boutique features high-quality pieces and accessories ahead of the trend curve. Prices range from $25 to $500, with most pieces costing between $75 and $225.
Current collections include Glitz, Leather, Metals, Resin, Trend, Wood and Statement / High End.
ABOUT TOWN ITEMS
This is the last week to have a photo taken with the underwater Santa at the Silverton on Dec.22 and 23 at 10 a.m. and 1 p.m. each day.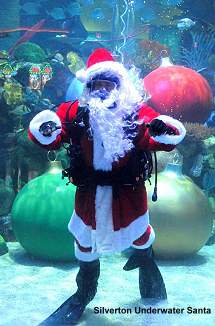 Commonwealth on Fremont Street East will host a La Fin du Monde bash on Friday, Dec. 21 to salute the end of the Mayan calendar and conclude at midnight with a toast, a balloon release and a chance to win a year's worth of a new prized brew.
The California Lottery Commission recently voted to adopt the multi-state mega-jackpot lottery game, Powerball. Sales will begin at the Primm Valley Lotto Store just 25 minutes south of Las Vegas on April 8, 2013, and the first drawing will take place on April 10. Drawings are held every Wednesday and Saturday at 7:59 p.m. PST.
MGM Grand's boutique nightclub, Tabú, is celebrating the winter season with three festive cocktails available through the end of March. The $12 specialty cocktails include Red Apple Shandy, Pumpkin Patch and Winter White Mint-tini.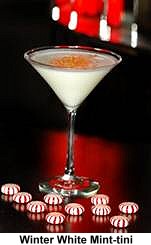 Hyde Bellagio has also introduced four festive cocktails Rock and Rye, Snowflake, Ponce di Granada and Iced Irish Coffee available for a limited time.
The Bellagio, AAA Five Diamond resort, was honored by World Travel Awards as North America's Leading Casino Resort, an honor it has received four of the past five years, at a ceremony held in New Delhi, India.
Through Dec. 24, American Coney Island at the D downtown is featuring "12 Days of Coney" with a daily gift ranging from free chili cheese fries and discounted Coneys to group offers and more.Participate on Facebook.com/theDlasvegas and thedlasvegas @ Twitter and each day at 12:01 a.m., the offer for the next 24 hours will be posted with a secret holiday word.
Rice & Company at the Luxor is offering special sushi rolls this month. "Peace, Love and Sushi" is Executive Sushi Chef Danny Chen's first ever dessert sushi roll available all month. The "Roll in the New Year" specialty roll will be available exclusively Dec. 28 - Jan. 31
Shine Alternative Fitness, Las Vegas' Cirque-inspired premier fitness studio located in Loft Works at 6415 S. Tenaya Way #100, will offer buy-one-get-one X-treme one-hour boxing classes for the month of January. It will also offer $2 general classes on Wednesday, Jan. 2.
Body Heat Hot Pilates & Yoga located at 8876 S. Eastern Avenue will celebrate its one-year anniversary with complimentary Pilates and yoga classes all day on Wednesday, Jan. 9 for new and current members and also introduce a new class Detox Retox at 7 p.m. Guests will receive one week free when they visit for the first time, call 702-432-0028.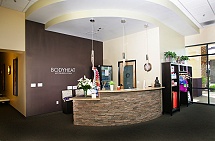 PBR Rock Bar inside Miracle Mile Shops at Planet Hollywood is offering a holiday breakfast special, all-you-can-eat pancakes covered with warm bourbon maple syrup for $6.99, through December. Bottomless Bloody Marys are every day from 8 a.m. until noon for $15.
A PERFECT CIRCLE WILL PERFORM AT PH LIVE
Rock band A Perfect Circle will perform with special guest Neil Hamburger at PH Live at Planet Hollywood on Saturday, Dec. 29 at 8 p.m. Neil Hamburger is a stand-up character played by comedian and musician Gregg Turkington. Hamburger's live act features a barrage of question/answer jokes aimed often at celebrity targets and his ex-wife. Tickets are $49.50 and $69.50.
ENTERTAINMENT NEWS ITEMS
Comedienne Rita Rudner rounds out her limited 2012 engagement at The Venetian with shows on Dec. 24, 26, 28 and 30. Tickets are $59 and $79.
The O'Jays will be headlining at the Star of the Desert Arena at Buffalo Bill's only 25 minutes from Las Vegas in Primm, Nev., on Saturday, Dec. 28.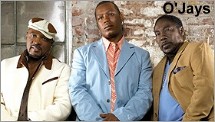 Candy & the Canes are doing free performances at the Fremont Street Experience through Dec. 25 singing holiday hits on Fridays and Saturdays from 6-9 p.m. and Sundays – Tuesdays from 5-8 p.m. on the 3rd Street Stage.
The family-friendly holiday show "Christmas in New York" is running through Dec. 30 in The Broadway Theater at New York-New York. The show features holiday songs and costumes, high-kicking chorus girls and Santa Claus. Tickets start at $49.95. The show runs nightly except Monday at 7 p.m. and on selected afternoons at 4 p.m.
Kathleen Dunbar is the featured headliner at the new Sin City Comedy club in Planet Hollywood from Dec. 17-23. The Wisconsin native resides in Las Vegas.
Brass quintet Presidio Brass will perform jazz and classical music from the world of Hollywood in their "Sounds Of The Cinema" 7 p.m. show at the Historic Fifth Street School downtown on Jan. 25. Tickets are $10 in advance and $15 at the door.
Reggae artists The Aggrolites will bring their feel-good songs to Vinyl at Hard Rock on Thursday, Dec. 27 at 9 p.m. Since its formation in 2002, The Aggrolites have produced five albums. Tickets are $18.
Jim Heath will follow at Vinyl on Dec. 28 with his band Reverend Horton Heat and special guests Jello Biafra and Tijuana Panthers. This psychobilly trio is known for its crazy rock shows and mixing several music genres including country, surf, punk, big band, swing and more. Tickets are $22.
GORETORIUM GIVES HOLIDAY SEASON A NEW TWIST
Yuletide terror is in full effect at Eli Roth's Goretorium with Santa's evil twin brother Sick Nick offering a photo opportunity for $10 through Dec. 26. Visitors will also come face-to-face with cannibalistic elves, horrific holiday décor, and the terrifying residents of The Delmont.
WORLD MARKET CENTER GAINS FOUR POWERHOUSE BRANDS
Four powerhouse brands within the design industry will open showrooms in Las Vegas Design Center (LVDC) at World Market Center in time for the Winter 2013 Las Vegas Market, scheduled Jan. 28-Feb. 1. The brands are Christopher Guy, Stanley Furniture, Julian Chichester/Mr. Brown and Norwalk Furniture. These four new-to-market showrooms encompass more than 26,000 square feet and are located on the first two floors of Building A.
LVDC is open year-round to the public Monday through Friday from 10 a.m. to 5 p.m. and offers more than 40 showrooms carrying hundreds of leading manufacturers' lines. The restaurant Mundo is also located on the premises.
'DISNEY ON ICE' PARTNERS WITH WIGS FOR KIDS
In honor of the new skating production "Disney On Ice presents Dare to Dream" featuring Disney's newest princess, the long golden-haired Rapunzel from "Tangled, Disney On Ice" is inviting people to participate in a hair donation campaign to benefit children suffering from medically-related hair loss. The campaign kick-off event will be on Saturday, Jan. 5 and will take place at the Galleria at Sunset mall from noon to 5 p.m. Each person donating hair that's 10-inches or longer will receive two free tickets to the show at the Thomas & Mack Center, Jan. 16-20. Donations will be accepted through Jan. 15 at participating MasterCuts salons.
Column Continues Below Advertisement
CONTINUE ON TO...:

THIS WEEK'S >LAUGHLIN NEWS
LAST WEEK'S >LAS VEGAS NEWS
>VEGAS VIEW FULL NEWS ARCHIVES
Return to >"Heard Around Town"
Return to >Las Vegas Leisure Guide