<!A-- Left Column -->

"The Rat Pack is Back," a tribute to pals Frank Sinatra, Sammy Davis, Jr., Dean Martin and Joey Bishop, will be appearing at the Riverside, Jan. 15-26. Tickets for the 7 p.m. shows are $30, call 800-227-3849.
This show features a stellar cast of fine performers who work in Las Vegas and around the country creating the next best thing to seeing the Rat Pack themselves. This show is a theatrical musical play based on a night at the Sand's Hotel in Las Vegas, circa 1961. It's as if you turned back the clock half a century to see some of the greatest performers who ever lived take the stage together to laugh, dance, and sing their way into your hearts.
The Colorado Belle's poker tournaments begin at 7 p.m. five nights per week. Each Monday, Tuesday, Friday and Sunday, players can compete in No Limit Texas Hold 'em Tournaments. Each Thursday, a No Limit Omaha Hi-Lo Split Tournament is featured. The $65 buy-in gives players $10,000 in tournament chips, and includes a $5 bounty, $5 entry fee and a $5 gratuity fee. This is one of the largest poker rooms in Laughlin. For information, call 800-64-POKER.
A Hawaiian Christmas show is happening at the Riverside Resort through Dec. 18. "Mele Kalikimaka" is a Christmas musical variety production featuring the spirit of the Christmas holidays in song and dance as performed by some of the stars of the islands.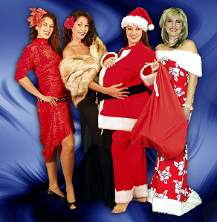 On Saturday, Dec. 22, Tom & Sharon's Ballroom, Latin and Swing Dance Party will take place from 1:30 p.m.-4:30 p.m. at the Riverside.
The Losers' Lounge at the Riverside has live Top-40 bands performing nightly. There are two levels of seating, two full-service bars and two dance floors. Doors open at 7 p.m.
During the past 16 months at Don Laughlin's Riverside, four 'Wheel of Fortune®' MegaJackpot® machines have hit an unprecedented four Progressive Payouts. Combined, four lucky ladies won more than $9 million.
On Aug. 29, 2006, Ruby won $5,948,707.28; June 9, 2007, Debra won $2,428,829.54; Nov. 22, 2007, Christine won $327,687.52; and on Dec. 7, 2007, a 61-year-old California housewife started off her holiday season, at the Riverside, with a bang and walked away the lucky winner of $2,428,829.54.
'Wheel of Fortune' machines are part of the International Games Technology (IGT) family of machines. They can offer the huge jackpots because they are linked throughout Nevada and build through collective pay.
The Aquarius will hold its "Cool Blast Blackjack Tournament," which is open to the public, Jan. 5 and 6 beginning at 9 a.m. The entry fee for the tournament is $49, which includes one choice buffet, a tournament gift and a special instruction course teaching participants the rules and strategies of blackjack during a three-hour cocktail reception held on Jan. 4 from 5 p.m. to 8 p.m. Participants will be competing to win a share of the $25,000 prize pool that is based on 288 entries. First place is $10,000. For information, call 800-760-7049.
The Edgewater and Colorado Belle continue to raise the bar in gaming with the $25,000 Free Winner Wonderland Slot Tournaments during December and January. Since the introduction of the free slot tournament series to the market in September, Marnell Sher Gaming, LLC has given away a total of $300,000 in cash and prizes to players.
The Edgewater will start the New Year by giving away $25,000 in cash and prizes Jan. 4-8. Qualifying rounds will be held from 8 a.m. to 4 p.m. each day, with the top 100 scores competing in the daily final round at 5:30 p.m. The last round will determine the first place winner and recipient of $1,000 in cash. Cash or free slot play will be awarded for places 2-30.

TOP OF NEXT COLUMN
Harrah's Laughlin is offering special room packages online. The Room and Spa package is valid Sunday through Thursday through Dec. 27. The package includes two night's accommodations for $50 per night and a $50 credit coupon for the Salon & Day Spa. These specific room packages may be booked online at www.harrahslaughlin.com. Package rates are based on single or double occupancy.
Harrah's is offering two SCORE packages for the 14th Annual Laughlin Desert Challenge SCORE Off-Road event, Jan. 24-27, 2008. A four-day, three-night stay, Jan. 24-27 is from $70 per night and guests receive two tickets to the Saturday, Jan. 26 races. The other choice is a three-day, two-night stay, Jan. 25-27 from $90 per night with two tickets to the Saturday, Jan. 26 races.
Blackjack players will also compete for cash and prizes with the Winner Wonderland Daily Blackjack Tournaments at 2 p.m. Jan. 4-8 at the Colorado Belle. The tournament entry fee will be $20, and 100 percent of the entry fees will be returned as prizes. For tournament information, call 877-480-2747.
The New Year will bring on a wide variety of annual events beginning in January with Winter Break, Jan. 4-10. This will be the sixth year for a seven-day event geared for the 50-plus age group.
The "SCORE - Laughlin Desert Challenge" will follow, Jan. 24-27 and appeal to off road racing enthusiasts. This will be the 14th year for this invigorating event.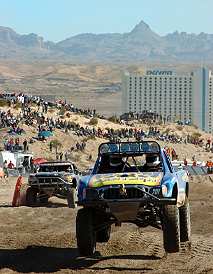 The "Laughlin River Stampede" celebrating its 14th year will take place March 27-30, at the Laughlin Events Park. The four-day PRCA rodeo features the top cowboys in the world vying for more than $225,000 in prize money.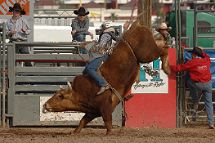 April 12-13 will highlight the "Dodge Xtreme Bulls Ride Hard Tour" featuring 40 of the PRCA's top-ranked bull riders competing each day for $50,000 in prize money plus points toward earning a spot in the National Finals Rodeo.
Later in the month, April 23-27, will be the 26th annual "Laughlin River Run." This five-day event will attract more than 60,000 bike enthusiasts.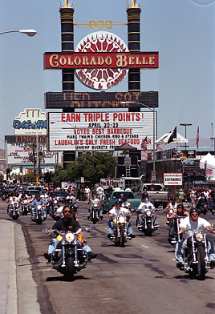 For information or tickets on the town-wide events, call the Laughlin Chamber of Commerce, 702-298-2214 or 800-227-5245.
CONTINUE ON TO...:
>THIS WEEK'S LAS VEGAS NEWS
>LAST WEEK'S LAUGHLIN NEWS
>VEGAS VIEW FULL ARCHIVES
>Return to "Heard Around Town"
>Return to Las Vegas Leisure Guide