THE COSMOPOLITAN OPENS SOPHISTICATED NEW VENUE THE CHELSEA!

The Chelsea, The Cosmopolitan's new 40,000-square-foot performance and event space, will debut over New Year's Eve with performances by Grammy Award-winning recording artist Bruno Mars on Dec. 20 and 31. Tickets start at $150.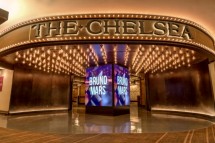 The venue is a combination of industrial grit and artistic glamour. From the Maya Hayuk commissioned art pieces to the iconic Soho inspired stairwell - The Chelsea is original. The design evokes an abandoned glass factory turned working theater.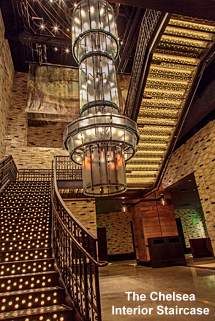 The venue is highly adaptable being able to house a variety of live performances, group meetings and events as well as sporting events. Easily accessible from the resort's West End Tower on the third level, The Chelsea takes on the name of the ballroom that has housed many of the resorts' headliner concerts and famous fight nights, and will be able to accommodate more than 3,000 guests.
Column Continues Below Advertisement
NEW ROLLER COASTER EL LOCO SET TO OPEN AT CIRCUS CIRCUS
Las Vegas' newest roller coaster, only the second of its kind in the United States, will open at The Adventuredome at Circus Circus beginning in late January 2014. As construction continues, the coaster cars with one currently on display at the indoor theme park that will speed around 1,300 feet of electric yellow track have started to arrive. The open-carriage cars, each accommodating four passengers, are smaller than average, allowing the vehicle to make tighter, faster turns. The coaster's unusual turns that tilt outward combined with the open cars create an exhilarating sensation.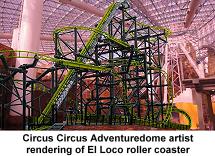 El Loco's unique elements will provide guests with a 72-second, adrenaline-pumping adventure. For roller coaster aficionados here are some specifics: 90-foot ascent followed by a greater-than-straight-down diving drop producing a negative 1.5 "vertical G;" 45-degree outwardly banked curve; and 180-degree turn that races over the edge into a barrel roll. El Loco must undergo more than 2,000 safety test rides before any rider can board.
SOUTH POINT'S NEW PRIEFERT PAVILION SET TO OPEN SUMMER 2014
South Point Arena and Equestrian Center announced it has an exclusive multi-year partnership in which Priefert® Manufacturing holds the naming rights for the property's new multi-million dollar expansion project under the name of Priefert Pavilion.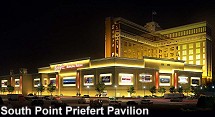 Scheduled for completion in summer 2014, the Priefert Pavilion's two new climate-controlled arena venues will add more than 100,000 square feet to the existing South Point Arena and Equestrian Center, which currently features more than 1,200 climate-controlled stalls, an indoor practice arena and the 4,600-seat main show arena. Priefert will celebrate its 50th anniversary in 2014 and has served as a leading developer and manufacturer of rodeo equipment for the finest events in the country, including those held at South Point.
With more than 30 weeks of equestrian events scheduled each year, the South Point is home to some of the world's largest and most unique equestrian events. The property caters to many niches within the industry from high-action competitions to breeders' shows. South Point broke ground on construction of the new facility in spring 2013 as part of a joint project to expand the Arena and Equestrian Center and build a new bowling tournament facility.
HASH HOUSE A GO GO WILL OPEN AT THE RIO IN 2014
Hash House A Go Go will open at the Rio in early 2014. The eatery is famous for its creative menu offerings, over-sized portions and fresh ingredients. Hash House A Go Go will be located in the current São Paulo Café location, which will remain open until renovations begin in the first quarter. Hash House A Go Go will serve breakfast and brunch daily from 6 a.m. to 3 p.m.
Hash House A Go Go has earned a myriad of accolades and also been highlighted on television shows including Travel Channel's "Man v. Food," "Extra," "The Martha Stewart Show" and "The Dr. Phil Show." For more information, visit www.hashhouseagogo.com.
'VÉRONIC VOICES' CONTINUES BALLY'S RESIDENCY THROUGH 2014
"VÉRONIC Voices" will continue to call Bally's home through 2014. Amazing vocal impressionist Véronic DiCaire will return next spring following tour dates in Canada. "VÉRONIC Voices" has been named by "USA Today" as one of "Las Vegas' Don't Miss Shows." Co-produced by Celine Dion, the show honors some of the world's biggest singers, past and present, who have made their mark on music history. Tickets range from $30 to $120.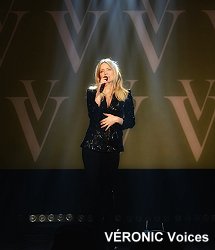 BELLAGIO'S CONSERVATORY PRESENTS A WINTER WONDERLAND
The magic of the holiday season has taken over at Bellagio with the resort's Conservatory & Botanical Gardens featuring a glistening winter wonderland through Jan. 5. The display has the Strip's largest indoor holiday tree, moss-embellished reindeers, a life-size chocolate house, live seasonal music and a family of topiary polar bears. The centerpiece is the 42-foot tall, 18-foot wide and 6,800-pound White Fir holiday tree sparkling with 7,000 white LED lights and 2,500 richly colored ornaments.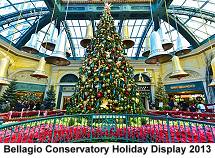 New this year is a walk-through snow globe guarded by four grand toy soldiers. Also new are six life-size chocolate-colored reindeers embellished in live moss pulling an antique sleigh packed with gifts. Below, a full-scale chocolate house created by Bellagio's pastry team is made of 1,600 pounds of chocolate.
In the South Garden is a family of topiary polar bears frolicking on an icy pond. Crafted from 24,000 snow white carnations, the momma polar bear watches protectively as her two cubs play. Nearby, vibraphone and marimba performers fill the Conservatory with the sounds of the season atop a snow-covered stage from 5 p.m. to 6 p.m. nightly.
GLITTERING LIGHTS BRIGHTEN HOLIDAY SEASON AT MOTOR SPEEDWAY
Glittering Lights at the Las Vegas Motor Speedway is Nevada's largest holiday light show with more than 400 animated light displays along a 2.5-mile racetrack and is open nightly Sunday - Thursday from 5:30 - 9 p.m. and Friday and Saturday from 5:30 - 10 p.m. Admission is $15 per vehicle on weeknights and $20 Friday - Sunday and holidays. The Living Nativity runs every Thursday - Saturday through Christmas with additional dates on Sunday, Dec. 22 - Tuesday, Dec. 24.
PENN & TELLER KICK OFF '13 BLOODY DAYS OF CHRISTMAS'
For the 13th consecutive year, Rio headliners Penn & Teller will partner with United Blood Services and hold a blood drive Wednesday, Dec. 18 through Tuesday, Dec. 31 at three designated United Blood Services locations and mobile units: 6930 W. Charleston Blvd.; 4950 W. Craig Road; and 601 Whitney Ranch Dr. Bldg. D, Suite 20. Those who donate blood will receive two complimentary tickets to Penn & Teller's show. Tickets for their show start at $75.
KEVIN LEPINE'S 'HYPNOSIS UNLEASHED' MARKED ONE-YEAR AT HOOTERS
"Hypnosis Unleashed" starring Kevin Lepine celebrated its one-year anniversary last week at the Night Owl Showroom inside Hooters. Lepine was presented a cake and proclamation from Mayor Carolyn G. Goodman recognizing "Kevin Lepine Day" along with other certificates from government officials. Media, VIPs and celebrities including Marc Savard, star of "Marc Savard Comedy Hypnosis" at Planet Hollywood, were in attendance for his up close and personal show where he puts audience members on stage and hypnotizes them.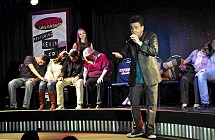 LADY GAGA'S 'ARTRAVE: THE ARTPOP BALL' TOUR STOPS AT MGM GRAND
Lady Gaga, one of the top current global touring acts, is hitting the road in support of her new album "ARTPOP." The tour will make its second-to-last stop at the MGM Grand Garden Arena Saturday, July 19 at 8 p.m. Tickets are $35, $49.50, $85 and $200. Lady Gaga's "artRave: The ARTPOP Ball tour" will begin in May in Florida.
TOP OF NEXT COLUMN
PARIS HILTON RINGS IN 2014 AT HYDE BELLAGIO
Hyde Bellagio will celebrate New Year's Eve with Paris Hilton taking over the DJ booth for an exclusive performance that will carry the packed club into 2014. The internationally successful businesswoman, entrepreneur, entertainment personality and global media icon made her DJ debut in 2012 and spent the past summer in a coveted DJ residency performing weekly for packed crowds of more than 10,000 club goers at Amnesia nightclub in Ibiza, Spain.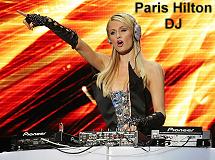 With the release of her forthcoming Cash Money Records album in 2014, Hilton unveiled her first single "Good Time" featuring Lil Wayne, and accompanying music video in early October. The upbeat party dance hit produced by DJ Afrojack is the first single off her album, and features notable collaborations with superstars including Snoop Dogg, Flo Rida, RedOne and more.
MARC SAVARD LIGHTS UP HIS HOME WITH HOLIDAY DISPLAY
V Theater headliner and Canadian-native hypnotist Marc Savard has decked out his home at 1420 E. Robindale Road with a light display for everyone to admire. The decorative lights, which add up to about 85,000 in total, are synchronized to 19 seasonal classics, as well as hit pop songs from the year. Savard's holiday light spectacular can be seen nightly from 5-10 p.m. until New Year's Day
BLUE MAN GROUP VISITS THEIR HOLIDAY TREE AT MAGICAL FOREST
Blue Man Group Las Vegas made a special stop to see their holiday tree at Opportunity Village's Magical Forest and posed for photos. The tree is composed of more than 3,000 twinkling LED lights and 80 feet of the production's iconic PVC piping. The interactive display teaches visitors how to play "O Christmas Tree" on the spot like a true Blue Man Group cast member. Patrons can visit Opportunity Village's Magical Forest now - Jan. 6. For information, visit www.opportunityvillage.org.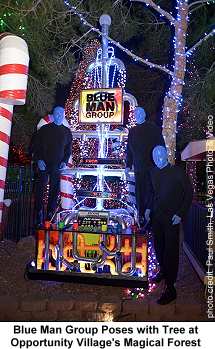 INNOVATIVE 360-DEGREE VIDEO UNVEILED BY XS LAS VEGAS
Fly above the dance floor, take in the party from the confetti's viewpoint, and get up close and personal with one of the world's best electronic music DJs through a new video unveiled at Wynn Social of Kaskade at XS Nightclub. Technology from Immersive Media showcases the first video of its kind, giving viewers a 360-degree vantage point from inside the nightlife venue. Immersive Media specializes in providing a platform for the capturing, storage, editing, distribution and playback of 360-degree content. Additional videos to be unveiled in the near future as well as plans for live streaming through Wynn Social.
NEXT NEON MUSEUM PHOTO TOUR IS JAN. 2
The Neon Museum downtown launched special one-hour-long photo shoots with up to 12 individuals in the Neon Boneyard this fall. During that time, participants may shoot photographs for personal use from anywhere in the Boneyard, as long as they stay on the designated rock-lined paths. The next Golden Hour Photo Tour is scheduled Thursday, Jan. 2, from 4 to 5 p.m. To register, send an email to phototours@neonmuseum.org. Cost for is $75 and $60 for Nevada residents, students, active military, veterans and seniors.
GREAT SANTA RUN HAD RECORD NUMBER OF KRIS KRINGLE LOOKALIKES
In spite of freezing temperatures on Saturday, Dec. 7, Opportunity Village made history with 11,221 participants dressed like Kris Kringle for the ninth annual Las Vegas Great Santa Run fundraiser in Downtown Las Vegas. Led by Grand Marshal Shania Twain, the iconic event beat its personal record and defeated Liverpool rivals for the "World Santa Challenge" championship.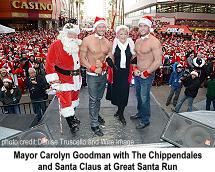 RAFTING TRIP WITH SANTA OFFERED ON CHRISTMAS EVE
On Tuesday, Dec. 24, the Black Canyon River Adventures is offering a one-time 12-mile "Rafting with Santa" journey on the Colorado River. This special trip includes Santa piloting the raft, ground transportation, gifts for each passenger, boxed lunch, cookies and hot chocolate and Christmas music at Willow Beach Marina, where the river trip ends. The approximately 6.5 hour adventure departs at 10 a.m. and costs $87.95 for adults, $82.95 for children, and $53.95 for children 5 to 12 years. Round-trip transportation to and from a Las Vegas-area hotel is $44. For reservations visit www.BlackCanyonAdventures.com or call 800-455-3490.
GOLDEN GATE HOSTS 2ND MISS SANTA'S HELPER CONTEST DEC. 21
On Saturday, Dec. 21, the Golden Gate downtown will hold its 2nd Miss Santa's Helper contest. Beginning at 8 p.m., players will receive a holiday token for every 200 points earned on slots or every $200 buy-in at the tables. Female contestants dressed in their sexiest Santa's helper attire will seek to acquire holiday tokens from judges using their charm, wit and beauty. Last year, Las Vegas teacher Jessica Roadhouse was named Golden Gate's 2012 Miss Santa's Helper. This year, Golden Gate will name three Miss Santa's Helpers.
ITEMS OF INTEREST
Meatball Spot, formerly at Town Square where Sugar Factory is now, will open a new restaurant at a new location in Planet Hollywood's Miracle Mile Shops this winter. The new, 1,500-square-foot restaurant will exude rustic and East Coast charm complete with an exposed brick interior. True to its namesake, meatballs of all varieties will be served including classic, chicken, turkey and pork with a selection of savory sauces.
Located adjacent to the Bellagio's Conservatory, Jean Philippe Pâtisserie continues its sweet holiday tradition this year with an impressive chocolate Mr. Grinch standing five-foot, six-inches tall and hand-carved from 112 pounds of sugar-rolling fondant and 50 pounds of chocolate. Creation takes more than three-months to make.
Also The Fountains of Bellagio offer seasonal sounds with classic holiday tunes.
Chocolate & Spice is holding a hands-on cookie-decorating holiday class for kids on Thursday, Dec. 19 from 4 to 5 p.m. Chef Megan Romano and Keris Kuwana will lead children through a design session featuring holiday sugar cookie cutouts and ginger bread ornament cookies. Class is $20, email megan@chocolatenspice.com.
Among the offerings at Tivoli Village shopping mall this month are pictures with Santa, train rides, and pet adoptions on Dec. 19 and 22 from 11a.m. to 2 p.m. next to Leone Café. At Santa's House, you can take photos with Santa and drop off letters to the red-suited man. Pet photos with Santa will be on Wednesday, Dec. 18 from 5-8 p.m. Train rides are offered for $3 a ride or two rides for $5.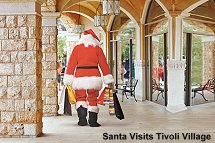 During December, Mandarin Oriental is transformed into a winter wonderland with opulent décor, traditional carolers, etc. The Tea Lounge on the 23rd floor offers a themed Nutcracker Tea with a portion of proceeds benefiting Nevada Ballet Theatre. Nutcracker Tea is 2 to 5 p.m. daily and costs $46. Spirited carolers will welcome guests checking in Dec. 19-through 24 from 5-7 p.m.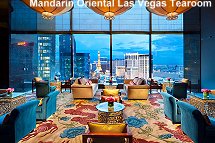 Reminder that the Dummkopfs comedy band will be at the Rampart Casino Thursdays Dec. 19 and 26 from 2-5 p.m. in the Addison Lounge. This fun band with the famous "Chicken Dance" is also playing on Sundays at the Skyline Casino. This costumed group plays all kinds of dance tunes imaginable.
Fitness aficionados looking to launch a healthy lifestyle in 2014 can kick-start their New Year's resolutions with complimentary group fitness classes on a first-come, first-served basis at Shine Alternative Fitness on Thursday, Jan. 2. Shine Alternative Fitness was named "One of the Coolest Fitness Clubs in America" by "Shape Magazine." For information, call 702-420-2358.
The Range 702, Nevada's largest indoor shooting facility, is offering an hour-long Holiday Safety & Awareness class on Wednesday, Dec. 18 at 6 p.m. Cost is $20, call 702-485-3232. In addition, The Range 702 is also offering one complimentary range time for patrons who bring in one unwrapped toy.
South Point Arena will host a Division II men's and women's Holiday Hoops tournament Thursday, Dec. 19 - Sunday, Dec. 22. At the same time, South Point Arena will welcome the Rocky Mountain Gun Show Dec. 21 and Dec. 22 beginning daily at 9 a.m. There will be a wide variety of vendors appealing to every outdoor adventurer, gun enthusiast and hunter.
During the recent 20th World Travel Awards, MGM Grand was announced as the World's Leading Casino Resort for 2013. A four-time recipient of the honor, MGM Grand received the award through votes cast by travel agents worldwide.
MGM Resorts International according to the Human Rights Campaign (HRC) for the second year is named one of the "Best Places To Work For LGBT Equity" earning a perfect score from the 2014 Corporate Equality Index (CEI).
FOCUS ON 'THE NUTCRACKER' AT DISCOVERY CHILDREN'S MUSEUM
Nutcracker magic is being felt at the Discovery Children's Museum as it collaborates with Nevada Ballet Theatre (NBT). Families are learning about "The Nutcracker" with specially planned programming through Jan. 3, 2014. Upcoming Nutcracker themes include: Dec. 14 -20 Dance and Movement investigating the physics of ballet; Dec. 21 -27 The Nutcracker Characters and Set Design creating props; and Dec. 28 - Jan. 3 Nutcracker Ballet constructing a merry little mouse.
Column Continues Below Advertisement
CONTINUE ON TO...:
THIS WEEK'S >LAUGHLIN NEWS
LAST WEEK'S >LAS VEGAS NEWS
>VEGAS VIEW FULL NEWS ARCHIVES
Return to >"Heard Around Town"
Return to >Las Vegas Leisure Guide