MEL TILLIS MAKES A STOP AT THE RIVERSIDE

Mel Tillis will star at Don Laughlin's Riverside Resort over the holidays, Dec. 27-Jan. 1. Tickets are $37.50 except on New Year's Eve when Tillis will do two shows at 7 and 10:30 p.m. Tickets are then $42 and $44.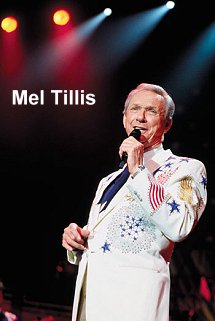 Tillis has been in the music business for 50 plus years and recorded more than 60 albums. Although he's recorded songs since the late 1950s, his biggest success was in the 1970s. He's had 36 Top Ten singles, with nine of them going to No. 1 including "Good Woman Blues," "Coca Cola Cowboy," and "Southern Rain." He and his band, the Statesiders, have worked concerts all over the 50 states, Canada, England, and other countries.
VOICES OF THE RIVER WILL PERFORM FOR CHRISTMAS GALA
The community choir group Voices of the River will perform during the second Christmas Gala being held at the Aquarius Pavilion on Friday, Dec. 16 at 6 p.m. Tickets are $15 at the door or in advance at the Bullhead City or Laughlin Chambers. Money raised from the concert will support student scholarships for the Mohave Community College Bullhead City campus.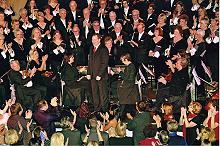 Voices of the River is a community choir and orchestra featuring more than 50 members of the Tri-State area of Bullhead City, Ariz., Laughlin, Nev., and Needles, Calif. The group will perform holiday favorites and selections from Handel's Messiah. The concert will also feature special performers including an instrumental soloist, an instrumental trio, a vocal soloist, two vocal duets and a praise band.
LAUGHLIN PREPARES FOR ANNUAL SCORE RACE
The "Laughlin Desert Challenge" – annual SCORE (Southern California Off Road Enthusiasts) races in the desert will be held Jan. 12-15, 2012.
For the 17th straight year, motorsports fans and racers from across the United States, Mexico, Canada, Denmark and Germany will convene in Laughlin for the popular SCORE Laughlin Desert Challenge. The first major motorsports event of the year in the United States will be held Friday through Sunday, launching the five-race 2011 SCORE Desert Series, the World's Foremost Desert Racing Series.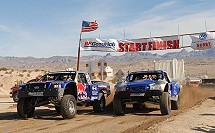 Two-time champion B.J. Baldwin along with former champions Robby Gordon, Rob MacCachren and brothers Mark Weyhrich and Gary Weyhrich will return to lead a stellar field of 29 SCORE Trophy-Trucks.
With 19 classes of cars and trucks divided into five groups, the single race is divided into multi-lap segments split over two days. Starting at 7 a.m. on both Saturday and Sunday, each group will race a pre-determined amount of laps each day over the fan-friendly 6.25-mile loop. The featured SCORE Trophy-Truck division will run eight laps over the 6.25-mile course at 1 p.m. each day followed by the unlimited Class 1 open-wheel desert race cars that will run their eight laps at 3 p.m. each day.
CROWDS ENJOYED BOAT PARADE OF LIGHTS
A record 22 boats participated in the fourth annual Laughlin River of Lights Boat Parade last month and lit up the Colorado River to begin the holiday season. This year's co-sponsors were Don Laughlin's Riverside and the Aquarius. Hundreds of spectators packed the Riverwalk by the two resorts to watch the parade and donated more than 200 pounds of non-perishable food and spare cash to area food banks.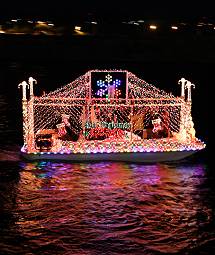 Robert Taylor of Bullhead City won first place and $1,000 for his spectacularly decorated boat. London Jet Boat Tours took home the Traveling Trophy.
'COMEDY ON THE EDGE' IS AT THE EDGEWATER
The Edgewater's "Comedy on the Edge" is featured in the showroom every Friday through Sunday at 7 p.m. Each show highlights two stand-up comedians. Upcoming acts are: Dec 16-18 Kathleen Dunbar and Andy Wood; Dec 23-25 Chris Curtis and Lou Magelowitz; Jan. 6 Beny Mena and Mel Kohl; Jan. 7-8 Vince Valenzuela and Phil Mazo; Jan. 13 Jerry Torres and Brandon Vestal; Jan. 14-15 Leif Skyving and Sherry Japhet; Jan 20 Dax Jordan and Danny Morri; Jan 21-22 Andrew Norelli and Alli Breen. Tickets are $10 at the Edgewater Casino Cage or the door.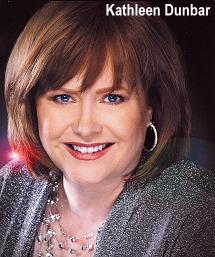 Kathleen Dunbar, who was the Comedy Winner in the "2003 Las Vegas Star Search" competition, will headline Dec. 16-18 with Andy Wood. Dunbar was born in Milwaukee, Wis., and raised with Midwest values and ideals. She now lives in Las Vegas and has developed into a sarcastic edgy woman with attitude and humor. Being a divorced mother has provided her with a quick wit and a realistic look at life. Her observation of the world around her is outrageous and fun.
TOP OF NEXT COLUMN
RIVERSIDE CELEBRATES WITH HOLIDAY SHOWS
"Aloha Christmas," a musical variety Hawaiian Christmas show, will play nightly in Don's Celebrity Theater at the Riverside Resort, Dec. 13-18 at 7 p.m. The production highlights the stars of the exotic islands in song and dance. Tickets are $30.50.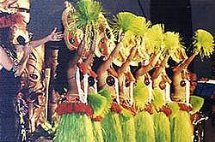 "The Nutcracker Ballet" performed by the Anaheim Ballet will appear Dec. 20-23 at 7 p.m. with a 3 p.m. matinee on Friday, Dec. 23. The classic heartwarming tale of Clara and her Nutcracker doll that changes her woeful winter into a feast in Candyland brings the holiday season to life. The program features battling toy soldiers and menacing mice, athletic Russian dancers, prancing Bon Bo ns and Tchaikovsky's "Waltz of the Flowers." Tickets are $28.50.
AQUARIUS FEATURES CHRISTMAS DINNERS
The Aquarius Casino Resort is offering special Christmas Day menus at the Vineyard Ristorante and Café Aquarius on Sunday, Dec. 25. The buffet will be moved to Aquarius Pavilion from Friday, Dec. 23 to Monday, Dec. 26, with a special Christmas Dinner menu on Dec. 25.
At the Vineyard Ristorante, it will be a four-course Christmas meal for $32.95 with ace | PLAY card or $36.25 without served from 4 to 10 p.m. on Christmas Day,
At the Café Aquarius, it will be a traditional meal of either Roast Tom Turkey or Honey Baked Ham for $12.95 with ace | PLAY card or $14.39 without from 11 a.m. to 9 p.m. on Christmas Day.
NEW YEAR's EVE IS BIG DEAL AT LAUGHLIN RESORTS
There will be free New Year's Eve Fireworks over the Colorado River on Dec. 31 at 8 p.m. with viewing on the Riverwalk between the Colorado Belle and Edgewater.
The Goodfellas, a band from Las Vegas, will be featured at the New Year's Eve Party at the Aquarius on Dec. 31 at 9 p.m. For room package information, visit aquariuscasinoresort.com and click on "special offers" or call 800-662-5825.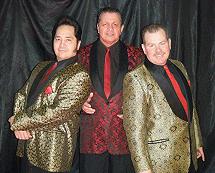 Over the weekend of Dec. 30 and 31, the Edgewater will hold dinner shows with The Rat Pack performing in the E Center at 6 p.m. Tickets start at $65 for the surf and turf meal.
There will be a New Year's Eve dance at the Don Laughlin's Riverside Resort in the Starlight Room on Dec. 31 at 8 p.m. Music will be provided by the Starlight Serenade Band. Cost is $22.
The Avi will hold the "Rockin' the River New Year's Eve Party!" with music by DJ Grace Black. The event beginning at 9:30 p.m. will include hot and cold hors d'oeuvres, desserts, a champagne toast, and a cash bar for $15 or $25 per couple.

UPCOMING EVENT NEWS
The Tropicana Express is closing the Round House Buffet Monday-Thursday through Dec. 22, and The Island Buffet at the River Palms will be closed Nov. 28-Dec. 22.
Tom & Sharon's Ballroom, Dance Party at the Riverside will take place on Dec. 17 from 1:30 - 4 p.m. Admission is free and there will be Zumba afterwards.
Through Dec. 22, the River Palms is giving away snowballs in the form of stuffed snowballs that open up to reveal a snowman, penguin, polar bear or reindeer. Trop Advantage® members earning 1,000 base points each week, Sunday through Thursday, can swipe their cards at a kiosk to receive a "Snow Buddy" voucher.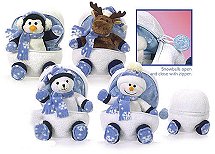 "Masters of Illusion—Live!" - a touring show based on the award winning TV series featuring more than a half-dozen performers, will headline Harrah's Fiesta Showroom, Dec. 26-29 at 8 p.m. Tickets are $25 and $35.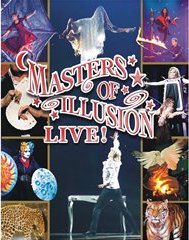 On Jan. 1, The Goodfellas will perform at the Aquarius in the Splash Cabaret from 9 p.m. to 2 a.m. The group is comprised of Danny Rome, Phil Ricco and Jerry Clark singing decades of rock favorites from the 50s, 60s and 70s. There's no cover charge.

The Golden Nugget's Chili Cook-Off will be the Laughlin Regional on Saturday, Jan. 7, and the Nevada State on Sunday, Jan. 8 in the front parking lot. Both cook-offs will have the same format: three categories in each cook-off of red chili, green chili, and best salsa. For information, call Dessert Dawn at 775-727-9790 or email chilidessertdawn@hotmail.com.

The River Cruizers car club will hold a charitable car show, The "Cruizin' on the River," Jan. 5-8, 2012, in the South Parking Lot at the Riverside. This event includes a "Show 'n' Shine;" contests and races; live auctions; door prizes; "Ladies Tea Party and Poker Walk;" music; auto parts swap meet; sell your vehicle car corral; and more. The hours will be Thursday late afternoon and evening, and Friday and Saturday throughout each day with awards on Sunday morning. The spectator fee is $2 and a car entry is $40, contact Ellen Bridges at 928-505-8457 for entry or vendor information.

TROPICANA AND RIVER PALMS HOLD TOURNAMENTS

The Tropicana will hold its $10,000 Candy Canes and Cash Blackjack Tournament, Dec. 16-18. First place will win $2,500 and the event will pay to 36 places. The registration fee is $50, or players may receive a free entry by accumulating 10 hours of tracked table games play from Dec. 1-15.

The Tinsel Time $1,000 Slot Tournaments are being held at the River Palms every Thursday through Sunday through Dec. 25 from noon to 6 p.m. Trop Advantage members must earn 25 base points for entry with a re-buy available for an additional 50 base points on their players' card. Tournament pays to 20 places, with the daily first place winner earning $250 cash.

CONTINUE ON TO...:

>THIS WEEK'S LAS VEGAS NEWS
>LAST WEEK'S LAUGHLIN NEWS
>VEGAS VIEW FULL ARCHIVES
>Return to "Heard Around Town"
>Return to Las Vegas Leisure Guide