HYPNOTIST MARC SAVARD SIGNS THREE-YEAR EXTENSION
Comedic hypnotist Marc Savard has a new deal extending his "Marc Savard Comedy Hypnosis" three years through 2014, which would mark eight years at the V Theater inside the Miracle Mile Shops at Planet Hollywood. Savard's show takes the stage Saturday through Thursday at 10 p.m.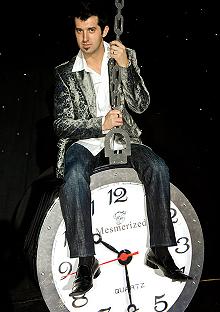 Savard whose show engages the audience as participants says he's working on several additions to take his show to a whole new level. Savard is a certified clinical hypnotherapist with a line of self-help programs designed to teach people how to utilize the powers of their subconscious and tackle every issue from weight loss and memory improvement to kicking nasty habits such as smoking and nail biting. He is releasing his first book, "Hypnosis: The A to Zzzzz of Stage Performing," in early 2012.
Column Continues Below Advertisement
FRANK MARINO JOINS KISS BOOTS CAMPAIGN
Frank Marino, star of "Divas" at the Imperial Place got to strut in the KISS boots for "These Boots Are Made For Rockin!" campaign. On the heels of the announcement about KISS® by Monster Mini Golf® opening in February 2012, the KISS® boots have been brought to Vegas for a limited engagement throughout the city. The mini-golf will be the first of its kind and will include an indoor glow-in-the-dark custom-designed, rockin' 18-hole miniature golf course, a state-of-the-art arcade, the largest KISS® gift shop in the world, A KISS® Gallery, "Hotter Than Hell" Wedding Chapel, a private VIP Room, FANtastic KISS® themed event rooms and the "Rock 'n Roll All Nite" Café.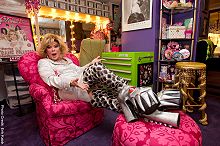 LAS VEGAS WINS WORLD SANTA CHALLENGE TROPHY
Opportunity Village's seventh annual Las Vegas Great Santa Run at Town Square welcomed 8,123 Santas on Dec. 3. The attendance numbers reached a new record for the World Santa Challenge, beating out Liverpool's previously held record with 7,312 participants. The official trophy will soon be delivered to Opportunity Village. The World Santa Challenge was created by Santa Fun Run events in the United Kingdom, United States and Tasmania to introduce an element of playful competition between Santa Fun Runs across the globe.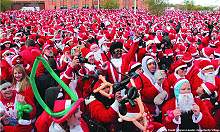 PAULA POUNDSTONE BRINGS HER WIT TO THE ORLEANS
Comedienne, writer, actress and author Paula Poundstone will bring her stand-up act to The Orleans Showroom Jan. 13 and 14. Tickets start from $19.95.
Poundstone began nurturing her stand-up comedy talent in 1979 on the Boston comedy scene. By 1990, she had moved to Los Angeles, starred in multiple HBO comedy specials and appeared on "Saturday Night Live." Poundstone was the first woman to receive a Cable ACE Award for a comedy special for her one-hour HBO special "Cats, Cops, and Stuff." She received her second Cable ACE Award for her self-titled HBO talk show series.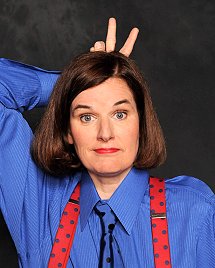 Poundstone has been the voice of characters in several television shows including "Cybill," "Science Court," "Hercules" and "Home Movies." She received an Emmy® Award for her field pieces on the PBS program "Life & Times." As an author, she has written multiple books and several magazine articles, including five years of writing the back page column in "Mother Jones."
MICHELLE BRANCH IN CONCERT AT THE VENETIAN
Grammy award-winner Michelle Branch will perform an acoustic holiday concert in The Venetian Showroom as part of the resort's Winter in Venice celebrations on Thursday, Dec. 15, in partnership with Sunny 106.5 to benefit HELP of Southern Nevada. General admission tickets are a $20 donation visit venetian.com or call 702-414-9000.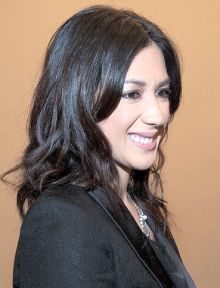 RUMOR HOLDS CANINE CHRISTMAS YAPPY HOUR
The Rumor Boutique Hotel will hold its first Canine Christmas Yappy Hour from 6 to 9 p.m. in the courtyard on Thursday, Dec. 15, featuring drink specials, tempting Yappatizers, activities, and photos with Santa Paws. The "yappy" event will benefit the Nevada Society for the Prevention of Cruelty to Animals (NSPCA). Doggie treat bags will be a $2 donation and Rumor will collect donations of pet-related items and supplies. With each donated item, you'll receive a raffle ticket to win a two-night stay and dinner at Rumor.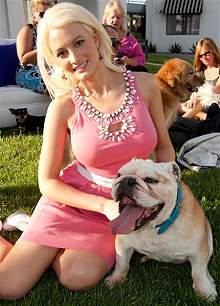 GARY VALENTINE HEADLINES THE IMPROV AT HARRAH's
Each week, The Improv at Harrah's showcases three comedians and Gary Valentine, Mike Burton and Nick Rutherford make the lineup for Dec. 13 – 18. Shows are at 8:30 and 10:30 p.m. Tuesday through Sunday and tickets are $29.95 or $44.95.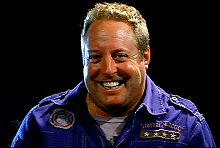 Valentine is best known for his nine seasons on the hit CBS sitcom, "The King of Queens." Burton made several appearances on "The King of Queens," as well as in films such as "Stuck on You," "Zookeeper" and the upcoming "Here Comes the Boom." Rutherford recently finished a nationwide tour with his sketch group "Good Neighbor."
2012 MISS AMERICA PAGEANT' NAMES ITS FAMOUS JUDGES
"The 2012 Miss America Pageant," which will broadcast live from Planet Hollywood on Saturday, Jan. 14 on ABC, has assembled its diverse panel of seven national judges: Mark Ballas from ABC's "Dancing with the Stars;" Raul de Molina from Univision networks No. 1 rated entertainment news show, "El Gordo y La Flaca;" Mike Fleiss - founder of Next Entertainment and executive producer of "The Bachelor" franchise; Kris Jenner - star, creator, and executive producer, along with Ryan Seacrest, of "Keeping Up With the Kardashians" for E!; Teri Polo who stars as Theresa Hayden Keen on ABC's "Man Up!"; Chris Powell host and transformation specialist on ABC's "Extreme Makeover: Weight Loss Edition;" and Lara Spencer host on "The Insider."
The three nights of preliminaries will take place Jan. 10, 11 and 12 at Planet Hollywood's Theater for the Performing Arts. Tickets will be available soon.
TOP OF NEXT COLUMN
NEW YEAR's EVE PARTIES ABOUND
Nine-time Grammy winner and multi-platinum songstress Mary J Blige will celebrate the New Year as well as her latest release, "My Life II…The Journey Continues (Act 1)" at the newly-renovated RPM Nightclub at the Tropicana. Her appearance also commemorates the launch of "Saturdays: Unleashed," which will feature special guests each week along with new resident DJ sourMILK™ from LA's Power 106. Tickets range from $50 to $125.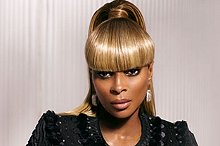 For the festive price of $201.20, guests can watch Las Vegas' famous annual fireworks from the terrace at Central Michel Richard at Caesars Palace. For the aforementioned price, guests will receive champagne and fancy hors d'oeuvres from 11 p.m. to 1 a.m.
Crafted in the warm pub style of 19th century Ireland, Rí Rá Las Vegas at The Shoppes at Mandalay Place will celebrate New Year's Eve with two toasts at midnight and at 4 p.m. to ring in the Irish New Year. The party is free with food for sale and will celebrate by hosting a Titanic-theme. Attendees are encouraged to dress in their best ship passenger attire with the best costumes winning prizes. The Shamrock Rovers will keep the party going from 9:30 p.m. to 2:30 a.m.
At the Crown Nightclub at the Rio, internationally known recording artists Tyga and Bobby Valentino will be performing at 10:30 p.m. Cost is $125.
Tyga signing with Bad Squad Label and appeared on a remix of Fall Out Boy's single "Arm's Race" alongside Kanye West, Lupe Fiasco and other artists. He was launched to fame when he performed the song at the 2007 MTV Video Music Awards. Tyga recently released the album "Careless World" also featuring Game, Snoop Dogg and Drake.
Valentino, also known as "Bobby V," got together with Organized Noize Productions team at age 16 and he became the first R&B artist to be a part of the Disturbing Tha Peace family.
There will be a 2012 Brooklyn Bridge Bash at New York-New York on Dec. 31 from 9 p.m. to 1 a.m. with an open bar. This outdoor party scene will be in the center of the action and fireworks. Tickets are $153.50.
Comme Ça, the sensational French brasserie brought to The Cosmopolitan by acclaimed Chef David Myers, will celebrate New Year's Eve with exquisite prix-fixe dinners created by Myers and Executive Chef Brian Howard on Saturday, Dec. 31. There will be two seatings from 5 until 7:30 p.m. and from 8 p.m. until midnight. The first will be five courses for $125 and the second seven-course for $195.
Social House inside Crystals at CityCenter will feature a seven-course menu created by Executive Chef Peter Woo complete with unlimited sake and champagne for $125 from 6 to 11 p.m.
Station Casinos' properties will welcome 2012 with parties. At Aliante Station in the ETA Lounge, DJ Silence will spin music from 9 p.m. to 3 a.m. with Go-Go dancers. Tickets are $25. In the Access Showroom, the classic Journey sounds with DSB will be featured. Tickets are $15.
Yellow Brick Road will perform at The Railhead at Boulder Station at 10 p.m. Advance tickets are $24.95 and $34.95 on Dec. 31.
DJ Hyphy Crunk will spin into the New Year at Ovation in Green Valley Ranch. Tickets are $75 and $100 day of the event. Tickets include an open bar from 9 p.m. to midnight.
At the Louie Anderson Theatre in Palace Station, a video DJ will play hits spanning from the '60s through the '80s and there's no cover.
Jerry Tiffe will start celebrating early at South Padre in Texas Station by bringing back the days of swing. Doors will open at 1:30 p.m. on New Year's Eve day. Cover will be $10 at the door. True-2-Crue will continue the party at 8 p.m. and tickets will be $15 with a champagne toast at midnight.
NIGHT SCHOOL 4 GIRLS OFFERS $20.12 TICKET
Night School 4 Girls at the Excalibur is kicking off 2012 with a special $20.12 ticket offer now through January for ladies to learn sultry burlesque moves and pole-style dancing. The package includes the 70-minute class, a diploma and a signature souvenir photograph. When purchasing tickets in December and January, ladies can print out the promo coupon from the Night School 4 Girls Facebook page and receive the special New Year's discount.
PARK RANGER SHELTON JOHNSON SPOKE AT NTA
Yosemite National Park Ranger Shelton Johnson, best known for inviting Oprah Winfrey to visit the park in order to lure more African Americas to national parks, was a guest speaker at the National Tour Association's (NTA) annual meeting held in Las Vegas this month. Because of his invitation, Oprah devoted two of her television shows to visiting and camping out in Yosemite National Park with her friend Gayle King.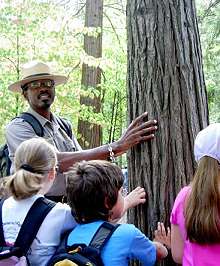 Johnson wins over audiences with his skillful speaking style embellished with humorous commentary often built around the fact that he was raised in the rough streets of Detroit. He opens and closes his compelling presentation by soulfully playing a small woodwind instrument resonating with the great outdoors that he represents. He has become an icon with the national parks.
MISCELLANEOUS CLIPS
For the holiday season, Blue Man Group will offer a 4 p.m. performance in addition to its regularly scheduled 7 and 10 p.m. shows from Monday, Dec. 19 through Friday, Dec. 30.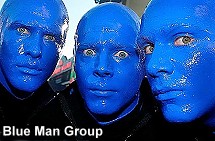 The Hard Rock Hotel & Casino is offering their concert-goers a Show Your Stub promotion good for exclusive discounts, valid at food, beverage and retail outlets around the property for up to 24 hours following the ticketed event.
Fashion-forward retailer BCBGMAXAZRIA is now open at Miracle Mile Shops at Planet Hollywood following a remodel of its existing location while fast-fashion concept Lola has also opened inside the center. Lola was created by global fashion brand BCBGMAXAZRIAGROUP and caters to young women.
Blue Man Group will do their one-of-a-kind rendition of "The Star-Spangled Banner" at the Las Vegas Wranglers vs. Bakersfield Condors hockey game inside the Orleans Arena on Saturday, Dec. 17.
"Frankie Moreno Live at Stratosphere" has moved from 11 p.m. on Wednesday nights to 8 p.m. with master pianist Frankie Moreno and his 10-piece band.
Smash Magazine and Hard Rock Cafe on the Strip will present the Jingle Bell Ball featuring Summit Grove, Red Wine Rewind, Play for Keeps, Parade of Lights, Offset Season, Article Pilot and Avalon Landing for a benefit concert on Friday, Dec. 2. Tickets are $5 with an unwrapped, new toy donation, or $10 at the door.
Notorious Hollywood star Charlie Sheen was recently seen dining at Michelin-starred restaurant Guy Savoy and Serendipity 3 both at Caesars Palace with his manager and a troupe of friends.
The Human Rights Campaign, a prominent benchmarking organization, has named MGM Resorts to its 2012 Corporate Equality Index along with 635 other major companies whose non-discrimination and benefits practices respect LGBT employees' workplace equality. This is the seventh year that MGM Resorts has participated.
Crazy Horse III will kick-off the world's longest running consecutive open bar beginning at midnight on Sunday, Dec. 18, until 11:59 p.m. on Tuesday, Dec. 27.
The 17th Annual Bagel Ball will be held on Saturday, Dec. 24, from 8 p.m. to 1 a.m. with Jewish singles mingling at Beso Ultra Lounge at Crystals inside City Center, Tickets are $25 for Jewish Center Community of Southern Nevada members, $30 for non-members and $40 at the door; call 702-794-0090.
HOGS & HEIFERS HOLDS CHILDREN's CHARITY HOSPITAL RUN
Hogs & Heifers downtown will hold its 7th Annual Miracle on Third Street Toy Run on Sunday, Dec. 18. A continental breakfast and registration will take place at the downtown hangout from 8 to 10 a.m. The run will go to Sunrise Children's Hospital around 11 a.m., where the group will greet 200 to 300 kids and their families. There they will be spending a few hours with the kids doing a variety of arts and crafts activities such as face painting, ornament making and stocking decorating. The Ride After Party will be back at Hogs & Heifers at 2:30 p.m., where a hot meal will be provided. There is no registration fee for the ride, just bringing one or more brand new unwrapped toys for children in all age groups.
Column Continues Below Advertisement
CONTINUE ON TO...:
>THIS WEEK'S LAUGHLIN NEWS
>LAST WEEK'S LAS VEGAS NEWS
>VEGAS VIEWS FULL NEWS ARCHIVES
>Return to "Heard Around Town"
>Return to Las Vegas Leisure Guide