The Las Vegas Hilton has signed Reba McEntire to a multi-week engagement in 2006. The superstar begins the first part of her engagement on Wednesday, May 3, with tickets already on sale for the "Key to the Heart" concert series presented by Whirlpool to benefit Habitat for Humanity. Her dates next year are May 3-7, June 7-11 and 14-18, July 19-23 and 26-30, and Aug. 24-26.
From "Can't Even Get the Blues" in 1982 to "Somebody" in 2004, McEntire has been delivering number one songs for more than 20 years, winning, among other honors, 15 American Music Awards, 12 Academy of Country Music Awards, seven Country Music Association Awards and two Grammys. McEntire was the first country female artist to sell five million copies of one album since Patsy Cline, and has sold more than 49 million albums in her career.

Column Continues Below Advertisement


Her self-titled TV show, "REBA" reigns as the WB's top rated sitcom in its fifth season, and has landed McEntire a Golden Globe nomination and a People's Choice Award. Her new album, "Reba #1's," which is a collection of the songs country music fans have known and loved for over two decades, is No. 3 on Billboard's Top Country Albums.
McEntire will perform Wednesdays through Sundays over nonconsecutive weeks in the Hilton Theater. Tickets are $138, $124 and $225 for VIP seating, which includes a meet-and-greet with McEntire. All tickets are plus tax and service charges, call 702-732-5755 or 1-800-222-5361.
Whirlpool's sponsorship of McEntire's "Key to the Heart" concert series is only one component of Whirlpool's ongoing partnership with Habitat for Humanity. Whirlpool donates a refrigerator and range to every Habitat home built in North America and more than 3,500 Whirlpool employees donate their time and skills to Habitat in their hometown communities. As the single largest philanthropic program in Whirlpool Corporation's nearly 100-year history, the company has helped more than 34,000 families since launching its partnership with Habitat in 1999.
International pop music superstar, Ricky Martin will perform at the Aladdin Theatre on Friday, Jan. 27, 2006 for one performance. Tickets are$85, $55 and $45 plus taxes and service charges; call Ticketmaster at 702-474-4000.
Martin is back with a brand-new album, "Life" the artist's most eclectic cross-cultural collection to date and his first English language album since 2000's "Sound Loaded." "Life" is the first Martin album since his worldwide smash, "Almas del Silencio" (Souls of Silence) debuted at No. 1 on the Billboard Top Latin Album chart with the largest first week's sales (65,063) of any all-Spanish language album in the SoundScan era in May 2003.
The Grammy-winning artist has sold more than 20 million albums worldwide. With his "Livin' La Vida Loca" single in 1999, Martin became the first solo Latin male artist of the SoundScan era to hit No. 1 on the Hot 100. Among his numerous awards, Martin won the Best Latin Pop performance Grammy for "Vuelve," a full-length Latin recording, at the 41st Annual Grammy ceremony in 1999.
Following the chart-topping international achievements of his self-titled English language debut, which was certified seven times platinum by the RIAA, Martin rode the success of "Sound Loaded," which has sold more than 5.4 million copies worldwide since its release on Nov. 14, 2000, has been certified gold and/or platinum in 26 countries, and is RIAA double-platinum in the U.S.
Nightlife innovator Pure Management Group has closed the Rio's BiKiNiS Beach and Dance Club that opened in October 2002 to make way for a new nightlife concept: Las Vegas' first high-end bowling lounge. The new venue will feature a 12-lane bowling alley and a high-end martini lounge and café. The as yet unnamed venue is scheduled to open in the fall of 2006.
Pure Management Group owns PURE Nightclub and The Pussycat Dolls Lounge at Caesars Palace, Tangerine at TI, Fat Tuesdays inside the Forum Shops at Caesars Palace and Coyote Ugly Las Vegas at New York-New York.
The Cannery in North Las Vegas will present a Celebration of the King's Life to The Club on Jan. 6 and 7 at 6 p.m. The fourth annual celebration will feature Johnny Fortuno's critically acclaimed Elvis Presley tribute performance as well as stories by special friends of Elvis. Tickets are $5 at the door.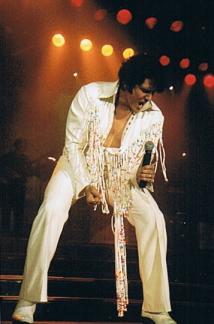 Special guests Ed Bonja, Elvis' official photographer and tour manager, Cynthia Pepper, his co-star in "Kissin Cousins," and Darlene Tompkins, his co-star in "Blue Hawaii" will provide personal anecdotes and reflections.
Other activities taking place throughout the weekend include memorabilia dealers and fan club displays. The Cannery Row Buffet will be taking part in the fun by hosting a special "Food that fed the King" section featuring Elvis' favorite dishes.
A local murder mystery group, A Touch of Mystery, will make their Southern Nevada debut with "Lethal Libations" on Valentine's Day, Tuesday, Feb. 14. The interactive improvisational theatre troupe will hold their dinner show at The Artisan Hotel & Spa. The price is $79.95, which includes a four-course meal with wine tasting, the show, tax and gratuity. For reservations, performance dates and menu selection, call 702-497-7936,
The group's hope is to turn this venue into a two night a week gig for their mystery shows.
The Hofbräuhaus Las Vegas has earned its third major award in two years. It has been named one of the top 100 restaurants in Las Vegas by the Chefs in America Awards Foundation in conjunction with the American Academy of Taste. The Hofbr"uhaus Las Vegas is the first authentic German-Bavarian restaurant in Las Vegas and the only replica of the world's most famous beer hall from its hand-painted ceilings to its food and drink. The beer is brewed in Munich under the more than 400-year-old purity law and shipped fresh to Las Vegas. The beer includes Hofbräu premium lager, wheat beer, dark beer and seasonal beers. For information, call 702-853-BEER (2337).
Las Vegas and Beaulieu Vineyard Wines (BV Wines) will ring in the New Year in classic Las Vegas style by attempting to break the Guinness record for the World's Largest Toast. Las Vegas Mayor Oscar B. Goodman will join more than 12,000 revelers as they lift a glass of BV Wine under the canopy of the Fremont Street Experience in Downtown Las Vegas at 11:50 p.m. on Dec. 31, 2005 for this once-in-a-lifetime event.
Las Vegas' toast will attempt to outdo the current record of a 10,079 person toast, which is held by a Japanese Sake company. In order to officially break the record, all pre-qualified participants must raise their glass in unison and drink at the same time. A Guinness World Records adjudicator will attend the event to ensure the record is carried out according to the guidelines provided. It may take Guinness 12 weeks or longer to determine eligibility and authentication.
The city, lauded for its over-the-top celebrations, will kick into high gear about 10 p.m. on New Year's Eve as BV Wines begins registering an estimated 12,000 ticketed adults who will raise their glasses moments before the strike of midnight. The Fremont Street Experience's Viva Vision LED Display system will provide an official countdown to the World's Largest Toast.
The group toast will occur in a cordoned outdoor area that will also feature live musical acts, hotel sponsored bars and a light and laser show at midnight. Participants must be 21 and older with proof of identification and pay $45 to obtain a fluorescent-colored wrist band and gain access to the toasting area.
In addition to serving as the perfect nightcap to the city's 100th birthday celebration, the World's Largest Toast will punctuate a myriad of festivities planned for New Year's Eve in Las Vegas, including the fireworks extravaganza "America's Party: Las Vegas New Year 2006." Presented by the Las Vegas Convention and Visitors Authority (LVCVA) and Las Vegas Events (LVE), the event will be co-produced by Fireworks by Grucci of New York, world-renowned for its mind-bending pyrotechnic creations, and consist of an eye-popping, five-mile-long display launched from 10 resort rooftops.
New Year's Eve will mark the official end of the Las Vegas Centennial Celebration, which showcased hundreds of events throughout 2005 including the World's Largest Birthday Cake, the resurrection of the city's historic Helldorado Days Parade, and "Once Upon 100 Weddings,'' an event in which 100 couples were married simultaneously under the canopy of the Fremont Street Experience.
Coldplay will perform at the MGM Grand Garden Arena on Feb. 3. Tickets are $40, $60 and $90; call Ticketmaster at 702-474-4000.
Queen will play at the MGM Grand Garden Arena with Paul Rogers on April 7. Tickets cost $46, $85 and $125, call Ticketmaster.
Kenny Loggins will headline the Aladdin Theater with the Pointer Sisters on Dec. 30. Tickets are $65, $85 and $125, call Ticketmaster.
Got to see "Plaid Tidings" at the Gold Coast and can unequivocally recommend this show. It is a pure delight. The four musical characters Jinx, Smudge, Frankie and Sparky, not only display incredible voices and harmony, but they keep the show moving with so many quick sight gags, that one glance away from the stage and you'll miss a laugh. Treat yourself this holiday season and catch this show.
The first Great Santa Run held earlier this month was only a few hundred short of Santas to break the Guinness World Book of Records under the Fremont Street Experience Downtown. The festive occasion included Mayor Oscar Goodman as the official "Head Santa." Another event is planned for next year. This will become another one of Opportunity Village's great annual events.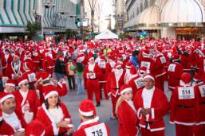 The second annual Liberace Museum 12 Days of Christmas is running through Sunday, Dec. 18. Museum admission is free if you donate the noted item to the chosen charity of the day. A Musical Tribute to Liberace Christmas special shows starring Wes Winters takes place Wednesday, Thursday and Saturday from 1 to 2 p.m. Admission is $12. For information, call 702-798-5595 ext. 13. The Liberace Museum is located at 1775 E. Tropicana Ave.
For those who missed the Rolling Stones when they recently performed in Las Vegas, can catch the musical band paying tribute to the ageless rockers in "Legends in Concert" at the Imperial Palace. Lead singer Chris LeGrand nails the vocal style and theatrics of flamboyant Mick Jagger, and Jim Riddick is dead-on as the eccentric Keith Richards. The Shreveport, La., -based group has been performing its homage to the Stones at clubs around the country for more than five years. Satisfaction will perform in "Legends in Concert" through Jan. 21, 2006.
The Opportunity Village's 14th Annual Magical Forest, located at 6300 W. Oakey Blvd., features a 30 ft. tall Centennial Tree that towers above the Magical Forest with dozens of ornaments and thousands of twinkling lights. This season's revamped Magical Forest features 34 displays and new highlights including an expanded entryway and nightly interactive activities for the entire family.
The RnR Wine New Year's Eve Bash will be held at Café Ba Ba Reeba on the Strip at the Fashion Show Mall from 8 p.m. to 1 a.m. The package deal will include reserved heated patio seating and an indoor option, a four course dinner, live entertainment and DJ spinning tunes, party favors and a Midnight Cava Toast. Cost is $70 per person plus tax and gratuity and alcohol is not included, call at 702-561-3498. Special Rock 'n Roll Wine Tasting flights are $20 for four different wines and bottle prices range from $25 and up per bottle. Space is limited to 200 people.
A new book on Las Vegas has author Jim Bickford profiling 70 local personalities in "Las Vegas Dreams." Bickford moved from the Bay Area about five years ago and landed many surprising interviews including billionaire casino mogul Kirk Kerkorian.
Construction on the second of three towers to be built at The Residences at MGM Grand has surpassed the 12th floor. When this project is complete, the 40-story tower will comprise fully-furnished studio, one- and two-bedroom luxury condominiums. The first two towers are sold out. Prices for the third tower range from $550,000 to more than $2.5 million.
The two-bedroom model is open for viewing in the sales office in the MGM Grand's Studio Walk. Office is open from 9 a.m. to 7 p.m. daily.
CONTINUE ON TO...:
>THIS WEEK'S LAUGHLIN SEGMENT
>LAST WEEK'S LAS VEGAS SEGMENT
>VEGAS VIEWS FULL ARCHIVES
>Return to "Heard Around Town"
>Return to Las Vegas Leisure Guide