HUMAN NATURE MOVES TO THE VENETIAN®!
Australian vocal group Human Nature just closed at the Imperial Palace where they appeared since 2009 and have announced their new two-year headlining residency at The Venetian. The new show entitled "Smokey Robinson Presents Human Nature: The Motown Show" will open on Saturday, Jan. 19, 2013. Human Nature will perform nightly Thursday – Monday at 7 p.m. Tickets are $59.95, $79.95 and $99.95.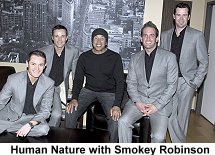 Human Nature has released nine albums, five of which went to No. 1 in their native continent. Their chart-topping Motown tribute, "Reach Out," went five-times-platinum, attracting the attention of famed songwriter Smokey Robinson, who recorded "Get Ready" with them and ultimately became a presenter of their Motown show.
Column Continues Below Advertisement
TREASURE ISLAND OPENS POKER ROOM AND LITTLE RICHIE'S
The poker room at Treasure Island recently relocated to the north end of the casino floor near the Race and Sports book in the space formerly occupied by Canter's Deli. Opening on Dec. 11 around 3 p.m. next to the poker room, Little Richie's Chicago Style Beef & Dogs will provide counter service for sandwiches and hot dogs daily from 11 a.m. to midnight.
'GRAND OLE VEGAS REVUE' IS OPEN AT THE PLAZA
The "Grand Ole Vegas Revue" is ongoing at the Plaza at 5 p.m. Saturdays – Mondays and Wednesdays. Tickets are $59.95, $49.95 and $19.95 for children. The show was created by "Phantom" performers Jonathan and Marisa Gorst who worked in "Phantom" at the Venetian and features seasoned Broadway and Las Vegas Strip performers. It's a true fast-paced variety revue inspired by the early 1900s vaudeville theater filled with song, dance along with pratfalls and fun silliness.
Jonathan Gorst has been the music director of the national tours of both "The Phantom of the Opera" and "Cats." His roots go back to Cripple Creek, Colo., where he played the piano for a similar type show. His wife and co-producer, Marisa Paull Gorst, has a background in classical dance that saw her onstage at Lincoln Center with the New York City Ballet and in Ljubljana, Slovenia with that country's National Opera Ballet.
DOS CAMINOS RETURNS TO LAS VEGAS
Dos Caminos will return to Las Vegas as Stephen Hanson and B.R. Guest Hospitality plan to open a location at 10820 W. Charleston Boulevard in Summerlin's Canyon Pointe Plaza in early 2013. The Mexican restaurant was formerly at The Palazzo and closed there on Nov. 14, 2011.
The space will feature a soft, neutral palate highlighted by a reclaimed barn wood wall accented by candlelight throughout the restaurant and lanterns inside and out. The outdoor space will be warmed by chimineyas, Mexican fire pits accented by bright fabrics.
THE MOODY BLUES VISIT THE PEARL AT THE PALMS
Rock legends The Moody Blues conclude their "The Voyage Continues Highway 45" tour at the Pearl Concert Theater inside the Palms on Dec. 15 at 8 p.m.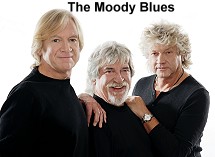 The tour continues the celebration of the 45thanniversary of their landmark album "Days of the Future Passed." Tickets start at $49.
HALFWAY TO ELECTRIC DAISY CARNIVAL EVENTS
Insomniac, the producers of the Electric Daisy Carnival (EDC), and TAO Group will present four days of world-class DJ programming at LAVO at The Palazzo, Marquee at The Cosmopolitan and TAO at The Venetian, Dec. 27-30. This will mark the halfway point to next Year's EDC. Tickets for EDC will go back on sale Jan. 9, at www.electricdaisycarnival.com.
LOU CHRISTIE PERFORMS AT THE SUNCOAST
Singer-songwriter Lou Christie will perform at the Suncoast Showroom New Year's weekend, Dec. 29 and 30. Tickets for his 7:30 p.m. shows are available from $15.95.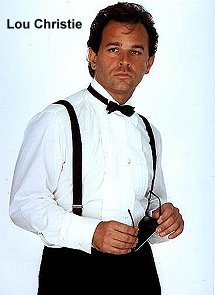 Christie's chart-topping career started in a two-track studio in his rural hometown near Pittsburgh. Christie's first million-selling song, "The Gypsy Cried," in 1963 transformed the local choirboy, Lugee Alfredo Giovanni Sacco, into teen idol Lou Christie. Other hits in the '60s included "Two Faces Have I," "I'm Gonna Make You Mine" and "Lightin' Strikes."
HOLIDAY SPIRIT IS IN FULL GEAR
At Shark Reef Aquarium at Mandalay Bay you can Meet Santa Jaws. On the weekends from 10 a.m. – 10 p.m. through Dec. 24, Mr. Claus is present in the aquarium's shipwreck exhibit. With each paid admission, children ages 12 and under receive a complimentary candy cane and a photograph with Santa.
Jean Philippe Pâtisserie inside Bellagio created a five-foot chocolate Santa made from 230 pounds of dark chocolate. At the Pâtisserie's ARIA location, a giant statue of The Grinch is on display.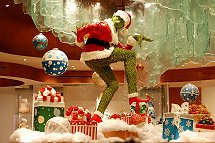 The iconic Fountains of Bellagio has water shows intricately choreographed to Christmas melodies running every 30 minutes starting at 3 p.m. and at noon on Saturdays and Sundays, and every 15 minutes from 7 p.m. to midnight daily.
The Golden Gate is hosting a holiday season contest on Saturday, Dec. 22 at 5 p.m. Sexy ladies are invited to participate in the Golden Gate's 2012 Miss Santa's Helper for a chance to win $5,000. Female contestants dressed in their sexiest Santa's helper attire will seek to acquire holiday tokens from judges. The winner will be crowned at 11 p.m. To enter, call 702-388-2411.
Acoustic ensemble Dan Hicks and the Hot Licks will perform at the Historic Fifth Street School on Dec. 22 at 7 p.m. The show will feature songs from the acclaimed 2010 album, "Crazy for Christmas," as well as several classics. Tickets are $10 in advance and $15 at the door, call 702-229-3515.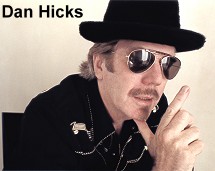 Reminder, it's an all-new production of "The Nutcracker" with new sets and costumes and performed with a live orchestra from Dec. 15-23 at The Smith Center. It's the first full-length production created by James Canfield for the Nevada Ballet Theatre.
Merry XIV-mas is the holiday-themed party Hyde Bellagio is holding on Sunday, Dec. 16 at 5 p.m. XIV Vegas Sessions debuted at Hyde Bellagio in January 2012.
PBR Rock Bar inside Miracle Mile Shops at Planet Hollywood will have an open bar Dec. 22 - 25. To celebrate, patrons can purchase a Santa hat for $20, which will grant them an open bar from 9 p.m. until 1 a.m. that evening.
Tony Sacca's "Merry Christmas Las Vegas" live show filmed at the LVH on Dec. 8 will be edited to air locally on Vegas TV and KTUD on Dec. 22 at 3 p.m. and 12:30 a.m. The show features Rich Little, Denise Clemente, newcomers Blonde Divas, casts from "The Rat Pack is Back" and "Nunsense," plus Esteban and his daughter Teresa Joy and 17-year-old Tommy Ward and the 17-piece Rossi eyes Jazz Orchestar stealing the show.
LAS VEGAS RECOGNIZES SPECIAL DATE 12-12-12
Five years ago, on 7-7-7, hundreds of people were married in Las Vegas as they believed it to be the "luckiest day of the century." Then there was 11-11-11. Now it's 12-12-12. Back Bar USA has joined forces with Dom Pérignon and selected iconic Caesars Palace as its backdrop for The Dom Pérignon Vintage Package costing $3,750 and the $1,212,120 wedding. For details, visit www.121212weddingslasvegas.com.
Along with regular weddings on the specialty date, The Chapel of the Flowers and Lotus Broadcasting's KOMP 92.3 FM's "Rock & Roll Morning Show" are picking 12 winning couples in a month-long promotion that will culminate with a mass wedding at the chapel on 12-12-12.
Ranch House Kitchen at Town Square Las Vegas will offer drink specials and a 12 percent discount on its barbecue dishes all day on Wednesday, Dec. 12.
CASINOS HOST GINGERBREAD DISPLAYS
Treasure Island is displaying a gingerbread scene featuring a ship modeled after Treasure Island's own pirate ship and Sirens Cove. With 60 pounds of gingerbread dough, the ship's base and decor weighs approximately 40 pounds with the ship measuring 36 inches in length and 29 inches high.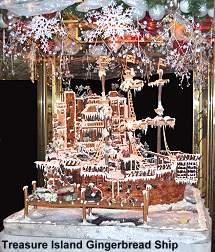 The annual Gingerbread House display at the historic Railroad Pass runs Dec. 10 to 26. This year the chefs are competing in an interdepartmental contest creating their favorite scene.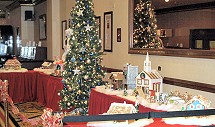 Elementary school kids competed in a Gingerbread House Contest and their creations are on display through Dec. 21 at the M Resort outside Spa Mio.
TOP OF NEXT COLUMN
CHEF TYLER FLORENCE HOLDS BOOK SIGNING AT COSMOPOLITAN
Famed chef, television host and author Tyler Florence will be signing copies of his new cookbook, "Tyler Florence Fresh, "at the Queue Bar inside The Cosmopolitan on Saturday, Dec. 15 from 2-4 p.m.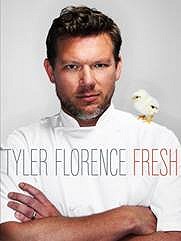 DINING GUIDE NAMES TOP 50 LAS VEGAS EATERIES
No question, Las Vegas is now recognized for its restaurants with the Strip representing a veritable "Who's Who" of the culinary universe. Huntington Press has published the 2013 edition of "Eating Las Vegas: The 50 Essential Restaurants," which compiles the opinions of the city's three most respected food critics, John Curtas, Max Jacobson and Al Mancini, to create the agreed-upon "Essential 50" restaurants. The 44-page specialty guide also has "Additional Recommendations." The paperback is $12.95 and e-book $7.77.
SMALL NEWS BITES
On Dec. 11, Wolfgang Puck will celebrate the 20th anniversary of his restaurant Spago at The Forum Shops at Caesars, which is recognized as the spark that ignited the culinary revolution in Las Vegas. To mark the occasion, Spago will offer a throwback menu with retro pricing From Dec. 10-14.
The new comedy club at Planet Hollywood, Sin City Comedy featuring a rotating lineup of prominent headliners has comedian, writer and actor Greg Vaccariello headlining Dec. 10 to 16. As an actor, he has appeared on TV shows "ED," "Law and Order: SVU," "Law and Order: Criminal Intent," "The King of Queens" and "Hope and Faith."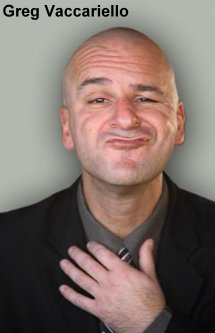 Lake Mead Cruises is offering a Season Special, a 90-minute Midday Sightseeing Cruise aboard the Desert Princess on Monday, Wednesday and Saturday for $10 per person through the end of the year. Reservations are required for this special rate, call 702-293-6180 and refer to "JP Special."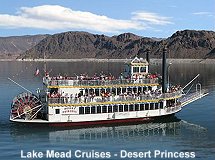 The Blasters who have released more than 10 albums including their July 2012 "Fun On Saturday Night" will perform at the Vinyl inside the Hard Rock on Sunday, Dec. 16 at 9:30 p.m. Tickets are $18.
Vargas & the Swank Set will be swinging at The House Of Blues on Tuesday, Dec.18 from 9 p.m. to midnight. There's no cover and the dance floor will be open for "Hep Cats and Dolls." Art Vargas established himself as a Bobby Darin tribute artist and spent years as such in the "Legends in Concert" show.
"Gigolos" star, Brace Land, enjoyed lunch at Meatball Spot at Town Square Las Vegas Tuesday afternoon.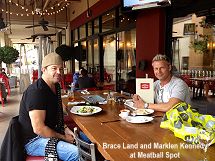 END OF THE WORLD PARTIES AT M RESORT AND RÍ RÁ
M Resort joins forces with Alien Tequila and Ciroc Vodka to present an out-of-this-world party. On Dec. 21, the end of the Mayan Calendar will become the center of a celebration in the Ravello Lounge from 9 p.m. until 1 a.m. with celebrity DJ KoKo. The first 50 people will receive a commemorative bottle of Alien Tequila. Ladies can join the party for free, $5 for locals and $10 for non-locals. Guests may RSVP by emailing nightlife@theMresort.com.
Rí Rá Las Vegas will celebrate the End of the World on Dec. 21 with drink specials, a "Last Meal" dinner menu and two toasts – one to celebrate Ireland's survival at 4:01 p.m. PST and a traditional midnight toast when Las Vegas survives at 12:01 a.m. PST on Saturday, Dec. 22.
NATIONAL FINALS RODEO CONTINUES THROUGH DEC. 15
Caesar Augustus in front of Caesars Palace is welcoming fans for the National Finals Rodeo by sporting a cowboy hat complete with a lasso.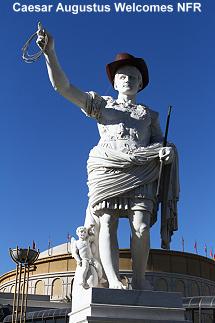 The Hard Rock celebrates the Wrangler National Finals Rodeo (WNFR) with tailgating parties, entertainment, autograph signings, plus food and drink specials through Dec. 15. The tailgate in the Harmon parking lot is from 3 p.m. to midnight Dec. 13 – 15 with performances by country rock band Cash Presley. Rider Steve Woolsey will be signing autographs from 10 to 11 p.m. Dec. 13. Inside at Vinyl, there are free 10 p.m. shows featuring band country crooner Derryl Perry Dec. 10 – 13.
MGM RESORTS PROPERTIES HOLD MULTIPLE WNFR EVENTS
The "Crown Royal Gold Buckle Zone," located at the Central, the MGM Grand's entertainment bar, provides a free party nightly. All-Around World Champion Trevor Brazile makes nightly appearances and will host his official World Championship After-Party on Saturday, Dec. 15 at 9 p.m.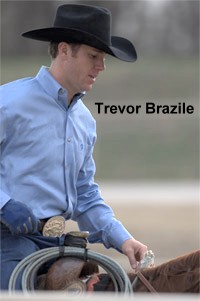 Academy of Country Music Awards nominee Lee Brice will close MGM Grand's WNFR festivities with a free performance Saturday, Dec. 15 at 11 p.m.
Comedian, actor and writer Rodney Carrington is performing nightly at 10 p.m. in the MGM Grand's Hollywood Theatre. Tickets are $89.99 and $69.99.
For the second year, MGM Grand is hosting a shopping experience featuring 60 popular rodeo brands inside the Marquee Ballroom through Sunday, Dec. 16 from 9 a.m. to 5 p.m.
There are more autograph signings: Crown Royal Bull Riders at MGM Dec. 10 and 12 from 10 to 11 p.m.; more than 17 World Champion cowboys and cowgirls including nine-time All-Around World Champion Trevor Brazile on Dec. 11 from 2-4 p.m.; Brazile again on Dec. 13 from 2-4 pm.; and Tie-Down Ropers Dec. 14 – noon to 2 p.m.
Mandalay Bay has created "Cowboyville" with the Convention Center East Parking Lot anchoring the expansive Cowboy Marketplace presented by Roper and featuring more than 300 Western vendors. Admission is complimentary.
The Mizuya Lounge at Mandalay Bay will feature Vegas Twang, Dec. 11 and 12, and Randy Brown Band, Dec. 13-15. Team Ropers will be signing from 10-11 p.m., Dec. 10-14 and Bull Rider Rocky McDonald will sign on Dec. 15.
Popular country band Ricky and the Red Streaks are performing nightly inside Cross Roads at the House of Blues at 10:30 p.m.
The Mirage has headliners Daryle Singletary and Justin McBride Dec. 13 and 14 and Chris Cagle Dec. 15. The Aces of Comedy Series will present Ron White from the "Blue Collar Comedy Tour" in the Terry Fator Theatre at Dec. 14 – 15. Tickets range from $59.99 to $79.99. Steer wrestlers will be signing on Dec. 12 from noon to 2 p.m.
Marshal Reign will take the stage in The Pub at Monte Carlo on Dec. 14 and 15. Bareback Riders will autograph on Dec. 13 from noon to 2 p.m. and Jack Daniel's Bull Rider Rocky McDonald will sign on Dec. 14 and 15 from 9 – 10 p.m.
FUNDRAISING HOLIDAY EVENTS
Aquae Sulis Spa inside the JW Marriott will hold its "12 Days of Giving" holiday fundraiser benefiting Candlelighters Childhood Cancer Foundation of Nevada from Dec. 13 to 24. Aquae Sulis will donate 12 percent of daily gift certificate sales to the nonprofit.
Communities In Schools of Nevada's annual Santa Tea with lots of activities will take place at Simon Restaurant and Lounge at the Palms with Chef Kerry Simon participating on Dec. 15 from 2 – 4 p.m. Tickets are $100 for adults and $50 for kids with all proceeds benefiting CISN.
"Beauty Kitchen" celebrity Heather Marianna will host a Holiday BBQ for Nevada Partnership for Homeless Youth at the William Fry Drop-In Center on Dec. 14. Any help with the Holiday BBQ is appreciated including donations of food, clothing, fast food gift cards and bus passes, call 702-383-1332.
CHATEAU NIGHTCLUB HOSTS PERSIAN CHRISTMAS AFTER PARTY
Chateau Nightclub at Paris will host the official Persian Christmas concert after party, complete with appearances by Persian music stars, on Saturday, Dec. 22. Musicians Bijan Mortazavi, Omid, Pouya and Shahram Solati will be celebrating and comedian Max Amini will host the special event. Tickets may be purchased in advance at www.ChateauNights.com.
SAPPHIRE GENTLEMEN'S CLUB CELEBRATES 10-YEAR ANNIVERSARY
Sapphire Gentlemen's Club will celebrate its 10th Anniversary and the completion of the new $8 million Sapphire Pool and Day Club on Dec. 13 from 7-10 p.m. with a Winter Wonderland, White Party. The winter wonderland will include bikini clad snow maidens, beach balls, a snow blowing machine, drink specials, entertainment with HardNox and "The World's Sexiest DJ" Playboy Playmate Coleen Shannon, and appearances by Playboy Playmates Sophia Lin and Nicolette Nightingale. Guests are encouraged to wear white.
Column Continues Below Advertisement
CONTINUE ON TO...:

THIS WEEK'S >LAUGHLIN NEWS
LAST WEEK'S >LAS VEGAS NEWS
>VEGAS VIEW FULL NEWS ARCHIVES
Return to >"Heard Around Town"
Return to >Las Vegas Leisure Guide