Show business legends Donny and Marie Osmond will reunite at the MGM Grand's Hollywood Theatre for eight performances July 17 - 23, 2008, with a 4 p.m. matinee on July 19. It's the first time the pair has played a Las Vegas-run since 1979. Tickets are $95, call 800-929-1111 or 702-891-7777.
During this rare limited engagement, Donny and Marie will perform their greatest hits on a custom stage designed specially for this historic reunion. The show will be a state-of-the-art extravaganza utilizing multiple projection screens, interlacing rare archival footage with the world premier of brand new videos produced by Donny.

Column Continues Below Advertisement


Donny and Marie made television history when their variety show "The Donny & Marie Show" debuted on ABC in 1976. They were the youngest hosts ever of a primetime network series. After multiple solo successes, the duo teamed up once again in 1998, hosting the nationally syndicated daytime talk show "Donny & Marie."
Donny began his career at age five on "The Andy Williams Show" performing with The Osmond Brothers. He has been awarded a grand total of 33 gold records and his most recent 55th album, "Love Songs of the 70s," immediately went gold in the United Kingdom. His multi-faceted career includes being a national television host on "Pyramid," a best-selling author with his autobiography, and a theater star with more than 2,000 performances in Andrew Lloyd Weber's "Joseph and The Amazing Technicolor Dreamcoat" and most recently on Broadway starring in Disney's "Beauty and the Beast." "College Road Trip," the Disney movie in which Donny co-stars with Raven Symone and Martin Lawrence, will open in March. He has even been a champion race car driver.
Making her debut at the age of three on "The Andy Williams Show," Marie has had an equally stellar recording career, making history at the age of 13 with her very first single, "Paper Roses," the first time that a female artist debuted at No. 1 in the country music charts. She has starred in several television movies and feature films, the ABC sitcom "Maybe This Time" co-starring with Betty White, and on stage in "The Sound of Music" and on Broadway in "The King and I." A New York Times best-selling author with "Behind The Smile," Marie was a judge on Fox's "Celebrity Duets" in 2006 and was most recently a finalist on the No. 1 smash series, ABC's "Dancing with the Stars." Her award-winning "Marie Osmond Fine Porcelain Collector Doll" line, debuted in 1991 on QVC, and has grown into one of the most beloved doll lines in the industry.
The Children's Miracle Network, a project of the Osmond Foundation, the Osmond family charity which Marie oversees, has thus far raised almost $4 billion for children's hospitals in North America, and will soon expand internationally.
The Cannery in North Las Vegas will celebrate the King's life on Jan. 11 and 12 with special performances by Elvis tribute artist Johnny Fortuno and Elvis' original back-up singers and Gospel Hall-of-Fame members, Bill Baize, Ed Hill, Sherrill Nielson and bass singer, Butch Owens as well as other special guests, friends and co-stars of Elvis Presley. Tickets are $15 at the door, which opens at 6:30 p.m.
One of Elvis' musical influences came from the Gospel music he heard in church and at the all-night Gospel gatherings. Baize, Hill and Nielson - former members of The Stamps Quartet - performed regularly with Elvis Presley on many recordings and concerts as back-up. Elvis called The Stamps Quartet his favorite group of Gospel singers.
Other special guests will include Elvis' personal friend and bodyguard, Sonny West; Elvis' cousin, Jerry Presley; Elvis' "Kissin' Cousins" co-star, Cynthia Pepper; Elvis' "Blue Hawaii" co-star, Darlene Tompkins; DJ with "Elvis on Air," Steve Christopher; Patsy Anderson and Sandy Miller.
Other activities taking place throughout the weekend will include memorabilia dealers and fan club displays. The Cannery Row Buffet will be taking part in the fun by hosting a special "food that fed the King" section featuring the superstar's favorite dishes.
The Red Bull Experiment will test the limits of the unknown this New Year's Eve at the Rio in the parking lot-turned-action sports venue. As the clock approaches 2008, sports fans will get the chance to see two record-setting jumps during ESPN's live "New Year. No Limits" telecast. Tickets are $12, call 702-777-7776.
"New Year. No Limits" will feature action sports stars Robbie Maddison and Rhys Millen performing two Red Bull Experiments. Maddison, a freestyle motocross star from Australia, will attempt to jump the length of a football field to set a new motorcycle distance jumping world record and Millen, a champion drifter and movie stunt driver hailing from New Zealand, will attempt the first-ever back-flip of an off-road racing truck. Guinness Book of World Records representatives will be in attendance to validate each jump.
The first jump in Part One of the broadcast will be from 8:15 - 9:30 p.m. PT. The next jump will take place during Part Two, from 11 p.m. - 12:30 a.m. PT. Both Red Bull Experiments will be aired live on ESPN's "New Year. No Limits" broadcast on Monday, Dec. 31, immediately following coverage of the Chick-fil-A Bowl.
Just a reminder, Celine Dion's "A New Day" show at Caesars Palace will close on Dec. 15.
Culinary guru and television talk show host Rachael Ray will personalize her newly released cookbook, "Just In Time!" and greet fans at Sur la Table inside Miracle Mile Shops from 5 to 7 p.m., Tuesday, Dec. 11. This is a ticketed event and space is limited. Tickets will be distributed in the store with the purchase of the book.
Recently attended a lovely reception at Stirling Club at Turnberry Place to announce the Happy Paws and Friends Pet Spectacular that will take place at Cashman Event Center, Feb. 1 and 2, 2008. It will be the largest pet expo staged in Las Vegas. Admission will be $10 and the money will be donated to pet organizations. For information, call 702-979-8815.
Las Vegas-Based Fine Artist, Joni Max, Featured Tuesday, December 11 on TLC's "Miami Ink"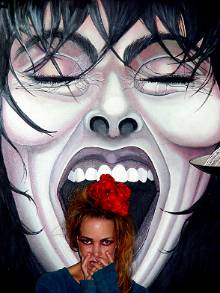 Las Vegas-based artist, Joni Max has her second national TV appearance in nearly a year, on The Learning Channel's "Miami Ink," in the episode "Through Thick and Thin" that will air Tuesday, Dec. 11 at 7 p.m. Pacific Time, and be rebroadcast on Tuesday, Dec. 25 at 7 and 11 p.m. Pacific Time. Last summer, Joni and her comedian / magician husband, Max Clever - currently appearing in "Viva Las Vegas" at the Plaza downtown - received red carpet makeovers as did their West Las Vegas home and an art exhibit of her original works at The Palm's Ghost Bar - before TV viewers nationwide courtesy of Bravo's "Queer Eye for the Straight Guy."
The Joni Max Exhibition opening night, Tuesday, Dec. 11 from 5 - 10 p.m. at the Shannon Webb Gallery, 101 E. Charleston Blvd, Suite 202, in Las Vegas is part of The Arts Factory's Holiday Open House. Max has been painting, sculpting, faux finishing, and using many other mediums ever since she figured out how to use her hands. Joni's work can also be viewed Jan. 4, 2008, at First Friday in the Arts Factory or by appointment by calling 702-806-5316.
Michael Jabara, the developer of SUMMIT at Brian Head created a winter wonderland at his own Las Vegas home when he unveiled his vision of a contemporary mountain retreat. He imported real Utah snow delivered direct from the mountains of the Brian Head Resort and welcomed guests to the grand opening of the SUMMIT Design Showcase, a replica residence in his own private backyard that is illustrative of the 454-residence community with town homes, condominiums and penthouses slated for construction in the first master-planned, signature resort in Las Vegas' burgeoning mountain playground of Brian Head. Residences are currently available, starting at $300,000.
The Bistro Zinc restaurant at Lake Las Vegas is presenting Christmas trees for charities through New Year's Day. You can stop by and help decorate the live holiday trees outside the restaurant. Each represents a different charity. Buy an ornament for $5, $10, $25 or $100 and hang it on the tree of your choice in support of your chosen charity. For information, call 702-567-9462.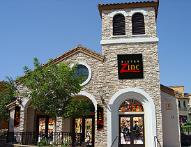 "The Producers" starring Tony Danza at Paris will close for the holidays from Dec. 16 to 31, and will open on Jan. 1, 2008, and run through Feb. 9, ending its one year engagement.
Paris and Nicky Hilton will celebrate New Year's Eve on the Strip at the LAX Nightclub inside the Luxor and lead the countdown to 2008 with a club-wide champagne toast at midnight. LAX opens at 10 p.m., call 702-280-3600.
At The Joint Concert Venue in the Hard Rock on New Year's Eve, American alternative rock band 3 Doors Down will perform at 9 p.m. The band has sold more than 12 million albums since their debut in 2003. Tickets start at $89.50, call 702-474-4000.
Also in the Hard Rock at AJ's Steakhouse, Richard Cheese & Lounge Against the Machine will bring in the new year at 11:30 p.m. with their swanky lounge music style playing popular rap, rock, metal and pop songs. Against the Machine is a cover band and comedy act from Los Angeles that has gained increasing popularity since 2000. The band is currently in the midst of their 2007 / 2008 worldwide "Drinkchronicity / Farewell Tour." Tickets start at $65.
At South Point New Year's Eve will get started early with the Las Vegas Tenors performing in the Grand Ballroom at noon with a champagne toast. Tickets are $20. There will also be a $25,000 New Year's Eve bingo session starting at 9:30 p.m. Buy-in will be $50.
Other New Year's Eve entertainment at the South Point will include dinner and dancing in the Grand Ballroom with Debbie Reynolds (tickets $140); Salsa in the Showroom with The Michito Sanchez Orchestra and a Latin dance party at 9:30 p.m. (tickets $50 with two drinks included); and a dance party in the Sonoma Ballroom with the Whip-Its at 9 pm. with an open bar until midnight (tickets $90).
Sushi Roku invites guests to create a start to 2008 with New Year's Eve specialty menus and a night overlooking the fireworks on the Las Vegas Strip. The Japanese restaurant on the Strip is offering a five-course menu for $90 and a six-course menu for $150 on Dec. 31. Both meals include party favors and a champagne toast at midnight; call 702-733-7373.
The Spiedini restaurant at the JW Marriott resort in the northwest part of the valley will feature a special New Year's Eve dinner from 5 p.m. until 11 p.m. on Dec. 31. Cost is $75, call 702-869-8500.
The Light Group will present special New Year's Eve celebrations at its exclusive nightlife and restaurant properties. For New Year's Eve reservations, call 702-693-8300. Additionally, The Light Group will unveil The Bank at Bellagio, a new nightclub raising the bar for the ultra-luxe nightlife experience. Tickets are $250 per person.
JET Nightclub will host an upscale James Bond-themed soiree where guests are encouraged to dress as their favorite Bond character. The club's sexy staff will dress as classic Bond pin-up girls. For the countdown, acclaimed DVDJ Roonie G will present an exclusive Bond-themed audio/visual midnight set. Individual tickets are $200 with VIP entrance and a hosted bar from 9 p.m. to 11 p.m. included.
STACK Restaurant & Bar, the new-age steakhouse, will present a dinner gala perfect for an early meal or a final New Year's Eve destination. The cost is $125 per person (minimum two guests) for a four-course pre-set New Year's Eve gala dinner with a champagne toast at midnight. Reservation times: 8:30, 9, 9:30 and 10 p.m. A la Carte and four-course gala menu reservations are also offered at 5, 5:30, 6, 6:30 and 7 p.m.
The Light Group is offering two-tiered packages which include a four-course dinner at STACK and nightclubbing at JET at the Mirage from 9 p.m. to 4 a.m. The Mirage Silver Package is $295 per person (minimum two guests).
Tickets for Caramel Bar & Lounge at Bellagio are $40 and a light fare menu will be offered from 5 p.m. to 7 p.m.
FIX Restaurant & Bar at Bellagio will offer a four-course pre-set New Year's Eve gala dinner and toast at midnight. Cost is $325 per person (minimum two guests).
Also, The Light Group's new Diablo's Cantina located Strip-front at Monte Carlo will offer a great Strip fireworks view and entertainment on the outdoor second floor stage. KVBC Channel 3 will be broadcasting the festivities all evening live from Diablo's open-air patio. Tickets are $50 and include VIP admission and complimentary appetizers from 8 p.m. to midnight.
Beginning Friday, Dec. 28 through Monday, Dec. 31, Studio 54 inside the MGM Grand will ring in 2008 with New Year's soirees. On Dec. 28, Hip-hop pioneer KRS-ONE, who has been dubbed "The Teacha," will kick-off the weekend with a live performance. Cover is $30 for men / $20 for women.
On Dec. 29, Studio 54 will host the official UFC 79 Liddell vs. Silva After-Fight Party following the mega-fight at Mandalay Bay with light heavyweight champion, Chuck Liddell. Cover is $40 for Men / $30 for Women; concierge pass $50.
On Dec. 31, Studio 54 will present its 10th annual New Year's Eve Gala that includes an open bar from 9 to 11 p.m. and complimentary champagne from 9 p.m. to midnight. The countdown will include a balloon drop and confetti blast at midnight. Tickets can be are $200 or $250 at the door.
CONTINUE ON TO...:
>THIS WEEK'S LAUGHLIN SEGMENT
>LAST WEEK'S LAS VEGAS SEGMENT
>VEGAS VIEW FULL ARCHIVES
>Return to "Heard Around Town"
>Return to Las Vegas Leisure Guide