EDGEWATER SANDWICH SHOP IS 100TH CAPRIOTTI'S LOCATION!

Edgewater Casino Resort will open the first Capriotti's Sandwich Shop on the Laughlin Strip in mid-December. The sandwich shop will be located at the south end of the casino floor near the casino's river walk access and just steps away from the Race & Sports Book and Edgewater Showroom. The sandwich eatery will be open from 10:30 a.m. daily.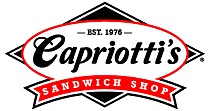 As the 100th franchise opening for Capriotti's, the Edgewater's shop is a milestone in the award-winning sandwich franchise's 37-year history. The shop's "The Bobbie," a sandwich filled with roasted turkey, stuffing, and cranberry sauce with a touch of mayo on a freshly baked roll was voted "The Greatest Sandwich in America" by AOL readers.
Capriotti's roasts their turkey and beef in-house nightly to ensure the highest quality in its signature subs. In addition to offering a wide range of sandwiches, Capriotti's also hand-tosses a variety of fresh salads such as The Black & Bleu, made with chopped greens, homemade premium roast beef, tomatoes, diced cucumbers and topped with bleu cheese crumbles.
FRANK SINATRA, JR. HEADLINES THE E CENTER
In 1963, Frank Sinatra, Jr. at 21-year-old made his debut as a singer in Manhattan even though his plans were to be a pianist and music conductor. Following his debut, he performed in major clubs and showrooms throughout the United States, Canada, Japan, Brazil and England. In 1988, he joined his father's staff as musical director and conductor. In 1993, both father and son were booked at the Desert Inn in Las Vegas. Sinatra Sr. was in the showroom and Sinatra Jr. conductor for his father's show and then did two of his own shows in the lounge. Following his father's death, Sinatra Jr. created a special performance featuring his father's voice. The tremendous success of the event led to his performing his father's music on tour. Tickets for his 8 p.m. concerts range from $25 to $85.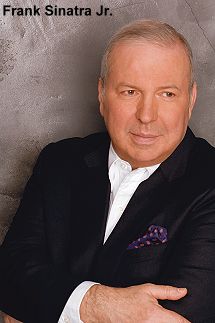 THE DIAMONDS WILL SHINE AT THE RIVERSIDE
The Diamonds will headline Don's Celebrity Theater, Dec. 17 - 22 at 7 p.m. Tickets are $32.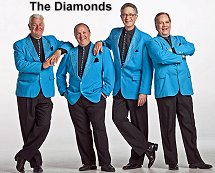 In 1957, The Diamonds released an instant million-selling hit called "Little Darlin'." The song continues to sell worldwide and has been dubbed "the National Anthem of Rock and Roll." To date it has sold approximately 20 million copies. Through the years The Diamonds have learned that the durability of this classic rock and roll music is as much about the future as it is about the past. As a result, The Diamonds continue to expand their audience to this day, performing in a variety of venues and settings worldwide.
Present members include: recent addition tenor Sean Sooter; lead singer Jerry Siggins with the group since 1991; newest addition bass singer Jeff Dolan; and baritone singer Gary Owens who joined the quartet in 1973. In the early 1980s, Owens took a brief hiatus from The Diamonds to complete his Master's Degree in Business Administration at the University of Southern California. Besides singing, and playing saxophone and flute, Owens does much of the vocal arranging for The Diamonds. "Although The Diamonds are four distinctive individuals," notes Owens, "We have created one strong group personality. The four of us as a unit have a special chemistry, and it is that chemistry that gives us our unique identity."
GIFT AND CRAFT SHOW WILL VISIT THE EDGEWATER
The International Gift and Craft Show will be held at the Edgewater in the Rio Vista Room, Dec. 28-Jan. 1, 2014. This family-friendly free event will offer five days to browse and shop. Vendors will showcase items such as belly dancing and Zumba apparel, jewelry and beaded items, hand-crafted women's fashions, home decorations, sculptures, candles and much more. Hours will be 10 a.m. - 10 p.m. Saturday-Tuesday and until 5 p.m. on Wednesday. For additional information, call 714-206-1054 or visit Global Fashions' website http://www.igcshows.com/.
RIVERSIDE RESORT OFFERS A SHOPPING BONANZA
The Riverside Resort has a dozen outlets tucked all over the property. The Antique Slots and Smoke Shop on the main casino floor offers collectible antique slot machines and the proprietors know if your home state allows the purchase of slots. Plus there are also tobacco products. This store opens daily at 7 a.m.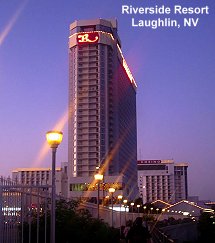 The Riverside's Main Gift Shop is open 24-7 and has souvenirs, a wide selection of figurines including fairies and clowns and sculptures, masks, jewelry, Native American dolls, and more. The Third Floor Gift Shop has a large assortment of showbiz memorabilia, figurines, holiday ornaments, and a wide range of collectibles as well as dolls, toys, model cars and some Route 66 items.
The Pro Shop in this case is in the Bowling Center on the second floor and offers bowling shirts, shoes, balls, bags and accessories. The Malissa's Sports store has football jerseys, NFL and NASCAR plaques and even signed movie star photos.
In the jewelry line, there's Jewelry By Charlie with silver gemstone jewelry, Ring-O-Rama with all manner of rings, Opal Mania featuring a variety of opal jewelry pieces, and the Watch Man Jewelry Center highlighting jewelry made by Arizona artists and collectible pillboxes by Impulse, as well as gold and silver and opal jewelry. It's hard to leave the Riverside without buying a watch. The Watch Man Store has more than 20,000 timepieces with each priced under $20. The Watch Man Deluxe has brand name watches like Citizen, Eco Drive, Bulova, Seiko, Fossil and Kenneth Cole at bargain prices.
Very specific item stores include: Sunglass Store with sunglasses under $10, jewelry and novelty items; Garden Critters with interesting garden decorations along with statues and fur rugs; and My Miracle Pillow. There's also the Fun in the Sun store and Bargain Corner with women's accessories all priced at $7.97 each.
AQUARIUS EXPERIENCES ROULETTE PHENOMENON
Security cameras at the Aquarius have confirmed the number 31 hit seven times in a row at one of the casino's roulette tables around 2:45 a.m. on Wednesday, Oct. 30, 2013. One player was at the roulette table at the time of the anomaly and won $540. On roulette, players have a 38 to 1 chance of hitting a specific number. The odds of hitting a specific number seven times in a row are approximately 114 billion to one. The general manager confirms the wheel was inspected and the play reviewed and everything checked out.
TOP OF NEXT COLUMN
MARC PATRICK AND JEFF CAPRI VISIT THE EDGEWATER
Friday through Sunday each week, two comedians headline the Edgewater Showroom at 7 p.m. Tickets are $10 and ACCESS Club card receive a $2 discount. January 2014 "Comedy on the Edge" comedians include: Jan. 3-5 - Jimmy DellaValle with Tim Homayoon; Jan. 10-12 - Danny Villapando with Dave Devito; Jan. 17-19 - Bob Kubota with Lyall Behrens; Jan. 24-26 - Todd Johnson with Virginia Jones; Jan. 31 - Feb. 2 - Wayne Francis with Jimmy Abeyta.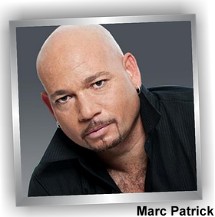 Marc Patrick will headline with P.J. McGuire, Dec. 20-22. Patrick's sense of humor was discovered by accident, while giving a presentation to a class of inattentive high school students on the benefits of a military career. He created a humorous presentation combining embellished stories about his prom gone wrong to his first job. His presentations were a huge success and he was the Air Forces' Top Recruiter for three consecutive years.
Patrick went on to test his comedy skills by entering the Gold Coast Comedy competition in 1998. Armed with one joke the "Adoption Story" and material from his class presentation, he took third place. Next was the Bay Area Black Comedy competition where comedy icons Michael Williams and Robert Sumner noticed him and helped him land a spot on BET's Comic View. Over the past decade, Patrick who prefers to work predominately clean has performed with many notable comedians.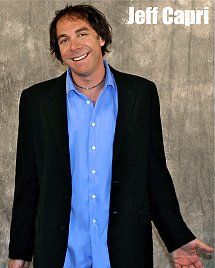 Jeff Capri and Amy Snowden will work together, Dec. 27-29. Capri is a second generation comic. He first hit the stage with his father at age six. As soon as he could get into a comedy club without a parent, he took the stage using nearly all of father Dick's material. Today, Capri has his own comic approach. Unlike his father's classic Catskill style, Capri's own observational and at times physical style touches on everything from the tacitly mundane to the ridiculous. With more than 15 years as a world traveled stand-up, Capri is a comic with great stage presence, sharp wit, and a timely delivery. His ability not necessity to work clean while keeping a caustic cynical edge is evidence of a well-seasoned comedian.
TIS THE SEASON TO SHOP
Have you ever thought about doing some holiday shopping at the gift shops and boutiques at the casinos as well as the Laughlin Outlet Center? We've already highlighted all that the Riverside has to offer. The shopping mall with nearly 50 merchants offering some 20-50 percent below retail on a variety of top-name products is located on Casino Drive and across the street from the Aquarius. Some of the outlets include: A 2 Z; Bass Company Store; Bath & Body Works; Boot Barn; Carter's; Claire's Accessories; DC Shoes; Dress Barn; Family Dollar; Hat Company; IZOD; Kay Jewelers; Kitchen Collection; Lane Bryant; Levi's; Maidenform; Naturalizer Shoes; Perfumania; Piercing Pagoda; Quiksilver; Rue 21; Van Heusen; Hickory Farms and many more. The stores will be open Christmas Eve from 9 a.m.-8 p.m. (Nevada time).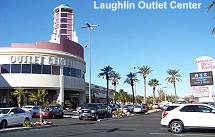 You can wander in and out of the properties and the many main gift shops. At Harrah's there is the Main Gift Shop with lots of items in the Hello Kitty line. There's also holiday decorations, candles, figurines and ceramic collections, Southwest-theme items, pink flamingo garden stakes, characters and wind chimes, jewelry, casual clothing for the family, World Series of Poker apparel, and also Glitz To Go with some items starting at $10.
The Edgewater's Main Gift Shop features upscale clothing for women, casual clothing for men, women and children, a selection of $10 items, collectible figurines, novelty items, stuffed toys and jewelry. It's open 24-7. Next door the Colorado Belle's Gift Shop is in a new location with upscale women's fashions, casual clothes for the family, designer handbags, gemstone globes, a large selection of $10 items, fragrances, candles, jewelry, toys, stuffed animals, ornaments, figurines and more. It's also open 24 hours.
A very specific store is the Bubba Gump's Gift Shop at the Golden Nugget with a variety of logo items, stuffed toys, shirts, etc.

The Tropicana has the Gift & Smoke Shop with Tommy Bahama shirts and watches, T-shirts, Seiko watches, figurines, collectibles, clocks, stuffed animals, jewelry, children's toys, wall art and cigars. This store is open 6 a.m.-midnight Sunday through Thursday and 24 hours on Friday and Saturday.
There are boutiques at Harrah's, the Tropicana, and a $10 Boutique at the Edgewater with nothing in the story over $10.

The Pioneer Country Store features a country theme décor with small ceramic figurines, stuffed animals, holiday mugs and tree ornaments, western belts, wind chimes, tins filled with goodies like chocolate bars, old fashioned taffy and stick candy for stocking stuffers.
Even more stores to check out are: the Gift Emporium at the Golden Nugget with designer clothing and name handbags; This, That And The Udder at the Regency; the Aquarius News & Gifts; Jewels of Laughlin at the Aquarius; sports themed Fan Zone at the Tropicana; and the Beach Shop Gift Shop at the River Palms. The Avi has a wide selection of handmade Native American arts and crafts including several items made by Fort Mojave Indian artists at their Avi Gifts & Crafts outlet.
AQUARIUS PLANS HAPPY HOLIDAY FREE SLOT PLAY GIVEAWAY
Aquarius ace | PLAY™ members will receive $10 in free slot play for every 2,000 base slot points earned during the Happy Holiday Free Slot Play Giveaway promotion from Friday, Dec. 20 through Thursday, Dec, 26. There is no cap on how much free slot play a player can earn during the promotion. Guests must swipe their ace | PLAY™ card at an ace | PLAY™ kiosk to participate in the promotion after midnight Dec. 20. The Happy Holiday Free Slot Play Giveaway promotion is an ace | PLAY™ Points Free Premium, which means players keep their points. Signing up for an Aquarius ace | PLAY™ card is free; however, guests must be at least 21 years of age.
AQUARIUS PLAYERS PROVIDED FAMILIES THANKSGIVING DINNER
Generous players at the Aquarius helped provide 360 local families with Thanksgiving dinner. As part of Aquarius' second "Feed a Family" program, local agencies were able to distribute boxes of food to feed a family of four. The meals were paid for by Aquarius players who generously contributed their ace | PLAY ™ points which are normally redeemed for comps, cash or free play.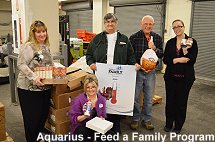 The Aquarius' second "Feed a Family" program began Nov. 1 and will continue through Dec. 20, 2013. Just like Thanksgiving, for every 12,000 ace | PLAY ™ points donated, Aquarius will donate a box of holiday items for a Christmas meal to a local agency that distributes food. Last year, this program helped feed more than 900 tri-state families.

Players can visit the ace | PLAY ™ center or contact a casino host to contribute points to the "Feed a Family" program. Players who are interested in contributing to the "Feed a Family" program without using their points can contact the ace | PLAY ™ center to learn about other ways to contribute to the effort.

CONTINUE ON TO...:

THIS WEEK'S >LAS VEGAS NEWS
LAST WEEK'S >LAUGHLIN NEWS
>VEGAS VIEW FULL ARCHIVES
Return to >"Heard Around Town"
Return to >Las Vegas Leisure Guide