MÖTLEY CRÜE LAUNCHES RESIDENCY AT HARD ROCK

Three decades after beginning its iconic journey of debauchery and decadence, Mötley Crüe will invade Las Vegas with a residency at The Joint inside the Hard Rock beginning Feb. 3-19, which will include Super Bowl Sunday, Valentine's Day and President's Day. Tickets start at $45.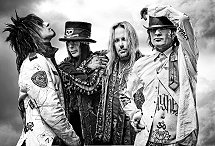 Vocalist and local resident Vince Neil, guitarist Mick Mars, bassist Nikki Sixx and drummer Tommy Lee have big plans to create a never-been-done before and incredibly interactive Vegas experience. Exact details are being kept under wraps. The group has accumulated worldwide album sales exceeding 80 million.
Column Continues Below Advertisement
LYNYRD SKYNYRD BBQ & BEER ROCKS VEGAS
The new Lynyrd Skynyrd BBQ & Beer at the Excalibur is in the middle of its 10-day grand opening celebration during the Wrangler National Finals Rodeo through Saturday, Dec. 10. The remaining lineup is: Dec. 5 Official American Country Awards After Party; Dec. 6, 9 and 10 Felice Garcia; Dec. 7 Lynette Skynyrd (all-girl Lynyrd Skynyrd cover band); Dec. 8 at 12:30 p.m. Lynyrd Skynyrd "Eat 'n' Greet" luncheon; and Dec. 8 Lynyrd Skynyrd Benefit Concert.
The "Eat 'n' Greet" luncheon will feature an opportunity to enjoy an intimate meal with the band members of Lynyrd Skynyrd along with an interactive presentation by Jeff Arnett, the 7th master distiller in Jack Daniel's 142-year history. The evening concert will offer fans an opportunity to be one of just a few hundred people to see the iconic band perform in their first dining venue. Concert tickets start at $300 and the "Eat 'n' Greet" and concert package is $750.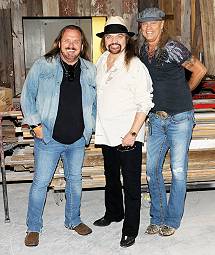 The band's famed "Hell House" is the inspiration behind the atmosphere that showcases walls made of authentic 150-year old barnyard wood, concrete floors and aged brick. The tables are made from floors of historic grain barns and the surface marks are hoof marks from many generations of animals. The tabletops are made of rough-faced old growth Douglas fir from pre-World War II era from historic sites including a 1927 Brentwood house and a Los Angeles church.
The staff is part of the action with bartenders and servers singing and jumping atop the bars and stage throughout the night and leading sing-alongs.
MICHAEL JACKSON FAN FEST SHOWCASES MEMORABILIA
Michael Jackson Fan Fest is running through Dec. 14 in the Mandalay Bay's Bayside Exhibit Halls. The personal items on display are from both his career and Neverland Ranch. Ticket prices start at $35.
The exhibit is designed to transport guests through Michael Jackson's life. Throughout the experience, fans have access to rare memorabilia; have the opportunity to take their own photos in recreated sets of the historic music videos, and to play the Michael Jackson The Experience video game with other fans. You can walk through the storied gates of Michael Jackson's Neverland Ranch, view his personal book collection in a study filled with his actual furniture, and see inside his 1999 Rolls-Royce Seraph limousine.
Each Fan Fest session will last four hours and overlap each performance of "THE IMMORTAL World Tour."
OLD HOMESTEAD STEAKHOUSE UNVEILS COCKTAILS
As the Old Homestead Steakhouse prepares for its opening next month at Caesars Palace, Master Mixologist Eddie Perales has already designed 15 new excusive cocktails for the establishment such as Beer It Up and Bacon Bloody Mary. Old Homestead Steakhouse is one of New York City's most historic restaurants and the new 16,000-square-foot, 250-seat eatery with a full dining room, private dining room, lounge and bar will be the first location on the west coast.
RAILROAD PASS DISPLAYS GINGERBREAD HOUSES
As part of the Railroad Pass' year-long 80th birthday celebration, the property has brought back the tradition from the 1800s with the artistry of Gingerbread Houses. The display, which can be viewed up close, is available and free, 24 hours a day, in the hotel lobby through Christmas Day. Curt Thompson, director of operations, plans to make this an annual holiday event.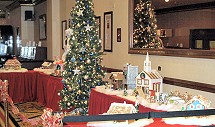 BELLAGIO's CONSERVATORY BECOMES WINTER WONDERLAND
The Bellagio's Conservatory & Botanical Gardens has transformed into a magic winter wonderland through Jan. 2. The new holiday-themed display features a 42-foot Shasta White Fir with more than 1,700 gold and silver holiday ornaments and 13,500 lights, floating ornaments along a lazy river, thousands of poinsettias, 24 over-sized gold and silver bells overhead, a trio of topiary polar bears adorned with "fur" coats made of more than 35,000 white carnations, a whimsical five-car toy train, and a floral greeting card made of more than 3,000 carnations.
New this year is a group of five animated ice skating penguins among a life-like family of 34 adult and baby penguins. An animated penguin examines the construction blueprints for an igloo "in progress" as another moves blocks of faux ice between its flippers.
The display calendar for 2012 is: Chinese New Year: Year of the Dragon Exhibit: Jan. 9 – March 3; Spring Celebration: March 11 – May 13; Summer Garden Party: May 21 – Sept. 8; Autumn Display: Sept. 16 – Nov. 24; and Winter Display: Dec. 2 – Jan. 5, 2013
JEAN PHILIPPE PÂTISSERIE SHOWCASES MR. GRINCH
With the cheeriest Christmas spirit, the Jean Philippe Pâtisserie at Bellagio has on display 24-hours a day the infamous Dr. Seuss character Mr. Grinch tip-toeing. The six-foot figure took a month to build and he's made of 50 pounds of chocolate and 112 pounds of fondant. There are also different small chocolate designs made for the holiday season.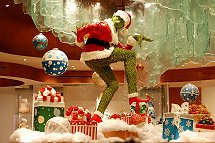 DOMENICK ALLEN AND VINYL ROCK THE SUNCOAST
Rock and roll legend from the group Foreigner, Domenick Allen, along with 10 musicians – aka VINYL – will rock the Suncoast Showroom for two performances on Saturday, Dec. 10, at 2 and 7:30 p.m. Tickets start from $15.95.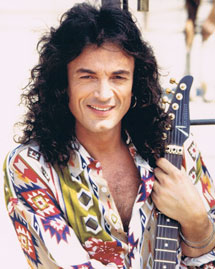 The concerts will be the culminating event of a two-week "Toys for Tots" drive at the Suncoast. Attendees are invited to bring an unwrapped toy to the concert and they will receive a 2-for-1 buffet coupon from the Suncoast.
DOWNTOWN HOSTS TRIBUTEPALOOZA WEEKEND
For the fourth year, the Fremont Street Experience (FSE) downtown will host "New Year's 2012 TributePalooza Weekend," with 12 of the best tribute bands from around the United States performing on three stages from 6:15 p.m. to 1 a.m. The tribute bands will perform the music of the Rolling Stones, Led Zeppelin, No Doubt, Red Hot Chili Peppers, NXS Van Halen and others. Also, the FSE will launch real fireworks under the canopy at midnight synchronized to virtual fireworks on the Viva Vision screen.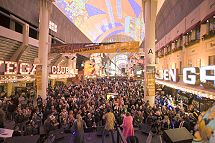 LAS VEGAS CELEBRATES NEW YEAR's EVE WITH FIREWORKS
Las Vegas New Year's Eve celebration known as America's Party: Las Vegas New Year 2012 will include a midnight fireworks show fired from eight rooftop locations along the Las Vegas Strip: Tropicana Las Vegas, MGM Grand, Aria, Planet Hollywood, Caesars Palace, Treasure Island (TI), The Venetian and the Stratosphere.
TOP OF NEXT COLUMN
SAM's TOWN's MYSTIC FALLS PARK IS DECKED OUT
Sam's Town has again transformed its Mystic Falls Park into a winter wonderland experience, complete with weekly visits by Cowboy Santa on Thursdays and Fridays from 4 to 8 p.m. and from noon to 8 p.m. on Saturdays and Sunday through Dec. 23. Photos will be available from $11-17.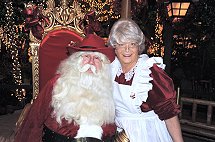 The area is adorned with garland streams, wreaths on lampposts, white light and snow-covered trees filling the atrium, lighted sculpture polar bears while Santa's workshop takes residence at the gazebo and the main fountain contains an ice sculpture. The free 15-minute winter laser light spectacular takes place at 6, 8 and 10 p.m. nightly through Jan. 1.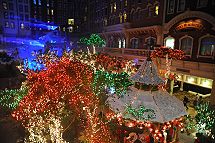 UNCLE KRACKER WILL PERFORM AT THE SILVERTON
Singer-songwriter Uncle Kracker will make his way to the Silverton's Veil Pavilion on Friday, Dec. 9 at 9:30 p.m. Tickets are $25.
Uncle Kracker whose real name is Matt Shafer got his first record deal with Detroit Indie Label at age 15. At that point, he was already best friends with Kid Rock and went on to co-write some of Rock's hit songs like "Forever," "Cowboy" and the No. 1 hit from 2008's "A Summer Long." Then he went on to a solo career.
STUDIO 54 TRANSFORMS INTO 'SALOON 54' FOR WNFR
The MGM Grand's legendary nightclub Studio 54 is transformed into "Saloon 54" Dec. 5-10 for after-hours fun during the 2011 Wrangler National Finals Rodeo. There are beer specials, saloon games, and DJs Du and Silver, who has toured with Nashville legends Jason Aldean, Eric Church and Rascal Flatts. The grand finale on Dec. 10 will feature a special performance by "Billboard" chart toppers Eli Young Band with hits from their recent album "Life at Best."
2012 CIRCUS SPECTACULAR VISITS ORLEANS ARENA
The all-new 2012 Circus Spectacular is bringing a star-studded lineup to the Orleans Arena, Jan. 5-8, for eight shows. General admission tickets are $12 for children (12 and under) and $18 for adults.
The lineup will include: ringmaster Joseph Dominick Bauer; World-renowned tiger trainer Daniel Raffo; aerial act Andrea and Lluvia; elephant Broadway Bo' comics The Christiani family; dexterity act Guiming Meng from China; Caroline Williams and the Liberty Horses; Hernando and Marius, performers of Motorcycle Madness; Fabio's Extreme Riders; and human cannonball David Smith, Jr.
XS NIGHTCLUB STARTS 2012 WITH INTERNATIONAL TALENT
XS nightclub at Encore at Wynn will ring in the New Year with a weekend sequence of international talent including Sebastian Ingrosso, Steve Angello, Afrojack and deadmau5.
Swedish superstar Sebastian Ingrosso will start on Friday, Dec. 30. He is one third of the powerhouse EDM group, Swedish House Mafia. New Year's Eve honors go to Steve Angello, another prestigious member of Swedish House Mafia, the producer and owner of Size Matters record label.
On Jan. 1, Grammy Award Afrojack and "The World's Next Top DJ" according to "Mixmag" will start off the New Year. Jan. 2 will mark the official launch of the monumental residency of deadmau5.
LAURA CROFT HOSTS PARTY AT CRAZY HORSE III
Crazy Horse III, the expansive gentlemen's club and Posh Boutique Nightclub located at PLAYGROUND, Las Vegas' first nightlife and entertainment complex, will ring in 2012 with a New Year's Eve bash hosted by "Holly's World" co-star Laura Croft on Saturday, Dec. 31. There will be an open bar package from 9 p.m. until midnight, including a champagne toast at midnight with limited quantities available for $50.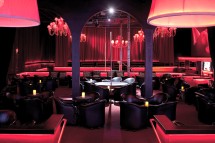 PLAYGROUND is a revolutionary concept offering multiple rooms to satisfy the 24-hour cravings of tourists and locals alike, including Crazy Horse III gentlemen's club, Posh Boutique Nightclub, fresh sushi at Sushi All Night and the Harem Hookah lounge. The 40,000 plus-square-foot venue is located minutes away from the Las Vegas Strip, just a few blocks west of I-15 on Russell Road.
QUICK CLIPS
The one year countdown to the premiere of Shania Twain's Las Vegas residency show "SHANIA: STILL THE ONE" at The Colosseum at Caesars Palace has officially begun. She will kick off her first 10 performances of her two-year residency on Dec. 1, 2012, and rooms at Caesars Palace for her first run of shows can be reserved beginning Jan. 1, 2012 at www.caesarspalace.com or by calling: 800-634-6661.
TAGS Evolution is a new store at the Miracle Mile Shops at Planet Hollywood and features fashion-focused accessories. Twelve times a year, the store introduces exclusive new jewelry lines. Prices start at $20.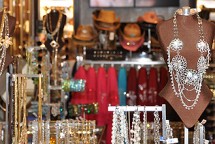 Ranking No. 21, The Wynn Golf Club at Wynn has been named one of the 75 Best Golf Resorts in North America by "Golf Digest" magazine. The course, designed by Tom Fazio and Steve Wynn, is the only golf club in Nevada to earn a spot on the list. The new $5 million, 7,000-square-foot Glow, a Mandara Spa, opened its doors in November at the Tropicana.
The Cowboy Christmas Gift Show is taking place in the North Hall of the Las Vegas Convention Center, Dec. 1-10, and features 400 plus vendors.
The MAACO Bowl, which is televised on ESPN, will have college football teams competing on Dec. 22 at Sam Boyd Stadium.
At the Silverton, Santa Claus is posing underwater in the resort's 117,000-gallon aquarium. From 10 a.m. to 1 p.m., he's available for photos on Dec. 10-11, 17-18 and 24.
McFadden's Restaurant and Saloon at the Rio will throw a celebration for
all December birthdays on Saturday, Dec. 17 and offer a free open bar from 11 p.m. until 1 a.m. for people with their birthday in the twelfth month.
The El Cortez is hosting a gift drive in support of Ronald McDonald House Charities through Friday, Dec. 16. Donations of a new, unopened gift and receipt valued at $5 or more will receive $10 in free play at the casino cage from 8 a.m. to 8 p.m.
Eva Longoria, "Desperate Housewives" star, will be the "Woman of the Year" for Nevada Ballet Theaters' Black and While Ball planned for Jan. 28, 2012, at Aria in CityCenter.
Anthony's Oyster Bar adjacent to the M Resort's main lobby seats 35. The casual dining option within Anthony's Steakhouse at the M Resort has introduced a new menu that celebrates the spirit of East and West with a variety of Asian selections as well as traditional fresh-from-the-ocean favorites.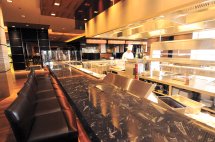 The Forum Shops at Caesars open at 10 a.m. and will be open until midnight on Christmas Eve and 11 p.m. on Christmas Day. For New Year's Eve, stores will close at 7 p.m. and restaurants will remain open.
Boyd Gaming's Gold Coast, Sam's Town and Suncoast properties are now rewarding area students for top grades with free games of bowling under the new "Making the Grade" program for local elementary, middle and high school students.
EVEN MORE NEW YEAR's EVE PARTIES AND EVENTS
Every week more news is coming out about events for this New Year's Eve. Gilley's Saloon, Dance Hall & BBQ at Treasure Island will have a party with a three-hour open bar from 9 p.m. to midnight, food, live entertainment and video and outdoor viewing of the fireworks. Tickets range from $149 to $212 depending on when you book.
Pure Nightclub with four distinct rooms will feature recording artist Chris Brown. General admission starts at $50 for women and $150 for men.
Studio 54 for its final New Year's Eve will have a party hosted by Pamela Anderson. General admission starts at $150 with an open bar from 9-11p.m.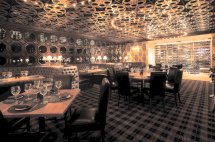 The Barrymore, a new restaurant that opened this year at the Royal Resort, will offer a New Year's Eve prix fixe menu for $59, and an added wine pairing for $26, call 702-407-5303.
Column Continues Below Advertisement
CONTINUE ON TO...:
>THIS WEEK'S LAUGHLIN NEWS
>LAST WEEK'S LAS VEGAS NEWS
>VEGAS VIEWS FULL NEWS ARCHIVES
>Return to "Heard Around Town"
>Return to Las Vegas Leisure Guide