The Golden Nugget has been Downtown's jewel ever since Steve Wynn owned it and been a winner of the AAA Four-Diamond award for 29 consecutive years, which is a Nevada record. Now owned by Landry's Restaurants, Inc. since September 2005, the 1,907 deluxe guest room and suite resort embarked on a 14-month, $100 million renovation project last year that was completed this month. The changes have left the property even more luxurious and elegant.
The most magnificent and dramatic change is the pool attraction. The centerpiece is The Tank, a $20 million, pool complete with the Dive Bar, cabanas, an aquarium and three- story waterslide. The 200,000-gallon shark aquarium features five species of sharks and various game fish.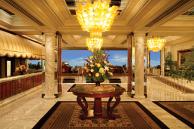 Column Continues Below Advertisement
Other spectacular wide-sale renovations include several new restaurants. Vic & Anthony's Steakhouse opened last December, Lillie's Noodle House opened last February, and the Grotto Italian Ristorante that is open for lunch and dinner opened in October. The Grotto is the first location outside of Texas for the eatery and the second Landry's concept to open at the property. The Buffet that used to be located on the main casino floor has been relocated to the second floor with easy escalator access. The Carson Street Café has undergone a makeover as well.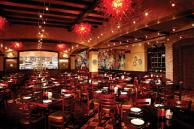 Even more renovations include a newly-renovated spa, a major renovation to enlarge the showroom to a 600-seat theater, a totally remodeled gaming floor, a new "no limit" poker room, a relocated and new country-club-style Race & Sports Book, a high-limit slot salon and the beautiful gold and brown toned RUSH Lounge. Even the North Tower lobby was remodeled, the porte-cochere was renovated, and Keno Lounge, VIP lounge, Perfect Timing high-end watch shop and Style & Trend clothing boutique were added.
Comedian and one of Hollywood's top roasters Vinnie Favorito has extended his weekly show schedule by adding one additional performance on Sunday nights at 8:30 p.m. His regular performances are two shows nightly in the 150-seat O'Sheas Theatre, Tuesdays through Saturdays at 7:30 p.m. and 9:30 p.m. For tickets ranging from $43.95 - $54.95, call 702-733-3333.
Favorito feeds off his audience with edgy cut-throat humor. Playing on the world's current events, he has stand-up comedy down to a tee and customizes his show to each audience.
Favorito began delighting audiences in 1986 and was first noticed nationally as a WZOU 94.5 FM (Top 40) Star Search champion. He made his way to the Las Vegas circuit in 1990 and is best known for his performances at The Improv comedy club at Harrah's. Before O'Sheas, Favorito served as the first-ever headliner at Binion's Gambling Hall, formerly known as Binion's Horseshoe.
One of the most popular bands of the '70s, Earth, Wind & Fire will perform at the Luxor as part of the Luxor's Spotlight Series Theater Jan. 11-14 and Feb. 15-18 at 8 p.m. Tickets are $95, $85 and $75, call 800-557-7428.
Singer, songwriter and self-taught guitarist, Lindsey Buckingham, who was one of the original members of the legendary band Fleetwood Mac, will presents his eclectic sound at the Luxor Theater Jan. 19 and 20 at 8 p.m. Tickets are $65, $55 and $45.
Legendary rock group, Foreigner will headline Feb. 9 and 10. Originally formed in the mid '70s, Foreigner has stood the test of time, finding success for more than 25 years with hits. Tickets are $79, $59 and $49.
The Blue Man Group, who performs nightly at the Venetian in their custom-built theatre, will be the headline attraction during the Pre-Race Show prior to the March 11, 2007, UAW-DaimlerChrysler 400 at Las Vegas Motor Speedway. Race fans can purchase pre-race activities passes and watch all of the pre-race ceremonies trackside. This will be the group's first appearance at a speedway or a NASCAR event. For tickets and information, call 800-644-4444.
Since this past March's NASCAR weekend, construction crews have raised the banking in the turns of the superspeedway from 12 to 20 degrees, moved pit road 275 feet closer to the grandstands and leveled most of the old infield buildings to make room for the Neon Garage.
The Neon Garage will be positioned in the center of the LVMS infield. It will be comprised of four buildings - constructed in the shape of a diamond - in which the NASCAR Nextel Cup teams will prepare their cars to race. Each building will be two stories, which will allow race fans to watch the teams work from ground level or from an elevated position.
The center of the Neon Garage will be open to race fans. There will be a sports bar with big screens to watch the on-track action, concession stands and continuous entertainment acts that represent Las Vegas' best shows. As an added bonus, the speedway is moving its Winner's Circle into the Neon Garage as well.
The Santa Fe has unveiled the first phase of its $130 million multi-phase expansion, which was designed to offer more amenities and convenience. The resort has opened the majority of its expansion now and will continue to open up additional offerings by summer 2007. This expansion is one of four property expansions in various planning stages by Station Casinos. Expansions at Red Rock Casino, Resort and Spa, Green Valley Ranch and Fiesta Henderson are scheduled for completion by mid-2007.
The highlights of the Santa Fe's recent expansion include: a new 2,900-space, five-level parking garage; a new 259-seat Rack & Sports Book featuring a five-screen, 114-foot video wall; two new restaurants - the Feast Buffet and Turf Grill; additional casino floor space with more than 400 slot / video poker machines; and 6,000 square feet of additional meeting and convention space bringing the total to more than 14,000 square feet. A new high-limit slot area will open Dec. 7.
Additional offerings that will open up through summer 2007 include a new poker room, two additional restaurants including Tides Oyster Bar and Salt Lick BBQ, and a Center Bar concept.
For one night only, the stand-up comedian David Brenner will make his debut appearance at The Club located inside the Cannery in North Las Vegas on Saturday, Feb. 17, at 8 p.m. Tickets are $29.95; call 617-5585 or 866-287-4643.
Brenner has been making Americans laugh for more than 35 years. His career took off after his first national TV appearance on "The Tonight Show" in 1971, where he has since made more than 158 appearances. Best known for his very political and current event-based acts, Brenner is recognized as a political pundit and has appeared on news-oriented shows, like MSNBC with Chris Matthews, CNN and The Fox Network.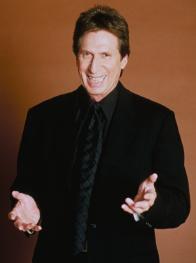 Brenner's achievements consist of four HBO Specials, including the 2000 title, "David Brenner: Back With A Vengeance," which received glowing reviews and became one of HBO's highest rated specials. Brenner's most successful comedy tour, "Laughter To The People," debuted right after 9/11, bringing healing comedy relief to the nation. In 2004, Brenner was included in "Comedy Central Presents: 100 Greatest Stand-ups of All Time."
The Las Vegas Hilton, in addition to featuring Barry Manilow as its resident headliner through 2007 in the Hilton Theater, has added some special dates for the first quarter of 2007: Art Garfunkel on Jan.12; Moody Blues Feb. 8-10; George Lopez, March 2 and 3; and Brooks and Dunn March 7-10.
Wayne Newton is performing at 8 p.m. Monday through Friday at Harrah's until Sunday, Dec. 31. His show is a compilation of his classic hits and favorite songs of the season along with his talented orchestra and ensemble singers on a winter wonderland set. Tickets are $113.50 and $86.
The Trans-Siberian Orchestra will make its regular Las Vegas stop this year at the Orleans Arena on Dec. 10. The show combines rock and orchestral instruments, singers, spoke narration, lasers and smoke machines.
"Donny Osmond's Holiday Celebration" show will take place at The Orleans Dec. 14-17.
The Scintas at the Sahara will be in the holiday spirit from Dec. 11-23 with their theater being redecorated for a holiday-themed music show.
"The Forgotten Carols" is a theatrical production that tells the story of a nurse tending to an old patient who claims to have been alive for 2,000 years, preserving the Christmas songs that fell by the wayside over a millennium or two. The production will visit Cashman Center downtown on Dec. 16 and 18.
"Christmas Hawaiian Style" will invade the Suncoast showroom, Dec. 21-24. The show will take a look at Hawaiian traditions by highlighting Island dances and Hawaiian twists on family Christmas tunes.
There are only a few more nights through Dec. 9 to experience "Cavalia" in the White Big Top tens in the Rio's parking lot. This splendid horse and acrobatic family show should be experienced by everyone.
Prince is lining up different talent to feature every Wednesday. His December lineup is Corinne Bailey Rae on Dec. 6, Larry Graham and Graham Central Station Dec. 13, and Marceo Parker Dec. 20.
Impersonator Rich Little, who lives in Las Vegas is not only imitating legendary names and stars in his show, now he is immortalizing many of them in his private collection of charcoal drawings. He currently has some of his works on display at The Gallery at Summerlin located at 9330 W. Sahara Ave., Ste.180.
Hogs & Heifers Saloon downtown will host this year's holiday networking mixer Martinis with Mayor Oscar Goodman on Thursday, Dec. 14 from 6 p.m.-8 p.m.
Tabú Ultra Lounge at the MGM Grand will be closed for two weeks from Dec. 14-26, and Studio 54 will be closed from Dec. 10-25.
"Lunchtime With Ira, Live from the Las Vegas Hilton," a weekly Television / Radio / Internet show that began broadcasting from the property's Shimmer Cabaret in 2005 on KDWN AM 720 in Las Vegas, has a new time at 9 p.m. The show, produced live every Monday at noon, features Ira David Sternberg talking with celebrities, entertainers, writers and personalities.
The Bellagio Conservatory and Botanical Gardens inside the resort is featuring a winter display with thousands of holiday flowers and plants as well as a bog made of cranberries and a polar bear family made out of white carnations. The show will run through Jan. 6. The conservatory is open 24 hours daily and admission is free.
The Rio's free Holiday Show in the Sky is taking place through Dec. 25. Sunday through Thursday, shows are at 4, 6, 8 and 10 pm. On Friday and Saturday there is an additional 9 p.m. show. Visitors can ride in a float during the show for $12.95.
The Nevada Ballet Theater will be performing "The Nutcracker" from Dec. 14-27 at the Judy Bayley Theatre located at the University of Nevada at Las Vegas Performing Arts Center. For tickets, call 702-895-2787.
Henderson Winterfest has free holiday activities including visits with Santa running from Dec. 8-23.
The Fashion Show Mall on the Strip has snow indoors in the Great Hall at the mall Thursday through Sunday until Dec. 18, then daily through Dec. 24. "Believe in the Magic" features a 35-foot tree, live dancers, Santa Claus and appearances by local celebrities. Show times are 1, 3, 5 and 7 p.m.
The Grand Canal Shoppes at the Venetian has Cividale, an Italian holiday celebration, featuring a costume parade daily at 1:45 and 5:45 p.m. An Italian fairy is handing out gifts randomly to shoppers and holiday carolers are strolling throughout the property through Dec. 23, from 6 p.m. to 9:45 p.m.
CONTINUE ON TO...:
>THIS WEEK'S LAUGHLIN SEGMENT
>LAST WEEK'S LAS VEGAS SEGMENT
>VEGAS VIEWS FULL ARCHIVES
>Return to "Heard Around Town"
>Return to Las Vegas Leisure Guide