WILLIE NELSON VISITS THE EDGEWATER!

On Jan. 14, Willie Nelson and Family will appear at the Edgewater's E Center at 8 p.m. This iconic Texan has had an amazing six-decade career with more than 200 albums. Ticket range is $55 to $300.

Nelson is the creative genius behind the historic recordings of "Crazy," "Red Headed Stranger" and "Stardust." He has earned every conceivable award as a musician and amassed reputable credentials as an author, actor and activist.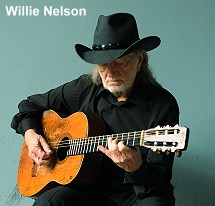 In the last five years alone, Nelson delivered nine new album releases with one earning a Grammy Award, released a Top 10 New York Times bestselling book, headlined Farm Aid which he co-founded in 1985, received his 5th degree black belt in Gong Kwon Yu Sul, and appeared on the cover of "Rolling Stone" magazine.
EDGEWATER ENDS YEAR WITH DOO WOP DINNER SHOWS
The Edgewater is bringing back two dinner shows in the E Center on Saturday and Sunday, Dec. 30 and 31. The 6 p.m. four-course plated dinner will be followed at 7 p.m. with a show featuring the greatest hits of three of America's greatest vocal groups: Cornell Gunter's Coasters; Bobby Hendricks' Drifters; and The Sounds of The Supremes with 70/80s Supreme Kaaren Ragland. Tickets start at $55.
Just a few of the hits in group order will include: Young Blood Yakety Yak Poison Ivy; Up On The Roof Some Kind Of Wonderful Under The Boardwalk Save The Last Dance For Me; and Stop In The Name Of Love Baby Love You Can't Hurry Love Back In My Arms Again.
RIVERSIDE RESORT HOSTS HOLIDAY SHOWS
"The Platters Very Merry Christmas" is playing in Don's Celebrity Theatre at the Riverside Resort Nov. 29-Dec. 3. The Platters are performing tradition Christmas songs along with their memorable classics such as "Only You," The Great Pretender," "My Prayer," "Twilight Time," "Smoke Gets in Your Eyes," and "Harbor Lights." Tickets are $30.
Closer to Christmas Dec. 21-24, "Silver Bells starring The Diamonds" will present their holiday season show with songs including "Sleigh Bells," "Let It Snow," "White Christmas" and many others. The Diamonds with 16 Billboard hit records are best remembered for "Lil' Darlin'" and "The Stroll." Tickets again are $30.
HARRAH'S FEATURES BILLY JOEL - ELTON JOHN TRIBUTE SHOW
Two super music stars are highlighted in the "Face 2 Face - Tribute to Billy Joel and Elton John" happening in the Fiesta Showroom at Harrah's Tuesday-Saturday, Dec. 26-30 at 8 p.m. Tickets are $29.50 and $40.50.
"Face 2 Face" is a tribute to mega-stars Elton John and Billy Joel, who each dominated the charts through the 70s, 80s and 90s selling millions of records with compelling mega-hits such as "Saturday Night," "Crocodile Rock," "Yellow Brick Road," "Candle in the Wind," "Piano Man," "Big Shot," and "Just the Way You Are." Face 2 Face is a high energy with funny performance bits, sing-a-long parts and spontaneous humor.
The two tribute artists promise a high energy, interactive rock 'n' roll show with each performing a solo set before a finale where the two piano men play together on separate pianos while sharing lyrics on each other's songs.
RIVERSIDE RESORT SALUTES RAT PACK
The Drinkin', Singin', Swingin' Tribute to Frank Sinatra, Dean Martin and Sammy Davis Jr. will be presented at the Riverside Resort in Don's Celebrity Theatre Dec. 27-31. Tickets are $32 for 7 p.m. shows and $35 for the 9 p.m. performance on New Year's Eve.
This original production recreates the magical spontaneity the three superstars brought to the stage every night. The amazing artists portraying the original group are Ryan Baker as Sinatra, Rick Michel as Dean Martin and Doug Starks as Sammy Davis, Jr.
TROPICANA HOSTS BRUNCH WITH GOSPEL MUSIC
The Worship & Waffles Gospel Music & Brunch will be held in the Pavilion Theater at the Tropicana on Sunday, Dec. 10 from 10:30 a.m. to 1:30 p.m. There will be a buffet style brunch menu with gospel hymns performed by Soul Tie. The all-you-can-eat buffet will have breakfast favorites including a waffle and French toast bar along with entrée selections including fried chicken, smoked brisket and oven roasted salmon. Tickets are $35 and a cash bar will be available.
COMEDIANS MAKE THEIR MARK AT THE EDGEWATER
Two comedians headline "Comedy on the Edge" at the Edgewater in the Edge Lounge every weekend Friday-Sunday at 7 p.m. Tickets are $15 with a $2 discount available on Sundays for U.S. veterans.
Michael Harrison will appear with Omar Tarango Dec. 1-3. Twelve-year comedy veteran Harrison tells jokes and stories on a range of material from family, minutiae, political commentary and things which matter to him. Along with performing at comedy clubs, he has appeared on television in "Queer as Folk," NBC's "The Bridge." TBS movie called "The Jazzman," MTV's "Video on Trial," and a Canadian half-hour comedy special.
Andrew Sleighter is with Brett Hiker Dec. 8-10. Sleighter is an 11-year comedic artist whose material revolves around his life and his friends. He wrote and blogged for the "Sports Show with Norm Macdonald" on Comedy Central and was a regular on the MTV prank show "Money From Strangers." Sleighter performed on Nuvo TV's "Stand Up & Deliver," "Last Comic Standing," and made his late night debut on "Conan."
The pairing Dec. 15-17 will be Claude Stuart with Amir Kalil. Stuart, a comedian for 21 years, performs jokes about his wife and son, observational humor, and bizarre and absurd bits from the news, such as "Fighting an Armless Man." Stuart used to work for Dennis Miller on his HBO show "Dennis Miller Live!" and has done a variety of TV shows. He's performed for U.S. troops and shot a documentary with Jimmy Shubert and several other comedians called "Zero Dork Nerdy" about entertaining the troops overseas.
Angel "Ace" Guillen will share the stage with John Pate Dec. 22-24. Guillen's talents extend beyond telling hilarious jokes on the comedy circuit for 15 years. He also sings, plays musical instruments and does impressions. Guillen has performed on TV on "Laughs on FOX," "America's Got Talent" and "Unacceptable Behavior" on SiTV.
TOP OF NEXT COLUMN
SOME 2018 HEADLINE HIGHLIGHTS
With the year coming to an end, it's not too soon to be booking headlining acts for 2018.
The outdoor Laughlin Event Center will start up with Alabama on Saturday, Feb. 24 and Chris Stapleton will keep the country sound going on Saturday, March 24. Both shows are at 8 p.m.
The E Center at the Edgewater has lined up famed ventriloquist and Las Vegas resident headliner Terry Fator Saturday, Jan. 27 and Paul Anka Saturday, Feb. 10.
Williams & Ree will be at the Avi on Saturday, Feb. 10 at 6 p.m. Tickets start at $20.
At Don's Celebrity Theatre at the Riverside Resort, the highly recognizable names will include: The Righteous Brothers Jan. 11-14; Pam Tillis Jan. 18-20; Doug Kershaw Jan. 23-28; Ty Herndon Jan. 31-Feb. 3; The Oak Ridge Boys Feb. 5-11; Crystal Gayle Feb. 15-18; The Lovin' Spoonful March 8-10; and Mickey Gilley & Johnny Lee March 21-25.
AVI HIGHLIGHTS HARRY JAMES ORCHESTRA
The Harry James Orchestra will bring big band music to the Avi Grand Ballroom on Thursday, Dec. 28 with performances at 5 p.m. and 8 p.m. Tickets start at $19.
The orchestra today is led by masterful trumpeter Fred Radke, whose early musical influence was legendary trumpet player Harry James, and features his wife and guest vocalist Gina Funes, who sings everything from Puccini to Gershwin. In early 1989, Radke was asked by the Harry James Estate and Columbia Artists to lead the Harry James Orchestra for James 50th Anniversary and the association continues today.
TROPICANA OFFERS BEATLES HOLIDAY EXPERIENCE
"Britain's Finest Christmas: A Complete Beatles Experience" will be a special Christmas show on Saturday, Dec. 16 at 8 p.m. taking place in the Tropicana's Pavilion Theater. The show will present Britain's Finest, a group which was featured twice on AXS TV's " The World's Greatest Tribute Bands." Tickets are $20.
Britain's Finest hailing from California provides a classy memorable journey through the British Musical Invasion. The foursome nail the songs, costumes and chemistry to successfully transport you back to that wonderful moment in time.
TIME FOR AN ANNUAL RUN IN LAUGHLIN
The 3rd Annual Run Laughlin Half Marathon, 5K & 10K is set for Saturday, Dec. 2. The marathon is presented by Laughlin/Bullhead International Airport with the half marathon starting at 8 a.m. at the Laughlin High School. The 10K and 5K begin at 8 and 8:15 a.m. at the Tropicana, which is the host hotel. At the finish, participants will find a live band, DJ, essential nourishment, hydration, benches and if old enough a free beer. It's estimated the three races will attract 1,000 runners and walkers.
GOLDEN NUGGET EMPLOYEES HOLD CRAFT FAIR
The 21st Annual Employee Craft Fair will be held in Gold Diggers at the Golden Nugget on Friday, Dec. 8 from 8 a.m.-5 p.m. This seasonal event is in time for folks to do some Christmas shopping for hand-crafted items and the bonus is proceeds will be used to support the Angel Tree Holiday Program.
QUICK CLIPS
New Year's Eve at Gold Diggers in the Golden Nugget will be ringing in 2018 starting at 10:30 p.m. with a complimentary champagne toast at midnight.
The holiday season is never complete without the Nutcracker Ballet, which will be performed by the Anaheim Ballet at 7 p.m. Dec. 7-9 and 3 p.m. on Dec. 9 and 10. Tickets are $30 for adults and $12 for children 12 and under.
"Happy Birthday to the King" starring tribute artist Don Rose will appear at the Riverside Resort Jan. 3-7 at 7 p.m. Rose, who was vocally trained in Orlando and Nashville, has performed his Elvis tributes all across the United States and Canada. Tickets are $30.
Southern Nevada Off Road Enthusiasts (SNORE) will invade the town with the area's McKenzie's Rage at the River racing event Friday-Sunday, Dec. 8-10 at Laughlin Events Park.
AQUARIUS HOLDS ANNUAL 'FEED A FAMILY' PROGRAM
For the sixth consecutive year through Dec. 25, Aquarius Casino Resort is holding its highly successful Feed A Family program, an ace | PLAY™ member points contribution system which helps local tristate families who struggle with hunger during the holidays. The program since its beginning has fed 5,246 families or 20,984.
For every 12,000 ace | PLAY points contributed, Aquarius purchases a box of holiday food items large enough for a family of four, including a seven-pound ham or a 12-pound turkey for Thanksgiving and Christmas. In addition, potatoes, gravy, vegetables, rolls, cranberry sauce, stuffing, pie and whipped cream are donated to food banks to distribute to local families. Contributions less than 12,000 points will be combined with other members' points.
Also, the 6th Annual Christmas Tree Silent Auction began Thanksgiving weekend with 10 individually-themed Christmas trees adorned with ornaments donated by Aquarius guests being auctioned off. The trees are on display at the property.
GOLDEN NUGGET HAS TOYS FOR TOTS DRIVE
The Golden Nugget is working with the tristate area's Toys For Tots to collect toys through Dec. 16 and raise money to help local families in Mohave County. The casino is collecting new unwrapped toys, donating $5 of every paid Spin To Win Entry to Toys For Tots, and selling Toys For Tots Trains in the Gift Emporium for $5. When a customer buys and signs a train, it will be hung on a Christmas tree outside the store.
LAUGHLIN'S CHARITABLE SIDE
A portion of ticket sale proceeds from Kid Rock's show at the Laughlin Event Center in November was donated to the Disabled American Veterans (DAV) and Tri-State Military Moms.
DAV received $10,000, which will be used to fund ongoing programs providing transportation for veterans and with financial needs, including helping to pay utility bills and mortgages.
Military Moms were given $25,000. The organization sends 60 to 80 packages to U.S. troops every other month, and they organize welcome home and deployment events for local military.
In addition, proceeds from sales of "R.E.D." (Remember Everyone Deployed) T-Shirts sold by each of eight Laughlin casinos were donated to Tri-State Military Moms.
Monies collected help to pay for the organization's Bullhead City "Heroes Highway" banners along Highway 95, which is dubbed "Heroes Highway," where photographs and branch insignia of active duty military service members in the Tri State Area are on banners. Currently there are more than 150 nominees who are honored on the light pole banners along the highway. The program to display banners of military service members on an Arizona highway is the first of its kind in the state of Arizona.
CONTINUE ON TO...:

THIS WEEK'S >LAS VEGAS NEWS
LAST MONTH'S >LAUGHLIN NEWS
>VEGAS VIEW FULL ARCHIVES
Return to >"Heard Around Town"
Return to >Las Vegas Leisure Guide