THE FALL OF ATLANTIS RISES AGAIN AT THE FORUM SHOPS!

An updated Atlantis Show at The Forum Shops at Caesars in the Roman Great Hall has been unveiled after months of being closed down to modernize the animatronic attraction. Since its debut in 1997, it has been among Las Vegas top free attractions. The 11-minute show is an entertaining take on the legendary story of the ill-fated city of Atlantis and the extreme sibling-rivalry of Atlas and his children, Gadrius and Alia, who struggle to rule the undersea city.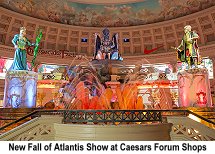 To modernize the show of epic proportions, significant changes include enhanced visual and special effects, superior sound, updated costumes and advanced animatronics. Each large-scale animatronic character stands nearly nine feet tall, has thousands of moving parts and is covered in fully-articulating armor. New are the 14 video LED screens measuring 11-feet by 266-feet that combined depict one continuous image, 40 surround sound speakers and advanced special effects.
The Atlantis Show is free and plays daily on the hour, beginning at 11 a.m.
Column Continues Below Advertisement
FIZZ NOW OPEN INSIDE CAESARS PALACE
The champagne lounge and bar, FIZZ Las Vegas, is now open nightly inside Caesars Palace. A $3 million build out of the 2,750-square-foot lounge showcases a fashionable two-story space rendered in warm hues of champagne, cognac, copper and ivory that complements an extraordinary colored photography collection. The room's silk moiré and walnut walls shimmer from the glow of cognac chandeliers crowning the airy interior. Bronze glass, cream leathers, faux fur and cheetah complete the palette.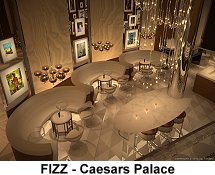 BEYONCÉ AND ANDREA BOCELLI SAME WEEKEND AT MGM GRAND
For the second time this year, 16-time Grammy Award winner Beyoncé will bring "The Mrs. Carter Show World Tour" to the MGM Grand Garden Arena Friday, Dec. 6. Following her notable Pepsi Super Bowl XLVII Halftime Show, Beyoncé returned to a full-time touring schedule - her first since 2009. Tickets range from $50 to $250.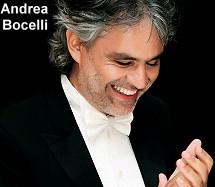 Classical and pop superstar Andrea Bocelli will headline on Saturday, Dec. 7. He will be joined by conductor Eugene Kohn, soprano Svetla Vassileva and world-renowned guest vocalist Heather Headley. Tickets range from $75 to $275.
10th ANNUAL TOYS FOR TICKETS PLANNED AT SUNSET STATION
The 10th Annual Toys For Tickets will be held in Club Madrid at Sunset Station on Sunday, Dec. 8 at 7 p.m. and star country acts including Joe Nichols, the husband and wife duo Thompson Square, Joel Crouse, Brett Eldredge, season three winner of "The Voice" Cassadee Pope and the band Elvis Monroe. New and unwrapped toys can be exchanged for tickets to the show.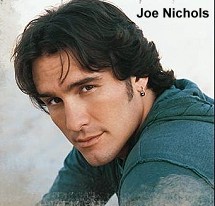 LVH HOSTS BENEFIT CONCERT FOR TOYS FOR TOTS
The LVH will again host a benefit concert for the U.S. Marine Corps Reserve Toys for Tots program on Saturday, Dec. 14 at 7 p.m. Hosting the show will be Clint Holmes and his wife, Kelly Clinton-Holmes with co-hosts Chris Phillips and violinist, Lydia Ansel, of Zowie Bowie. The "Las Vegas Loves The Beatles" theme will feature entertainers performing Beatles songs and holiday tunes.
David Perrico returns as the musical director, along with his 12-piece band and featured singers Naomi Mauro and Laura Shaffer. Scheduled to perform are Pia Zadora, comedian Steve Rossi, Adrian Zmed, duets by Ben Stone and Jasmine Trias and Jason and Janea Ebs, and rhythm and blues of Skye D. Miles. Scheduled to appear are Vince Neil of Motley Crue, Trent Carlini, Paul Shortino, Rob Garrett, and Michelle Johnson and the Desert Angels Children's Choir.
BOULDER STATION HOST TONY SACCA'S HOLIDAY SHOW FUNDRAISER
The 28th annual "Merry Christmas Las Vegas" fundraising show for The Youth Foundation For The Performing Arts will take place in the Railhead at Boulder Station Sunday, Dec. 15, at 2 p.m. and be taped for television in front of a live audience.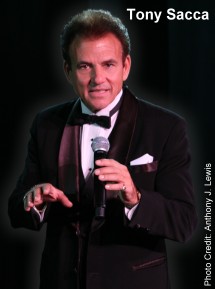 Entertainer Tony Sacca will host the holiday-themed program featuring some of Las Vegas' finest entertainers: Pia Zadora; Denise Clemente; Genevieve Dew; marionette artist Anthony Rais; Society of Seven; comic impressionist Rich Natole, violinists Bella Electric Strings; Las Vegas Young Entertainers; musical conductor and Grammy winner Gary Anderson; and musical accompaniment by the Michael T Orchestra. The performance is open to the public for a $25 donation, call 702-364-8669 or pay at the door. The television show will be syndicated and air locally and nationally in more than 75 markets.
'NOT SO SILENT NIGHT' SHOW AT HARD ROCK STARS THE FRAY
Mix 94.1 Mark & Mercedes' "Not So Silent Night" show has another all-star lineup at The Joint at the Hard Rock Friday, Dec. 6 featuring American rockers The Fray with special guests Gavin DeGraw, Five for Fighting and Las Vegas' own Offset Season. DeGraw has sold more than a million records in the United States. Five for Fighting has sold more than 2.5 million records and produced the Grammy-nominated single "Superman." Tickets start at $29.50.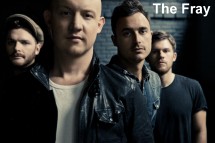 OPPORTUNITY VILLAGE'S 'GREAT SANTA RUN' IS COMING UP
Opportunity Village's ninth annual Las Vegas Great Santa Run® fundraiser will be held Saturday, Dec. 7 beginning at 10 a.m. and starting at the Fremont Street Experience with Caesars Palace's headliner Shania Twain as Grand Marshal. Cost is $40 for individual racers, $35 per runner on adult teams and $50 the day of the race. There will be appearances by Jabbawockeez and "Jersey Boys" star Jeff Leibow as well as food trucks.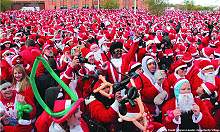 The Las Vegas Great Santa Run continues to compete for the reigning title of "World Santa Challenge" champion. This friendly competition takes place between various "Santa Runs" across the globally to see which race can accrue the most participants. Over the past nine years, Las Vegas has won eight times.
SUNSET WONDERLAND HOLIDAY FESTIVAL IS NEW THIS YEAR
Sunset Park, which recently went through a two-year $11.7 million dollar renovation, will host the Sunset Wonderland Holiday Festival from Dec. 6-22 featuring an ice skating rink, holiday activities for all ages, horse and buggy hay rides around the lake, crafts, holiday performances from local youth groups, a Ferris wheel, a photo opportunity with Santa and much more. Sunset Wonderland is open 4 - 9 p.m. Monday through Friday, and 10 a.m. - 9 p.m. Saturday and Sunday. Admission is free.
The ice skating sessions take place every hour, on the hour, in a 45-minute block for $8 per hour including skate rental.
Families, local businesses and organizations are invited to sponsor a Christmas Tree in the "Holiday Wonderland of Trees" and compete in the "Best Of" tree contest.
PSYCHIC MOMENTUM
Known for his internationally syndicated television shows, "Crossing Over with John Edward" and "John Edward Cross Country," author, lecturer and psychic medium John Edward has become notable for his ability to connect with those who have passed on. He'll appear in Bugsy's Cabret at the Flamingo Dec. 7 and 8 at 10 a.m. Tickets start at $195.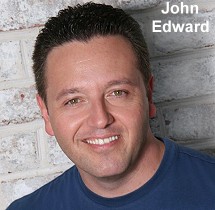 Char Margolis, a renowned Psychic Intuitive, has been mesmerizing audiences for more than 30 years with her uncanny ability to read for people and at the same time teach them to connect with their own intuitive gifts. The best-selling author has been a guest on "Dr. Phil" and "Live With Regis." She'll be featured Dec. 14 at 11 a.m. in Bugsy's Cabaret. Tickets are $75.
Psychic Lisalee will have her show at Club Madrid at Sunset Station on Wednesday, Dec. 4 and again at Club Tequila at Fiesta Ranco on Wednesday, Dec. 18. Both shows are at 7 p.m. and the cover at the door is $20. Lisalee is a lifelong psychic who has been in professional practice and also lived in Las Vegas for more than 25 years. She is known locally, nationally and internationally.
TOP OF NEXT COLUMN
SANTA TRAIN RETURNS TO NEVADA STATE RAILROAD MUSEUM
In nearby Boulder City, The Santa Train at the Nevada State Railroad Museum will run on Dec. 7, 8, 14, 15, 21 and 22. Guests can take a ride with Santa and Mrs. Claus in one of the five passenger cars and while waiting take photos in Santa's sleigh, mail letters to Santa, see model train displays and permanent exhibits. Tickets are $5.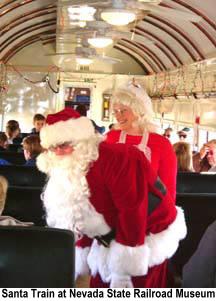 ATOMIC TESTING MUSEUM PRESENTS PEARL HARBOR TRIBUTE
The National Atomic Testing Museum is presenting a free screening of the film "Pearl Harbor, One Last Goodbye" on Saturday, Dec. 7, the 72nd anniversary of Pearl Harbor. This 60-minute documentary is about six Pearl Harbor survivors who return to revisit where they were during the attack. The executive producer and director Liz Watkins, who has been working in the video production field since 1983, will also be present to talk about the film with a meet-and-greet at 6 p.m. To R.S.V.P., call 702 794-5151.
RACE AND HOLIDAY ACTIVITIES IN HENDERSON
The 12th Annual Best in the Desert Henderson 250 Desert Race, the final and deciding race for the Best in the Desert racing series, is scheduled Dec. 5-7 in Henderson. The event will include the race, entertainment, driver meet and greets and an off-road expo.
The City of Henderson will welcome the holiday season with their annual WinterFest Festival Dec. 12-14 at the Henderson Events Plaza. Festival activities will include: entertainment, games, art show, gingerbread houses, festival of trees, craft vendors, food vendors children's activities and the third annual Saturday evening light parade.
TIPS AND CLIPS
During the Wrangler National Finals Rodeo (WFNR), The New Tropicana Las Vegas will host free 9:30 p.m. - 2 a.m. concerts for fans in The Tropicana Lounge: Chad Freeman and Redline Dec. 5-7; Luke Kaufman Dec. 12-14. Kaufman has been a household name in the rodeo and bull riding world since the launch of his debut album, "Cowboy Baller," in 2010.
The New Tropicana is a NASCAR Pit Stop Tour Dec. 3-6 from 10 a.m. - 6 p.m. with an opportunity to collect a commemorative NASCAR Sprint Cup Series Champion's Week poker chip for free. In addition on Dec. 5 at 11 a.m., NASCAR fans can view NASCAR vehicles enclosed in a viewing area of The New Tropicana's parking lot before the drivers take their victory lap.
Armenian singer Nune Yesayan will perform at the all-new Tropicana Theater on Friday, Dec. 27, at 7 p.m. Tickets range from $49 to a $200 VIP package. Yesayan's musical repertoire consists of both traditional Armenian folk and many new songs.
The Rampart Casino has booked the Dummkopfs comedy band for every Thursday afternoon from 2-5 p.m. in the Addison Lounge for the month of December. The Dummkopfs has been around many years working at Mt. Charleston and now on Sundays at the Skyline Casino. They play all kinds of dance tunes from Dixieland to big band, polkas to waltzes, and country to oom-pah.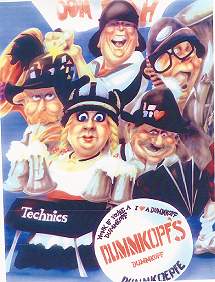 Sam Marvin's Echo & Rig Butcher and Steakhouse at Tivoli Village will celebrate the 80th Anniversary of Repeal Day, which was the end of the Prohibition era, on Thursday, Dec. 5 with $3 era-inspired cocktails including The Real McCoy, The 18th Dies, The Somerset, Wet Under the Umbrella and The Blind Pig, plus $1 beers from "Abner's List."
Last month in The Shops at Crystals, Tourbillon, a chain of upscale multi-brand watch boutiques, held its grand opening of a new 3,800-square-foot store location, the largest boutique within the Tourbillon network.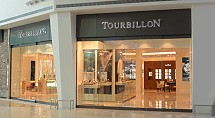 Wynn Las Vegas in its atrium has unveiled two floral installations - the hot-air balloon and animated carousel - conceptualized by Preston Bailey.
"Wines Du Jour," Les Kincaid's national radio, cable, Internet and television wine show, is holding its annual Toys For Tots Show Thursday, Dec. 5 at R Steak & Seafood Restaurant in the Riviera. In addition to the normal $25 fee, attendees are required to bring an unwrapped toy(s) for the U.S. Marine Corps Reserve Toys for Tots program. To attend, R.S.V.P. to les@leskincaid.com.
Funk and R&B band, Here Come the Mummies return to Hard Rock Live Las Vegas on Tuesday, Dec. 10. The Nashville-based nine-member band has become a phenomenal sensation while their identities are shrouded in mystery. Tickets are $22 in advance and $25 day of show
The Cleveland Clinic Lou Ruvo Center for Brain Health will hold its annual Holiday Open House for patients, caregivers and loved ones on Wednesday, Dec. 18 from 11 a.m. - 1 p.m. New this year, guests will have the opportunity to personalize a quilt square. To attend, R.S.V.P. to Susan Solorzano, 483-6055, solorzs@ccf.org.
Tony Delgado, owner of Delgado Dance Studios and instructor for famed "Dancing With the Stars" dancer Cheryl Burke, will teach the dance moves on Sundays at 7 p.m. in the Windows Showroom (dark on Dec. 15). Tickets are $19.95 and $29.95.
The cult classic, "Rocky Horror Picture Show," is making its debut at Bally's in the Windows Showroom for a midnight movie showing on Friday and Saturday. Tickets are $14.95 and $19.95.
WNFR AND COWBOY ACTION AROUND TOWN
Country recording artist Clay Walker will appear at The Sands Showroom Dec. 6 and 7. Walker has sold more than 11 million albums and had 11 No. 1 hit singles. Ticket range from $62.50 to $160.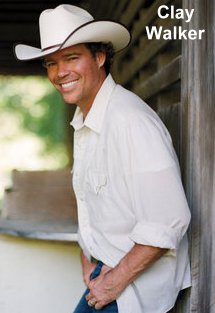 Award-winning country singer/songwriter Dierks Bentley will perform at The Pearl inside the Palms Dec.6 at 10 p.m. In the past 10 years, Bentley has had 10 No. 1 singles and written every one of them. Tickets start at $60.
The Golden Nugget will hold an autograph session with the Barrel Racers on Wednesday, Dec. 11 from noon - 2 p.m. in the Galleria Hallway.
South Point will transform into "Vegas Cowboy Central" Dec. 5-15 offering live entertainment, a Western art and gift shows, rodeo viewing parties, buckle presentations for NFR winners, rodeo events and more. The start will be the 67th Annual Professional Rodeo Cowboys Association (PRCA) National Convention Dec. 3 and 4.
Coinciding with the NFR, the XIII World Series of Team Roping (WSTR) Finals, one of the world's richest horse events, will return to the South Point Dec. 8 -15. Throughout the week, more than 3,000 roping contestants will attend the event as the world's best ropers compete for a share of the $7 million prize pool.
During WNFR, South Point will host a nightly RAM Rodeo Tailgate Viewing Party Dec. 5 -14 at 6 p.m. Fans can watch a live feed from the NFR events on 20-foot high-definition screens paired with live arena scoring in the hotel's Grand Ballroom. The event is free and open to the public.
There will be live entertainment inside the South Point Showroom each night of WNFR at 9:30 p.m., midnight and 2 a.m. Special musical performances include: Susie Dobbs Dec. 4 -. 5; Billy Childress Dec. 6 -8; Cody Johnson Dec. 9 -11; and Aaron Watson with Wolf Creek Dec. 12 -14.
The free Western Gift Show with more than 100 vendors is at the South Point, Dec. 5-15 daily from 9 a.m. - 6 p.m. Thursday, Dec. 5 - Sunday, Dec. 15 from 9 a.m. to 6 p.m.
The Benny Binion Bucking Horse and Bull Sale will be at the South Point Arena on Dec. 5 and 7 beginning at 9 a.m. each day. A portion of the proceeds will go to the Pro Rodeo Hall of Fame. Tickets are $12.
The World Futurity Bronc Finale will take place at the South Point Arena Friday, Dec. 6 at 1 p.m. Tickets are $18.
The XIII World Series of Team Roping will be held Dec. 8-15. Fans will witness the world's 44 fastest amateur roping teams compete for a portion of the $7 million total purse throughout the week. This event is free and open to the public.
The MGM Grand will rope in guests with multiple activities for rodeo fans. The "Crown Royal Gold Buckle Zone" will provide a free party. Country music artists LoCash Cowboys and Damsel will perform nightly Dec. 5 - 14 and Academy of Country Music Award winner Neal McCoy will join them Dec. 9- 13. Admission is complimentary.
Meet all of the athletes when they stop by the MGM Grand Main Lobby to sign autographs and meet fans. The autograph sessions areTuesday, Dec. 10 and Friday, Dec. 13 from 10 a.m. to 11:30 a.m.
The RAM Ride & Drive outdoor test track will be Dec. 12 - 14 from 8 a.m. to 5 p.m. daily at the MGM Grand Conference Center entrance. Admission is complimentary.
The eight-day Miss Rodeo America Pageant competition will be Dec. 2-9 with 28 contestants at the MGM Grand.
SUPPORT AFAN AT HOLIDAY MINGLE & JINGLE SHOPPING
The fifth annual Holiday Mingle & Jingle fashion shopping event to benefit AFAN will be held at the Fashion Show Runway on Wednesday, Dec. 4 from 6 - 8 p.m. Guests can enter raffles for prizes and receive exclusive offers and shopping incentives to help get a head start on their holiday shopping list. Tickets are $25 in advance ($30 at the door) or $250 for a VIP table for four, call 702-383-8085.
Column Continues Below Advertisement
CONTINUE ON TO...:
THIS WEEK'S >LAUGHLIN NEWS
LAST WEEK'S >LAS VEGAS NEWS
>VEGAS VIEW FULL NEWS ARCHIVES
Return to >"Heard Around Town"
Return to >Las Vegas Leisure Guide