WAYNE NEWTON VISITS THE EDGEWATER'S E CENTER!

Iconic Las Vegas entertainer Wayne Newton will perform at the Edgewater's E Center for a special engagement on Saturday, Dec. 6. Tickets for his 8 p.m. show range from $25 to $65.

Newton made his first impact on the entertainment world as a precocious, big-voiced six-year-old. When Elvis Presley was still driving a truck, Newton - almost 10 years his junior - had already sung before a president, toured with a Grand Ole Opry road show and released his first record. Newton has performed live, at last count, to more than 30 million people and has recorded and released 158 albums, including the six CD or Cassette box set, "The Wayne Newton Dynasty Collection."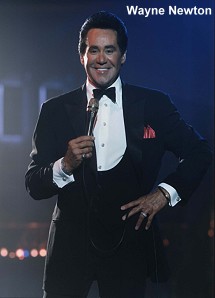 Toward the end of his high school junior year, a Las Vegas booking agent saw Newton's hometown show and took him and his brother Jerry back for an audition. They arrived with $20 between them, but the tryout led to "a two-week job" that lasted for 46 weeks, and the Newton Brothers had a foothold in Vegas. They did six shows between 5 and 11 p.m. Newton kept learning to play new instruments simply to give his voice some relief and add variety to their shows. Newton plays 13 instruments and works many of them into his shows. Eventually, after many years of headlining his own sold-out shows on the Strip, he became known as "Mr. Las Vegas."
Newton's heartfelt patriotism has kept him before the public as well. He entertained troops in Vietnam twice, in Lebanon after the 1983 bombing of the Marine barracks, and in the Persian Gulf and Bosnia. The U.S. Defense Department gave Newton its highest civilian award for being the only American entertainer to perform in all three spots.
One of Newton's biggest honors was in October 2001 when Bob Hope passed the torch naming him the "Chairman of the USO Celebrity Circle." In less than five years, he made 16 USO tours overseas, including being the first performer to entertain our troops in Afghanistan in December 2001 and Iraq in June 2003 and Novembers 2003 and 2004.
'THE NUTCRACKER' BALLET FEATURES HOLIDAY SPIRIT AT THE RIVERSIDE
"The Nutcracker" ballet will be performed by the Anaheim Ballet Company, which is celebrating its 27th season bringing the holiday show to life, in Don's Celebrity Theater at the Riverside, Dec. 4-7 at 7 p.m. with 3 p.m. matinees on Dec. 6 and 7. Tickets are $30.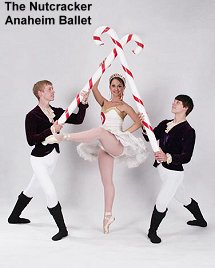 The program is the heartwarming tale of Clara and her Nutcracker Doll who changes her woeful winter into a fanciful feast in Candyland. "The Nutcracker" ballet is a cornerstone of seasonal family entertainment and tradition. Athletic Russian dancers, prancing Bon Bons and Tchaikovsky's beautiful "Waltz of the Flowers" always brighten the holidays. The unchanged theme of good conquering evil happily endures with battling toy soldiers fighting menacing mice.
ANNUAL OFF ROAD RACING INVADES LAUGHLIN
"McKenzie's Rage at the River" -- SNORE (Southern Nevada Off Road Enthusiasts) off road racing will take place Dec. 11-14 at Laughlin Events Park. Tech and contingency will be held in the Tropicana's North Parking Lot from 1:30-7:30 p.m. on Friday, Dec. 11. The Races will be held on Saturday and Sunday from 6 a.m. to 4:30 p.m. with viewing at Laughlin Events Park.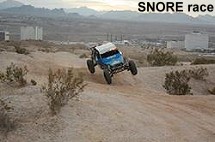 SNORE is a family of off road desert racers helping to promote desert racing in and around the Las Vegas and Nevada area. Formed in 1969 for fun, friends and family, the group has grown to be a premier force in the southwest racing arena and the oldest sanctioned off road racing organization in the world. From stock Volkswagen beetles to buggies, pickup trucks and even high-end unlimited vehicles worth hundreds of thousands of dollars, SNORE has a spot for anyone to race.
KC & THE SUNSHINE BAND APPEAR IN CONCERT AT E CENTER
KC & The Sunshine Band will take over the Edgewater E Center on Friday, Dec. 13 at 8 p.m. Tickets range from $20 to $50.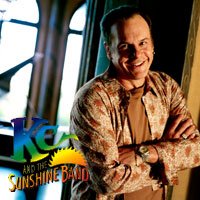 KC & The Sunshine Band have been entertaining audiences around the world for nearly 40 years, influencing the music interests of an entire generation, and selling in excess of 100 million records... and "That's the Way They Like It" uh huh uh huh!
The "Founder of the Dance Revolution," Harry Wayne Casey has collected two Grammy® Awards, four No. 1 records in a row, People's Choice Awards, a Hollywood Walk of Fame Star, and American Music Awards. His music has been used in more than 200 movie sound tracks, including his hit "Boogie Shoes" in "Saturday Night Fever."
ANNUAL HOLIDAY GALA PLANNED AT AQUARIUS
The "Home for the Holidays" annual seasonal gala with a performance by the Voices of the River Choir will be held at the Aquarius Pavilion on Friday, Dec. 12 at 6 p.m. / 7 p.m. Arizona time. Tickets are $15 and $20 advanced reserved seating with will call at the door.
The holiday program will feature a wide variety of Christmas songs including traditional, spiritual and pop. Tickets are on sale at the Bullhead and Laughlin Chambers of Commerce, online or at the door. All proceeds benefit scholarships and programs at the MCC Bullhead Campus.
The hotel is offering the Aquarius Christmas Gala room package that includes two tickets to the performance, a one-night stay Friday, Dec. 12 in an upscale hotel room, a coupon valid for 25 percent discount at The Cove Bar and Lounge or Cafe Aquarius, and a coupon book to shop at the Priceless Outlets of Las Vegas at Laughlin. To book this package, visit the resort's website or call reservations 800-662-5825 and mention code MCC2014.
LAUGHLIN SHOWS IN LATE DECEMBER
Always nice news, "America's Got Talent" winner Terry Fator, who is a singer, comedian, celebrity impersonator and gifted ventriloquist, will headline the Edgewater E Center on Saturday, Jan. 24. Grammy Award winners Huey Lewis & The News will return to the E Center for another live performance on Friday, Feb. 6.
"Beatles vs. Stones" will be the battle taking place at Harrah's, Dec. 26-30. The quandary has been going on ever since the two groups first crossed paths on the charts almost 50 years ago. The argument at the time, and one that still persists, was that the Beatles were a pop group and the Stones were a rock band; the boys next door vs. the bad boys of rock. But it's not that clear cut, and never has been. So who's better? You'll hear six alternating power sets with two tribute bands Abbey Road and Jumping Jack Flash in the Fiesta Showroom. Tickets are $27 and $37.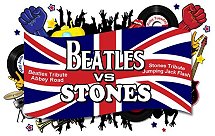 Vicki Lawrence will appear at the Riverside Dec. 27-31 with her one-woman show that she launched in 2002, "Vicki Lawrence and Mama, A Two Woman Show." It has been so successful that she is currently out on the road performing the 40th Anniversary Tour. Lawrence made her Mama character famous on "The Carol Burnett Show" and spent 11 years on the hit program earning one Emmy Award and five Emmy nominations. Tickets are $32 and $36 on New Year's Eve.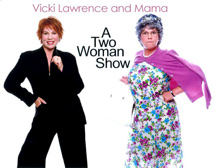 The "Drinkin' Singin' Swingin' Salute to Frank Sinatra, Sammy Davis, Jr., Dean Martin" dinner show will be held at the E Center at the Edgewater on Tuesday, Dec. 30 and 31. The filet mignon with Lobster Newburg dinner is at 6 p.m. with the show following. Tickets are $80, $90 and $100.
TOP OF NEXT COLUMN
RIVERSIDE HOSTS 'THE DIAMONDS CHRISTMAS SHOW'
"The Diamonds Christmas Show" at the Riverside in Don's Celebrity Theater will bring the holiday spirit to Laughlin Dec. 19-23 with 7 p.m. performances. Tickets are $30.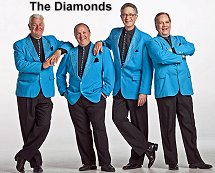 Through the years since the release of "Little Darlin'" in 1957, The Diamonds have learned the durability of classic rock and roll music is as much about the future as it is about the past. As a result, the group continues to expand their audience to this day as they perform in a variety of venues and settings worldwide. These performances include-with symphony orchestras, in performing arts theatres and major concert halls, on cruise ships, in casinos, at county and state fairs, on tours of England, Ireland, Brazil, Chile, Korea, and Japan, for benefit concerts, corporate conventions and at nightclubs.
The Diamonds' honors and accolades include: three Gold Records for "Silhouettes," "The Stroll" and "Little Darlin';" 33 appearances on "American Bandstand;" the soundtracks for "American Graffiti" and "Happy Days," Vocal Group Hall of Fame; and Doo-Wop Hall of Fame.
GARY U.S. BONDS WILL MAKE IT PARTY TIME AT HARRAH'S
With more than 50 years in the business, the legendary performer and songwriter Gary U.S. Bonds will headline at Harrah's in the Fiesta Showroom on Saturday, Dec. 6 at 8 p.m. Tickets are $37 and $47.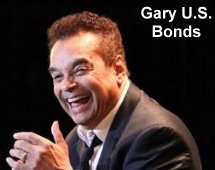 In early June, Gary U.S. Bonds celebrated his 75th birthday at the B. B. King Blues Club & Grill in New York. Way back when America's baby boomers moved into their mid-teens, Bonds began his professional career. For his first hit, "New Orleans," attention was brought to the record by having promotional copies sent to radio stations in sleeves inscribed "Buy U.S. Bonds" - hence at age 19, Gary Anderson became Gary U.S. Bonds.
The follow-up tune was the now legendary party record, "Quarter to Three," a No. 1hit with a spirit and energy that would eventually inspire and influence a generation. Over the following three years, Bonds co-wrote and recorded hit after good-time hit: "School is Out," "School is In," "Dear Lady Twist," "Twist, Twist Senora," "Seven Day Weekend" and others. He has performed worldwide and on a 1963 tour of Europe, he headlined above a group of relative newcomers...The Beatles.
Bonds keeps active as a songwriter, which garnered him a nomination for the Country Music Association's "Songwriter of the Year" and an honoree of the Rhythm & Blues Foundation. Bonds tours with his group, the very highly-regarded and powerful Roadhouse Rockers.
EDGEWATER BOOKS COMEDIANS AND FOCUSES ON COMEDY
Every Friday through Sunday the Edgewater highlights two comedians in the Edgewater Showroom. Tickets are $10 for the 7 p.m. shows and on Sunday veterans get a $2 discount.
The "Comedy on the Edge" upcoming roster includes: Dec 26-28-Dennis Blair and John Tole; Jan 2-4-Nathan Timmel and Jeremy Wieand; Jan 9-11-Julia Scotti and Chad Shapiro; Jan 16-18-Kevin Barber and Rick Bryan; and Jan. 23-25-Sean McBride and Alexander Assefa.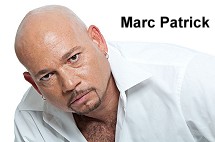 Marc Patrick will share the stage with William Spottedbear Dec. 5-7. Patrick's material is all about everyday life…dating, weight loss, finances, marriage, kids, and the works. He's been performing comedy for 15 years, and has appeared on television on Comedy Central's "Premium Blend," BET's "Comic View" and "Who's Got Jokes." Patrick has shared the stage with Pablo Franscisco, Robert Shimmel, Tommy Davidson, Steve Harvey, Brad Garrett, Jim Gaffigan, George Lopez as part of a military show, Kathleen Madigan, and Ron White. He has performed for U.S. troops in the past and will have just returned from another trip to entertain troops in Japan Nov. 13-26.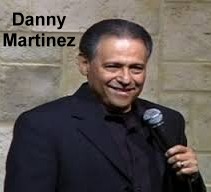 Danny Martinez will be teamed with fellow comedian Dick Kendall Dec. 12-14. Martinez loves to talk about his family--wife, kids, mom—as well as what's happening on TV. He's been a comic working major club nationwide and club owner for more than 30 years. Martinez has worked with Paul Rodriguez, George Lopez, the Smothers Brothers and Rodney Carrington, and headlined the former Aladdin Hotel in Las Vegas and several casinos in the Southwest. His TV credits include shows on The Disney Chanel, and BET, NBC and Galavision networks.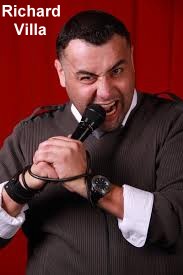 Richard Villa is partnered with Bobby Wayne Stauts Dec. 19-21. Villa has performed comedy for 14 years at major clubs including the Improv, Laugh Factory, and Comedy Store. He's also worked with some of comedy's biggest names: Carlos Mencia, Russell Peters, Louis CK, Dave Chapelle, Gabriel Iglesias, and Chris Rock. Villa's subject matter covers mainly life experiences like growing up in Compton, and his wife and kid. He's been in a number of movies with the latest one being "Breaking Wind" and had his own comedy special, "Refried Comedy Tour." He recently completed a new show Rob Schneider's "Real Rob" and has also done a number of Spanish TV show appearances for all of the Latin networks. Villa has performed multiple times for U.S. troops overseas in Afghanistan, Bahrain, Dubai, Saudi Arabia, Japan, Bahamas, Honduras, and Puerto Rico.
SHORT ITEM NEWS
Alan Jackson will bring his 25th Anniversary "Keepin' It Country Tour" to the Laughlin Event Center on Saturday, Feb. 21, 2015. Jackson's tour is an extension of the year-long 25th anniversary celebration, which kicked off this past summer with the opening of his exhibit at the Country Music Hall of Fame® & Museum that runs through March 2015.
The "Laughlin Regional and Nevada State Chili Cook-offs" will be held at the Golden Nugget the weekend of Jan. 10-11. The Laughlin Regional is on Saturday and Nevada State on Sunday with both events featuring red chili, chili verde and best salsa categories.
The "Legendary Ladies of Soul" starring Karen Durrant dinner show will be held in the Avi Ballroom on Saturday, Dec. 6. Tickets are $25, which includes the 6 p.m. sit-down dinner and 7 p.m. show.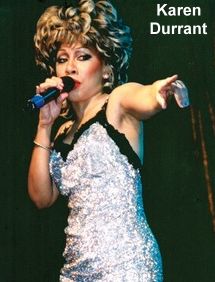 The International Gift and Craft Show will be held at the Edgewater on Dec. 6 and 7 starting at 10 a.m. each day. The show will feature several vendors showcasing handmade items such as belly dancing and Zumba apparel, jewelry and beaded items, hand-crafted women's fashions, home decorations, sculptures, candles and much more.

AQUARIUS HOLDS 3RD ANNUAL CHRISTMAS TREE SILENT AUCTION

The Aquarius' 3rd Annual Christmas Tree Silent Auction is taking place through Friday, Dec. 19 at 5 p.m. to benefit the resort's "Feed A Family" program, which helps local families in need. The Aquarius is auctioning off 10 fully-decorated Christmas trees, each with their own themes, to the highest bidders. Themes of the trees for this year include snowflakes and icicles, Island Santa, finials and flowers, Hello Kitty, USA, sports and more. The trees will be on display in the Aquarius lobby.

Bids start at $100 per tree, with additional bids accepted in increments of $20. All bids can be placed at the Aquarius ace | PLAY™ center and then guests will be notified if their bid is exceeded. Trees can also be purchased on the spot for $750 with no additional bidding. Last year, Aquarius raised more than $3,100 to benefit the "Feed A Family" program through the Christmas Tree Silent Auction.

The "Feed A Family" program helps put a holiday meal on the tables of many tri-state area families in need, by allowing ace | PLAY members to contribute player points to the program. For every 12,000 ace | PLAY points contributed, Aquarius will purchase a box of holiday food items large enough to feed a family of four.

CONTINUE ON TO...:

THIS WEEK'S >LAS VEGAS NEWS
LAST WEEK'S >LAUGHLIN NEWS
>VEGAS VIEW FULL ARCHIVES
Return to >"Heard Around Town"
Return to >Las Vegas Leisure Guide