DON RICKLES SIGNS FOR THIRD YEAR AT THE ORLEANS
Legendary comedian Don Rickles, who has starred in Las Vegas showrooms longer than any other performer in the history of the gambling mecca, has signed for a third consecutive year of performances with The Orleans. The new contract marks "Mr. Warmth's" 51st consecutive year performing in Las Vegas. His first scheduled engagement will be Feb. 20 and 21. Tickets start from $74.95, call 702-365-7075.
Column Continues Below Advertisement
In 2007, Rickles made his mark in the literary world with his memoir "Rickles' Book" and has also won two Primetime Emmy Awards; one for Best Individual Performance in a Variety or Musical for the 2008 HBO special "Mr. Warmth: The Don Rickles Project."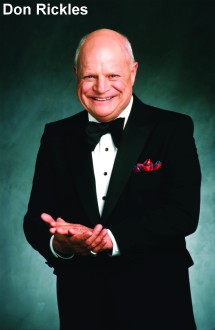 NEW YORK-NEW YORK NAMES WINNING VINNY SPOKESPERSON
After weeks of spirited challenges, New York-New York has announced the winner of the Vinny vs. Vinny spokesperson competition. Vinny Blue was victorious, crowning him the ultimate go-to guy for all things New York-New York and official "ambassador of fun."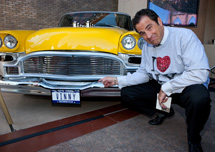 FERRARO's WILL OPEN NEW RESTAURANT IN DECEMBER
Well-known restaurateur Gino Ferraro will be opening Ferraro's Italian Restaurant & Wine Bar with an expanded menu, wine cellar and hours on the corner of Paradise and Harmon in the space formerly occupied by the Rainbow Bar & Grill. Since 1985, Ferraro has been running his namesake restaurant on West Flamingo and been recognized with numerous awards. The original eatery will close on Dec. 13 and the new place will open on Dec. 21 or 22.
The new Ferraro's will have two Chef's Dining Tables, a 36-foot-long wine cellar, patio dining, lunch and late night dining, lounge seating area, live music daily and wine lockers. There will be a wine bar with a Wine-system Dispenser, four banquet/meeting rooms to host groups of 10 to 250 people, and audio/visual capabilities.
Executive Chef Mimmo Ferraro will feature the menu staples that have been a family tradition for years including Osso Buco and homemade pasta, breads and desserts.
THE FERCOS BROTHERS IN 'UNTAMED ILLUSIONs' WILL PLAY THE STRIP
The internationally acclaimed Fercos Brothers, Tony and Ferdinand, will return to perform in "Untamed Illusions" at the Theatre for the Performing Arts at Planet Hollywood, Dec. 22, 2009 through Jan. 3, 2010.
The 90-minute magical spectacle will feature illusions, rare and exotic animals, dancers, world-record juggling acts, specialty acts and sets ranging from a futuristic world landscape to the wild jungles in South America. Some of the feline performers include Victoria (a Bengal tiger), Dora (a white Siberian tiger), Sinbad (a lion) and Sarina (a black leopard).
The Fercos Brothers began their careers at an early age as jugglers and later as a high-flying acrobatic duo. Originally from Czechoslovakia, they are sixth generation performers and have been involved in show business since age 5. The Fercos Brothers, who reside in Las Vegas, won the International Magicians Society's coveted Merlin Award for "Most Original Magicians of the Year" in 2002.
MAROON 5 PERFORMS NEW YEAR's EVE AT THE PALMS
Pop rock darlings Maroon 5 will do a special 11 p.m. New Year's Eve performance inside The Pearl at the Palms on Dec. 31. Tickets are $125, $150 and $200, call 800-745-3000.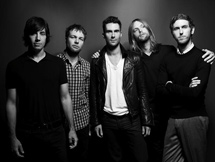 Maroon 5 received much success with their first studio release "Songs About Jane" in 2002. Their sophomore studio release, "It Won't Be Soon Before Long" in 2007, included the single "Makes Me Wonder," which was recorded at The Studio at the Palms and reached No. 1 on the Billboard Hot 100 and earned the group a Grammy award for Best Pop Performance by a Duo or Group. The band is currently in the studio recording their next major release.
MORE NEW YEAR's EVE OFFERINGS ARE BEING REVEALED
Eastside Cannery has announced the great horn band Blood Sweat and Tears will perform there on New Years Eve. The group has earned multiple gold albums, 10 Grammy nominations and three Grammy Awards, including the most prestigious of them all, Album of the Year. Tickets are $49.95, $39.95 and $29.95, call 702-856-5470.
Frankie Avalon, who had 31-charted Billboard U.S. singles from 1958 to late 1962, will appear in concert at The Club inside the Cannery in North Las Vegas at 10:30 p.m. on Dec. 31. Tickets include a cocktail. Show only is $44.95, dinner at the Gourmet Buffet and show $59.99, and $79.95 for dinner at Waverly's Steakhouse or Vino's Italian Restaurant and show.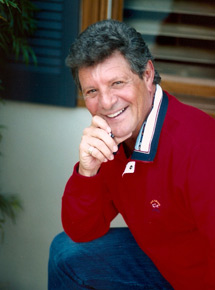 The New Year's Eve party at LAVO at The Palazzo will have Nicole Richie hosting and Joel Madden spinning records. There will be a view of the Strip fireworks from the expansive Strip-front terrace. Tickets are $150 and include: entry into the nightclub, open bar, passed hors d'oeuvres from 9 p.m. to 11 p.m., and a champagne toast at midnight. After midnight, the LAVO ticket stub will be good for free admission to the TAO Nightclub in The Venetian.
M RESORT HIGHLIGHTS BOWFIRE HOLIDAY HEARTSTRINGS
BOWFIRE Holiday Heartstrings, a total strings experience, is comprised of the world's greatest Celtic and Bluegrass fiddlers and classical violinists. BOWFIRE will take the stage on Sunday, Dec. 13 inside the M Resort's Grand Ballroom at 7 p.m. As seen on PBS, BOWFIRE takes audiences on a journey that moves seamlessly from jazz to classical to bluegrass to Celtic to rock and will include holiday classics. Lenny Solomon, BOWFIRE's founder and Artistic Director, is one of the world's most skilled jazz violinists, and a JUNO Award winner, which is the "Canadian Grammy." Tickets are $40.75 and $29.75. For information, call 702-797-1264.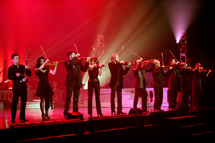 TOP OF NEXT COLUMN
'TWISTED SISTER: A TWISTED CHRISTMAs' WILL VISIT THE HILTON
The stage show, "Twisted Sister: A Twisted Christmas" will visit the Las Vegas Hilton Dec. 15-17 with their heavy metal workshop designed to twist your holidays. Tickets are $29 - $59, call 800-222-5361.
Dee Snider, Jay Jay French, Eddie Ojeda, Mark "The Animal" Mendoza and A.J. Pero will perform their iconic hits and their twist on your holiday favorites from their hit CD, "A Twisted Christmas." With set and stage designs created with the help of Kevin O'Callaghan, Chair of 3D Design at New York's legendary School of Visual Arts, the show is an assault of lights, sound and staging.
FREMONT STREET EXPERIENCE WELCOMES RODEO FANS
The Fremont Street Experience is going country for the annual kickoff party for the National Finals Rodeo on Wednesday, Dec. 2. The event highlights top country music talents Gloriana, Jonathan Singleton, The Lost Trailers and Emerson Drive with free live concerts on two stages.
Gloriana, consisting of four talents, released their debut single "Wild at Heart" in February 2009. Singleton offers gritty guitars and blues-saturated vocals. The Lost Trailers established their group in 2000 and made their debut performing to thousands at Willie Nelson's annual Fourth of July picnic. Emerson Drive's success grew out of a dream that began in the group's hometown of Grande Prairie, Alberta.
In addition to the Dec. 2 kickoff event with country music headliners, the Fremont Street Experience will present free country music concerts Dec. 3-12 on the 1st Street Stage from 8-11 p.m. nightly.
STAR FROM 'LION KING' PERFORMS TWO BENEFIT SHOWS
Alton Fitzgerald White, who currently plays the starring role of Mufasa in Disney's "Lion King" at Mandalay Bay, will present an evening of holiday music with two charity benefit concerts on Friday, Dec. 4 at the intimate Cabaret Showroom at the Liberace Museum. Tickets for the 8 and 10:30 p.m. concerts are $20 in advance or $25 at the door, call 702-798-5595 ext. 14.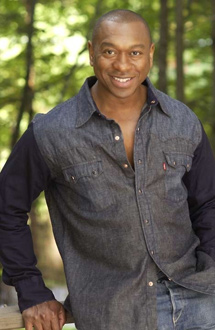 White is donating all proceeds from ticket sales to benefit the Cabaret Fund for the non-profit Liberace Foundation & Museum. Joining him in the concerts will be fellow "Lion King" cast members Monique L. Midgette and Derrick Davis, along with his musical director and pianist, "Jersey Boys" conductor Keith Thompson.
White's numerous other Broadway career credits include the national tour and Broadway productions of "Lion King," "Ragtime," "Tommy," "The Color Purple" and "Miss Saigon."
'A VERY SCINTA CHRISTMAs' SCHEDULED AT SUNCOAST
The Scintas will return to the Suncoast Showroom with their first-ever Christmas show, "A Very Scinta Christmas," Dec. 18-20. Tickets start from $29.95, call 702-636-7075.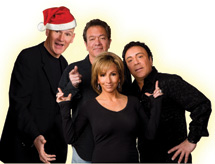 The Scintas, Buffalo, N.Y.-raised brothers Joey and Frankie, sister Chrissi and "Irish Scinta" Peter O'Donnell provide a show filled with music, comedy and impersonations. Frankie, who was recognized as a musical prodigy, appeared on "The Merv Griffin Show" at age 11.
HOLIDAY SEASON HAPPENINGS
The Las Vegas Hilton has lined up "Wynonna, A Classic Christmas" Dec. 19 and 20, followed by "Andy Williams Christmas Show" Dec. 23 and 24.
Veteran comedian George Wallace, who is in his sixth year as a headliner at the Flamingo, is offering a free ticket to his show to guests who bring two or more new, unwrapped toys to Wallace's toy drive, Dec. 1-12. The ticket can be redeemed anytime from the evening of the donation through Saturday, Dec. 19. Donations can be dropped in the designated donation box located to the right of the Flamingo Showroom from 6 p.m. to 10 p.m., Tuesday through Saturday. All donations will benefit HELP of Southern Nevada, an organization that brings toys to more than 10,000 local families each year.
The world's longest running celebrity tribute show, "Legends in Concert" is offering the return of the holiday version of the production at Harrah's. The seasonal version showcases superstar impersonations singing the singers' hits and Christmas classics such as Dolly Parton dishing out "Hard Candy Christmas" and Michael Jackson belting "Santa Claus is Coming to Town." The show concludes with an upbeat cast finale of "The Most Wonderful Time of the Year."
Open just eight months, the M Resort, a recent Forbes Travel Guide Four Star Award Winner, will light up the nation's tallest Christmas Tree, a 109-foot White Fir on Dec.12 at 5 p.m. The event will have hot chocolate, carolers, Christmas cookies and more. The tree will be placed in the M Resort's Villaggio Del Sole Outdoor Entertainment and Events Piazza on Dec. 2 and then be decorated.
The Springs Preserve's third annual Winter Lights Festival will have the native desert gardens adorned by a half-million eco-friendly LED lights, live performances of holiday music and festive dance on three stages each evening, strolling carolers, and visits with Santa. Dates are Dec. 11-13 and 18-24 from 5 to 9 p.m. Cost ranges from $2 for children ages 5-12 to $8 for non-members adults.
Henderson's annual WinterFest free celebration, scheduled Dec. 10-12, will include a parade, Santa Claus visits, tree lighting ceremony, gingerbread house displays, petting zoo, ice skating, snow play and festive entertainment. For additional information on WinterFest, visit www.HendersonLive.com or call 702-267-2171.
QUICK CLIPS
"The Swords Tour: Morrissey" with special guest Doll & The Kicks will headline at the Hard Rock on Friday, Dec. 4. "Swords" compiles 18 select songs released as b-sides of his 13 hit singles from his last four albums. Tickets start at $39.50, call 800-745-3000.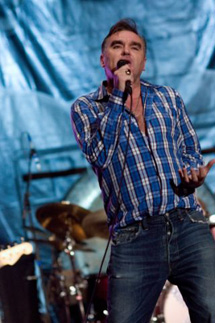 Starting Monday, Dec. 21, Blue Man Group will begin its holiday show schedule with three performances daily through Saturday, Jan. 2 at The Venetian. Performances will be at 4, 7 and 10 p.m.
World renowned illusionist Siegfried, visited Fremont Street Experience recently to watch Jan Rouven's 10 p.m. magic show on the 3rd Street Stage. Rouven, an illusionist from Germany, is making his Las Vegas debut.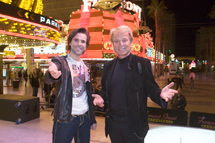 The Plaza downtown is planning two bingo promotions - $40,000 Mini Bingo Dec.12-13, 2009, and $125,000 Super Bingo Feb. 20-21, 2010. Both promotions are held four times each year.
Column Continues Below Advertisement
CONTINUE ON TO...:
>THIS WEEK'S LAUGHLIN NEWS
>LAST WEEK'S LAS VEGAS NEWS
>VEGAS VIEW FULL NEWS ARCHIVES
>Return to "Heard Around Town"
>Return to Las Vegas Leisure Guide