ROY CLARK STOPS AT THE RIVERSIDE

Country star Roy Clark will perform in Don's Celebrity Theater at the Riverside, Dec. 7-11 at 7 p.m. and headline an added matinee at 3 p.m. on Dec. 9. Tickets are $33.
Clark's big break came in Las Vegas when he was asked to open for Wanda Jackson. His first hit was "The Tips Of My Fingers," and more than 20 Top Twenty hits followed. Clark also starred in the popular television show "Hee Haw," which premiered in 1969 and continued to play until 1992.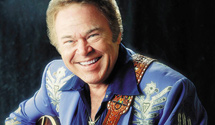 SINGER JAMIE O'NEAL PERFORMS AT EDGEWATER
Jamie O'Neal will perform in the Edgewater Event Tent on Saturday, Dec. 11 at 8 p.m. Tickets are $10 at the casino cage.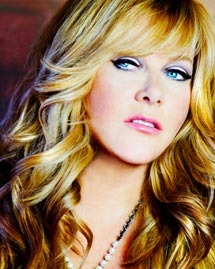 O'Neal grew up singing in her family's band and observing the biggest country legends from the side stage. She lived in Las Vegas and Los Angeles, attended Beverly Hills High along with many known actors and singers, and sang backup for Kylie Minogue. O'Neal launched her solo career with back-to-back No. 1 hits and has earned four Grammy nominations. She has toured with Reba McEntire, Kenny Chesney, Martina McBride, Alan Jackson and Toby Keith, and landed songs on the soundtracks of "Bridget Jones's Diary" and "When We Were Soldiers," as well as on ABC's "Desperate Housewives."


'AEROMYTH - TRIBUTE TO AEROSMITH' VISITS TROPICANA

"Aeromyth - tribute to Aerosmith" will headline The Pavilion Theater at the Tropicana on Saturday, Dec. 11 at 8 p.m. Worldwide, Aeromyth is considered a top Aerosmith tribute band. Tickets are $10.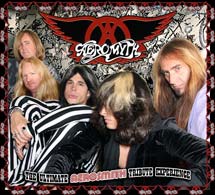 At an Aeromyth performance at the Key Club in Hollywood, Dave Navarro was quoted as saying, "I thought I was hearing an Aerosmith Album!" In March 2010, Aeromyth signed a contract for a pilot episode for a Reality TV show based on Aeromyth, the lives of its members, and what goes on behind the scenes.
Aeromyth performs concerts everywhere. The group was a headlining act in 2008 and 2009 on Fremont Street in Las Vegas with record attendance of 30,000 plus people. They played the 2009 Sturgis Motorcycle Rally down the street from the famous Aerosmith performance when Steven Tyler fell of the stage.


RIVER PALMS FEATURES 'THE WHO SHOW'

"The Who Show," which is a tribute to The Who, will headline at the River Palms on Saturday, Dec. 11 at 8 p.m. Tickets, which include a drink, are $10.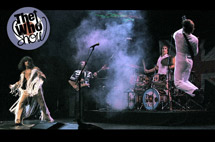 "The Who Show" has been producing the live sounds of the Who for more than a decade. With note-for-note musical renditions, authentic costumes and vintage instruments "The Who Show" recreates a Who concert experience from the 1970s. "The Who Show" was cast in starring roles as The Who in the 2005/06 stage production premiere run of "Quadrophenia."

RIVERSIDE AND TROPICANA FEATURE HOLIDAY SHOWS
The Riverside will feature the "Sounds of Christmas" in Don's Celebrity Theater, Dec. 13-19, and 23-24. Shows are at 7 p.m. on Dec. 13, 16-19 and 23; 3 p.m. on Dec.14-15, and 24. Tickets are $30. The "Nutcracker Ballet" with the Anaheim Ballet will be performed at 7 p.m. Dec. 20-22 and also at 3 p.m. on Dec. 22. Tickets are $28.50.
In the Pavilion Theater at the Tropicana on Dec. 16 at 6 p.m., the "Voices of the River Christmas Gala" will be a holiday show featuring the "Voices of the River Choir" singing excerpts from Handel's "Messiah." There will also be local artists singing holiday songs. Tickets are $15 FOR adults and $5 for ages 12 and under. For ticket information, contact Louise Zaborsky at 928-444-8192.

TOP OF NEXT COLUMN
LAUGHLIN PROPERTIES PREPARE FOR NEW YEAR's EVE
The incomparable Debbie Reynolds is booked at the Riverside, Dec. 27-Jan. 1. She'll do two shows on New Year's Eve. The cost for her 7 p.m. show is $40 and $45 at 10 p.m.
In The Starview Room at the Riverside, there will be a New Year's Eve Dance with the Starlight Serenade Danceband from 8 p.m. to 12:15 a.m. Cost is $22.
The Colorado Belle will hold a party in the Boiler Room on Dec. 31 from 10 p.m. to 2 a.m. and feature dueling pianos. There's no cover and the fun will carry over on Saturday, Jan. 1 from 10 a.m. to 1 a.m.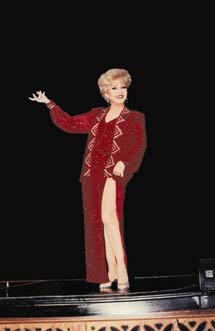 The Inferno Nightclub at the Edgewater will host a New Year's Eve party from 10 p.m. to 4 a.m. and feature a DJ. There's no cover charge.

At the Avi, there will be a Rockin' on the River New Year's Eve Party on Dec. 31 from 9:30 p.m. to midnight. The Native Harvest Buffet will be transformed into party central with hot hors d'oeuvres, desserts, party favors, a balloon drop, cash bar, champagne toast at midnight, and music by DJ Dean Zannone. Cost is $25 per couple and $15 for a single; call 800-430-0721 and ask for special events and mention code MNYE10C.

The Aquarius will have a balloon drop on the casino floor and a champagne toast. The resort has three, two and one-night packages available with added value.

'COMEDY ON THE EDGE' CONTINUES AT EDGEWATER

The Edgewater is continuing its ongoing "Comedy on the Edge" in the showroom every Friday, Saturday and Sunday at 7 p.m. Each show features two stand-up comedians. Upcoming acts are: Dec 3-5—Chris Clobber and Troy Conrad; Dec 10-12—Steve Bruner and "Henrietta;" Dec 17-19—Reno Goodale and John Hilder; Dec 24-26—Kathleen Dunbar and Kyle Erby; Jan 7-9—Dennis Blair and Paul Stoecklein; Jan 14-16—Greg Vaccariello and Jason Love; Jan 21-23—Jeff Capri and Jeremy Greenberg; and Jan 28-30—Collin Moulton and Laura Park. Tickets are $10 at the Edgewater Casino Cage or the door.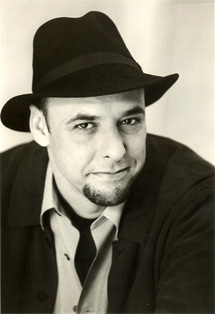 Chris Clobber is a stand-up comedian, actor and writer for top name performers in Las Vegas and Hollywood. He's appeared in numerous commercials, on "Malcolm in the Middle," on FOX television and been seen on A&E, ABC, CBS, NBC, Showtime and Comedy Central.

LAUGHLIN HOLDS SPECIALEVENTS

On Saturday, Dec. 11, the Desert Road Riders M/C 20h Annual Toy Run, which is a motorcycle run from Golden Shores, Ariz., to the Avi, will conclude in the South Parkign Lot with John Earl and the Boogieman Band performing. Entry is one unwrapped toy and one can of food per bike; call Jim at 928-279-8896 for information.
A holiday event will be held in the Pavilion Theater at the Tropicana on Dec. 16 at 6 p.m. The "Voices of the River Christmas Gala" is a holiday show featuring local artists including the "Voices of the River Choir" singing excerpts from Handel's Messiah. Tickets are $15 for adults and $5 for ages under 12. For ticket information, call 928-444-8192.

The town-wide SNORE "Rage at the River" off road races sponsored by Southern Nevada Off Road Enthusiasts will take place Dec. 10-13. For information, visit snoreracing.net.
The Riverside will host "Chillin' on the River," a car show sponsored by the River Cruizers in the South Parking Lot, Jan. 7-9. The event will highlight street rods, muscle cars, trucks, classics, and more. There will be a poker run, contests, auto parts swap meet, vendors, and DJ music on Friday-Saturday and Sunday morning. For information, call Ellen Bridges at 928-505-8457 or visit rivercruizer.com.
More off road racing will take place with the SCORE: "Laughlin Desert Challenge," Jan. 14-16, 2011. The 17th year for this classic off-road racing event will feature top world off-road racers competing and the famous "Laughlin Leap," which is a drive off a ramp for distance. For information, visit score-international.com.




CONTINUE ON TO...:

>THIS WEEK'S LAS VEGAS NEWS
>LAST WEEK'S LAUGHLIN NEWS
>VEGAS VIEW FULL ARCHIVES
>Return to "Heard Around Town"
>Return to Las Vegas Leisure Guide