The 2006 "Miss America Pageant" will take place in Las Vegas at the Aladdin Resort on Saturday, Jan. 21. The pageant will be broadcast live in a two-hour telecast originating from the Aladdin and will air on CMT at 8 p.m. ET/PT. Over the past two years, CMT has been America's most popular country music network reaching more than 77 million households.
Michael Bublé will make his Las Vegas debut when he performs at 9 p.m. at the Las Vegas Hilton over Valentine's weekend, Feb. 10-12 and 14, 2006. Tickets are $75 and $95 plus tax and service charge, cal 702-732-5755 or 1-800-222-5361.

Column Continues Below Advertisement


Since the release of his groundbreaking 2003 debut album, Bublé's meteoric career has literally had him touring around the world eight times. His new DVD, "Caught In The Act," was released this week and his PBS special will air on Dec. 3. Bublé's first "Great Performances" PBS special of his August live performance at the Wiltern in Los Angeles can be seen and heard in this CD+DVD package.
Earlier this year, Bublé scored his biggest triumph-to-date with the platinum and Top 10 Pop album, "It's Time." His No. 1 Adult Contemporary hit, "Home," spent 26 weeks at No. 1 on the Contemporary Jazz chart.
The biggest names in music will return to the Aladdin, future home of Planet Hollywood, for the 2005 Radio Music Awards (RMA) on Monday, Dec. 19. The show will be broadcast in a live two-hour telecast (9-11 p.m. EST) on NBC from the property's Theatre for the Performing Arts. Tickets are $350, $250, $175, $150 and $65 plus applicable service charges or taxes, call Ticketmaster at 702-474-4000.
The RMA celebrates the leading artists and songs of the year in mainstream, urban and rhythmic, alternative and active rock, adult hit and country music as determined by Mediabase, the medium's leading source for tracking airplay. Nominees include Green Day, Kelly Clarkson, Maroon 5, Kenny Chesney, Gwen Stefani, Nelly, Rob Thomas, among many others. The 400-member Radio Music Academy, comprised of the top programmers and music directors in radio, will choose the winners.
This year's show will include a special salute to country music featuring a performance by country superstar and RMA nominee, Keith Urban. Other names scheduled to perform include country star Kenny Chesney, hip-hop heavyweight Fat Joe, country chart-toppers Sugarland, Michael Bublé who is known for reviving the classics, international superstar Ricky Martin, and triple-platinum recording artist Ashley Simpson.
Four years, 40 cities and six countries after its world premiere, "Menopause The Musical®" celebrates its international success with a new Las Vegas cast production at the Las Vegas Hilton in the Shimmer Cabaret beginning Feb. 1, 2006.
Inspired by a hot flash and a bottle of wine, writer / producer Jeanie Linders created the show as a celebration of women who are on the brink of, in the middle of, or have survived "The Change."
Tickets are $49.50 plus tax and service charge, call 702-732-5755 or 1-800-222-5361. Show times are: Mon.-Tues. and Thurs. at 7 p.m.; Wed. at 2 p.m.; Sat. at 4 p.m. and 7 p.m.; and Sun. at 2 and 5 p.m.
For the fourth consecutive year, the Four Seasons will welcome hundreds of teddy bears from FAO Schwarz for its annual holiday Teddy Bear Fantasy Suite, from Dec. 9-22. The hotel's Presidential Suite will be transformed into a teddy bear wonderland, featuring more than 1,000 bears and other stuffed animals in fun and festive displays. It will be open daily from 11 a.m. to 7 p.m. The public is invited to view and photograph the adorable bears and admission is free.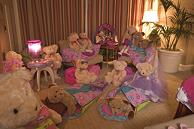 The 2005 display begins with a teddy bear wedding Vegas-style and then visitors follow the Teddy bride and groom on a fantasy honeymoon around the world stopping in Edinbearg, Scotland, the Bearing Strait / North Pole, Mozambear, Bearjing, China, Bearto Vallarta, Mexico, and the tropical hotspot Bearbados. The suite's kitchen hosts Café Bearbino, an Italian café. The master bedroom is the royal sleeping chambers at Cantebeary Castle.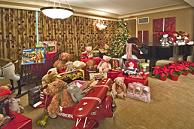 The sixth annual Holiday Village created by Executive Pastry Chef Jean Luc Daul and his team features 20 built-to-last gingerbread real estate properties that are "for sale." Purchase a lot from $250-$450 and your name/company name can be showcased on the display that may be taken home by owners on Dec. 27. Proceeds benefit the UNLV Cancer Research Center. A highlight is the 12- foot working carousel.
Specially-made holiday items such as a chocolate Santa Claus, Christmas Stollen, English Fruitcake and cookies are on display and for sale at the Verandah restaurant. Prices range from $15 to $85.
There's also a family vacation package from Dec. 10-22, starting at $250. For information, call 702-632-5000.
The Four Seasons Verandah and the musical, "Mamma Mia" at Mandalay have teamed up to offer customers who purchase two orchestra seat tickets a $50 dining credit. To take advantage of the promotion, tickets must be booked online. After purchasing two $100 orchestra seat tickets, customers receive an electronic dining voucher that must be printed and presented at the box office when picking up the theater tickets. Each voucher is valid for 72 hours from the date stamped at the box office and can be used at Verandah or other participating Mandalay Bay restaurants ranging from Aureole to China Grill.
On Dec. 4, the "Scotty Emerick and Friends All-Star Jam: Toys For Tickets" local children's benefit will take place at the Grand Events Center at Green Valley Ranch at 7 p.m. and feature rock and country acts and the main event Wolf Creek Band.
The Mirage is beginning its dining transformation with the opening of Fin, a high-end Chinese restaurant featuring authentic Chinese dishes in a contemporary setting by award-winning design firm Yabu Pushelberg.
Chef Chi Choi, a master with a Hong Kong-style wok, began his career in Hong Kong at age 14 and moved to the United States in 1993. In 1994, he came to Las Vegas and has worked at Pearl in the MGM Grand, Shanghai Lilly at Mandalay Bay and most recently, Moongate at The Mirage. Fin will feature authentic Chinese dishes, live seafood and a product-driven menu, according to availability.
Creating an edgy yet elegant design with traditional Chinese themes, Pushelberg's contemporary restaurant design is dominated by color schemes of gold and jade, accented with dark finishes creating a regal and sophisticated aesthetic. Décor is largely centered around elegant glass designs and a water feature gracing the back end of the dining room. The main dining room seats 76 and is divided by floating translucent spheres hanging strategically in sheets from the ceiling. The spheres provide privacy amongst and between the tables in the open dining room.
Two private dining rooms each seating eight guests occupy opposite sides of the main dining area. On the left side, silk screens painted with traditional Chinese imagery veil a chrysanthemum-shaped dining room. On the right side, the area is enclosed by a translucent curtain using three layers of material: laser-cut acrylic, copper wire mesh and a painted mural.
The legendary Studio 54 will celebrate its eighth anniversary with several distinct changes for the New Year. The two-phase renovation project will include the construction of a dramatic entry way with oversized couches, fiber optic chandeliers and portraits from the original New York Studio 54 and a lavish VIP lounge with a new dance floor and the latest in lighting and sound technologies. Two rows of luxurious couches will flank the VIP dance floor while a sleek, red granite bar will accentuate the environment.
Nevada has a total of three restaurants and three hotels on the travel club AAA Five-Diamond list and all the properties are on the Strip.
Wynn Las Vegas' Alex, a French restaurant with prix-fixe menus starting at $120 per person, gained the recognition after less than seven months in operation. The other two Five-Diamond restaurants are both at Bellagio, which is the only hotel in the country with two Five-Diamond restaurants. Picasso landed on the list for the fifth time and Le Cirque is now a three-time recipient of the ranking. AAA recognized a total of 48 Five-Diamond restaurants in 20 states.
The three Five-Diamond hotels were all repeat winners. Bellagio made its fifth appearance on the list, while the Four Seasons at Mandalay Bay appeared I the lineup for the seventh time. The Ritz-Carlton at Lake Las Vegas earned the rating for the third time. A total of 77 hotels in 23 states earned the Five-Diamond Award.
Beakman's World On Tour is a hands-on exhibit based on "Beakman's World" the CBS television children's series featuring the brainy and zany scientist named Beakman. The wacky exhibit full of funny characters, lively music and interesting facts about science is at the Las Vegas Natural History Museum located at 900 N. Las Vegas Blvd. adjacent to Cashman Field and next to the Old Mormon Fort through Feb. 12, 2006. Hours are daily from 9 a.m. until 4 p.m. Admission is $7 for adults, $5 for students, seniors and military and $3 for children ages 3 to 12. For information, call 384-DINO (3466).
Billy Joel will appear in concert at the MGM Grand on Saturday, April 8; call Ticketmaster at 702-474-4000.
The male strip revue, "American Storm," will go dark for the holidays beginning Nov. 29, and return to the Riviera on Dec. 28 and celebrate their move to the intimate Le Bistro.
The production will be refashioned to include a new spotlight number with emcee Josh Hall, as well as some new music and choreography routines tailored for an up-close and personal experience for the cozy 200-seat theater. Tickets are $49.95, plus all applicable taxes, call 1-877-892-7469. Preferred Party Zone seating and line pass for first entry is available for an additional $10 fee.
Donning his signature sleek black cowboy hat, country recording artist Tim McGraw's wax lifelike recreation is now prominently displayed in Madame Tussauds 'Rock and Pop' room. Adding to the lifelikeness, McGraw's figure welcomes guests to the attraction with pre-recorded sound bytes. Madame Tussauds located at The Venetian is open daily at 10 a.m. For information, call 702-862-7800.
The annual National Finals Rodeo Downtown Hoedown on Thursday, Dec. 1 will feature a free show from country star, Neal McCoy and Joe Diffie. McCoy got his start as an opening act for Charley Pride and went on to create three platinum albums while earning Entertainer of the Year honors in 1998 and 1999. Opening bands will start at 6 p.m. For information, call 702-678-5600.
It's official, the December National Finals Rodeo will remain in Las Vegas through 2014.
Teatro Euro Bar will host its one-year anniversary red carpet celebration following the Billboard Music Awards on Tuesday, Dec. 6.
Wolfgang Puck will host a holiday luncheon at Postrio featuring a three-course meal, a personal book signing of his newest cookbook and a fashion show by select merchants of the Grand Canal Shoppes on Tuesday, Dec. 13, from 11:30 a.m. to 1 p.m. Robin Leach will emcee this event that is open to the public. Tickets are $100 for "Signature Dishes and Fashion Plates with Wolfgang Puck," call 702-796-1110.
Tao at the Grand Canal Shoppes level of the Venetian has started "Sutra," on Wednesday evenings from 11 p.m. to 4 a.m. The Tao Lounge features the music mixing of Robert Oleysyck, and serves sushi until 1 a.m. Modeled after the celebrity dining hotspot Tao in New York City, the $20 million Las Vegas Tao opened in September 2005. The multi-story "Asian City" houses a restaurant, banquet facilities, a lounge and a nightclub in 40,000 square feet.
In fact, Wolf Creek Band will be taking a night off from performing in Sinbad's Lounge at the Aladdin, Dec. 2-11, during NFR to participate in the charitable event. To attend, people need to bring a toy worth $10 or more to any Star Nursery in the Las Vegas area. For one toy, one ticket will be given; maximum of two tickets per person.
CONTINUE ON TO...:
>THIS WEEK'S LAUGHLIN SEGMENT
>LAST WEEK'S LAS VEGAS SEGMENT
>VEGAS VIEWS FULL ARCHIVES
>Return to "Heard Around Town"
>Return to Las Vegas Leisure Guide