"Cavalia" is one of the most hauntingly inspiring shows you'll ever see and one that you "must experience." It's one thing to have a show with incredible special effects, but to create a show that melds the miraculous spirit, beauty and power of the horses in a show with man demonstrating exhilarating acrobatics is a spellbinding happening that can't be manufacturer.
The highly acclaimed show began its tour in 2003 and is currently being presented in the White Big Top tents located in the parking lot at the Rio through Dec. 9. Adult tickets range from $50 to $95 and there are special packages, call 866-999-8811.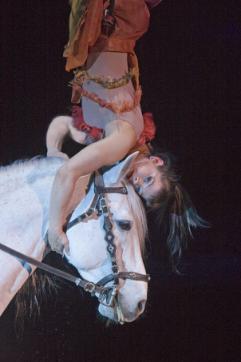 Column Continues Below Advertisement
The eye-striking White Big Top, the largest touring tent in North America, is 110 feet high, which is the equivalent of a 10-story building, and seats 2,000 people. It takes 12 days to erect the tents that provide a 160-fioot-long playground-stage for the horses and a 210- foot wide projection screen, which is three times the width of a movie theater.
The beautifully orchestrated "Cavalia" is brought to life by 50 male horses representing 10 different breeds, which were flown to town on a Boeing 747 airplane, and 35 two-legged artists. Spectators are transported with live music and fabulous visuals to dream-like virtual settings where the horses dazzle, charm and capture everyone's imagination. No words can really explain how great this show is. You don't have to be a horse lover to be won over by this spectacular equestrian odyssey.
Elvis Presley's diamond and platinum wedding band from his Las Vegas nuptials to Priscilla will be among more than $2 million worth of exclusive TV and movie memorabilia set for auction in December. A selection of the most coveted items are on display in a custom-designed case for public viewing on the mezzanine level of the Aladdin / Planet Hollywood until Dec. 10.
Presley's wedding band is expected to sell for $100,000 to $150,000. Elvis unveiled the ring on Monday, May 1, 1967, the day he wed Priscilla in a ceremony that celebrated one of the most famous marriages of the 20th century
Other pieces of memorabilia on display include: jewelry worn by Marilyn Monroe in "Some Like It Hot," Charlton Heston's costume from "Ben Hur," Mike Myers's blue velvet jacket worn in "Austin Powers," a variety of John Wayne costumes, Lone Ranger costume, Keanu Reeves' head bust from "The Matrix" and much more.
The entire collection will be auctioned off on Dec. 14 and 15 by Joseph Maddalena and his internationally-renowned Profiles in History, the number one company in the world for live and simultaneous Internet memorabilia auctions.
The Flamingo is extending "Toni Braxton: Revealed" through August 2007. The six-time Grammy award-winning artist Toni Braxton opened her full-scale musical production with dancers and costumes in August 2006. Tickets are $69, $89 and $109; call 702-733-3333 or 800-221-7299. Show time is 7:30 p.m., Tuesday-Saturday.
Braxton has an impressive catalog of five albums in contemporary music and collectively she has sold more than 40 million copies, including her best-selling "Ultimate Collection." Braxton has also taken Broadway by storm with starring roles in the musicals "Beauty & The Beast" and "Aida," and made her film debut in "Kingdom Come."
The Palms has unveiled plans for a multi-million dollar, state-of-the-art, concert theater that is currently under construction and aptly named The Pearl. The new venue expected to open next spring will comfortably tuck into its intimate setting all of the high-end amenities you would find in larger venues. With special scalable curtains, The Pearl's capacity can easily adjust to accommodate from 1,100 to 2,400 guests. In addition, the floor will allow for seated concert viewing or general admission standing room audiences. With no seating obstructions, the farthest seat from the stage will be a mere 120 feet away, allowing performers to personally connect with the entire audience. Two 14-foot by 16-foot video screens will be located on each side of the stage for close up looks at the on-stage action with additional plasma screens located throughout the concourse areas.
The Pearl will have three levels of seating with beverage stations and restroom facilities located on each level and feature 18 private and semi-private sky boxes with exclusive bars and restrooms and many including personal lounges.
The new concert facility will be hard wired to The Studio at The Palms, allowing artists to create a cost-effective live album with efficiency and without additional venue set-up. Additionally the facility is designed to host live television programs, sporting events and award shows.
Back of house amenities will be just as impressive featuring four dressing rooms; Wi-Fi technology throughout the backstage area; a green room; production offices; pre- and post- show event facilities perfect for parties, artist meet and greets and other special activities; private access to an outside entry, as well as entrance ways from The Studio at The Palms and the Fantasy Tower. Backstage will boast a separate disconnect for satellite and television production trucks as well as a two truck loading dock for easy movement of equipment.
Afternoon headlining comedian and magician Mac King has paired with well-known toy maker Fundex to create a series of magic tricks based on his nationally syndicated comic strip. In time for the holidays, Mac King's Magic in a Minute™ is a line of 11 easy magic tricks available at large toy retailers and specialty toy stores around the country. For information, call 800-486-9787.
Mac King's Magic In A Minute™ features Mac King and his sidekick Lewis, a cute comical monkey, demonstrating each of the magic tricks. The tricks, designed as a creative tool for learning the art of entertaining with magic in a fun and humorous way, are available under three series titles and price points: The Befuddling Series $5.99; The Flabbergasting $7.99; and Colossal $14.99.
Each trick comes with a comic book explaining each trick, a trading card that lists an additional trick with common items from around the house as props, and a secret code that can be used to access another trick inside the Vault-O-Magic at magicinaminute.com. This Web site features Mac King in QuickTime videos performing each of the tricks in the series.
There aren't a whole lot of restaurants with fabulous views of the valley, but a new American fare restaurant in Henderson located at 76 W. Horizon Ridge Parkway has an outstanding one. STEAK is separated into three sections. The dining area features one window-wall with the view. The burnt red and mustard interior is upscale with a contemporary flair accented by dark wood floors and innovative amber-toned lighting. The middle section is a bar and lounge area where guests can dine on a variety of tapas.
With a focus on fine wine, STEAK offers 28 wines by the glass as well as 80 bottled beers. The connecting gourmet wine market sells specialty cheese and items such as olive and truffle oils and chocolate. The shop will feature wine-tasting events in the future.
STEAK is open from 11 a.m. to 1 a.m., call 702-56-STEAK (7-8325).
RA Sushi Bar Restaurant located on the Las Vegas Strip at the Fashion Show Mall on the street level facing Wynn Las Vegas recently celebrated its second anniversary. The 4,500-square-foot eatery, which is open daily from 11 a.m. to 2 a.m., features a traditional sushi bar adjacent to the table dining area, as well as a separate, full cocktail bar and lounge with Asian inspired spirits. Happy hour food and beverage specials are offered Monday through Friday from 4 p.m. to 7 p.m. RA opened its first spot in Old Town Scottsdale in October 1997 and now there are 11 locations.
Sushi Roku inside The Forum Shops at Caesars will present "Cocktails and Shopping on The Rocks," a cocktail demonstration class at 7 p.m. on Tuesday, Dec. 5. The cocktail and sushi soirée event is open to the public and costs $50; call 702-733-7373. Attendees will receive a $25 gift card to Innovative Dining Group and the chance to win a $100 gift card to The Forum Shops.
Hannah's Euro-Asian bistro, located in Boca Park in Summerlin, is celebrating its one-year anniversary. The eatery is owned and operated by Hannah An, a third-generation member of a distinguished restaurant family that emigrated from Vietnam in the 1970s. Over the past year, Hannah's has created Ladies Night, which is every Thursday when ladies enjoy $7 specialty martinis and half-priced sushi on the patio from 7 p.m. until closing. Ladies who dine inside receive 50 percent off dinner, up to $50 off. In addition, Hannah's recently started an Express Lunch Menu, Monday through Saturday from 11:30 a.m. to 3 p.m. For information, call 702-932-9399.
The Gift of Lights outdoor drive-through holiday light display at Sunset Park located a few miles from the Strip is enjoying its sixth season. The first year, The Gift of Lights had more than 50 displays with approximately 1 million lights, and this year, the event has more than 300 displays and approximately 8 million lights. Gift of Lights will run through Jan. 1 from 5 p.m. to 9 p.m., Monday - Thursday, and until 10 p.m. on Friday and Saturday. Nightly admission is $12 per vehicle.
MonteLago Village and Lake Las Vegas Resort is once again featuring a floating ice skating rink in the middle of the desert. In its third year, the Rockefeller Center-sized rink is now open through Jan. 15. The rink, which floats on the 320-acre Lake Las Vegas, near the shores of MonteLago Village, is open to 60 skaters at a time. Cost is $12 per person for an all-day pass. For information, call 866-399-2753.
This holiday season, the District Carolers are performing at The District at Green Valley Ranch. Dressed in Victorian costumes, the strolling a cappella quartet sings holiday classics along The District's main street and expansion every Friday and Saturday from 5 p.m. to 9 p.m., through Dec. 23. The District is decorated in the style of an old fashioned town providing the atmosphere of days gone by.
Magician Rick Thomas who was a Stardust headliner to the end will be opening in mid-December at The Orleans, which is a Boyd Gaming sister-property. He's been performing at Strip properties for the past 10 years and the off-Strip, 800-seat showroom at The Orelans might be a bit challenging. During the holiday season, Thomas plans to do three shows a day and then return to doing two shows per day after New Year's.
The Gold Coast will hold a New Year's Eve party in the grand ballroom and feature Marty Allen and his wife Karon Kate Blackwell. At The Orleans in the grand ballroom, the New Year's Eve party will highlight the Vincent Falcone Orchestra with feature vocalist Laura Taylor.
The time is nearing for Steve Wyrick to open his new $34 million theater and entertainment complex with an ultra lounge at the Desert Passage mall. He's hoping to begin previewing his new show on Dec. 13. This is also where Ronn Lucas is supposed to be doing his afternoon show.
Herbst Gaming has struck an agreement with MGM Mirage to purchase the three casinos in Primm on the Nevada-California border off Interstate 15 for $400 million. The deal includes Whiskey Pete's, Primm Valley and Buffalo Bill's, along with three gasoline station-convenience stores and a mini-market located on the California side of the border that sells state lottery tickets. Primm is positioned about 35 miles south of Las Vegas. Herbst Gaming began in 1987 as an offshoot of the family business, Terrible Herbst Oil Co., which operates more than 80 all-inclusive service stations in Nevada, California and Arizona.
The 2007 Chippendales Calendar features some the sexy men from the flagship Chippendales' production at the Rio and from the five international touring companies. The world's most recognized brand name in ladies entertainment, the Chippendales perform in over 25 countries, 800 cities and for more than 2 million women each year. Chippendales was established in 1978 and the first calendar debuted in 1981. The 2007 Chippendales Calendar is available exclusively at Chippendales.com and in the Chippendales Boutique at the Rio for a limited time beginning this month, prior to its worldwide retail release.
The NFR Cowboy Christmas Gift Show will feature more than 400 vendors from across the United States and Canada showcasing Western wear, leather goods, custom jewelry, as well as Southwest Indian arts, crafts and pottery. The show will take place, Nov. 30-Dec. 9, at the Las Vegas Convention Center.
Jerry's Nugget Casino in North Las Vegas will be hosting its annual racers appreciation car show on Sunday, Dec. 3, from 10 a.m. to 4 p.m. at the casino. The daylong show will feature music, a poker run, manufacturers' midway and door prizes. For information, call Dennis Evans at 702-521-4575.
The theatrical murder mystery company, A Touch of Mystery will present "I Only Have Eyes For You" at Lawry's Prime Rib on Thursday, Dec. 28. The interactive show and three-course meal costs $85 with tax and tip included, call 702-497-7936 for reservations.
The non-profit Food & Beverage Directors Association of Las Vegas is hosting a day of golf and industry camaraderie at the Las Vegas Paiute Golf Resort on Tuesday, Dec. 5. The event is open to the public and costs $175 per person; call 702-794-9602.
CONTINUE ON TO...:
>THIS WEEK'S LAUGHLIN SEGMENT
>LAST WEEK'S LAS VEGAS SEGMENT
>VEGAS VIEWS FULL ARCHIVES
>Return to "Heard Around Town"
>Return to Las Vegas Leisure Guide