STAN LEE EXPERIENCES MADAME TUSSAUDS NEW MARVEL 4D THEATER!

Marvel Comics legend Stan Lee, who co-created iconic comic characters Spider-Man, Thor and The Incredible Hulk, ushered in a new era for Madame Tussauds Las Vegas. He became the first guest to experience the brand new 70-seat Marvel 4D Theater that is complete with an array of new wax figures including Captain America, Thor, Nick Fury and Tony Stark.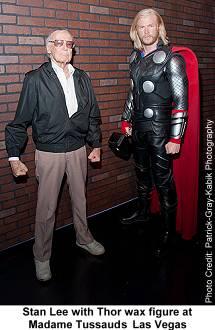 The new 4D-theater enables guests to see, hear and feel his heroes save the world from destruction. Before the gift shop exit, the theater is the grand finale to the attraction's seven-themed room renovation that includes an array of new interactive experiences and some newly added A-list celebrities. One of the key differentiators with Madame Tussauds Las Vegas is the vast interactive experiences. Madame Tussauds opens at 10 a.m. all 365 days of the year.
Column Continues Below Advertisement
ANNUAL ELECTRIC DAISY CARNIVAL WILL RETURN JUNE 20-22, 2014
Insomniac's Electric Daisy Carnival (EDC), North America's largest dance music festival, will return to the Las Vegas Motor Speedway for its 18th edition on June 20-22, 2014. The festival attracted a sold-out crowd of 345,000 fans over three days this year and will again bring Insomniac's signature over-the-top production and creative elements to the venue. For the first time, Insomniac is offering a "Headliner Loyalty Program," which gives loyal fans from 2011-2013 the opportunity to secure tickets first from noon PST on Nov. 25 for 24 hours. An Early Owl Pre-Sale will follow on Dec. 2 at noon PST. Additional details regarding the Headliner Loyalty Program and Early Owl on-sale dates can be found on both the Insomniac and EDC websites. Tickets start at $249 for general admission and $499 for VIP tickets for those 21 and over, plus service fees.
EDC will once again take over Las Vegas during EDC Week, June 17-23, 2014, with an eclectic mix of nightclub and dayclub events spread across several Las Vegas' venues. Insomniac's annual dance music conference, EDMbiz, will also return for its third year in addition to a brand new dance music awards show.
BEACHER'S MADHOUSE OPENS AT MGM GRAND NEW YEAR'S EVE WEEKEND
The legendary vaudeville-inspired spectacle, Beacher's Madhouse, will make its triumphant return to Las Vegas, this time at the MGM Grand on Dec. 27 - New Year's Eve weekend. Beacher will reach new heights of madness with two experiences five nights a week under one roof: Beacher's Madhouse The Nightclub and Beacher's Madhouse The Show. Tickets for the nightclub that opens at 10:30 p.m. Wednesday-Saturday are now on sale call 323-785-3036 or visit beachersmadhouse.com. The show will be in the 8,500-square-foot performance theater and push the boundaries of entertainment and fantasy. Tickets for the 8 p.m. Tuesday through Saturday shows will be available on Monday, Dec. 9 at 10 a.m.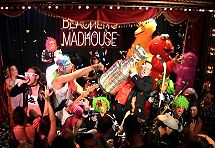 MAROON 5 TO RING IN 2014 WITH TWO SHOWS AT MANDALAY BAY
GRAMMY Award-winning recording artist Maroon 5 will ring in 2014 in Las Vegas with two special New Year's shows at the Mandalay Bay Events Center on Dec. 30 and 31 with special guests A Great Big World and Rozzi Crane opening both shows. Maroon 5 released its fourth studio album "Overexposed" in the summer of 2012. The band has captured three GRAMMY Awards and sold more than 17 million albums worldwide with Gold and Platinum releases in more than 35 countries. Tickets range from $99.50 to $224.50.
LAS VEGAS WELCOME SIGN GOES SOLAR
The historic "Welcome to Fabulous Las Vegas" sign on the far south end of the Strip since 1959 will convert to solar power to light it. The plan is to install solar trees south of the sign that will put the alternative energy into the sign's lights. The project won't obstruct the view for photographing and is expected to be completed around Jan. 1, 2014.
'JERSEY BOYS' STAR TRAVIS CLOER DOES SPECIAL HOLIDAY SHOW
"Jersey Boys" star and recording artist, Travis Cloer, will bring his versatile voice and brand new Christmas show "My Place for the Holidays" to The Smith Center's Cabaret Jazz for one night Monday, Dec. 16. He'll perform alongside a six-piece band and will feature a blend of traditional holiday classics performed in collaboration with special guests such as "Jersey Boys" star Graham Fenton, Las Vegas performer Niki Scalera, comedy vocal trio The Apple Sisters and Stratosphere headliner Frankie Moreno. Tickets start at $25.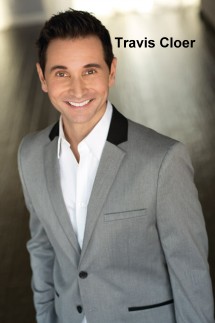 THE SMITH CENTER HOLDS HOLIDAY CONCERT IN SYMPHONY PARK
The Smith Center for the Performing Arts will hold a "Clint Holmes for the Holidays" outdoor concert in the bedecked Symphony Park on Sunday, Dec. 8 at 5 p.m. Cabaret Jazz resident and beloved Las Vegas entertainer, Clint Holmes, will launch the season's festivities with a performance that will include special guests…his wife Kelly Clinton-Holmes, Stratosphere headliner Frankie Moreno, former "Phantom - The Las Vegas Spectacular" star Kristen Hertzenberg, vocal group "Fifth Avenue," the Las Vegas Academy Choir and others.
Refreshments and light fare will be available for purchase. Tickets start at $15 for youth and $20 for adults. People are encouraged to bring a beach-towel-size blanket.
BUDDY 'CAKE BOSS' VALASTRO HOLDS BOOK SIGNING AT BUDDY V'S
Buddy Valastro of the hit TLC series "Cake Boss" will be signing copies of his newest book "Family Celebrations with the Cake Boss" on Friday, Dec. 6 from 1 - 2 p.m. at Buddy V's Ristorante Grand Canal Shoppes at Venetian|Palazzo. Books are $30 and you can R.S.V.P. via Facebook to secure a spot.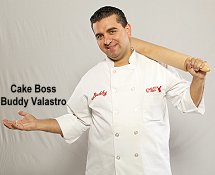 GAMING HISTORIAN DAVID G. SCHWARTZ SIGNS BOOKS AT MOB MUSEUM
On Dec. 13 and 14, author and Director of the Center for Gaming Research at the University of Nevada, Las Vegas, David G. Schwartz will sign copies of his new book, "Grandissimo: The First Emperor of Las Vegas" at The Mob Museum downtown. On Friday, Dec. 13, the book signing will take place in the museum's gift shop from noon until 4 p.m. On Saturday, Dec. 14, Schwartz will deliver an Author's Talk about his book in the museum's historic courtroom from 1 - 2 p.m. and follow with an additional book signing.
His book is about the life of Jay Sarno, who built Caesars Palace and Circus Circus and inspired modern Las Vegas. Sarno planned but did not build a third property, the Grandissimo, which would have started the mega-resort era a decade before Steve Wynn built The Mirage.
REGIONAL SAM'S CLUBS SELL OPPORTUNITY VILLAGE'S POPCORN
PopShoppe Gourmet Chocolate Covered Popcorn is being produced on a large scale and distributed for the first-time at the retail level through Dec. 30. Opportunity Village debuted its popcorn in regional Sam's Club locations throughout five states and seven Las Vegas-area stores. Founded in 1954, Opportunity Village is Nevada's largest employer of adults with disabilities.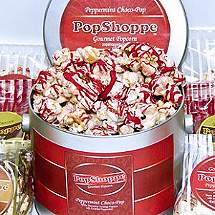 Produced locally, PopShoppe Gourmet Chocolate Covered Popcorn is popped and packaged at the Opportunity Village Engelstad Campus in Las Vegas in a state-of-the-art production kitchen. Priced at $9.98 per box, PopShoppe Gourmet Chocolate Covered Popcorn is available in Classic Choco-Pop or Cinnamon Choco-Pop flavors and comes packaged and displayed in specially designed trays. With the help of a recent partnership with the Culinary Academy of Las Vegas, a hospitality industry educational and training facility, Opportunity Village operations have enhanced productivity, improved shelf life and increased production to benefit consumers.
Customers may also purchase PopShoppe Gourmet Chocolate Covered Popcorn at www.opportunityvillage.org or by calling 702-880-4074.
SIDEWALK ASTRONOMY EVENT PLANNED IN THE NEON BONEYARD
The Neon Museum will hold a special family night of star gazing at the "Stars and Stardust: Sidewalk Astronomy In the Neon Boneyard," to be held Saturday, Jan. 4 from 6 to 9 p.m. Held in partnership with the Las Vegas Astronomical Society, the program is free. Participants will enjoy using a variety of telescope equipment to observe the night sky with the comet ISON and planet Jupiter expected to be visible. To register, email education@neonmuseum.org.
RX BOILER ROOM HOSTS HOLIDAY TAKEOVER WITH MIXOLOGISTS
Rx Boiler Room in the Shoppes at Mandalay Place is holding an interactive mixology experience with a portion of the proceeds to benefit the Helen David Memorial Fund dedicated to providing assistance to bartenders affected by breast cancer. On Monday, Dec. 16, Chef Rick Moonen and Rx Boiler Room's lead barman Eric Smith will team up with special guest mixologists, Tony Abou-Ganim (The Modern Mixologist) and Dale DeGroff (The Cocktail King) to celebrate the spirit of the season with a "Holiday Takeover."
The event will have holiday-themed passed hors d'oeuvres prepared by Moonen and various joyful cocktails for $50, call 702-632-9900. In addition, for a supplementary $50, guests can receive three personalized books by the masters - "Fish Without a Doubt: The Cook's Essential Companion" by Moonen, "Vodka Distilled: The Modern Mixologist on Vodka and Vodka Cocktails" by Abou-Ganim and "The Craft of the Cocktail" by DeGroff.
TOP OF NEXT COLUMN
WNFR MEANS COUNTRY STARS DESCEND ON LAS VEGAS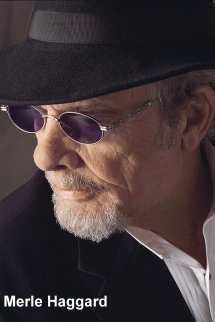 The Golden Nugget downtown is bringing in the top names in country music during the 2013 Wrangler National Finals Rodeo Dec. 5-14. The star lineup includes: Gretchen Wilson Dec. 6-7; Dwight Yoakam Dec. 8-9; Willie Nelson Dec. 10-11; and Merle Haggard Dec. 12-13 in the property's 1000-seat grand events center, with all shows beginning at 10 p.m.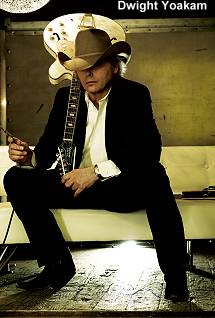 Multi-talented comedian, actor and writer Rodney Carrington will perform his stand-up comedy routine at the Hollywood Theatre at the MGM Grand Dec. 5 - 14 at 10 p.m. nightly. Tickets are $69.99 to $89.99.
RODEO TIME MEANS SHOPPING
For the third consecutive year, the MGM Grand will host the shopping experience inside its Marquee Ballroom Dec. 5-15 from 9 a.m. to 5 p.m. daily. The 90,000-square-foot ballroom will feature more than 60 of the most popular rodeo brands including Wrangler, Cinch, Roper, Ariat, Justin, Resistol, Stetson, Tony Lama, Circle Y Saddles, Classic and Cactus, among others. Also on-site will be tack equipment, rope making displays and fashion shows.
Now in our 20th year, The Stetson Country Christmas Western Gift Expo, which is The Western Lifestyle show, will be held during the National Finals Rodeo Dec 5-15 at the Sands Expo. The expo hosts more than 400 of the finest western lifestyle and retail exhibitors along with a wide variety of entertainment and special events. Hours are 10 a.m. - 5 p.m.
SOUTH POINT HOSTS ART OF THE AMERICAN COWBOY SALE AND AUCTION
South Point Arena and Equestrian Center will host the fourth annual Art of the American Cowboy Sale and Auction Sunday, Dec. 8 - Saturday, Dec. 14 from 10 a.m. to 6 p.m. Guests will experience a true western art show while participating in raffle drawings and a live art auction throughout the week. An original commissioned piece created by Brent Flory will be sold during a live auction on Friday, Dec. 13, while limited edition reproductions will be available for guests to purchase throughout the show. The event is free and open to the public.
ROCKIN' HOLIDAYS AT MIRACLE MILE SHOPS GIVES BACK ON DEC. 5
On Thursday, Dec. 5, Miracle Mile Shops at Planet Hollywood will host Rockin' Holidays, an evening of shopping, dining and entertainment benefiting Boys & Girls Clubs of Southern Nevada. From 5:30 to 7 p.m., attendees will enjoy a cocktail reception at Oh My Godard Gallery with appetizers from Cabo Wabo Cantina and PBR Rock Bar & Grill and holiday-themed libations from Sin City Brewing Co. and Halo Bar. During the reception, renowned artist Michael Godard will hold a live art demonstration and later auction it off.
Following the reception, attendees will receive a complimentary show ticket voucher to "V - The Ultimate Variety Show," "VEGAS! The Show," or "B-Beatleshow."
Rockin' Holidays tickets are $40 in advance at http://www.bgclv.org/RockinHolidays or $50 at the door.
CHARLES MINTZ 'PRECIOUS OBJECTS' EXHIBITIONS OPEN JANUARY 2014
The public is invited to meet Cleveland photographer Charles Mintz for a gallery talk Thursday, Jan. 9 at 4 p.m. in the Las Vegas City Hall Chamber Gallery or a reception at the Charleston Heights gallery from 6 to 8 p.m. on Jan. 10. Mintz's exhibition, "Precious Objects," will be displayed at the City Hall Chamber Gallery Jan. 9-April 10, and Jan. 10-April 23 at the Charleston Heights Arts Center Gallery. Admission is free to both galleries.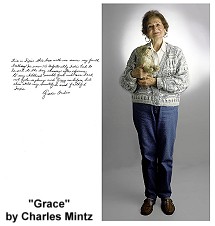 The exhibitions are prints of some of the 170 people who were photographed holding something with special meaning that they have had for a long time and that they would not replace if they lost it. Next to each portrait is the subject's handwritten explanation of why the object is so important.
VICENTE FERNANDEZ JR. PERFORMS EASTSIDE CANNERY
The son of one of Mexico's most famous singers, Vicente Fernandez Jr. will perform at the Eastside Events Center on Friday, Dec. 6. The Mexican music evening will include Fernandez Jr. singing and performing in traditional Mexican attire with a Mariachi band. Tickets start at $12.95.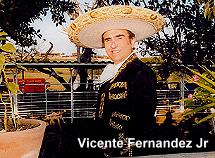 FAST TRACK NEWS
It's the season for "The Nutcracker" to be performed at The Smith Center for the Performing Arts from Dec. 14-22.
"A Very Swingin' Christmas" with a 12-piece live band featuring boogie woogie with a flair of rockabilly will headline the South Point Showroom Dec. 20 - 21 at 7:30 p.m. Tickets start at $15.
Chef Maneet Chauhan, author of the cookbook "Flavors of my World," and a judge on Food Network's hit show, "Chopped," will create a special menu at Origin India Restaurant and Bar on Paradise Road on Wednesday, Dec. 4 to raise money for Filipinos affected by Typhoon Haiyan. The four-course dinner is $50 and a portion of the proceeds will go to the Red Cross, call 702-734-6342 for reservations.
The Rainbow Company Youth Theatre with a cast of 39 will present the upbeat and lyrical "Scrooge, The Musical" for ages 5 to 105 on Dec. 6-7, 13-14 at 7 p.m. and Dec. 8, 14-15 at 2 p.m. at the Charleston Heights Arts Center on S. Brush Street. Tickets are $5 call 702-229-6553. The Rainbow Company is a program of the city of Las Vegas.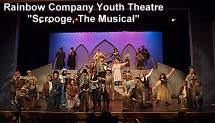 Three nightclubs - Chateau Nightclub & Gardens at Paris, PURE Nightclub inside Caesars Palace, and LAX Nightclub at the Luxor - will take a holiday break and close from Dec.16-26.
RHUMBAR at The Mirage is offering hot cocktails the Naughty Girl Scout, Cinn City, Hot Berry Bomber and the Mexican Ginger Cookie from Dec. 1 through the end of February for $12 each.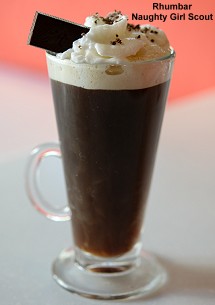 SANTA AND ELVES BRING HOLIDAY CHEER TO AQUARIUMS AND TITANIC
Santa is stopping by the Shark Reef Aquarium at Mandalay Bay throughout December in the aquarium's shipwreck exhibit. With each paid admission, children 12 and under will receive a complimentary candy cane and a photograph with Santa.
Jolly old St. Nick is stopping by the Royal Mail Ship (RMS) Titanic at the Luxor and collecting children's letters and snapping photos with them.
Another festive happening is the Holiday Elf Aquarists at The Forum Shops at Caesars. Beginning Dec. 1, the Atlantis Aquarium aquarists adorned in elf-style wet suits during this holiday season will be in the water feeding the more than 300 tropical fish daily at 1:15 and 5:15 p.m.
SANTA CLAUS IS COMING TO TIVOLI VILLAGE NOV. 29
Tivoli Village on South Rampart will welcome Santa Claus the day after Thanksgiving, Nov. 29. A festive parade at 10:30 a.m. will feature Santa on a horse drawn carriage with elves and a trackless train ending at Santa's house where he'll take photos with children. Following the parade, there will be hot cocoa, hot apple cider and sweet treats, and trackless train rides for $3 a ride or two rides for $5. From 11 a.m. - 3 p.m., there will be entertainment and festivities on the main stage, vendor booths, an extensive arts and crafts booth, and carriage rides for $5.
NEW SCULPTURE EXHIBIT AT CITY HALL IS OPEN THROUGH FEB. 13
A new free public sculpture exhibit "Creativity Creates Community" is on display at Las Vegas City Hall in the first-floor Grand Gallery through Feb. 13, 2014. This exhibit highlights works by some15 Clay Arts Vegas pottery studio's artists and teachers. An artists' reception is planned for Monday, Jan. 27 from 5:30 to 7:30 p.m.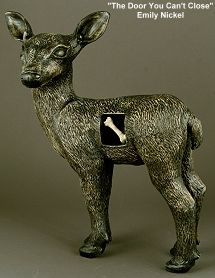 AFAN COMMEMORATES WORLD AIDS DAY DEC. 1
Aid for AIDS of Nevada (AFAN) will show their support in the fight against HIV and AIDS and honor those who have died on World AIDS Day on Sunday, Dec. 1. The day's events will kick off with the "Every Piggy Counts Piggy Herding." Throughout the year, people have adopted ceramic piggy banks to fill up with loose change for AFAN and will empty their piggy's bellies from 3-6 p.m. at The Gay and Lesbian Community Center of Southern Nevada (The Center). At 4 p.m., The Center will air a special 20th anniversary screening of the Academy Award-winning movie "Philadelphia" starring Tom Hanks and a HOLD candlelight memorial walk at 6:30 p.m. going from the Judy Bayley Theatre at UNLV to the AIDS Memorial Garden located by the Rod Lee Bigelow Health Sciences building. Both events are free.
Column Continues Below Advertisement
CONTINUE ON TO...:
THIS WEEK'S >LAUGHLIN NEWS
LAST WEEK'S >LAS VEGAS NEWS
>VEGAS VIEW FULL NEWS ARCHIVES
Return to >"Heard Around Town"
Return to >Las Vegas Leisure Guide