<!A-- Left Column -->

Chubby (Ernest Evans) Checker, best known for popularizing The Twist, will headline at the Tropicana Express in the Pavilion Showroom, Dec. 29 and 30. Tickets for his 8 p.m. shows are $39, $49 and $55, call 800-243-6846.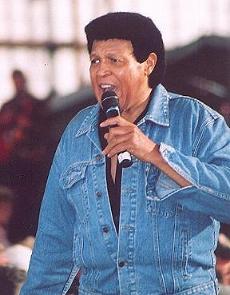 Born in South Carolina and as a child raised in the projects of South Philadelphia where he lived with his parents and two brothers, Checker by age 8 had formed a street corner harmony group. By the time he entered high school, he had learned to play piano and perform vocal impressions of popular entertainers of the day. One of his classmates and friends at South Philadelphia High School was Fabiano Forte, who would become a popular '50s and '60s singer as Fabian.
Evans worked at the Produce Market where his boss gave him the nickname "Chubby." He also worked at Fresh Farm Poultry where the owner and his colleague and friend Karl Mann, who worked as a songwriter for Cameo-Parkway Records, arranged for young Evans to do a private recording for American Bandstand host Dick Clark. It was at this recording session that Evans got his stage name from Clark's wife, who asked Evans what his name was. "Well," he replied, "my friends call me 'Chubby'." As he had just completed a Fats Domino impression, she smiled and said, "As in Checker?" That little play on words ('chubby' meaning 'fat,' and 'checkers,' like 'dominos,' being a game) got an instant laugh and stuck, and from then on, Evans used the name "Chubby Checker."
In 2008, Checker's "The Twist" was named the biggest chart hit of all time by Billboard magazine. Billboard looked at all singles that made the charts between 1958 and 2008.
Checker had a No. 1 single on Billboard's dance chart in July 2008 with "Knock Down the Walls." He also owns his own restaurant and continues to perform on a regular basis.
The "Holiday Boat Parade of Lights" will take place from 5-9 p.m. on Nov. 29. It will be a night of holiday fun as gaily decorated boats parade up and down the Colorado River. The best viewing, which is free, will take place along the entire length of the Laughlin River Walk. For information about entering a boat in the Parade, call 928-754-3555, ext. 233 or visit www.laughlinexperience.com.
On Feb. 7-8, 2009, Laughlin will offer a weekend getaway for just the ladies filled with social gatherings and special events. It will be Budget Travel's Girlfriend Getaways. The ladies will be living it up, learning how to host their own wine event or home spa party, taking a yoga class, creating a virtual scrapbook or enjoying a cocktail party alongside the Colorado River. There will be raffles and gift bags and special presentations by Budget Travel editors. For information, go to VisitLaughlin.com/getaway.

TOP OF NEXT COLUMN
The Kingston Trio will perform at Don's Celebrity Theatre at the Riverside, Dec. 2-7. This trio is an American folk and pop music group that helped launch the folk revival of the late 1950s to early 1960s. Tickets for their 7 p.m. shows are $30, call 800-227-3849, ext 616.
The Kingston Trio was formed in 1957 in the Palo Alto, Calif., area by Dave Guard, Bob Shane, and Nick Reynolds, who were just out of college. They were discovered playing at a Menlo College-area club, the Cracked Pot, by Frank Werber, a publicist then working at San Francisco's hungry i nightclub. He became their manager, and secured them a one-shot recording contract with Capitol Records. Shane would later tell concert audiences that the group first considered itself primarily a calypso group, and therefore named itself after the capital of Jamaica.
The group's first hit was a catchy rendition of a traditional folk song, "Tom Dooley," based upon the life of the tragic figure, Tom Dula; it earned a gold record in 1958. It also won the trio the first Grammy award for Best Country & Western Performance, at the awards inaugural ceremony in 1959. The next year, the group won the first Grammy Award for Best Ethnic or Traditional Folk Recording for the album "The Kingston Trio at Large" and accounted for 20 percent of all record sales for Capitol.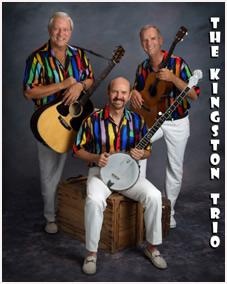 In the early 1960s The Kingston Trio had four albums at the same time among the Top 10 selling albums, a record unmatched for nearly 40 years.
The Trio disbanded after a final performance at the hungry i on June 17, 1967. Shane, the lone member to resist the breakup, started a new group, The New Kingston Trio, in 1969 with Jim Connor and Pat Horine. He eventually reached a contractual agreement with his former partners, Guard, Reynolds, and Werber, to secure and license once again the original name, The Kingston Trio, in 1976 and continues to have rights to the name as of 2008.
"Rally on the River - Chili, Bikes & Blues" is taking place in the Avi South Parking Lot, Nov. 28-30.
The weekend includes: ICS chili cook-offs on Friday and Saturday; "Anything Goes" chili cook-off on Sunday; poker run on Friday; bike games on Saturday; live blues bands Friday-Sunday from 11 a.m.-5 p.m.; plus motorcycle events and vendors. For information contact: Di Lucas at 760-326-6877; ICS chili cook offs Susie Baumberger at 661-714-6234; or "Anything Goes" chili cook off Fred Muirhead at 800-430-0721, ext 5536.
Laughter is provided by comedians weekly at the River Palms when they take center stage at the River Palms Comedy Room. Comedians Dennis Blair and Guilden will perform Nov 25-29. Shows are presented Tuesdays through Saturdays at 9 p.m. Tickets are $17.95 for general seating and $22.95 for preferred seating, call 866-448-7849 or 702-474-4000.
Blair is a true Renaissance man. He is an accomplished screenwriter, award-winning songwriter and comedic actor. Yet, he is probably best known for the caustic observations and musical satires of his live comedy performances.
CONTINUE ON TO...:
>THIS WEEK'S LAS VEGAS NEWS
>LAST WEEK'S LAUGHLIN NEWS
>VEGAS VIEW FULL ARCHIVES
>Return to "Heard Around Town"
>Return to Las Vegas Leisure Guide