It will be a Hawaiian Christmas at the Riverside Resort, Nov. 28 through Dec. 20, with "Mele Kalikimaka," a Christmas musical variety production featuring the spirit of the holidays in song and dance as performed by some of the stars of the islands. There will be 3 p.m. matinees on Dec. 12 and 13. Tickets are $27, call 1-800-227-3849.
The show has four leads. Wailana Lee is the daughter of the late legendary songwriter Kui Lee, whose songs have been recorded by such artists as Bing Crosby and Elvis. Manea Manuma from Samoa, along with his brother, Moe, perform and star in their own island revue as the Manuma Brothers. Dino, a former model from Tahiti, reminds people of Julio, Engelbert and Sinatra, when he serenades tourists in hotels on Bora Bora and Papeete. Don Rose's voice is unmistakably his greatest gift.
These four talents will be supported by the Hot Lava Dancers in beautiful costumes and the musical talents of the Don Rose Band. "Mele Kalikimaka" is Hawaii's way to say Merry Christmas.
As the holiday season quickly approaches, Ramada Express engineers are focused on one thing, which is getting a million-plus twinkling lights up in time for the hotel casino's Celebration of Lights. Now a 12-year tradition, the resort will hold its free festive lighting ceremony on Friday, Nov. 24 at 6 p.m. in Victory Plaza. Performers from the popular "Country Music USA" tribute show will provide holiday music and entertainment while the switch to the spectacular light display is turned on. The dazzling light display can be seen through New Year's Day.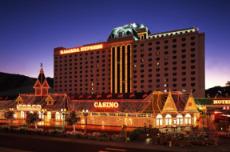 Santa and Mrs. Claus will also be on hand, arriving via the Ramada Express Old No. 7 train to greet kids with special treats.
"Rhythm & Flair" and "Strip!" are two variety shows at Harrah's featuring intentional casts that includes Adam Vasquez, Sergey Ryzhov and sensual dancers. Both shows are scheduled for indefinite runs in the Fiesta Showroom. Tickets for the 8 p.m. shows are $19.95, call 800-447-8700.
"Rhythm & Flair" offers a variety of dance styles including American jazz, ballroom, hot Latin tangos and meringues. Powerful music, projected images and dramatic lighting complement the performances of multi-talented artists. Leading the cast is Los Huincas Gauchos, an Argentine duo who has entertained audiences around the world with their frantic rhythms, power percussions and daredevil routines. The rest of the cast is skilled aerialists, gymnasts and dancers. Shows are on Tuesdays, Thursdays and Saturdays.
"Strip!" is a sexy adult show highlighting dancers, singers and artists. The show is a celebration of the human body and sensuality through mediums of dance, song and the art of "taking it off." Short sensual artistically produced sketches are filled with provocative movements such as aerial ballets and modern dance, all with a seductive touch tastefully executed. Shows are on Wednesdays, Fridays and Saturdays.

TOP OF NEXT COLUMN
Winter Break, a festival celebrating living life to the fullest, will take place in Laughlin from Jan. 5-11. The week-long event, voted one of the top 100 events in North America by the American Bus Association, offers non-stop entertainment and activities for baby boomers and mature seniors alike.
Winter Break will include activities such as all types of dancing, bingo and slot tournaments, healthy cooking classes, wine tasting, fitness activities, Red Hat Ladies activities, singles functions, karaoke, a car rally and more. Educational seminars, a trade show and ongoing live entertainment will also draw many participants.
A car rally and cruise will highlight the weekend with the prizes being awarded at the Winter Break Sock Hop. Reining homecoming queen and king, Bobby and Jack Leahy will turn over their crowns to the winner of the 2007 Homecoming Queen and King Contest.
In 2006, Winter Break drew nearly 4,500 guests. With more than 10,000 hotel rooms and nine casino hotels, Laughlin is the perfect place for this festival. One admission price, $39 if paid by Dec. 1, or $49 paid after Dec. 1, entitles guests to one full week of official Winter Break activities. Optional day tours are also available for an additional charge. Packages including admission and accommodations are available. For more information, call Arko and Associates, Inc. at 480-926-5547.
The Avi will hold "Chili, Bikes and Blues," Nov. 24-26. The event will combine chili cook-offs, motorcycle run and live blues music, vendors and chili sampling. The free activities take place Friday-Sunday from 10 a.m.-4 p.m.
On Dec. 1, WBC Heavyweight Elimination Professional Boxing will be held in the Avi Casino Arena at 6:30 p.m. Heavyweight Duncan Dokiwari and Super Middleweight Carlos DeLeon will hold bouts against challengers TBA. Tickets are $25 and $35, call 800-430-0721.
In addition to Winter Break, other citywide events are on the calendar. Another January experience will be the SCORE - Laughlin Desert Challenge, Jan. 18-21. For the 13th year, Laughlin is the title series sponsor in the six-race circuit of SCORE International Off-Road Racing where 16 classes of desert race cars and exotic race trucks will participate. Other ancillary events will include a Pit Crew Competition, Contingency Row/Tech inspection, and the always popular "Laughlin Leap" jump contest. For tickets, call 800-308-2253.
The Laughlin River Stampede is scheduled March 29-April 1. For the 13th year, this four-day event will feature America's best cowboys competing in fast-paced programs for more than $225,000 in prize money.
The following month from April 25-29, will be the Laughlin River Run, when more than 60,000 motorcycle enthusiasts will roar into town for the event's 25th Anniversary. This five-day event is the largest Harley-Davidson-oriented event on the West Coast.
CONTINUE ON TO...:
>THIS WEEK'S LAS VEGAS NEWS
>LAST WEEK'S LAUGHLIN NEWS
>VEGAS VIEWS FULL ARCHIVES
>Return to "Heard Around Town"
>Return to Las Vegas Leisure Guide