Mel Brooks' musical comedy "The Producers," which will open at Paris Las Vegas on Jan. 31, has announced that David Hasselhoff will perform the outrageously flamboyant character Roger DeBris. Hasselhoff has an extensive career in film and television and is listed in the Guinness Book of World Records as the most watched TV star in the world. Hasselhoff's theatrical career began with his sold out Broadway debut in "Jekyll and Hyde." That was followed by his celebrated performances as Billy Flynn in the Kander and Ebb smash "Chicago, The Musical."
"The Producers" opened on Broadway on April 19, 2001, to unanimous rave reviews and is the recipient of the most Tony Awards in Broadway History.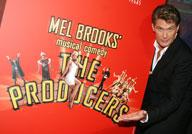 Column Continues Below Advertisement
Tickets are now on-sale for February, March and April 2007; call 877-374-7469. Show schedule is 8 p.m. shows Thursday through Tuesday plus a 2 p.m. matinee on Saturday. Ticket prices range from $75.50 to $143.50.
On Nov. 8, Prince unveiled his newest venture 3121 and 3121 Jazz Cuisine at the Rio and surprised special guests with an unannounced live performance consisting of three numbers. The venue 3121 is now open Wednesday - Saturday, with special guest performances on Wednesdays beginning last week with a performance by Chaka Khan. Latin Libido night is on Thursdays, and Prince is performing live on Fridays and Saturdays. For tickets, call 702-777-7776.
The infamous Gennifer Flowers has joined Breck Wall's "Bottoms Up" cast of characters downtown at Fitzgeralds. She'll be with the show for six months. Most folks are not aware that Flowers has been singing professionally since age 5 and made her first record with United Southern Artists when she was 11. That's because she's best remembered for her relationship with President Bill Clinton.
Wall who produces and stars in "Bottoms Up" with longtime comic sidekicks David Harris with the pliant face and Sue Motsinger last had his 42-year-old revue as an afternoon show at the Flamingo in 2004. The Fitzgeralds' showroom while tiny is a perfect fit for this burlesque-style show with a trio of dancers interspersed between the perfectly-timed edgy black-out comedy sketches. The 60-minute show is a pure delight and real "hoot." Tickets for the 7 p.m. shows Thursday through Monday are $22 and $30, call 702-388-2400.
The loveable foursome Jinx, Frankie, Smudge and Sparky are performing "Plaid Tidings" a special holiday edition of "Forever Plaid" in the showroom at the Gold Coast through Dec. 31. The show will be dark Mondays, and Nov. 30 through Dec. 11. Ticket prices start at $39.95, call 702-251-3574.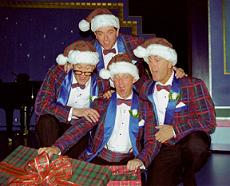 The plot has the harmony group dying in an accident on their way to their first gig on Feb. 9, 1964. In the original play "Forever Plaid." the group is brought back to life for one night to perform the show they never got to perform in life. In "Plaid Tidings," while performing old favorites, the group receives a heavenly phone call from Rosemary Clooney and learn that they must perform the ultimate holiday show or be doomed for all eternity. Lucky for their audiences, they spread lots of holiday cheer with a fabulous family show.
"Crazy Girls," the adult-themed revue at the Riviera now in its 19th year, highlights eight extremely gorgeous dancers who perform in various states of undress in the show's latest edition. In most numbers, which are usually pretty erotic, the ladies strip down to a G-string. The show pushes the boundaries and oozes sexiness, which is exactly how it has earned its naughty reputation. The show is erotic and that's exactly what it's all about. Tickets for "Crazy Girls" range from $34.95 to $60, call 702-794-9433.
"Nathan Burton Comedy Magic," who opened his show last May in the V Theater at Desert Passage at the Aladdin, gained national recognition this past summer as the most featured magician on NBC's hit, "America's Got Talent." Next year, Burton will be returning for the second season of "America's Got Talent," as a special guest and coach. Also in 2007, Burton will appear on an episode of "The Surreal Life: The Fame Game," on VH1.
Burton performs at the V Theater Saturday - Thursday at 2 p.m. In December only, he will add an additional show at 4 p.m. on Fridays. Tickets are $33 and $39, call 702-932-1818.
One of Las Vegas' favorite charities, Opportunity Village, has opened its glorious Magical Forest that will run through Dec. 30 with 34 whimsical displays and dozens of new features including the Snow Village Police Department and new interactive activities for the entire family. Santa Claus is on hand for family photos and visitors can enjoy the two passenger trains, carousel and Alpine Slide, a decorated replica of a snow-covered mountain with a 40-foot slide that children can glide down.
The Opportunity Village Campus is located between Jones and Torrey Pines at 6300 W. Oakey Blvd. More than 150,000 festive supporters turned out last year to visit the Magical Forest that runs nightly from 5:30 to 10 p.m. Admission is $9 for adults and $7 for children ages 3 to 12.
Capping off a number of 40th anniversary events, Caesars Palace has launched a celebrity "walk" in its Roman Plaza, which is the sidewalks and gardens that surround the resort's front fountains. Legendary comedian Don Rickles received the first bronze plaque at a sidewalk ceremony on Nov. 15. Named the Caesars Palace "Laurel," the plaque bears a large laurel wreath, Rickles' name, autograph and the ceremony date. Many more legendary celebrities will be honored in the future.
Suzanne Shelley, a 60-year-old retired psychometrist from Hattiesburg, Miss., beat out 32 other talented, poised and charming women from across the United States to win the title of Ms. Senior America 2006 at the Imperial Palace.
Championship Bull Riding, Inc. (CBR) has announced the CBR World Championship presented by B&W Trailer Hitches will be held at the South Point's Equestrian Arena on Jan. 5 and 6. This event will conclude a year of bull riding events across the United States. The top 45 quantifiers will compete for the 2006 World Champion and more than $200,000. Tickets are $35, $50 and $75, call 702-797-8055 or 866-796-7111.
After a limited U.S. engagement and debut, "Cover Girls" closed at the Golden Nugget's new showroom on Nov. 11.
Three top country music headliners will perform at 10 p.m. at the Golden Nugget during the National Finals Rodeo: Randy Travis Nov. 30 - Dec. 3; Tanya Tucker Dec. 4-6; and Clay Walker Dec. 7-9, 10 p.m. Tickets start at $35 and $45; call 702-386-8100.
For the last 20 years, when the rodeo comes to Vegas, the party starts on Fremont Street. This year the annual hoedown honoring the double-decade milestone will take place on Nov. 29 with free entertainment provided by Little Texas and Ricochet on the 3rd Street stage and Trick Pony plus Deana Carter on the 1st Street stage.
Wayne Newton will bring his holiday show to Harrah's beginning Nov. 22.
The Venetian's newest headliner Gordie Brown was scheduled to appear on "The Late Show with David Letterman" last week.
Madame Tussauds Las Vegas unveiled its newest wax figure, superstar Angelina Jolie, on Nov. 15.
A one-of-a-kind Siren Chopper created by Metropolitan Choppers LLC, one of the most exclusive chopper manufacturers in the country that only builds 12 bikes per year, was unveiled this month at TI. Intricately designed by world-class metal artist Scott Cawood, the rolling masterpiece has the face and body of a Siren with hair streaming back composing the bike's main frame. The Siren's knee-high stiletto boots cover the exhaust pipes and the battery box is fashioned after a Siren's treasure chest. After a period of display on the TI casino floor, The Sirens of TI Chopper will go on national tour.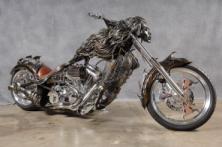 Commander's Palace, the Creole restaurant inside Desert Passage, will host Mix it Up Tuesday, Nov. 21 at 7 p.m. Dubbed "The Modern Mixologist," Tony Abou-Ganim will demonstrate the tools of the bartending trade and how to use them. Advanced registration is $35, visit museumoftheamericancocktail.org.
"MAMMA MIA!," the smash hit musical based on the songs of ABBA, will celebrate its 1,500th show at Mandalay Bay on Nov. 29. The show is now in its fourth triumphant year on the Las Vegas Strip.
"Nevada Magazine" organized a panel of judges for their first Entertainer of the Year Award for 2006 and the winner is Master Magician Lance Burton who has headlined at the Monte Carlo Resort for more than 10 years. Burton will be on vacation Dec. 10-25 and return on Tuesday, Dec. 26, with the normal show schedule.
"Santé," the magazine for restaurant professionals, recently named their 2006 Culinary Hospitality Award winners. Chef Rick Moonen was awarded the Grand Award of Culinary Professional of the Year. Moonen is the executive chef and creator of restaurant rm and rúbar caf', the multi-level restaurant inside Mandalay Place. The restaurant includes a 250-seat café and raw bar, an 85-seat luxury dining room, a lounge and multiple private dining options.
The incomparable Ann-Margret will be headlining at The Orleans Showroom, Nov. 23-26.
In December, The Orleans will get in the holiday spirit with "The Donny Osmond Christmas Show" from Dec. 14-17.
Hooters Casino will be holding a special autograph-signing session on Thursday, Dec. 7 from noon to 1 p.m. with all Barrel Racers staying at the resort during the National Finals Rodeo running from Nov. 30-Dec. 9.
Located in the heart of downtown, the Lied Discovery Children's Museum that opened in 1990, offers interactive learning adventures for children and currently two traveling displays that will run through December. Admission is $8 for adults and $7 for children ages 1 through 17, call 382-KIDS for information.
One new exhibit is "Branches, Bristles and Batteries: Toothbrushes Through Time." The exhibition offers a hands-on approach to learning about the history of the toothbrush and oral hygiene. Hosted by "Brushella, the Tooth Fairy," the exhibition features three interactive learning stations, a toothbrush tree, vintage posters, a toothbrush bench and a toothbrush history timeline and is targeted to children in elementary schools.
Also traveling with the exhibition is "The Essential Toothbrush," an interactive computer driven learning station where children discover the essential components of the toothbrush and are given the opportunity to create a virtual toothbrush.
The other traveling display is access / ABIILTY, which focuses on people with disabilities as active participants and contributors to society and delivers the message that as human beings, we are more alike than different. Access/ABILITY is organized into five areas based on activities that are integral to all of our lives. Each area includes a variety of interactives, personal narratives and photos, and parent tips.
The Las Vegas Harley-Davidson located at 2605 S. Eastern Avenue, which is known as the world's largest dealership, was awarded the Harley-Davidson Motor Company's 2006 model year Silver Bar & Shield Circle of Achievement Award. Las Vegas Harley-Davidson earned the award based upon its outstanding quality levels in motorcycle and related product sales, an evaluation of customer service and satisfaction, the facility, a skilled and well-trained staff and overall operational measures.
Since its opening in 1995, Las Vegas Harley-Davidson is the proud recipient of many industry and community awards including two-time Harley-Davidson Motor Company Promoter of the Year; The prestigious Harley-Davidson Motor Company Bar & Shield Circle of Excellence awards at Bronze, Silver and Gold levels; Buell Pegasus Award; numerous DealerNews Top 100 Dealer Awards and the Muscular Dystrophy Association Humanitarian of the Year Award to name a few.
CONTINUE ON TO...:
>THIS WEEK'S LAUGHLIN SEGMENT
>LAST WEEK'S LAS VEGAS SEGMENT
>VEGAS VIEWS FULL ARCHIVES
>Return to "Heard Around Town"
>Return to Las Vegas Leisure Guide