TERRY FATOR WILL CONTINUE AT THE MIRAGE THROUGH 2016!

Superstar entertainer Terry Fator has signed to continue starring at The Mirage through 2016. Beginning Jan. 1, 2013, Fator's show calendar will change with performances scheduled Monday – Friday at 7:30 p.m.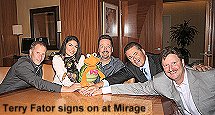 DEF LEPPARD ANNOUNCES NINE-SHOW RESIDENCY AT HARD ROCK
Fresh off their 2012 "Rock Of Ages" tour, Great Britain's premier arena rock band Def Leppard has announced an exclusive nine-show residency at The Joint inside Hard Rock. The band's set will feature a greatest hits segment in addition to their iconic album "Hysteria" being played in full. Entitled "VIVA Hysteria!," shows will run Friday, March 22 through Wednesday, April 10, 2013. "VIVA Hysteria!" will feature a specially designed elaborate set for the occasion. Tickets start at $49.50.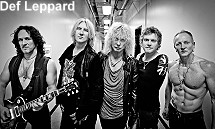 Column Continues Below Advertisement
LIGHT NIGHTCLUB AT MANDALAY BAY INJECTS CIRQUE DU SOLEIL
The Light Group collaborating with Cirque du Soleil and MGM Resorts International will introduce Light at Mandalay Bay in March 2013. It will be the first-ever nightclub involving artistic creators Cirque du Soleil and merging cutting-edge creativity with music and a new kind of nightlife experience. The chic, fashion-forward 38,000-square-foot venue will feature state-of-the-art production, theatrics, performers and world-renowned DJs.
Light will be designed as an experience to play with your senses and make everyone in the club part of the show and to have no two nights out the same.
HARD ROCK REOPENS BODY ENGLISH NIGHTCLUB
The Hard Rock Hotel & Casino will have a grand re-opening of the Body English nightclub on Friday, Dec. 28 and will showcase indie, electronic, rock and pop music. Guests will enter the exclusive hideaway from the grand staircase. The space will feature two distinct rooms adorned with lavish leathers, vintage chandeliers and rich dark woods and a private Parlor. The restoration of Body English follows the Hard Rock's recent multi-million dollar renovation which included the introduction of amped up gastropub Culinary Dropout, The Ainsworth, Fú Asian restaurant, and the all new Vinyl live entertainment venue.
FIRST BAGGAGE CLAIM LIQUOR STORE OPENS AT MCCARRAN
Liquor Library at McCarran International Airport is making history as the first and only packaged liquor store located within the baggage claim area of any airport in the country. It will also be the first airport liquor store operating in the United States without duty-free restrictions. The innovative retailer offers a wide variety of beer, wine, sprits, cigars, cigarettes, and on-the-go essentials. The idea is it isn't so easy to find a liquor store once you get to your hotel.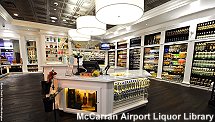 The store is 1,350 square feet with vertical, library-style shelving, dark hardwood floors, white marble countertops, library ladders, a themed graphic display wall and employees wearing librarian-inspired uniforms. Hours are 8 a.m. to 11 p.m. daily.
DOWNTOWN PLANS NEW TWO-DAY 'LIFE IS BEAUTIFUL' FESTIVAL
A new two-day festival featuring music, food and art called Life is Beautiful (L.I.B.) is being planned to attract thousands of locals and tourists to Downtown Las Vegas sometime in the fall of 2013. L.I.B. is being developed by Aurelian Marketing Group in partnership with Another Planet Entertainment, MAKTUB Marketing and Downtown Project.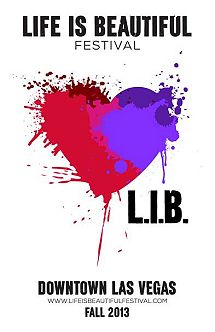 BELLAGIO GALLERY WILL PRESENT 'WARHOL OUT WEST' IN 2013
The Bellagio Gallery of Fine Art (BGFA) will open "Warhol Out West" on Feb. 8, 2013. Organized in partnership with The Andy Warhol Museum in Pittsburgh, the exhibition will focus on Warhol's depiction of all things Western and showcase 59 of the iconic artist's works including paintings, sculptures, photographs, screen prints and wallpaper. The exhibit will include the beloved "Double Elvis" painting and his rarely seen "Cowboys and Indians" series. "Warhol Out West" will be on view through Oct. 27, 2013.
SPECIAL OFFER FOR 'ROCK OF AGES' OPENING AT THE VENETIAN
"Rock of Ages" will begin performances on Dec. 18 at The Venetian and hold a one day only Cyber Monday 2-for-1 ticket offer on Nov. 26. Use the code CYBER when purchasing tickets and calling 866-641-7469 or 702-414-9000. The show is a feel-good love story celebrating the great rock songs of the '80s.
OPPORTUNITY VILLAGE'S GREAT SANTA RUN SET FOR DEC. 1
Time still remains to help Opportunity Village defend the World Santa Challenge title with thousands of red-suited supporters flooding the streets of Town Square for the 8th annual fundraising Las Vegas Great Santa Run on Saturday, Dec. 1. Folks can register online at: www.opportunityvillage.org/great-santa-run/ for the 5K run or one-mile Kris Kringle Jingle. Participation includes a five-piece Santa suit and gifts.
Some highlights will include entertainment by "Jersey Boy" Jeff Leibow, Jabbawockeez, Lorena Peril and the "Fantasy" girls, Terry Fator, parachuting Santas, and food trucks.
VENETIAN AND PALAZZO WILL CROWN A CULINARY VICTOR
The Venetian and The Palazzo Las Vegas have announced "Culinary Clash," a new four-week competition for the famed team of chefs at the two resorts with 30-plus restaurants. The late-evening competition hosted by local lifestyle celebrities Claudine Grant and Robin Leach will unfold from 10 p.m. until 2 a.m. on Nov. 29, Dec. 7, 14 and 21. The Venetian Victor and a guest will receive a trip to Italy.
Chefs will be challenged to create recipes using ingredients provided in a "mystery basket." Food will be prepared in mobile "food truck" kitchens located on the Strip at The Venetian's Doge's Palace plaza. The head-to-head clash will be broadcast live on a giant screen on The Venetian Clock Tower. Each chef's creation will then be available for sampling.
BILL COSBY VISITS TREASURE ISLAND
Bill Cosby will bring his signature comedy back to Treasure Island on Nov. 23 at 8 p.m. Tickets start at $59.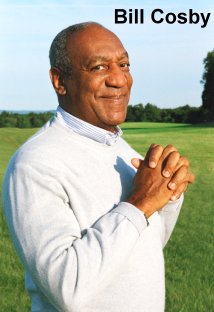 Few entertainers have achieved the legendary status of Cosby, who emerged from humble beginnings in a Philadelphia housing project. After returning from the Navy, Cosby earned a degree at Temple University and later a master's and doctoral degree in Education from the University of Massachusetts.
His lifelong contributions to American culture were recognized with a Kennedy Center Honor in 1998, the Presidential Medal of Freedom in July 2002, America's highest civilian honor, and the Kennedy Center Mark Twain Prize for American Humor in 2009.
FANTASY DANCERS TO SIGN CALENDARS ON BLACK FRIDAY
Dancers from the Luxor's "Fantasy" show will hold a signing of their "Barely Bejeweled" 2013 calendar on Black Friday, Nov. 23. Fans will be able to purchase the calendar and have the pages autographed by the cast from 1 to 2 p.m. at the PBR Rock Bar inside Miracle Mile Shops at Planet Hollywood and receive 10 percent off ticket vouchers for the sexy show.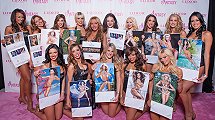 THREE DOG NIGHT VISITS EASTSIDE CANNERY
Legendary music icons, Three Dog Night celebrating their 4th showbiz decade will perform at the Eastside Cannery on Dec.1 at 8:30 p.m. The group has some of the most astonishing chart statistics in popular music including 21 consecutive Top 40 hits, three No. 1 singles, 11 Top 10, and 12 straight RIAA Certified Gold LPs. Three Dog Night still has its founding members Cory Wells and Danny Hutton on lead vocals. Tickets start at $16.95.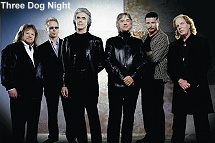 MOON NIGHTCLUB AT PALMS HOLDS REPEAL DAY PARTY
In honor of Repeal Day, Moon Nightclub on the top floor of the Palms' Fantasy Tower is hosting a 20th century inspired costume and dance contest on Dec. 4. Guests will enjoy a Crown Royal Maple hosted bar with a special cocktail menu inspired by the prohibition era, plus a dance competition and costume contest. Award is $1,205 for the Best Roaring 20's Dance Moves and $1,205 for the Best Roaring 20's Costume.
TOP OF NEXT COLUMN
RHUMBAR WILL CELEBRATE 12/12/12 WITH $12 DRINK SPECIALS
RHUMBAR at The Mirage will make 12 the luckiest number in Las Vegas by offering $12 drink specials for 12 hours from noon to midnight on Wednesday, Dec. 12. Guests may celebrate the once-in-a-lifetime day of 12s with buy-one-get-one $12 signature and house cocktails.
LA CASA CIGARS & LOUNGE NOW OPEN AT TIVOLI VILLAGE
La Casa Vegas is a new cigar lounge and retailer located at Tivoli Village with a large walk-in humidor and an outdoor patio. The interior features rich wood panels, warm colors and leather chairs, while the bar area offers smooth granite for enjoying a full selection of cocktails, beer and wine. Images of tobacco fields in Pinar Del Rio, Cuba line the wall. There's live music Thursday through Sunday.
COSMOPOLITAN WILL OPEN A WINTER ICE RINK
The Cosmopolitan will transform its Boulevard Pool into a winter wonderland overlooking the Strip. The Ice Rink will open on Friday, Nov. 30 and feature skating on real ice, custom-designed fire pits, picnic tables and Adirondack chairs, warm cocktails, a full bar, s'mores and food options. The Ice Rink will be open from Friday, Nov. 30 through Sunday, Jan. 20. Admission is $15 and skate rental $5.
Special evening programming will include "Date Skate" Mondays with holiday movies playing on the resort's 65' digital marquee. Every Wednesday, DJs will turn The Ice Rink into an outdoor club scene during "Industry Skate on The Strip." "Throwback Thursdays" will feature music from the 70s, 80s and 90s.
KELLIE PICKLER PERFORMS AT THE ORLEANS SHOWROOM
"American Idol" 2006 Season Five finalist and country music star Kellie Pickler will perform at The Orleans Showroom on Nov. 23 and 24. Earlier this year, Pickler released her third record, "100 Proof," which peaked at No. 2 on the "Billboard" country charts. Her highest charting single, "Best Days of Your Life," which reached No. 9 on the "Billboard" country charts in November 2008 was co-written by fellow country superstar Taylor Swift. Tickets start at $39.95.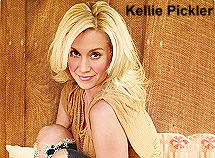 THREE SQUARE BENEFIT SHOW STARS TRAIN AT THE JOINT
Mix 94.1's Three Square benefit concert "Mark & Mercedes' Not So Silent Night" will feature the Grammy® winning band from San Francisco Train with special guests Better Than Ezra, The Script and Ryan Star on Sunday, Dec. 2 at 7 p.m. at The Joint inside the Hard Rock. Tickets start at $39.50 and there is a $175 VIP package
NEWS ON THE RUN
This month, Madame Tussauds Las Vegas and also Madame Tussauds Hollywood simultaneously unveiled wax figures of Rihanna, just before the launch of her new album, "Unapalogetic." The Vegas figure is adorned in an alluring nude-colored outfit and has fiery red hair, vibrant pink makeup and long black nails.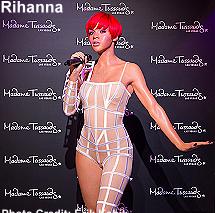 Project Dinner Table is already looking ahead to season four that will start in April 2013.
The rebel child of Fox Restaurant Concepts, Culinary Dropout inside the Hard Rock, is extending its hours during the week opening its doors beginning at 11 a.m. Monday – Friday. Now lunch is served seven days a week.
Cabo Wabo Cantina inside Miracle Mile Shops at Planet Hollywood will offer shoppers a 10 percent discount off their meal on Black Friday, Nov. 23 by presenting a purchase receipt from any store in that mall.
Josh Strickland, star of Planet Hollywood's "Peepshow" dined at the new Meatball Spot at Town Square.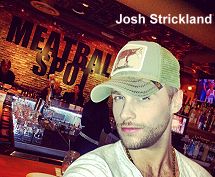 The cast and crew of "Zumanity™" - The Sensual Side of Cirque du Soleil™ at New York-New York celebrated their ninth anniversary with a bash at Hyde Bellagio during the venue's weekly Tuesday night party, Lost Angels Insider Night.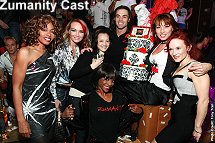 The Lon Bronson All-Star Band will hold their Gala TOP CD Release Party on Thursday, Nov. 29 at 8 p.m. at the Chrome Showroom inside Santa Fe Station.
For the third year, California Pizza Kitchen (CPK) is offering their Holiday Rewards Card program now through Dec. 31. Guests who purchase $100 or more in CPK Gift Cards will receive a $20 Rewards Card to use as a gift or towards their next visit. All Rewards Cards must be registered at www.cpk.com and will be activated for use between Jan. 7 and March 3, 2013.
The 12th annual Continental Tire Las Vegas Classic basketball tournament, featuring teams from Virginia Tech, Bradley, Portland, Colorado State, Mississippi Valley, Cal State Bakersfield, North Florida and Georgia Southern will play their final two games at the Orleans Arena Dec. 22 and 23. Tickets start at $44.
ORLEANS HEADLINES BIG BAD VOODOO DADDY'S HOLIDAY PARTY
Big Bad Voodoo Daddy will bring their trademark big band sound to The Orleans Showroom with a "Wild and Swingin' Holiday Party," Nov. 30 and Dec. 1. The seven-man band reworks yuletide classics into rollicking big band extravaganzas and throw in a few new songs of their own like "Zat You Santa Claus" and "Rock-A-Billy Christmas." The group made the music scene in 1993 with their legendary residency at the Brown Derby Nightclub in Los Angeles and rocketed to fame in 1996 after performing "You & Me and the Bottle Makes Three (Tonight)" and "Go Daddy-O" in the movie "Swingers." Tickets start from $19.95.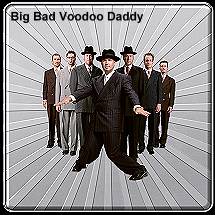 HOLIDAY NOTES
Glittering Lights, the holiday drive-through spectacular at the Las Vegas Motor Speedway features more than 450 animated light displays along a 2.5-mile racetrack. Mirage headliner Terry Fator entertained the opening night audience. In addition to being the largest light tunnel in the world, Glittering Lights also features attractions such as Avenue of Trees and a NASCAR Scene. Glittering Lights is open nightly through Jan. 6, 2013, starting at 5:30 p.m.
Golden Rainbow and Miracle Mile Shops at Planet Hollywood are partnering to give the ultimate gift of cheer to families affected by HIV/AIDS this holiday season. The nonprofit hosts its 2nd holiday lights and decorations drive now through Friday, Dec. 7. Donors can drop off seasonal lights and décor during normal operating hours at the Miracle Mile Shops customer service desk operated by Tickets & Tours. All donors receive a Miracle Mile Shops coupon book valued at $2,000.
Town Square exemplifies the holiday spirit with family activities including: photos with Santa Claus at his Norman Rockwell-inspired house through Dec. 24; the Snow in the Square evening show presented by Mannheim Steamroller through Dec. 23; and Thursday night 6 p.m. Holiday Nights & Lights Community Concerts through Dec.20. In addition, Claus & Paws Pet Photos take place every Wednesday from 10 a.m. - 9 p.m. through Dec. 19.
TREVI inside The Forum Shops at Caesars will offer a festive new holiday cocktail, the Happy Hollytini and also introduce an eggnog gelato at $4.50 a scoop. The frosty candy cane-inspired martini is a blend of vanilla vodka, Peppermint schnapps and Bailey's, priced at $9.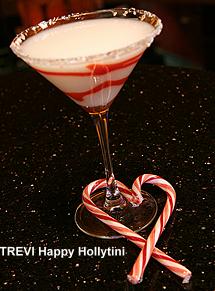 The Springs Preserve is inviting Nevada residents to enter its first snowman building contest by Nov. 21, with winning entries to be displayed at the annual Holiday Spectacular event in the Snowman Stroll maze in the Gardens at the Springs Preserve throughout December.
The second M Resort Gingerbread Contest is accepting creations from Clark County School District children and entries will be judged on Nov. 30 from 4-5 p.m. A total of 10 places with $3,000 in total prizes will be awarded with the First Place winner receiving $1,500 for their school plus five pairs of tickets to the M Resort's Elvis Holiday and Tribute Show featuring tribute artist Steve Connolly on Dec. 8. The Gingerbread Houses will be on public display from the evening of Nov. 30 through Dec. 21.
SAILOR JERRY SPICED RUM TO DEBUT HOLD FAST VIDEOS
Sailor Jerry Spiced Rum will debut "Hold Fast" documentary films highlighting three local Las Vegas businesses with a celebratory launch party beginning at 6 p.m. on Friday, Dec. 7 at Cowtown Guitars at 1009 S. Main Street. Event is open to the public.
Featured Las Vegans include Jesse Amoroso of Cowtown Guitars, the Spencer family of Studio 21 Tattoo and Taryn Mumpower and Robin Holt of Pick Your Poison Bake Shop. The nationwide video campaign profiles individuals and businesses who have dedicated themselves to mastering their field and then fearlessly pursued its innovation like Norman "Sailor Jerry" Collins did with tattooing.
Column Continues Below Advertisement
CONTINUE ON TO...:

THIS WEEK'S >LAUGHLIN NEWS
LAST WEEK'S >LAS VEGAS NEWS
>VEGAS VIEW FULL NEWS ARCHIVES
Return to >"Heard Around Town"
Return to >Las Vegas Leisure Guide