MILEY CYRUS TO BRING 2014 "BANGERZ TOUR" TO MGM GRAND!

Superstar Miley Cyrus will kick off her 2014 "Bangerz Tour" next Valentine's Day and visit 38 cities throughout Canada and the United States. She will perform at the MGM Grand Garden Arena Saturday, March 1. Cyrus recently released her new album, "Bangerz," on RCA Records with the two singles "Wrecking Ball" and "We Can't Stop."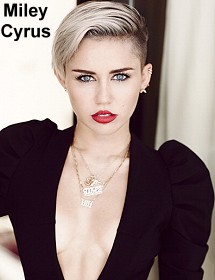 Column Continues Below Advertisement
DRAKE, BUBLÉ AND TIMBERLAKE BRING THEIR TOURS TO MGM
GRAMMY Award-winning, multi-platinum selling recording artist Drake will bring his North American "Would You Like a Tour?" to the MGM Grand Garden Arena Friday, Nov. 22. The tour is supporting his recently released album "Nothing was the Same." Tickets are $59.75 to $109.75.
GRAMMY Award-winner Michael Bublé will bring his "To Be Loved Tour" to town on Saturday, Nov. 23. Bublé is touring in support of his recently released eighth studio album, "To Be Loved." Tickets are $59.50 to $115.
Embarking on his first tour in six years, Justin Timberlake will bring "The 20/20 Experience World Tour" to the MGM Nov. 29 and 30. The GRAMMY and Emmy Award-winning artist released "The 20/20 Experience" in March 2013, which is currently the year's fastest-selling album. Ticket range is $49.50 to $200.
'THE PHAT PACK' WILL OPEN AT BALLY'S
Winners of the 2013 Review Journal's Best of Vegas - Best All Around Performers, "The Phat Pack" headliners Kevan Patriquin, Bruce Ewing and Randal Keith with Joey Singer at the piano will open at Bally's Windows Showroom on Dec. 11 with 4:30 p.m. shows Wednesday through Sunday. Tickets range from $34.95 to $75.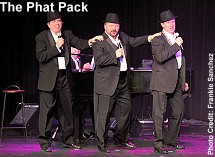 NELSON TWINS RETURN TO SOUTH POINT
"Ricky Nelson Remembered" featuring identical twins Matthew and Gunnar Nelson, will headline the South Point Showroom again Nov. 22-24. The sons of rock 'n' roll Hall of Famer Ricky Nelson and grandsons of television icons Ozzie and Harriet Nelson, will highlight their dad's hit songs including "Hello Mary Lou," "Travelin' Man" and "Garden Party." Their show includes video footage of the iconic Nelson family with interviews from celebrities Ricky Nelson influenced. Tickets are $20 to $30.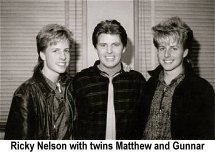 Speaking by phone with Matthew Nelson, he said he and his brother consider this show, which they've done more than 100 times, a celebration of their father's music and a labor of love. Next year, they plan to do a couple television shows and take another stab at the charts with their own music.
'PAINTING WOMEN' WILL OPEN AT BELLAGIO GALLERY OF FINE ART
The Bellagio Gallery of Fine Art (BGFA) will open "Painting Women: Works from the Museum of Fine Arts, Boston" Feb. 14, 2014. The collection will showcase 34 paintings spanning 90 years (1860 - 1950), revealing the story of women artists, their activism and artistic achievements. The works will be arranged thematically from the 1870s, the era when fine arts training programs first became available to women, to the mid-20th century when women like their male counterparts adopted more abstract, modern styles. The exhibit featuring such artists as Mary Cassatt, Georgia O'Keeffe and Berthe Morisot will run through Oct. 23, 2014. Tickets are $16 general admission.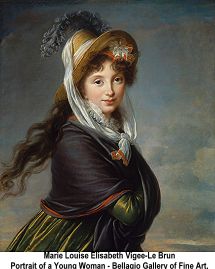 ARTIST GRAHAM KNUTTEL OPENS GALLERY AT VENETIAN-PALAZZO
The Knuttel Gallery just opened at the Venetian-Palazzo exclusively showcasing the painter-designer-sculptor Graham Knuttel's distinctive artwork. Ireland's most famous figurative artist, Knuttel is best known for his boldly colored canvases that often depicts humans trying to find emotional connection with one another. Both playful and intense, his paintings express the hidden beauty and subtle tensions in human relationships. "I like to paint the human predicament," said Knuttel.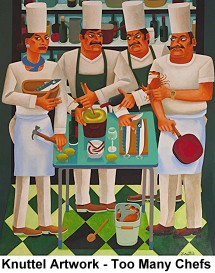 PRESTO NEIGHBORHOOD CAFÉ IS A REAL GEM
Presto Neighborhood Café located at 4950 South Rainbow specializes in delicious and nutritious seasonal foods made in-house from scratch and recently celebrated its one-year anniversary. A first-hand food tasting has made me a fan. Some of the healthy foods they serve in their tiny tucked away location include gourmet sandwiches, homemade Pides, seasonal salads, soups and they have a smoothie, juice and coffee bar. Their cutting edge creative menu has options for any diet preference from vegan and vegetarians to carnivores and omnivores. Presto is owned and operated by co-founders Reza Arshadi and Azad Zahedi who support a fit and healthy lifestyle and sustainable and local vendors. Launched 2012, the menu was based around fusing many different exotic food from around the world.
VINYL HOSTS 'DIRTY SEXY FUNNY' WITH JENNY MCCARTHY
"Dirty Sexy Funny" featuring Jenny McCarthy will bring comedy shows to the Vinyl at Hard Rock on Nov. 29 and 30. The show features an eclectic cast of female comedians, including Rachel Feinstein, Tiffany Haddish, Tammy Pescatelli and Lynne Koplitz. McCarthy, known for her honesty, humility and wit, has transcended the boundaries of her roles as a comedian, actress, host, best-selling author and spokeswoman. Her mission for "Dirty Sexy Funny" is to shed light on what it's really like to be a woman by putting everything out in the open. Tickets start at $30.
ROCK OF AGES OFFERS CYBER MONDAY TICKET DEAL
"Rock of Ages" at the Venetian is ramping up this holiday season with an extended Cyber Monday ticket offer. Beginning Friday, Nov. 29 and running through Monday, Dec. 2, patrons can get 2-for-1 tickets to "Rock of Ages" by using code 241CYBER at the time of purchase, call 702-414-9000 or go online. Offer is valid for all seating sections and performances on sale through Aug.31, 2014. No restrictions.
MOB MUSEUM TOASTS 80TH ANNIVERSARY OF REPEAL DAY
This Repeal Day, Dec. 5, The Mob Museum downtown will celebrate the anniversary of the end of Prohibition, which was Dec. 5, 1933, with a celebratory toast at 5:30 p.m. with Oscar Goodman, a Backyard Bootlegger Party, the first "Boss of the Bars" competition, as well as a VIP Roaring 20s Speakeasy. To make reservations, call 702-229-2734 or visit http://themobmuseum.org/archives/category/events/.
Tickets to the private VIP Speakeasy Party from 6-7 p.m. are $65, which includes all activities that night. The Backyard Bootlegger theme party with entertainment in a tent next to the Mob Museum's historic 1933 building and museum admission from 6-11 p.m. is $35. The Roaring 20s Costume Contest will be at 9 p.m.
At 8 p.m., the "Boss of the Bars" Competition will take place with downtown establishments vying for the Repeal Day Cup that will be passed on each year to the next winner. The winning bar will receive a complimentary facility rental at The Mob Museum for up to 100 guests.
LAS VEGAS HOSTS NEVADA'S FIRST TRANS PRIDE WEEK
Las Vegas will host the inaugural Trans Pride Week, five days of events and activities designed to bring awareness and pride to the local transgender community Nov. 20-24. The Trans Pride March will be Nov. 20 at 7 p.m. and go from The Gay and Lesbian Community Center to City Hall. For more information, visit www.thecenterlv.org/transpride.
TERRY FATOR GOES COUNTRY THIS CHRISTMAS SEASON
Mirage headliner Terry Fator will present "A Country Christmas" featuring holiday-themed performances Dec. 2-31. The stage will be transformed into the Fator family's "living room" as the show's loveable puppets celebrate the holidays with a touch of country flair. Fans will also get a sneak peek at Fator's newest cast member Kani Kapila who will bring the Island spirit to the show. His show will be dark Nov. 23-Dec. 1. Tickets start at $59.99, call 702-792-7777.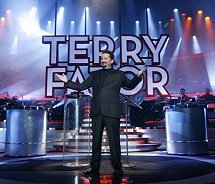 SCALE THE STRAT OFFERS SNEAK 'PEAK' PRACTICE CLIMB
For the first time in Scale the Strat's six-year history, climbers will get the opportunity for a special Stratopshere Tower sneak "peak" practice climb months before the March 2, 2014, extreme stair climb event. The practice climb will be Saturday, Jan. 18 starting at 7 a.m. in the iconic tower's stairwells.
Practice climbers will be assigned to small groups and allowed to climb the 234 stairs between Level 101 and Level 112 as many times as possible in 30-minute intervals. The practice climb is $40 and limited to the first 200 climbers who register www.ScaletheStrat.com. All proceeds support American Lung Association in Nevada. Those who participate will be able to sign up for Scale the Strat 2014 at a discounted "super saver" rate of $40.
TOP OF NEXT COLUMN
HOLLY MADISON JOINS 'MILLION DOLLAR QUARTET' ONE TIME
For the first time in more than a year, Holly Madison will take the stage during a special encore performance of "Million Dollar Quartet" at Harrah's on Dec. 4 at 7 p.m. For one-night-only, Madison will perform the Elvis Presley and Ann-Margret duet "The Lady Loves Me" from the hit movie "Viva Las Vegas" alongside the cast during the finale.
Madison is best known for starring in E! reality television series "Holly's World" and "The Girls Next Door," and headlining in "Peepshow" at Planet Hollywood for three and a half years.
BATTLE OF THE BANDS TO ROCK AT PBR ROCK BAR
The expansive 3,000-square-foot PBR Rock Bar & Grill, an official sponsor of the Wranglers National Finals Rodeo (WNFR), will hold the second Battle of the Bands on Tuesday, Nov. 19. Starting at 7 p.m., patrons will enjoy performances by Nashville Drive, Thrillbilly Deluxe and defending champions, The Rowdy Band. Special guest judges including Ricardo Laguna will select the winner, who will go on to perform at Cowboy Corral during WNFR. Throughout the night, WNFR tickets will be given away.
NATURAL HISTORY MUSEUM CELEBRATES GLOBAL HOLIDAYS
Nov. 29 through Jan. 4, 2014, the Las Vegas Natural History Museum will showcase holiday traditions and customs of countries around the world. The Grand Hallway and Wildlife Gallery of the museum are transforming into beautifully showcased exhibits by each country during the December to Remember event.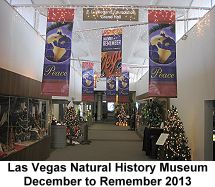 The museum will also provide programs generally between 11 a.m. and 1 p.m. each weekend on Saturday and Sunday during this month-long event beginning Nov. 30. Programs will include educational presentations, performances, music, folklore, family-friendly activities and arts and crafts, many by guest presenters. A special feature will be a cultural fashion show at 11 a.m. on Saturday, Dec. 7 with models representing 10 different nations in their traditional costumes.
The 22-year-old Las Vegas Natural History Museum recently achieved national accreditation from the American Alliance of Museums (AAM). Only six percent of the museums in the United States are accredited.
YOUTH EDUCATIONAL SPACESHIP PROJECT LANDS DOWNTOWN
The Youth Educational Spaceship (Y.E.S.) project, a mobile spaceship classroom built from repurposed and found objects by artist Dana Albany, has landed downtown. It is docking at the Learning Village located at 727 Fremont Street through Dec. 8 on its country-wide tour. The interactive art installation is a whimsically crafted, 11' tall by 12' in diameter spaceship adorned with mosaics that double as an immersive learning experience. The life-size spacecraft is complete with a fog machine, soundscape, vibration interface, robotic voice adaptation system and interactive TV monitor/camera streaming educational content. Children can explore art, science and technology through a variety of family-friendly programming including spaceship tours, mosaic workshops using recycled materials, wiring demos and interactive robotic demos. Y.E.S. is offering free, public tours and experiential programming for youth at designated times. For information, visit https://ticketcake.com/venue/learning-village/las-vegas.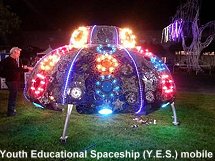 COUNTRY SINGER COREY SMITH VISITS HARD ROCK LIVE
Country singer Corey Smith will brings his live tour to the Hard Rock Live on the Strip Saturday, Nov. 23. Fusing country, blues, and rock, singer-songwriter Smith has written and produced eight independent albums since his 2003 debut, "Undertones." He is currently touring the country to showcase his latest album, "Live in Chattanooga." Tickets are $15 in advance and $20 day of show.
ABOUT TOWN HAPPENINGS
On Dec. 13, the inaugural Best of Silver State Restaurants & Lounges Awards fundraiser honoring the best in the state's restaurant industry will be held at the Venetian's Sands Showroom with celebrity chef Emeril Lagasse as a special guest presenter. Tickets are $40, which includes champagne reception, silent auction at 5:30 p.m. and the awards ceremony at 6:45 p.m.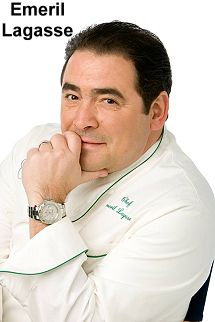 Rick Michel will perform his "Sinatra Forever" concert at the Starbright Theatre on Saturday, Nov. 23 at 7 p.m. The show featuring the original arrangements is a love fest of Sinatra's greatest hits. Tickets are $15 and $12 for residents, call 702-240-1301.
The Riviera announced a management agreement with Red Mercury Entertainment to operate new shows within its showrooms and entertainment venues including the Casino Lounge, Starlite Theater, Crazy Girls Theater and Riviera Comedy Club Theater.
Executive Chef Todd Harrington of Central Michel Richard at Caesars Palace will bring his flavors to Bar Forte, located at 4180 S. Rainbow Blvd., to serve "A Culinary Affair to Remember" for the bi-monthly Takeover Tuesdays event at 7 p.m. on Nov. 19. The seven-course meal is $50.
JW Marriott and the Rampart Casino are the new the home of the Las Vegas Chapter of St. Jude Children's Research Hospital 2013 Collection of the traveling Hearts of Las Vegas exhibit, featuring a collection of 12 artistic, three-dimensional, five-foot tall human-heart sculptures through Jan. 31, 2014.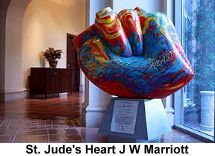 MTV's "The Real World: Austin" bombshell, Melinda Stolp, will host "Babes and Buckles" at Crazy Horse III during the Wrangler National Finals Rodeo on Friday, Dec. 6.
Instead of just one day, the D Grill in the D hotel downtown is offering a complete traditional turkey dinner for $12.99 from 4 to 11 p.m. Nov. 25 through Dec. 1.
LAX NIGHTCLUB HOSTS LATIN GRAMMYS AFTER-PARTY
LAX Nightclub at the Luxor will host an after-party Thursday, Nov. 21 following the 14th Annual Latin GRAMMY Awards and feature a live performance by reggaetón artist J. Alvarez and a special guest DJ set by DJ Nelson. Famed artists including Fito Blanko, renowned duo Crooked Stilo, Echo Hits and Yexian, among others, will keep the party going.
RED SKELTON SHOW WILL BENEFIT ALZHEIMER'S ASSOCIATION
On Saturday, Nov 23, Brian Hoffman, who performs a tribute show to Red Skelton at the Westin on East Flamingo Road, will donate ticket proceeds and any other contributions that day to the Southern Nevada Alzheimer's Organization. Reserve tickets online at http://www.redskeltoncomedyshow.com or call 702-245-2393. General admission is $42.98 for his 2 p.m. shows Sunday through Tuesday.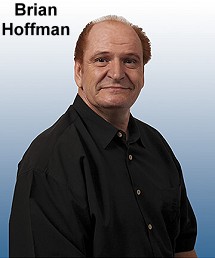 KRISPY KREME HOSTS TOY DRIVE TO SUPPORT TOYS FOR TOTS
Krispy Kreme will host a month-long toy drive from Dec. 1 to 24, to support Toys for Tots. Supporters will receive one Original Glazed doughnut for every toy donated and a dozen Original Glazed doughnuts for 12 toys. Toy donations are welcome at all five Krispy Kreme locations including the Excalibur and Circus Circus.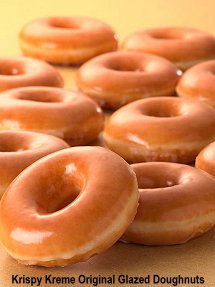 MIRACLE MILE SHOPS OFFER EXTENDED HOLIDAY HOURS
Miracle Mile Shops at Planet Hollywood will offer extended hours from 10 a.m.-11 p.m. on Thanksgiving Day, Christmas Eve and Christmas Day. Several retailers will open early and offer sales and specials starting on Black Friday Nov. 29. Urban Outfitters will open at 2 a.m. and offer an additional 50 percent off sale items until 10 a.m. Tervis will have a storewide 25 percent off sale throughout the day, and Victoria's Secret will feature a variety of sales and specials including a buy one, get one 50 percent off sale on all bras; $10 PINK totes from 8 a.m. to 6 p.m.; and a free tote with any $70 purchase, while supplies last.
CASTLE WALK FOOD COURT CELEBRATES ONE-YEAR ANNIVERSARY
The Castle Walk Food Court at Excalibur will celebrate its first anniversary by offering guests buy-one-get-one for a dollar special deals at six of the restaurants (Cinnabon, Hot Dog on a Stick, Pick Up Stix, Popeyes Louisiana Kitchen, Schlotzsky's and Tropical Smoothie Café) in the food court from noon to 7 p.m. on Saturday, Nov. 23. Entertainment will include balloon animal, airbrush tattoo and caricature artists and a strolling magician.
BELLAGIO HOSTS '20th ANNUAL PROFILES OF COURAGE GALA'
The Nevada Childhood Cancer Foundation (NCCF), which supports critically ill children and adults touched by cancer, is presenting its 20th Annual Profiles of Courage Dinner Gala on Saturday, Nov. 23 at Bellagio. All proceeds benefit NCCF's Project ARK (Aids & Resources for Kids) and honors severalchildren who are in the NCCF programs. Tickets are $250, call 702-735-8434.
Column Continues Below Advertisement
CONTINUE ON TO...:
THIS WEEK'S >LAUGHLIN NEWS
LAST WEEK'S >LAS VEGAS NEWS
>VEGAS VIEW FULL NEWS ARCHIVES
Return to >"Heard Around Town"
Return to >Las Vegas Leisure Guide