<!A-- Left Column -->

Irish entertainer Pat O'Brien is entertaining guests in the Caboose Lounge at the Tropicana Express, Tuesday through Saturday, from 5 to 8:40 p.m. and his shows are free. He first came to town when a Laughlin casino executive on an Irish vacation caught him playing in a pub in Galway, Ireland and invited him to bring his music to the, then, Ramada Express. O'Brien took up the invite and immediately began to make Laughlin visitors happy. After more than a few years at the Ramada, O'Brien went to the Aquarius to perform similar duties. A month or so ago, he returned to his comfort zone at the Caboose Lounge making the Tropicana Express his base of operations again.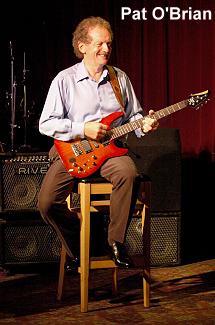 O'Brien is a one-man band. He sings and plays a guitar while being firmly wired into the electronic world recording his own music, one track at a time. It's an intricate computer system that he plugs his guitar into. O'Brien can play a note on his guitar and it comes out sounding like a saxophone or a piano making the possibilities limitless including recording his own voice so he can sing his own backup.
O'Brien pulls from a wide assortment of music thanks to his background.
He began by playing guitar with a rockabilly band. He studied music in Manchester, England, and performed in "Jesus Christ Superstar" for years. He went on to big bands in the '60s, had his own band a couple of times, and was also in a show band in Toronto, Canada, for years. He went solo in Chicago in 1976.
O'Brien does impressions, plays country music, blues, rock 'n' roll, Sinatra songs, a few Irish tunes and even a little opera to keep the Italians happy. He plays off the people in the audience and takes requests.
Harrah's is offering three golf packages that include golfing and a cart rental at the Desert Lakes Golf Course. Packages can be booked online at their web site.
The first package starts at $47 per night with a minimum two-night stay and a round of golf for one. The second package starts at $70 per night with a minimum two-night stay and a round of golf for two. These deals are available through May 31, 2009.
The third golf offer starts at $45 per night with a minimum two-night stay and a round of golf for one. This package is valid from June 1-Aug. 31, 2009.
It will be the best of two worlds - a Doo-Wop show and a Christmas show for the entire family at the Aquarius on Nov. 29. The holiday concert will feature oldies and doo-wop in a show that will bring memorable hits together with the spirit of the season. Tickets for the 7 p.m. show start at $34.95.
Favorite hits from the past, such as "Do You Love Me" by the Contours, "Hang on Sloopy" by the Vibrations, "A Thousand Stars" by Kathy Young, "Western Movies" by the Olympics, "Harlem Nocturne" by Blue Suede Orchestra and more will be highlighted. A room package starting from $211.99 will include room accommodations for two nights, Nov. 28 and 29, and two concert tickets.

TOP OF NEXT COLUMN
Comedians Dennis Blair and Guilden will perform Nov 25-29 at the River Palms Comedy Room at 9 p.m. Tickets are $17.95 for general seating and $22.95 for preferred seating, call 866-448-7849 or 702-474-4000.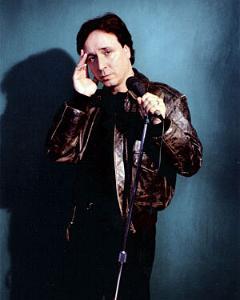 Little Anthony and The Imperials will appear at the Pavilion Showroom at the Tropicana Express, Nov. 28-29. The group, which was first active in the 1950s, has been nominated for a possible 2009 induction in to the Rock 'n' Roll Hall of Fame. Staying relevant the group recently released a new recording entitled, "You'll Never Know." Heralding their 50th anniversary is their new Web site littleanthonyandtheimperials.net. Tickets for the 8 p.m. shows are $25, $29 and $35.
The Lettermen will perform at the Riverside, Nov. 25-30, at 7 p.m. Tickets are $30.
The Range Steakhouse in Harrah's recently unveiled its new winter season dinner menu with hearty gourmet dishes taking full advantage of the temperature changes. The menu offers a choice selection of quality steaks and nouveau cuisine. The signature of The Range's atmosphere is its view of the Colorado River and the split-level seating that offers river views from throughout the room with the exception of some secluded booth seating for a more private setting. Modern sleek lines and limited trappings embrace the non-clutter philosophy that is currently in vogue.
The Fall Marketplace Extravaganza featuring arts and crafts plus vendors selling all manner of merchandise is taking place daily from 9 a.m.-dusk in the Avi's South Parking Lot from Nov. 7-23. Admission is free. For information, call 800-430-0721.
The Splash Cabaret at the Aquarius features live classic rock 'n' roll bands, Wednesday - Sunday, from 9 p.m. to 2 a.m.
Ongoing entertainment takes place at the stage at the Colorado Belle's casino main entrance with The Laughlin Dixie Boys performing Thursday through Sunday from 4-7 pm. and The Dixie River Band, Thursday through Saturday, from 9 p.m. to midnight.
Tarzan's Nightclub at the Golden Nugget features entertainment. The Sax Man Brown performs Thursday from 5-9 p.m. and Friday from 6-10 p.m. and there's no cover. DJ Creative plays Top 40 dance music into the wee hours on Thursday starting at 9 p.m. and Friday and Saturday at 10 p.m.
Also at the Golden Nugget inside the casino adjacent to the 24 Karat Club you can see "The Hand of Faith," the world's largest gold nugget that's on display daily. It weighs 61 pounds 11 ounces and is valued at more than $3 million.
The Rusty Davis Orchestra will provide big band dancing on Nov. 17 at the Riverside at 4:15 p.m. (Nevada Time). Tickets are $15.
Also at the Riverside there is karaoke nightly; a Tea Dance on Sundays from 2-5 p.m.; DJ dance music nightly starting at 11:30 p.m.; and line dance lessons on Tuesdays and Thursdays.
CONTINUE ON TO...:
>THIS WEEK'S LAS VEGAS NEWS
>LAST WEEK'S LAUGHLIN NEWS
>VEGAS VIEW FULL ARCHIVES
>Return to "Heard Around Town"
>Return to Las Vegas Leisure Guide