Popular for coining the catchphrases "Git-R-Done" and "Lord, I Apologize," Larry the Cable Guy, returns to the Orleans Arena on Saturday, Dec. 13, at 9 p.m. Known to some as Daniel Whitney, Larry the Cable Guy has showcased his talent, comedy act and characters on stage, television and in film. Tickets are $50.75, $62.75 and $80.75, call 702-284-7777.
Larry's one-liner filled act earned him appearances on "Evening at The Improv," "Comic Strip Live" and the nationally syndicated "Bob and Tom Show." His success with radio continued when he became a regular on "Jeff Foxworthy's Country Countdown." Most notably, Larry the Cable Guy is one of four "Blue Collar Comedy Tour" performers. His noted films include: Disney/Pixar animated feature "Cars," "Witless Protection," "Delta Farce," and of course, "Larry the Cable Guy: Health Inspector."

Column Continues Below Advertisement


The Bacon Brothers, the rocking musical duo of Kevin and Michael Bacon, will perform at The Canyon Club inside the Four Queens on Saturday, Nov. 22. Tickets are $35 general admission, call 702-387-5175.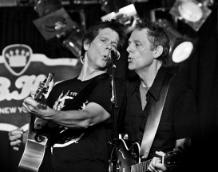 The Bacon Brothers have been recording original music and touring since 1995. Michael has been a professional musician for nearly five decades, first as a member of the eccentric Philadelphia band, Good News, and later as a solo artist and film composer. Kevin was writing songs and playing coffeehouse gigs before he achieved international fame appearing in some of the most-known movies of our time. The Bacon Brothers have released five albums and their sixth album, "New Year's Day," became available on iTunes on Nov. 11.
Former Broadway performer, singer and songwriter Malea McGuinness will be the opening act. Shev has released two albums "True Believer" and "Sweet Light."
Philip Fortenberry, a magnificent solo pianist, improvisational composer and cast member of "Jersey Boys," has debuted his new intimate acoustic cabaret-style piano performance, "Liberace and Me," for a limited six-month engagement through March 23, 2009, at the Liberace Museum in the 75-seat Cabaret Showroom. Shows are at 1 p.m. three days a week on Tuesday, Wednesday and Saturday. Tickets are $17.50, call 702-798-5595 ext. 14. There will be fill in acts between Dec. 23-Jan. 4 when Fortenberry will be re-appearing in the on-stage orchestra of "The Music of Andrew Lloyd Webber" at The Kennedy Center.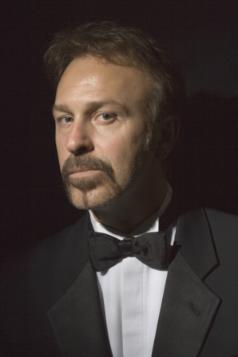 "Liberace and Me," offers Fortenberry's loving respect for the spirit and legacy of Liberace and the impact he had on his life and career. Fortenberry opens with Liberace's signature arrangement of "Chopsticks," while seated at Mr. Showmanship's own nine-foot Concert Grand Baldwin. He weaves the music around his own life story and personal journey as a pianist from rural Mississippi to Broadway, from recitals and talent shows, to command performances for royals and dignitaries. For 45 minutes, Fortenberry acknowledges Liberace's empowering influence and shares his own original compositions, classical selections, and Broadway tunes. One of the many highlights of his performance is his offering of an original "Portrait in Music," an improvisational gift to the audience created in the moment that echoes Liberace's spirit of spontaneity. He closes with a nostalgic rendition of Liberace's famous, "I'll Be Seeing You."
Speaking with Fortenberry afterwards, he said, "Music becomes a tool to open a soul." Playing by memory since age 4, he adds, "My hands are a slave to what I've already heard." He's truly amazing!
Frankie's Tiki Room will open on Thursday, Dec. 4, with a tiki environment complemented by traditional carvings, original Polynesian art, a full bar and gaming. The new 24-hour place will be located at 1712 W. Charleston Blvd. Frankie's founder is P Moss, the creator of the infamous Double Down Saloon located in Las Vegas and New York City.
Guests will be greeted by tiki statues. The interior has been designed and is being built by Bamboo Ben, the world's foremost tiki room designer. Other contributing carvers include: Tiki Bosko, best known locally for carving the large tikis and Polynesian statues for the Tropicana in the 1990s; Crazy Al Evans, credited for his sculpture known as "Polynesian Pop" and for creating Frankie's signature tiki, a monstrous island warrior; and Leroy Schmaltz, the godfather of all tiki carvers recognized for creating the biggest existing tiki statue in Tahiti.
Frankie's will offer a drink menu featuring 15 original exotic drinks, five traditional tiki drinks and eight original souvenir tiki mugs that will cost $15 each or $20 with a drink.
For the second year in a row, Rock 'n Roll Wine will join in with celebrations across the world to celebrate Beaujolais Nouveau, a long standing French tradition in which the first wine of the harvest is released on the third Thursday in November. For this occasion, Paris Las Vegas is planning a weekend-long celebration including lighting the Eiffel Tower red and special culinary offerings for all patrons.
On Friday, Nov. 21 from 7 - 10 p.m. in the Risque Nightclub, Rock 'n Roll Wine will hold a wine tasting event featuring the newly released Beaujolais Nouveau along with many more world wines. There will be live music from Los Angeles rocker Bryson VanCleve, accompanied by Jill Marie. Tickets, which include a $10 voucher for the purchase of any of the night's featured wines at local retailers, are $35 in advance and $40 at the door, call 702-240-3066.
Kristy Lee Cook, star of the "American Idol" TV show, and some of the top rodeo cowboys will join amateur bowlers in the inaugural charity WNFR Celebrity Bowling Tournament taking place on Saturday, Dec. 6, at 11 a.m. at the Gold Coast. The event will pair cowboys and cowgirls in town for the 50th Anniversary Wrangler National Finals Rodeo (NFR) - as well as a variety of celebrities - with fans from around the country. The entry fee is $175 for individual bowlers or $500 per team.
Boyd Polhamus, winner of the Professional Rodeo Cowboys Association's Announcer-of-the-Year Award, will serve as the master of ceremonies for the afternoon. In addition to Cook, veteran actor Mickey Jones of "Home Improvement" TV fame will join three-time world champion bareback rider Will Lowe, six-time NFR qualifier Royce Ford and two-time and reigning world champion bareback rider Bobby Mote in this inaugural event.
Ellen DeGeneres will tape "Ellen's Even Bigger Really Big Show" during The Comedy Festival in The Colosseum at Caesars Palace on Thursday, Nov. 20, at 7 p.m. (PT) for a TBS special that will premiere on Saturday, Nov. 29, at 9 p.m. (ET/PT). The show will feature hand-picked variety performers from several countries.
As host, DeGeneres will perform her own stand-up comedy and take part in several humorous vignettes, among them a taped segment at the famous "Legends in Concert" show at the Imperial Palace.
WinterFest will be held Dec. 11-13 at the Henderson Convention Center and Henderson Events Plaza at 200 S. Water Street in Henderson. The annual free winter festival will feature activities including an official tree lighting ceremony, Santa Claus visits, live entertainment, a parade, gingerbread house display, craft fair and much more. For a complete listing of event, call 702-267-2171.
The Cher and Bette Midler Boutique located near The Colosseum inside Caesars Palace is offering unique gift items such as accessories and fashion items splashed with glitter, sequins and bright colors.
Cher fans can choose from black Havaianas flip-flops encrusted with Swarovski crystals ($95), Chrome Angel homemade candles with Swarovski crystals ($400), a Cher Barbie doll dressed in a custom Bob Mackie design ($54.95). On the lust list is the replica of Cher's Loree Rodkin bondage ring, 2.4 carats of gothic inspired black diamonds ($18,500).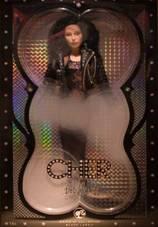 Bette fans can get keepsakes like one-of-a-kind jewelry pieces such as the pink diamond covered bustier necklace outlined in sapphires ($8,000) and a replica of Bette's crystal-encrusted ukulele ($3,000).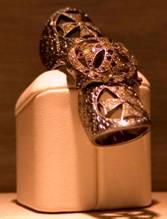 Don Learned will headline at the Riviera Comedy Club for seven nights with fellow comedians Stanley Ullman and Chris Kerner beginning Monday, Nov. 24. New show times for the Riviera Comedy Club will be 8:30 and 10:30 p.m. nightly. Tickets are $24.99, call 702-794-9433.
Learned has opened for Joan Rivers, Phyllis Diller, David Brenner, Englebert Humperdinck and Sam Kinison and toured comedy clubs nationwide.
Ullman's many television credits include "Golden Girls," Showtime's "Funniest Person in America," Fox's "Comic Strip Live" and "The Guiding Light." His commercials include Campbell's soup, Meister Brau, Wagner Paint Rollers, Wendy's and Federal Express.
"Stomp Out Loud" at Planet Hollywood will end its 22-month engagement there on Jan. 4, 2009, after performing more than 600 times in the custom-built, 1,500-seat theatre. The show is performed nightly at 7 p.m. with ticket prices ranging from $59 to $99.
Through Nov. 26, Hawaiian Tropic Zone is offering "Stomp Out Loud" ticket holders the opportunity before the show to dine with a buy one entr'e, get one free offer. Anyone purchasing or picking up tickets to the show at the Planet Hollywood box office receives a voucher for the offer, call 702-785-5000 or 877-333-9474.
"The Soprano's Last Supper" will perform its final show at the Riviera on Tuesday, Nov. 18.
"Dancing with the Stars the Tour" will stop at the Orleans Arena on Dec. 29. Some of the stars joining the professional dancers will include Lance Bass, Toni Braxton, Maurice Greene and Marlee Matlin.
Had another opportunity to see Larry G. Jones do his "Superstar Voices in Concert" show in the tiny showroom at the Royal Resort on Convention Center Drive. His show is a hidden gem. Tickets are $24-$34 and Cosmo's Café & Ristorante also located at the Royal offers a special three-course concert dinner menu. For information, call 800-595-4849.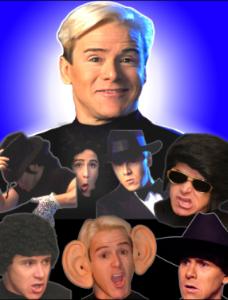 Recently had an opportunity to visit Postrio for a reception to introduce the restaurant's new menu and décor. Celebrated chef, Wolfgang Puck, brings his award-winning San Francisco restaurant, Postrio, to Las Vegas and St. Mark's Square at the Grand Canal Shoppes at the Venetian. The dining room and café menus feature small plates, appetizers, wood-oven baked pizzas, handmade pastas and enticing entrees for both casual and more formal dining. Open daily, the café serves lunch and dinner and the dining room is dinner only.
After visiting 30-cities, the free "Seinfeld Campus Tour" bus will roll into Las Vegas on Nov. 21 and 22 for its final stop during TBS's The Comedy Festival at Caesars Palace's main valet entrance. Inside the 60-foot bio diesel bus, is a mini-museum of costumes and props, original scripts, video clips and production stills. Hours are 11 a.m. - 7 p.m.
ENVY The Steakhouse in the Renaissance Hotel is holding a Wine Makers Reception featuring Four Vines Winery with co-owner Bill Grant in attendance on Monday, Nov. 17, from 6-9 p.m. Cost is $35, call 702-784-5716 or 866-352-3434.
As a first in Las Vegas, the Galaxy Cannery Theatre with 16 stadium-style auditoriums inside the Cannery in North Las Vegas now offers beer to guests who are 21 and older in selected theatres after 6 p.m.
Now through Dec. 19, the Silverton is holding Guitar Hero video game tournaments at the Shady Grove Lounge from 6 to 9 p.m. every Friday. Players can be solo, as a duet or with a group and compete to win prizes. Winners will be determined by total points accumulated throughout the game.
McCormick & Schmick's seafood restaurant located a few blocks off the Strip near Paradise on Flamingo celebrated its 10 year anniversary with specials on Nov. 14.
The classic Las Vegas dinner show featuring Mark Giovi, one of the original Las Vegas Tenors, is launching a new series of Classic Cabaret Nights at the new banquet facility View 215 (www.view215.com) on Sunday, Nov. 23 at 5 p.m. Dinner is served at 6, show time is 7:30. The evening will begin with showgirls welcoming guests, a red carpeted entranceway, cocktails, complimentary hors d'oeuvres followed by a three-course sit down dinner. Giovi is currently performing six nights a week as the featured vocalist in the long-running show "BITE" at the Stratosphere. Tickets are $50, call 702-307-4959.
CONTINUE ON TO...:
>THIS WEEK'S LAUGHLIN SEGMENT
>LAST WEEK'S LAS VEGAS SEGMENT
>VEGAS VIEW FULL ARCHIVES
>Return to "Heard Around Town"
>Return to Las Vegas Leisure Guide