EDGEWATER PROVIDES LAUGHS AT KOKOPELLI's SHOWROOM
The Edgewater's "Comedy on the Edge" headlines two stand-up comedians each Friday, Saturday and Sunday at 7 p.m. Tickets are $10, call 702-298-2453. The lineup Nov 20-22 is Jay Wendall Walker and Rob Sherwood.
Walker has been described as a "Heavy Weight Champion of Comedy." Raised in a family of vaudeville performers, his career began at age 18. Over the years, he has emceed at beauty pageants, performed for private clubs, entertained at country fairs, and headlined at numerous comedy clubs throughout the United States and Canada. He's also been heard by radio listeners and TV viewers. Walker is a past president of the Seattle Independent Comedy CO-OP.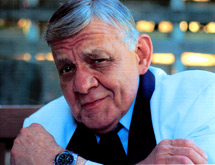 Sherwood was born in New York and presently lives in Las Vegas. He is currently the host of the syndicated radio show, "Coast to Coast from Las Vegas," which features a variety of sports professionals, comedians, and a wide range of entertainers. Playing music was Sherwood's first show business love. He is an accomplished drummer and joined his first band at age 11. Sherwood also spent many years behind the scenes as a light and sound technician. His likeability, talent, and humor made him a favorite with coworkers and stars alike. The backstage experience has given him a unique comedic insight to show business on the Las Vegas Strip.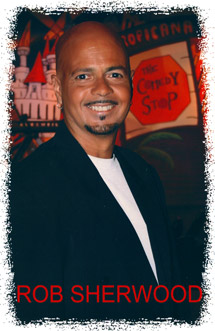 'FRANK MARINO's DIVAS LAS VEGAs' HEADLINES AT RIVERSIDE
Direct from Las Vegas, female impersonator show "Frank Marino's Divas Las Vegas" will appear at Don's Celebrity Theatre at the Riverside, Nov. 17-22. Tickets for the 7 p.m. shows are $34.50.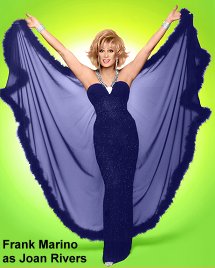 This show stars Las Vegas' longest running headliner Frank Marino as comic icon Joan Rivers and an all-star cast of female impersonators, who not only recreate but almost duplicate uncanny likenesses of stars ranging from Britney Spears to Cher and Diana Ross to Beyonce. In his role as the show's emcee and star, Marino changes between every act bringing an international whirlwind of couture to the stage.
HARRAH's BOOKS CANDLEBOX DURING SCORE OFF-ROAD RACE
The Fiesta Showroom at Harrah's will feature Seattle band Candlebox at 8 p.m. on Jan. 16. The band hit the music scene during the "grunge" explosion of the 90s. Candlebox is associated with that genre of music; however, their style is more melodic and rock-oriented. In 2008, the group reunited after 15 years to produce another album followed later that year by "Alive in Seattle," a CD/DVD set comprised of their best hits. Candlebox will be performing during the 16th annual SCORE Laughlin Desert Challenge weekend, Jan. 15-17. Tickets start at $30 for general admission.
AQUARIUS WILL HAVE THANGSGIVING DINING SPECIALS
This year, the Aquarius plans Thanksgiving dining special throughout the property. The buffet will be serving Thanksgiving are from 11 a.m. to 10 p.m. for $14.99. At the Café Aquarius, the special will be served from 11 .m. to 10 p.m. for $12.95. Vineyard diners will start off with pumpkin cheese ravioli appetizer. The meal is $22.95.
TOP OF NEXT COLUMN
RIVER PALMS FEATURES STAND-UP COMEDIANS
Sammy's Comedy by the Shore at the River Palms is ongoing with stand-up comedians changing weekly and appearing Wednesday-Sunday. Tickets are $10. Upcoming acts Nov 18-23 are Mutzie and Sammy Shore.
Mutzie's career path runs through virtually every area of entertainment including television, radio and even the music industry. He has consistently performed as many as 200 comedy shows a year. On stage, Mutzie is like the eternal class clown, never passing up the opportunity to get a laugh. The Mutzie show includes music, a few props, some home grown characters and improv.
Sammy Shore currently performs his standup comedy routine in nightclubs and casinos across America. Throughout this year, Shore has been performing his "Two Gals & a Geezer" show at the Tropicana Laughlin and performing regularly at his club, Sammy's Comedy by the Shore, which is a comedy room named in his honor at the River Palms.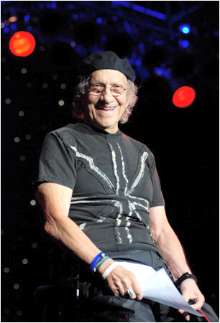 Shore is an American comedy legend. He founded the Comedy Store on the Sunset Strip and was hand-picked by Colonel Parker to be Elvis' opening act during the King's infamous 1969-1972 "Comeback Tour" in Las Vegas. Shore's new book is "The Man Who Made Elvis Laugh." For information, visit elvislaugh.com.'
HOLIDAY BOAT PARADE WILL LIGHT UP THE RIVER
On Nov 28 at 5 p.m., the Colorado River holiday-decorated boats will float from Community Park in Bullhead City upriver to the Laughlin Bridge and return to Community Park. Viewing will be all along the Riverwalk at the casinos and holiday music will be piped through the eight Laughlin resorts. Entries are welcome from private citizens and businesses.
COLLIN RAYE AND RESTLESS HEART STOP AT HARRAH's
Collin Raye and Restless Heart will perform at Harrah's in the Fiesta Showroom at 7 p.m. on Nov. 28 and 29. Tickets are $40, $45, and $50, call 800-447-8700 or 702-298-8510.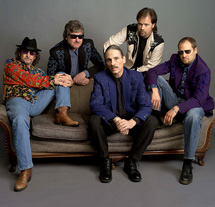 The performance is billed as "One Band, Two Amazing Acts," blending the voices, harmonies and talents of Raye and Restless Heart. Raye's new single, "Mid-Life Chrysler" hit the airwaves in early March. Through the years, Raye has been nominated for CMA and ACM Male Vocalist of the Year, has had 23 Top Ten hits and 15 No. 1 tunes. Raye's hits include "I Can Still Feel You," "Love, Me," "On The Verge," and "The Gift."
Celebrating their Silver Anniversary, Restless Heart releases their "25th Anniversary Collection," a compilation of albums "Still Restless" and "25 & Live" and DVD "The Video Hits."




CONTINUE ON TO...:
>THIS WEEK'S LAS VEGAS NEWS
>LAST WEEK'S LAUGHLIN NEWS
>VEGAS VIEW FULL ARCHIVES
>Return to "Heard Around Town"
>Return to Las Vegas Leisure Guide