VICKI LAWRENCE & MAMA APPEAR AT THE RIVERSIDE
"Vicki Lawrence & Mama- A Two Woman Show" will headline at 7 p.m. in Don's Celebrity Theatre at the Riverside, Nov. 17-21. Tickets are $ 35.
Voted "most likely to succeed" by her high school graduating class, Vicki Lawrence has proved that the title fits. After meeting Lawrence at a local "Miss Fireball Contest," Carol Burnett contacted Lawrence to play the role of her kid sister on a new television series. The new series, "The Carol Burnett Show," aired in 1967, and the two ladies spent 11 years making America laugh. Lawrence took the character Mama, and went on to star in her own TV series, "Mama's Family."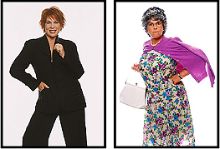 'COMEDY ON THE EDGE' CONTINUES AT EDGEWATER

The Edgewater is continuing with its ongoing "Comedy on the Edge" in Kokopelli's Showroom every Friday, Saturday and Sunday at 7 p.m. Each show features two stand-up comedians. Upcoming acts are: Nov 19-21—Quinn Dahle and Chris Simpson; Nov 26-28—Pete George and Lisa Alvarado; Dec 3-5—Chris Clobber and Troy Conrad; Dec 10-12—Steve Bruner and "Henrietta"; Dec 17-19—Steve Callif and John Hilder; and Dec 24-26—Kathleen Dunbar and Kyle Erby. Tickets are $10 at the Edgewater Casino Cage or the door.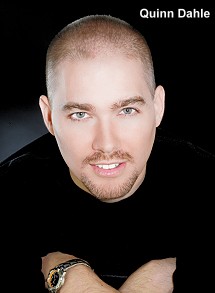 Quinn Dahle, who grew up in Minnesota and finished high school in Colorado, stepped onstage for the first time while attending Arizona State University and left soon after for Los Angeles. It happens Dahle comes from a showbiz family. Dahle Sr. played in the band Copperhead and had an album out in the early 1970s. Dahle is already working in clubs, colleges, casinos and corporate events. He has worked with such names as Robin Williams, Drew Carey, Dana Carvey, Jon Lovitz, Bill Maher, Frank Caliendo, David Alan Grier, and John Pinette.

HARRAH'S HAS ELVIS, ROGERS AND PARTON TRIBUTE SHOW

Todd Luxton's "Elvis & The Legends Tribute" show in the Fiesta Showroom will feature - Elvis, Kenny Rogers and Dolly Parton impersonations nightly at 7 p.m. from Nov. 20 – Dec. 2. Tickets start at $18.95, call 702-298-8510.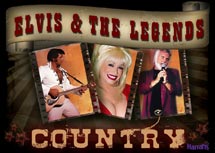 Todd Luxton's tribute to Elvis Presley has taken him across the country for more than 19 years.Wearing the trademark Elvis jumpsuit, Luxton transforms into Elvis. Joining Luxton's Elvis is Sherry Gordon as Dolly Parton and Mark Hinds as Kenny Rogers.
Gordon is a singer and musical impressionist who has performed in "Legends in Concert," and been a backup singer for many popular groups.Hinds has also performed in "Legends" as well as all over the United States, Canada and Asia. Hinds has performed "The Gambler" on stage with the real Kenny Rogers at Nashville's famed Grand Ole Opry.

AQUARIUS HOLDS CHARITY SOFTBALL TOURNAMENT

The Aquarius will present the 16th Annual Toys for Kids Softball Tournament on Saturday and Sunday, Dec. 4 and 5 to benefit the community's needy children during the holidays. The tournament begins at 8 a.m. Arizona time each day at Bullhead City's Ken Fovargue Park and all participants must bring one new, unwrapped toy valued at $5 to $10 to start their first game.
The top tournament finishers will be awarded team trophies and cash prizes: $1,000 for first place, $650 for second place, and $350 for third place. Entry is $300 per team with checks made payable to the City of Bullhead City and mailed to Bullhead City Hall at 2355 Trane Road, Bullhead City, AZ 86442. Registration deadline is Friday, Nov. 19 and confirmed by payment only. For information, contact Ryan at 928-763-9400, x306. The Aquarius is offering a $35 group room rate for tournament players from Dec. 5 - 9 with two cook-to-order breakfasts at Café Aquarius included; call 888-662-5825 and reference group code: TOY4KID.

AVI HOLDS 'RALLY ON THE RIVER' EVENT

"Rally on the River: Chili, Bikes and Blues" is an annual free three-pronged event involving motorcycles, chili and entertainment, Nov. 26-27. It will be held on the Beach Overlook and South Parking Lot at the Avi. There will be a motorcycle poker run on Friday at 9 a.m., a bike show on Saturday at 10 a.m., and bike games at 1 p.m. Blues music will be provided by John Earl and the BoogieMan Band on Friday and Saturday from 11 a.m. – 5 p.m. with a chili feast both days. For motorcycle events and vendor info, call Di Lucas at 760-326-6877 or
e-mail Dilucas2001@yahoo.com. TOP OF NEXT COLUMN

AQUARIUS FEATURES ST. JAMES GOSPEL CHOIR

The Aquarius will feature performances by the St. James Gospel Choir during Thanksgiving weekend.
The St. James Gospel Choir, founded by Elektra Records recording artist Sylvia St. James, is renowned for performing at the House of Blues Gospel Brunch for more than a decade, for dignitaries such as Presidents Barack Obama, Gerald Ford, and with superstars such as Stevie Wonder, Barbra Streisand, Garth Brooks and Michael Buble. The choir is currently celebrating their multi-platinum status for the 2010 release of "Let it Go."
The choir will be heard in various locations around the Aquarius. On Friday, the choir will sing from 5 to 5:45 p.m. in the lobby and from 6 to 6:45 p.m. in front of the ace | PLAY center. At 7:30 p.m., they will begin roving through the property. On Saturday, they will start at 5 p.m. on the H2OH! patio in front of the fire pit. From 6:15 to 7 p.m., they will sing on the Outdoor Amphitheater stage facing the River Walk, in the lobby from 7:30 to 8:15 p.m., and conclude at the south end of the table games pit from 8:45 to 9:30 p.m.

BOAT PARADE OF LIGHTS WILL BE HELD ON NOV. 27

The Holiday Boat Parade of Lights will take place on the Colorado River by the casinos on Saturday, Nov. 27 from 4:30 (5:30 p.m. Ariz. time) – 7 p.m. All kinds of boats will be decorated with holiday lights and float up river from Bullhead City and pass in front of the Laughlin resorts in a display with holiday music. The parade will last approximately 30 minutes and immediately following, spectators will be treated to a fireworks display. For information, call 928-754-3555, ext. 233.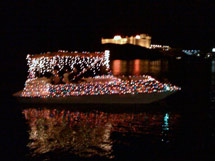 The entry fee for a boat is a donation of one unwrapped toy or canned food item to benefit the Bullhead City Fire Department Toy Drive and Colorado River Food Bank. Spectators are also encouraged to bring donations. Toys and food will be collected along the Riverwalk and at Community Park in Bullhead City, where the boats will launch at 4:30 p.m. Nevada time.
All participating boats will receive registration prizes and cash will be awarded: $1,000 for first place, $500 for second place, $250 for third place and $100 for fourth place. For information, contact Jena Morga at 702-298-0630 or M.J. Smith at 702-298-0459.



LAUGHLIN HOLDS SPECIAL EVENTS

Getting into the holiday spirit on Friday, Nov 26 at 6 p.m., the Avi will hold its free "Christmas Tree Lighting" in front of the casino and Grand Ballroom and serve hot chocolate, coffee, apple cider and cookies. A concert by the Needles High School Marching Band and Choir will follow.

The Tropicana will also hold a tree lighting ceremony with Santa on hand in Victory Plaza on Friday, Nov. 26 at 6 p.m.

Another holiday event will be held in the Pavilion Theater at the Tropicana on Dec. 16 at 6 p.m. The "Voices of the River Christmas Gala" is a holiday show featuring local artists including the "Voices of the River Choir" singing excerpts from Handel's Messiah. Tickets are $15 for adults and $5 for ages under 12. For ticket information, call 928-444-8192.

The town-wide SNORE "Rage at the River" off road races sponsored by Southern Nevada Off Road Enthusiasts will take place Dec. 10-13. For information, visit snoreracing.net.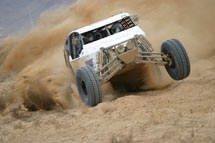 More off road racing will take place with the SCORE: "Laughlin Desert Challenge," Jan. 14-16, 2011. The 17th year for this classic off-road racing event will feature top world off-road racers competing and the famous "Laughlin Leap," which is a drive off a ramp for distance. For information, visit score-international.com.

HARRAH's AND AQUARIUS THANKSGIVING DINING OPTIONS

On Nov. 25, Harrah's will offer Thanksgiving meals at the Range Steakhouse, Beach Cafe and the Fresh Market Square Buffet. The Range will offer its regular menu and the holiday dinner for $39.99; call 702-298-6832. In a casual atmosphere, the Beach Café will feature a traditional Thanksgiving meal for $14.99.In addition to the extensive menu offered at the Fresh Market Square Buffet, there will also be traditional Thanksgiving fare. Cost is $16.99.
The Aquarius will feature Thanksgiving dining specials at Windows on the River Buffet, The Vineyard Ristorante and Café Aquarius.




CONTINUE ON TO...:

>THIS WEEK'S LAS VEGAS NEWS
>LAST WEEK'S LAUGHLIN NEWS
>VEGAS VIEW FULL ARCHIVES
>Return to "Heard Around Town"
>Return to Las Vegas Leisure Guide