JACKSON TOURING SHOW STOPS AT MANDALAY BAY

The Estate of Michael Jackson and Cirque du Soleil will create touring and permanent shows and launch "Michael Jackson The Immortal World Tour™" written anddirected by Jamie King, today's leading concert director.The rock concert arena-type production will combine The King of Pop's music and choreography with Cirque du Soleil's creativity and embrace Jackson's global messages of love, peace and unity. A show will open Dec. 15, 2011, at Mandalay Bay with tickets now on sale ranging from $50 to $250, call 800-745-3000. This will be the largest-ever music show touring around the world for four non-stop years. The second permanent show will open in 2013 at a location yet to be determined.

Column Continues Below Advertisement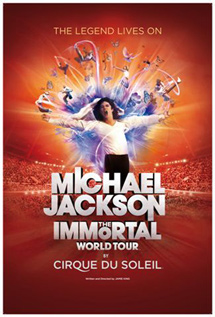 MADAME TUSSAUDS GOES GAGA IN A BIG WAY
Lady Gaga will join the A-list lineup at Madame Tussauds this December in a big way and take to the stage in eight of Madame Tussauds' worldwide attractions, including three U.S. locations in New York, Hollywood and Las Vegas.On Dec. 9, in the biggest and most ambitious figure launch in Madame Tussauds history, all eight locations will reveal a "differentportrayal" of Lady Gaga on the very same day. However, details of which city will feature which Gaga are being kept tightly under wraps. The eight looks will include: Lady in Lace; Telephone; Harlequin; Kinky Boots; Mini Mouse; Hair Hat; Wired "wing" dress with lightning "eye;" and Big Hair. This immense process is taking four months to complete and costing $2.4 million.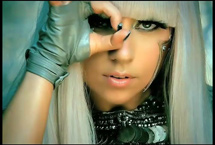 TROPICANA WILL OPEN BEATLES TRIBUTE IN 2011
The Tiffany Theatre at the Tropicana, which is now managed by Eagle Group Holdings, will open "Yesterday" A Tribute to The Beatles next year. Founded in 1986 by John Lennon impersonator Don Bellezzo, his group has performed their Beatles tribute show "The British Are Coming!" for audiences around the world. Produced by Yesterday Productions, the band's most recent gig ran for three years at the Tropicana in Atlantic City.
HOLLY MADISON SIGNS EXTENSION IN 'PEEPSHOW'
Holly Madison has extended her run as "Bo Peep," a modern woman who discovers her sexuality, in "PEEPSHOW" at Planet Hollywood through 2011. Madison began her well-received run as "Bo Peep" in June of 2009.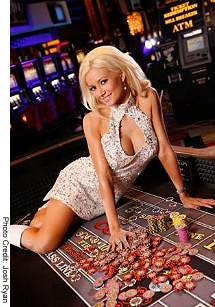 'FANTASY' EXTENDS LUXOR CONTRACT THROUGH 2011
The Luxor's steamy adult revue "Fantasy" has extended its contract with the resort through 2011. Celebrating its 11th successful year on the Strip, the high-quality production has shaped itself into one of Las Vegas' leading topless shows. Created and produced by Anita Mann, the show features 17 high-energy numbers, its new powerful star Lorena Peril, and comic relief by Sean E. Cooper. "Fantasy" is performed nightly at 10:30 p.m. in the Atrium Showroom. Tickets start at $39, call 702-262-4400.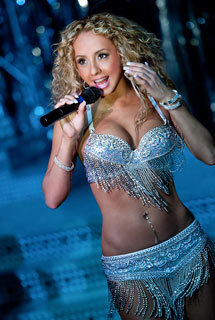 'ZEN MAGIC' IS LATE AFTERNOON OFFERING
Japan's "first ladies of illusion," Ai and YuKi star in a 4 p.m. afternoon, Saturday – Thursday, show "Zen Magic" at the Saxe Theater located in the Miracle Mile Shops. The show is a journey where magic meets mysticism and good battles evil. This family show incorporates highly-skilled aerial acrobats, martial artists, constant costume changes, and lots of tried and true magic tricks. Tickets are $44.99 and $54.99.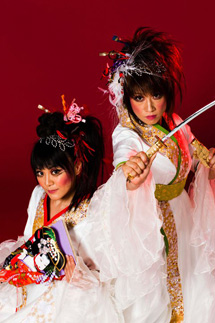 MGM GRAND HOSTS 'AMERICAN COUNTRY AWARDs'
The 2010 "American Country Awards" will air live from the MGM Grand Garden Arena Monday, Dec. 6 (8-10 p.m. EST live/PST tape-delayed) on FOX. The two-hour special will be the first and only country music awards show where fans determine every winner by voting for nominees in music and video categories. Tickets are $45, $65 and $85, call 800-745-3000. The show will feature performances and appearances by the year's chart-topping country artists.
NEW RICHARD MACDONALD GALLERY OPENS
Cirque du Soleil® is opening its third Las Vegas fine art gallery, The Art of Richard MacDonald Presented by Cirque du Soleil®, across from the Conservatory and Botanical Gardens at Bellagio. The open, glass encased corner location creates a jewel box setting for works of art by MacDonald, who is a master of figurative sculpture and captures dancers and acrobats movements.The other two galleries are at Crystals in CityCenter and inside the "O" Theatre Lobby at Bellagio.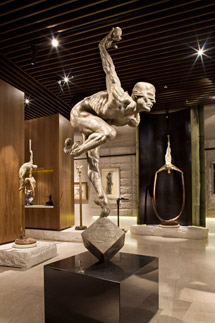 TOP OF NEXT COLUMN
CIRQUE DU SOLEIL HOLDS FIRST CIRQUE WEEK
The first ever Cirque Week will be held Nov. 29 - Dec. 5. In partnership with the Las Vegas Convention and Visitors Authority, Cirque Week will offer unique activities including technology demonstrations, behind-the-scenes dress rehearsals, Q & A with coaches and show technicians, a celebrity meet and greet and much more. In addition to the variety of ticket packages ranging from a two-show for $160 up to seven show deal for $445 and an all-access pass to the private events, attendees will receive discounts on Cirque du Soleil merchandise and an exclusive Cirque du Soleil gift bag, call 877-708-4662.
SHA NA NA PERFORM AT SOUTH POINT
Sha Na Na, the famous six-member group wearing trademark outrageous stage attire and exaggerated hairdos, will headline at the South Point on Friday-Sunday, Nov. 19 - 21.The 50s music legends, who co-starred in "Grease" 30 years ago as "Johnny Casino and the Gamblers," along with John Travolta and Olivia Newton-John, and opened for Jimi Hendrix 40 years ago at Woodstock in their first professional gig, have also starred in 100 episodes of their own national television show and sold more than 20 million albums, are now set to celebrate their 40th anniversary with the release of a commemorative CD, "Sha Na Na."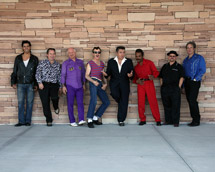 HENDERSON HOSTS WINTERFEST, DEC. 9-11
Henderson will host its annual WinterFest celebration, Dec. 9-11, at the Henderson Events Plaza and Henderson Convention Center. The event will feature a variety of family-friendly activities including an official tree lighting ceremony at 6 p.m. on Dec. 10, a visit from Santa Claus, the WinterFest Parade at 10 a.m. on Dec. 11, train rides, petting zoo, pony rides, gingerbread house and large light displays, "A Charlie Brown Christmas" production and much more. Admission is free. For information and contest applications, visit HendersonLive.com or call 702-267-2171.
Back by popular demand are wagon rides and the Henderson Festival of Trees with traditional ornaments and trimmings from other world cultures. Entries will have a chance to win one of three cash prizes, totaling $1,500. Entry deadline is Nov. 24.
There will also be a Gingerbread House Contest with entries needing to represent this year's theme, "Comic Strip Favorites," and/or the City of Henderson. Deadline for submissions is Dec. 1.
DINING NEWS
Munchbar, a restaurant and to-go window next to Pure Nightclub at Caesars Palace, is offering a new Munch Hour special that includes half price appetizers with prices starting at $4 every day from 4-7 p.m. and 9 p.m.-midnight and an extensive draft beer selection.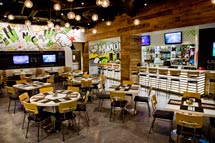 Andre's at Monte Carlo now offers the 3-Martini "Lunch"... for dinner beginning nightly at 5 p.m. Cost is $22. The menu includes three distinct martinis, a salad and crème brûlée dessert.
Sunset and Vines at Lake Las Vegas will hold the next in their "Pamper Your Palate" wine dinners on Wednesday, Nov 17. Italian cuisine will be featured in a five-course meal paired with wines. Cost is $80, call 702-382-7900.
A "Sushi 101" class presented by Executive Chef Eddie Zindle and Sushi Chef Wai Aung will be held on Saturday, Nov. 20 at 2:30 p.m.at the China Grill restaurant in Mandalay Bay. You'll earn the art of nigiri and sashimi. Cost is $59, call 702-632-7404.
"The Feast of Seven Fishes" cooking class with Executive Chef Geno Bernardo will be held at Nove Italiano inside the Palms on Saturday, Dec. 4 at noon. The seven-course intimate cooking class with wine pairings costs $75; call 702-942-6856.
QUICK CLIPS
"Twilight" star Robert Pattinson's $300,000 wax likeness is currently on display at Madame Tussauds through Nov. 30. Voted in 2010 by "TIME" magazine as "one of the 100 most influential people in the world," Pattinson, 24, is among the hottest film stars today, having headlined three "Twilight" films as Edward Cullen and starring in four upcoming films, including "Water for Elephants."
At The Forum Shops at Caesars Palace, Reed Krakoff, Coach's creative director, has launched his second luxury brand store in the United States. The 3,000-square-foot boutique has a gunmetal storefront, an etched, black granite entry, lacquered walls and 16 feet high ceilings, an intimate back area, and flooring made from antique French wood and Belgian bluestone.
Rock 'n' Roll Hall of Fame inductees, The Beach Boys will bring their classic chart-topping hits such as "Kokomo" and "Good Vibrations" to the Star of the Desert Arena inside Buffalo Bill's in Primm, Nev., located 25 miles south of Las Vegas, at 8 p.m. on Saturday, Nov. 20. Tickets are $40.45 and $56.95, call 888-386-7867.
The Silverton will launch the inaugural "Mustachio Bashio" on Friday, Nov. 19. The event will include beer pong, live band karaoke, a mashed potato-eating contest at 7 p.m., a mariachi band, $1 beer and a "Best Stash" contest at 8 p.m.
Jack Sheehan's 16th book "Forgotten Man" about Bill Bennett, who was one of the top names in Las Vegas' gaming history, will debut on Nov.15. Bennett went from being a furniture store owner in Phoenix to an industry leader making Circus Circus a highly successful family-friendly destination. Eventually he led more than a dozen properties that are today a major part of MGM Resorts International.
Following in Tacos & Tequila's footsteps with their "The Spy" social media game is RHUMBAR, the highly-stylized cocktail and cigar lounge at The Mirage, with their "I Spy." Now through the end of the year, take a photo of RHUMBAR's custom-wrapped 1960 Ford Galaxie Sunliner convertible cruising around town and you will be rewarded with a complimentary Sailor Jerry Rum Punch cocktail at RHUMBAR.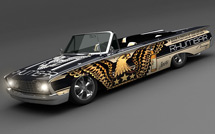 Dirk Arthur's "Wild Magic" show with exotic cats at O'sheas Theater has new dark days…Saturday and Sunday.
Football lovers can catch all the lingerie action live each week as football's leading ladies take over the big screens at Cabo Wabo Cantina for some high-energy, contact football. Fans will enjoy ice cold beers, killer margaritas and tasty Mexican food while watching the sexiest ladies on the planet fight for honor on the field. The games start at 8 p.m.
Theannual holiday favorite--Nevada Ballet Theatre's"The Nutcracker" will be performed at the Paris Théâtre in Paris Las Vegas, Dec. 17-19, 22-24 and 26. There will be a Sugar Plum Party from 3 to 5 p.m. on Dec. 19 for an extra $30. Tickets range from $30 to $85.
The new Cosmopolitan that will open on the Strip on Dec. 15 will feature nearly 36,000 square feet of retail space including a collection of nine luxury boutiques. Stores will include: AllSaints Spitalfields, Beckley, CRSVR Sneaker Boutique, DNA2050, Droog, Molly Brown's Swimwear, Retrospecs & Co, Skins 62 Cosmetics, and Stitched.
From Nov. 19 – 26, the Girl Scouts of Southern Nevada will debut Green Friday, which is a fundraising online auction where people can bid on items such as show and game tickets, vacation stays, jewelry and much more. The online auction is powered by the Bidding for Good website with access at girlscoutsnv.org.
Column Continues Below Advertisement


CONTINUE ON TO...:
>THIS WEEK'S LAUGHLIN NEWS
>LAST WEEK'S LAS VEGAS NEWS
>VEGAS VIEWS FULL NEWS ARCHIVES
>Return to "Heard Around Town"
>Return to Las Vegas Leisure Guide