It will be a Hawaiian Christmas at the Riverside Resort Nov. 29 - Dec. 21, with "Mele Kalikimaka," a Christmas musical variety production featuring the spirit of the Christmas holidays in song and dance as performed by some of the stars of the islands. Tickets are $25, call 1-800-227-3849.
Wailana Lee is the daughter of the late legendary songwriter Kui Lee, whose songs have been recorded by such artists as Bing Crosby and Elvis. Manea Manuma hails from Samoa, along with his brother, Moe, where they perform and star in their own island revue as the "Manuma Brothers." Their vocal abilities and comedic routines have made them Hawaiian favorites.
Originally from Tahiti, Dino's voice reminds people of the sounds of Julio, Engelbert and Sinatra. A former model, Dino lives in Tahiti where he serenades tourists in hotels on Bora Bora and Papeete.
Don Rose's voice is unmistakably his greatest gift. His enthusiasm creates a powerful, exciting show that will be treasured and etched in your mind.
These four star acts will be supported by the Hot Lava Dancers in beautiful costumes, along with the musical talents of the Don Rose Band. The spirit of Christmas is truly captured in the joyous songs of the islands along with the music and sounds of holiday seasons. "Mele Kalikimaka" is Hawaii's way to say Merry Christmas.
Be advised that Harrah's Fiesta Showroom entertainment, "Rhythm & Flair" and "Strip!" will be on hiatus Nov. 27, through Sun., Jan. 15, 2006. The shows will reopen on Mon., Jan. 16, with performances ongoing through May 27.
"Rhythm & Flair" features a cast of talented dancers, aerialists and gymnasts performing to music highlighted by today's hip sound, power percussions, drums and enthralling rhythms. The adult revue "Strip!" is a sensual theatrical presentation featuring elements such as aerial rings, modern dance and comedy. Both shows are produced by Fernando Quevedo, Q Productions Las Vegas Inc.
The Winter Nationals Monster Truck and Extreme Free Style Motorsports Spectacular will tale place in the Event Arena north of the casino at the Avi on Nov. 19. The event will feature monster truck rides, free style motocross, "Fire Storm" - a jet-powered fire truck, and Quad Races competitions. Tickets for the 7:30 event are $12 in advance and $15 at the gate. For information, call 760-949-6107.
On Nov. 25 and 26, the annual "Chile, Bikes & Blue's" will be held in the south parking lot and grassy area near the beach. The event features a chili cook-off, blues music, a motorcycle poker run and vendors. It's free to listen to the music and view the bikes and $5 to enter the poker run in advance or $10 at the event. For information, call 702-535-5536.
The Colorado Belle's slot tournaments for 2006 are: March 5-7, "From Laughlin with Love" Slot Tournament - $500 entry fee, $70,000 in prize money; June 25-27, "Jet Set" Slot Tournament - $450 entry fee, $63,000 in prize money; Sept. 17-19, "Survivor VII" Slot Tournament - $550 entry fee, $78,000 in prize money; and Nov. 3-5, "Cash Convoy" Slot Tournament -$350 entry fee, $48,500 in prize money. Prize money is based on 150 entrants. To enter any tournament, call One Club Reservations toll free 1-877-480-2747.
The Golden Nugget has a "Royal Plush Giveaway" promotion for video poker players running through Dec. 15. On Mondays through Fridays, video poker players may earn a free plush jungle animal with qualifying jackpots hit on nickel through $5 machines. You must play with your 24 Karat Club card to win.
The Edgewater has a new poker room with four tables located next to the River Edge Bar at the south end of the casino. Free poker lessons are given daily at 2 and 6 p.m.

TOP OF NEXT COLUMN
Charo, twice voted "Best Guitar Player in the World" by Guitar Player Magazine, will headline at the Riverside, Nov. 22-27 at 7 p.m. Tickets are $30, call 1-800-227-3849
Since the early 70s, Charo, the comedian, stage and screen performer, musician and singer, has been an integral proponent of contemporary Latin music. The spotlight on Charo has been shining brighter then ever since her acceptance of the "Female Pop Album of the Year" award. She received this accolade at the Billboard International Latin Music Conference for her 1995 flamenco inspired platinum album, "Guitar Passion."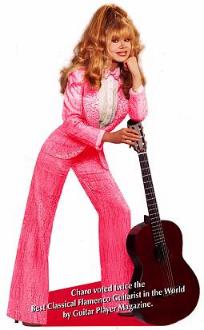 Charo is a household name. Instantly recognizable for her witty humor, loveable accent and mastery of the flamenco guitar along with her trademark statement, "Cuchi-Cuchi." She has appeared in countless hit television shows including more than 45 appearances on "The Tonight Show with Johnny Carson" and "The Love Boat" more than any other star. Recently, she was introduced to a whole new generation of fans in a nationwide cellular phone commercial for Sprint P.C.S., regular appearances on Hollywood Squares and VH1's Surreal Life.
Since 1978, with her international hit, "Dance A Little Bit Closer," produced under the guidance of Salsoul Records, Charo created and established the new bilingual salsa style. This new "Charo Rhythm" has since been emulated by many other Latin and American performers. In January 2003, Charo received a Screen Actor's Guild award for being the creator and founder of the new Latin style.
Currently Charo is on tour promoting her latest project "Disco Bolero" a highly anticipated mixture of her patented rhythms and classical mastery of guitar. On July 26, 2003, Charo first presented Bolero to American audiences during a live performance at Rockefeller Center on NBC's "Today Show."
The Riverside's Help for the Holidays program is back by popular demand. Stay two nights at the Riverside Resort and get a third night free, Sunday through Wednesday, when you participate in the Help for the Holidays program. All you need to do is bring in five cans or boxes of food and receive an additional night's stay for free. The Riverside will then donate all the food to the Salvation Army to help feed families during the holiday season. Call 1-800-227-3849 today to make your Riverside holiday reservations. Offer expires Dec. 21, 2005.
The tribute show to country music stars, "Country Music USA," will play at the Ramada Express Nov. 20-24, Nov. 25-Dec. 1, 12-15, and 17-22. Tickets are $19; call 1-800-243-6846. The Nov. 25-Dec. 22 shows will have a Christmas theme.
The Laughlin Team Roping Finals will be held at the Laughlin Event Arena, Nov. 16-19. The United States Team Roping Championship, Inc. will be holding their year-end finals with top team ropers from throughout the West competing. The event is free to watch, call 505-899-1870.
The Riverside offers bowling as an entertainment option on its second floor. There are 34 lanes, a snack shop, a nearby Hall of Fame bar, lockers, and a supervised childcare center. For information, call 702-298-3535.
CONTINUE ON TO...:
>THIS WEEK'S LAS VEGAS NEWS
>LAST WEEK'S LAUGHLIN NEWS
>VEGAS VIEWS FULL ARCHIVES
>Return to "Heard Around Town"
>Return to Las Vegas Leisure Guide