Since 2004, six of nine Laughlin properties have changed hands and the name change from Flamingo Laughlin to the Aquarius Casino Resort is official now. One of the big impacts will soon be the water feature in the new hotel lobby entrance that is scheduled for completion this month.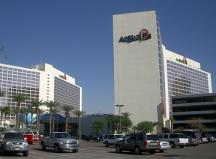 The Splash Cabaret, which was formerly the Club Flamingo, now features music by a variety of different bands Thursday-Saturday from 7 p.m. to midnight. Football games are shows Saturday-Monday with food and drink specials. The makeovers on the resort's restaurants are still underway.
Little Anthony and the Imperials will be headlining at the Aquarius Pavilion on Nov 25 at 7 p.m. Tickets are $19.95 and $24.95; call 1-800-435-8469.
The group officially reunited in early 1992 after not performing together for more than 17 years. There latest CD release, "Pure Acappella," is a soulful collection of Doo Wop and pop classics. The making of the album had the guys singing a cappella without an accompaniment of instruments and just using their God-given gifts. The album was recorded in between concert dates on Little Anthony and the Imperials' extensive tour.
Air Supply will perform in Don's Celebrity Theatre at the Riverside, Nov. 21-26 at 7 p.m. Tickers are $ 34; call 1-800-227-3849, ext. 616.
In 1975, Graham Russell and Russell Hitchcock met on May 12, the first day of rehearsals for "Jesus Christ Superstar" in Sydney, Australia. They became instant friends with their common love for the Beatles and of course singing.
After the shows, they would play pizza parlors, coffee bars and night clubs with just one guitar and two voices. They quickly gained a reputation for great harmonies and for original songs that Graham was writing constantly. They made a demo on a cassette, of two songs, "Love and Other Bruises" and "If You Knew Me" and took it to every record company in Sydney. Everyone turned it down, but one - CBS Records admired their unique style. They made a single in one afternoon and it shot to No. 1 on the national charts. Air Supply was born. That same year, they opened for Rod Stewart across Australia and then throughout the US and Canada.
The Laughlin Team Roping Finals of the United States Team Roping Championships, top rodeo tie-down competition, will take place at the Avi's Special Event Area, all day Nov. 16-19. Thursday-Sunday. Events are free.
Later in the month, Nov. 24-26, at the Avi, the event will be "Chili, Bikes and Blues," which will combine chili cook-offs, motorcycle run and live blues music, vendors and chili sampling. The free activities take place Friday-Sunday from 10 a.m.-4 p.m.

TOP OF NEXT COLUMN
The annual "Winter Break" will be a town-wide event taking place at various sites at Laughlin casinos and the area from Jan. 5 through 11. The event scheduled for folks 50-plus in age is presented by Humana, Inc. and offers a wide variety of events - activities, shows, seminars, contests and dances. For additional information and pre-registration, contact Arko and Associates, 888-278-9844 or see www.winterbreak.us.

A car rally and cruise will highlight the weekend with the prizes being awarded at the Winter Break Sock Hop. Reining homecoming queen and king Bobby and Jack Leahy will turn over their crowns to the winner of the Winter Break, 2007 Homecoming Queen and King Contest. In 2006, Winter Break drew nearly 4,500 guests.

The American Heroes Foundation has announced that the new home of the Military Museum formerly housed at the Ramada Express until last January will open at the Desert Lawn Funeral Home and Memorial Gardens in Mohave Valley, Ariz.

The transfer of the historical memorabilia to Desert Lawn is expected to take place by the end of the year. Future announcements will be made about the opening of the new museum.

On Nov. 15, Harrah's will hold its annual employee craft fair from 10 a.m. to 4 p.m. in the Banquet Center. This show will feature numerous hand-crafted items such as quilts, rock sculptures, paintings and holiday themed gifts. There is no charge to attend.

The Riverside's employee talent contest will be held tomorrow, Nov. 13 at 7 p.m. in Don's Celebrity Theatre. Admission is free and the event is open to the public.

They're talking turkey at the Golden Nugget through Nov. 30. If you use your 24 Karat Club card, you can start earning points for $10 Smith's gift cards, holiday gifts, or a chance at your share of $5,000. You can receive a $1 0 Smith's Gift Card with every 275 points earned on a 24 Karat Club card (limit two) or by winning a $1,000 and above jackpot on quarter and above machines.

Earn 1,000 points, and you receive a free holiday gift. Plus, with each gift card, you'll also earn an entry into the drawings for $5,000 in total cash prizes on Thursday, Nov. 30.

Noted Native American artist Nadiya Littlewarrior is exhibiting her gourd art display "Spirit Vessels" at the Laughlin Branch Library along Needles Highway at Las Palmas through Dec. 6. The people of the Citizen Potawatomi Nation have honored Littlewarrior four times for her art, which is included in many museum and private collections worldwide.

The Ramada Express has introduced an all-new Poker Room menu featuring a variety of deli favorites. For just $5 with tax included, you can have delicious meals delivered right to your poker table, 24 hours a day. When it's time to pay, simply use your Distinguished Players Card comps or pay with cash.

To celebrate the Laughlin International Rally and Motorsports Festival, the Ramada has produced a mintage of 500 commemorative $5 chips that feature the image of last year's Rally champion car: a Mitsubishi Lancer Evo VIII driven by the team of Tom Lawless and Jason Gillespie. The highly-prized chip is the ninth in the series and became available for purchase at the main casino cage on Friday, Nov. 10.

CONTINUE ON TO...:
>THIS WEEK'S LAS VEGAS NEWS
>LAST WEEK'S LAUGHLIN NEWS
>VEGAS VIEWS FULL ARCHIVES
>Return to "Heard Around Town"
>Return to Las Vegas Leisure Guide