'ZARKANA' OPENS AT ARIA!

"Zarkana" by Cirque du Soleil is a huge touring production that has played Radio City Music Hall in New York City, the State Kremlin Palace in Moscow and the Madrid Arena in Spain and is now finding a permanent residence at Aria. The exotic show stays true to its Cirque roots with bizarre artistic sets, costumes and dramatic music. In seamless fashion using the entire space within the proscenium, "Zarkana" fluidly changes sets and moods to incorporate and set up each incomparable acrobatic act or otherwise awe-inspiring circus performer.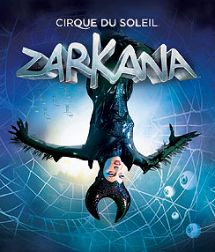 This show most closely resembles "Mystère" that's been at Treasure Island 19 years but does have its own look and feel. There is a story about a magician Zark in an abandoned theatre who has lost his love and his magic. As he cries and begs the gods for her return, he is plunged into a world inhabited by surreal creatures. The show is strange yet appealing with a motley collection of off-the-wall characters including a pickled lady and a baby. There's a rock feeling to this twisted musical with chaos and craziness as a driving force. It's truly another exploration for die-hard Cirque fans.
Column Continues Below Advertisement
THIRD ANNUAL 'CIRQUE WEEK' SCHEDULED DEC. 1-8
Back by popular demand, Cirque du Soleil will present the third annual "Cirque Week" offering fans access to an eight-day series of exclusive events, Dec. 1-8. Packages range from $150 for a two-show ticket to $540, which includes tickets to all seven Cirque du Soleil productions in Las Vegas. All packages offer access to the exclusive events such as a behind-the-scenes look the water at "O" and a "Mystère™" Chinese Poles Demonstration and Q&A.
From starting with 20 street performers in 1984, Cirque du Soleil is now a major Québec-based organization with 5,000 employees including more than 1,200 artists from close to 50 different countries.
VENETIAN AND PALAZZO HOLD SECOND 'WINTER IN VENICE'
The Venetian and The Palazzo will hold their second "Winter in Venice™" winter holiday celebration from Nov. 18-Jan. 6 and feature 50 holiday festivities, which are too many to list here so visit venetian.com or palazzo.com.
Grammy Award®-winning composer/musician Chip Davis will be bringing his award-winning holiday production, "Mannheim Steamroller Christmas Las Vegas by Chip Davis," to The Palazzo Theater for a six-week run, Nov. 20 – Dec. 30 at 7 p.m. The show will feature Mannheim Steamroller's renowned program of signature Christmas classics and state-of-the-art multimedia effects.
The seasonal event will include an outdoor skating rink adjacent to the outdoor gondola attraction with 30-minute skating sessions from 11 a.m.–11 p.m. costing $14.95 with skate rental included.
There will be a nightly parade winding through The Venetian's Doge's Palace. Preceding the parade, there will be a 3D projection show outside that will conclude with a live finale illuminating the iconic plaza, including the 65-foot Christmas tree.
On the food front, there will be the first Venetian Culinary Clash master chef competition with head-to-head competitions between the sous chefs and chefs de cuisine from dozens of restaurants located inside the two resorts. Chefs will be challenged to create recipes using ingredients provided in a "mystery basket," to be prepared in mobile "food truck" kitchens, located at The Venetian's Doge's Palace plaza. Each chef's creation will then be available for sampling. Competition will be Nov. 29, Dec. 7, 14 and 21 from 10 p.m. – 2 a.m.
STYX TO PERFORM TWO ALBUMS AT THE PALMS
As one of the most historic rock groups in history, Styx will perform their two most legendary albums, "The Grand Illusion" and "Pieces of Eight," back-to-back in their entirety each night at the Pearl in the Palms on Nov.16 and 17. Tickets start at $54. This is the first time ever this show will be performed west of the Mississippi.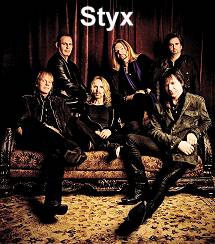 Styx - Tommy Shaw, James "JY" Young, Lawrence Gowan, Todd Sucherman and Ricky Phillips along with the occasional surprise appearance by original bassist Chuck Panozzo have performed more live since 1999 than all of the previous years of the group's career combined.
SKI & SNOWBOARD RESORT CELEBRATES 50TH ANNIVERSARY
Las Vegas Ski & Snowboard Resort (LVSSR) is hosting "Who's On Board," a 50th anniversary celebration including a cocktail reception, art show and silent auction downtown at Amanda Harris Gallery of Contemporary Art and The Lady Silvia on Friday, Nov. 16. Fifty local artists were challenged to create unique pieces using snowboard cutouts as their canvases. The original artwork will be auctioned off to benefit Mt. Charleston and ski related non-profit organizations. The soiree open to the public from 6-8 p.m. is part of Project 50, a series of events that will be happening this season in honor of LVSSR's 50th anniversary.
When the resort originally opened, it had one T-bar lift, a warming hut and an A-frame chalet that served as a lodge. The resort is now in the process of implementing a $35 million master development plan that will add 20 more trails for a total of 50 trails and six new lifts for a total of 10 over the next 10 to 12 years. This season alone, guests can look forward to upgrades such as a new quad chairlift, 14 new trails, new locker rooms, a restaurant remodel and an on-mountain grill.
HOUSE OF BLUES KICKS OFF 20TH ANNIVERSARY CELEBRATION
The House of Blues Las Vegas at Mandalay Bay is joining 12 other House of Blues venues around the country in kicking off a 20th Anniversary extravaganza. With major sponsors Citi and Hertz, House of Blues tours are being scheduled throughout the U.S. over the next 20 months featuring bands such as ZZ Top in Las Vegas on Dec. 5 and 7 and Flogging Molly.
Collectively the House of Blues nationwide will be providing 20,000 Thanksgiving meals to the needy as part of the Feed the Souls Food Drive. The Las Vegas donation will be enhanced by a generous monetary donation from The Milagro Foundation, a charity established by resident headliner Carlos Santana and his family.
Other events include 20 public Happy Hour events from 5 – 8 p.m. in the Foundation Room in November and December that will benefit 20 local non-profit organizations.
In addition, for every ticket sold for House of Blues' 20th Anniversary concerts, $1 will go towards supporting the International House of Blues Foundation. The first House of Blues was established in Harvard Square and now there are 38 owned/operated clubs and theaters.
HOLIDAY SHOPPING BEGINS AT THANKSGIVING
The Miracle Mile Shops at Planet Hollywood with 170 specialty stores will remain open for shoppers from 10 a.m. to 11 p.m. on Thanksgiving Day. S.Y.L.K. will offer buy one, get one 50 percent off sale Nov. 22-25 and any shopper who spend more than $100 before noon on Black Friday will receive $25 off a future purchase. Also on Black Friday, Urban Outfitters will open at 3 a.m. and offer an additional 50 percent off sale items until 10 a.m. There will be other specials all weekend long.
The Fashion Outlets of Las Vegas in Primmm, Nev., will be open Thanksgiving Day from 10 a.m. – 5 p.m. Then at 10 p.m. on Thanksgiving, the mall will start its Fashionably Late Sale at 9 p.m. on Nov. 23. Free shuttle buses will depart from the MGM Grand in Las Vegas at 8:15 p.m. and arrive for pre-party festivities at O'Mulligans Pub with free t-shirt coupons, complimentary appetizers, prizes, and green savings cards. There will also be free coffee and Red Bull to keep you awake while supplies last. You can get a wake-up text message to gain access to sales and other promotions by texting "ShopLV" to 69302. And there will be a Rock-a-Thon from 10 p.m. to 10 a.m. hosted by the National All-American Elite Society to benefit the Pancreatic Cancer Action Network (PCAN).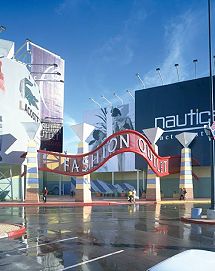 NEWS FROM NEW MEATBALL SPOT IN TOWN SQUARE
Last week, Mike Tyson, heavyweight champion of the world, enjoyed dinner at the new Meatball Spot in Town Square and had a vegan pizza and meatballs.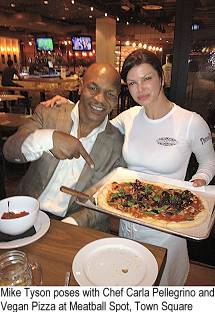 Meatball Spot will cater to "Twilight" fans everywhere with the "Battle of the Balls" featuring two signature meatball dishes Nov. 15-Dec. 15 in honor of the release of "The Twilight Saga: Breaking Dawn Part 2." The promotion will include movie inspired cocktails – the "Vampire's Kiss" and "Werewolf Bite."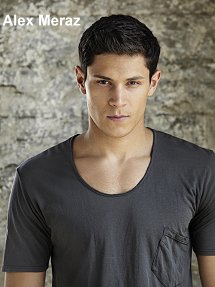 Actor Alex Meraz will dine at Meatball Spot as the world celebrates the release of "The Twilight Saga: Breaking Dawn Part 2" on Saturday, Nov. 17.
SPECIAL OFFERS FOR VETERANS AND MILITARY
"America's Got Talent Live In Las Vegas" is commemorating Veterans Day with a two-for-one ticket offers for service men and women and a free tickets for uniformed military from Nov. 11 through the show's final performance on Nov. 17.
All veterans with valid military ID for the rest of November will be offered $10 admission and 10 percent off retail and photos at the "Da Vinci- The Genius" exhibit at the Venetian.
TOP OF NEXT COLUMN
CHEF MICHEL RICHARD JOINS FOOD UNIVERSITY FACULTY

World-renowned Chef Michel Richard will be part of the inaugural Food University at Caesars Palace faculty, taking place Dec. 11-13. His name has just been added to the growing list of the culinary's finest who will be part of the event, which is designed to transform fun-loving foodies from across the country from spectators into competition-ready chefs. "Tuition" is $1,995 per person for the three-day sessions and includes all food and beverages and course instruction; visit www.FoodUniversityLasVegas.com

.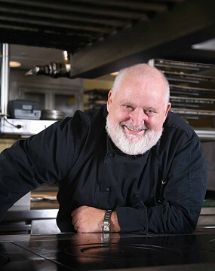 Chef Richard is credited with pioneering French/California cuisine before making his move to Washington, D.C., where Michel Richard Citronelle became his flagship restaurant. He went on to open the original Central Michel Richard in Washington, D.C. and win the James Beard Foundation Award for Best New Restaurant.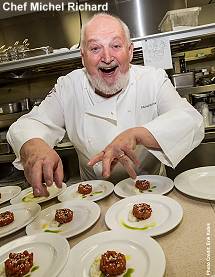 FUN MISC. NEWS ITEMS
LAX Nightclub will host the after-party for the "13th Annual Latin Grammy Awards" Thursday, Nov. 15 with live performances by DJ Kane and MAFFIO as well as special guest appearances from DJ Napoles, Desiree, Nash and Valentino. The Latin artists will take over the mega-club for an evening filled with non-stop entertainment.
Tabú nightclub at MGM Grand will have Angela Sarafyan and Rami Malek, two of the newest cast members in "The Twilight Saga: Breaking Dawn Part 2," hosting on the evening of Saturday, Nov. 17.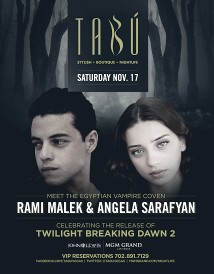 Ticket sales for the 17th annual Electric Daisy Carnival taking place June18-25, 2013, will resume on Jan. 9, 2013, at noon Pacific Time, with pricing to be announced in the coming weeks. The early bird tickets that went on sale earlier this month sold out in one hour.
Following naming Susan Wolfla as the first female executive chef of a property on the Las Vegas Strip, Mandalay Bay is again making history with Sara Johnson, director of food and beverage, being the only female cicerone in the state of Nevada.
Rice & Company at the Luxor will celebrate the seventh anniversary of the Carrot Top show on Saturday, Nov. 24 with a sushi roll created by the comic himself. The Carrot Top Roll made with fresh Alaskan king crab meat, carrots and cucumber is $18 and will be available Tuesday, Nov. 20 - Saturday, Nov. 24.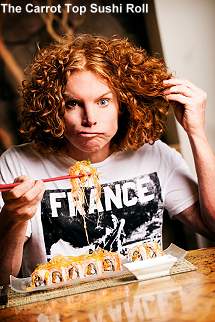 Bill Fayne & Rag Tag Entertainment is presenting "Showstoppers!" - The Best of Vegas Perform the Best of Broadway on Friday, Nov. 16. It will be an evening of Broadway classics performed by Vegas' top talent featuring cast members from "Jubilee!," "BITE," "Nunsense," "Phantom" and more. The show will be hosted by Kelly Clinton-Holmes, Andrew Wright, and Bill Fayne. Tickets are $25 to $40.
Column Continues Below Advertisement
Santa Claus will arrive at Tivoli Village on Friday, Nov. 23 at 10:30 a.m. in a parade with elves, a trackless train and gifts for children. The parade will end at Santa's house where children can visit him. At 1 p.m. the movie "Elf" will be shown and popcorn will be free.
A best mustache, real and faux, contest will be held at a day-party at the Palms on Saturday, Nov. 17 at 1 p.m. in the ghostbar.
On Thursday, Nov. 15 from 5:30 – 8 p.m., Saks Fifth Avenue at the Fashion Show Mall in The Men's Store along with actor Patrick Duffy will be holding a men's fashion event benefitting The Gay & Lesbian Community Center of Southern Nevada. The event will have cocktails and hors d'oeuves and be open to the public.
The 2013 Nevada Historical Calendar that's been produced annually by "Nevada Magazine" for 40 years is full of black-and-white photographs from years gone by. To order, visit nevadamagazine.com, or call 775-687-0603.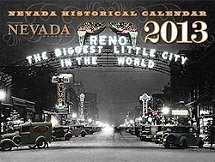 DRINK & DRAG DOWNTOWN PARTIES
StolichnayaR premium vodka will host a Las Vegas launch party at Drink & Drag downtown at Neonopolis on Friday, Nov. 30 to unveil two new flavors, Chocolat KokonutT and Salted KaramelT. Everyone in attendance will have the opportunity to sample the two new flavored vodkas during an open bar from 10-11 p.m.as well as try delicious Chocolat KokonutT and Salted KaramelT infused cupcakes from Pick Your Poison Bake Shop. The evening will also feature free bowling, giveaways and Stoli Boys.
Sailor Jerry Spiced Rum will host a Pin-Up Party at Drink & Drag on Wednesday, Nov. 21 beginning at 10 p.m. The evening will feature Sailor Jerry Pin-Up girls, an open bar from 10 -11 p.m., $5 drinks all night and giveaways. Drag King performances hosted by Kris Grajeda, sexy burlesque dancers and $1 bowling will also play into the evening's festivities.
WORLD'S LARGEST OBSERVATION WHEEL IS UNDERWAY
Caesars Entertainment Corp. is currently building The High Roller, the world's largest observation wheel, to serve as the majestic centerpiece of The LINQ, a new $550 million development encompassing an open-air retail, dining and entertainment district on the Strip. The Hettema Group, which spearheaded creative design and production of the USA Pavilion experience for the World Expo 2012 in Yeosu, South Korea, has been selected as the design team to work in collaboration with Arup for The High Roller. Arup is renowned for their engineering and design work on the London Eye and the Singapore Flyer.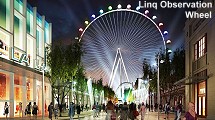 The giant wheel expected to open in late 2013 will have 28 air-conditioned cabins capable of carrying 40 people each during the 30-minute ride. Visitors will be able to reserve a cabin complete with cocktails, music and entertainment. The observation wheel has come a long way since the invention of the Ferris Wheel by G.W Ferris was the most popular attraction at the Chicago World's Fair in 1893.
EL CORTEZ WILL DISPLAY 10 HEART SCULPTURES
The El Cortez downtown and St. Jude Children's Research Hospital have partnered to host through December the first traveling "Hearts of Las Vegas" exhibit, featuring a collection of 10 artistic human-heart sculptures on El Cortez's Jackie Gaughan Plaza. The unveiling will be on Thursday, Dec. 6 at noon. The exhibit showcases three-dimensional, five-foot tall heart sculptures crafted by local artists.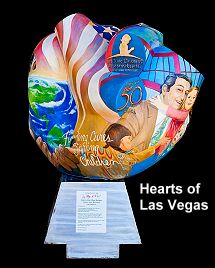 NEW COMMONWEALTH HOLDS BIKE RACK DESIGN CONTEST
Downtown's newest bar, Commonwealth, is holding the 2012 Bike Rack Design Challenge with contestants vying for the chance to win $1,000 and have their design installed outside the quintessential downtown cocktail bar. Designs should be original and created solely for the competition and submitted by 5 p.m. on Nov. 26 to BikeRack@Wendohmedia.com.
DOWNTOWN MOB MUSEUM RECOGNIZES KEFAUVER DAY
The Mob Museum will commemorate the anniversary of the Kefauver Committee hearing, which took place in its building on Nov. 15, 1950, with a day featuring special programming and free admission for Nevada residents. At 10 a.m., there will be a viewing of Jon Rubin's new hour-long documentary about the Kefauver Committee hearings, "Crimebuster: Senator Estes Kefauver, Politics, Television and Organized Crime."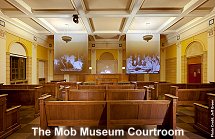 INSERT COIN(S) HOSTS 'ARTIST FOR A CAUSE' FUNDRAISER
Downtown Insert Coin(s) and the First Friday Foundation will be hosting the "Artists for a Cause" event constructed around video game inspired art on Nov. 14 to benefit The Nevada Childhood Cancer Foundation and Heaven Can Wait Animal Society. There will be a cocktail reception and silent auction from 8 – 10 p.m. with an after-party following. Entry to the event is free. For information, visit www.insertcoinslv.com.
Column Continues Below Advertisement
CONTINUE ON TO...:

THIS WEEK'S >LAUGHLIN NEWS
LAST WEEK'S >LAS VEGAS NEWS
>VEGAS VIEW FULL NEWS ARCHIVES
Return to >"Heard Around Town"
Return to >Las Vegas Leisure Guide