The Barrett-Jackson Auction Company announced at a recent reception at the House of Blues that they will bring their renowned collector car extravaganza to the city of Las Vegas in 2008. The world-famous event will take place Oct. 16-18, 2008, at the Mandalay Bay Events Center where spectacular autos, from vintage muscle cars to pre-war classic gems, will share the stage with luxurious lifestyle vendors and exclusive parties. SPEED will bring the action home with live TV coverage during the auction as approximately 600 of the world's finest collector cars are sold at No Reserve.
Barrett-Jackson has been producing "The World's Greatest Collector Car Events™" since 1971 in Scottsdale, Ariz., and launched an auction in Palm Beach, Fla., in 2002. In 2007, more than 300,000 attendees and millions of SPEED television viewers from around the world witnessed more than 1,870 cars being auctioned off for approximately $144 million in these two events combined.

Column Continues Below Advertisement


Beyond the auction, the three-day event will encompass a wide range of lifestyle offerings, including an automobilia auction, a vast display from auto vendors, The Garage venue for live music and fashion shows and a grand gala with a significant charity component benefiting the Lili Claire Foundation.
The Silverton Casino Lodge, located three miles south of Mandalay Bay off I-15, will begin a $130 million expansion project encompassing the resort's casino, dining and entertainment amenities. The casino and public space will increase by 35,000 square feet and include the addition of 800 slot machines, a high limit gaming salon, race & sports book and poker lounge. In addition, a retail shop, three restaurants, a high-energy center bar and a five-level, 1,500-space parking garage will also be constructed. The expansion is expected to be completed by early 2009.
A cutting edge $15 million entertainment and pool venue will be developed over nearly two acres. Five pools, 30 cabanas, five fire pits, three bars and an intimate beach retreat with hot tubs, cold plunges and swaying hammocks will be nestled in the landscaped venue. The oasis will also include a full stage capable of hosting headline entertainment for more than 2,000 concert and partygoers.
The Silverton currently offers 60,000 square feet of gaming with 1,400 slot machines, 30 table games and an intimate poker room. The Epicurean award-winning Twin Creeks will reopen on Dec. 4 after receiving a $3.7 million redesign.
Nevada Ballet Theatre, the state's largest professional ballet company and the internationally renowned Cirque du Soleil, will hold a premiere collaboration between the two organizations, "A Choreographers' Showcase: A Project Designed to Stimulate and Encourage Artistic Growth." The original production will include 10 original choreographed pieces; five from Nevada Ballet Theatre dancers and five from Cirque du Soleil artists.
The Showcase will take place on Dec. 2 at 1 p.m. at the Mystére Theatre at Treasure Island. Tickets are $15, call 702-894-7722. All proceeds will support Nevada Ballet Theatre.
For the third consecutive year, HBO will present The Comedy Festival's signature charity event, the Comedy Cares Celebrity Poker Tournament, co-hosted by Robert Frey of PURE Nightclub, Tom Jenkin, Gary Selesner of Caesars Palace, Jeffrey Pollack of Harrah's, and Tim Leiweke of AEG. Steve Schirripa will act as Master of Ceremonies. Anteing up will be "Entourage" and "Big Love" cast members including Adrian Grenier, Jerry Ferrara, Rex Lee, Douglas Smith and Joel McKinnon Miller. Joy Behar, Wayne Newton, Kevin Nealon, Nick Swardson, Jamie Kennedy, Chelsea Handler and Frank Trigg will also play with fans to raise funds to benefit Childrens Hospital Los Angeles (CHLA). Poker professional Daniel Negreanu will coach the players, and Las Vegas' Pussycat Dolls will make an appearance.
For the top three players, the prizes are: an extra walk-on role on HBO's series "Entourage," a World Series of Poker Academy two-day instructional at the venue of the winner's choosing, and an award-winning 747i 47" LCD flat screen HDTV from Olevia™.
The exclusive event will be held at PURE Nightclub at Caesars Palace on Friday Nov. 16 from 5 - 9 p.m. The buy-in of $10,000 is tax deductible with all proceeds going directly to CHLA. For information, call 5B Events at 310-559-9334.
The Comedy Festival Village is free to the public from 3 - 9 p.m. in Caesars Palace's outdoor Roman Plaza amphitheatre. The Festival Village will feature talent meet-and-greets, hourly giveaways, live performances and interactive activities for festival goers.
For a full schedule of events and ticket information, go online to www.thecomedyfestival.com, or phone at 877-TCF-FEST.
Lake Las Vegas Resort will open its Rockefeller-style ice rink from Nov. 16-Feb 17.
For the fourth year, skaters can enjoy the ice rink that floats on the 320-acre lake, off the shore of MonteLago Village. It uses 110, five gallon buckets of water and 12,000-pound chiller units to help keep the ice cold, and can accommodate up to 60 skaters at one time from noon to 9 p.m. The cost is $15 per person, $12 for children 12 years of age and under. Groups of 20 or more are $8 and season passes are also available for $125, which includes the cost of skate rentals.
Decorated for the holiday season, Lake Las Vegas creates a winter landscape in the middle of the desert. The ceremonial tree lighting, appearance by Santa Claus and a musical performance by a choir will be on Friday, Nov. 16. For information, call 564-1600.
Rockers Tool, after two sold-out shows earlier this year, are confirmed to return to the stage Dec. 13 and 14 inside The Pearl Concert Theater at The Palms. Tickets are $90 and $128, call 702-474-4000.
Led by Maynard James Keenan, Tool continues to corner the alternative, hard-rock market with their dark, theatrically charged anthems and loyal fan base. Forming in the early 90s and being a part of the post-grunge movement, Tool landed a spot on the popular Lollapalooza tour propelling them to the masses. After a hiatus, Tool returned with a vengeance in 2006 and released "10,000 Days."
Juice Newton will perform at Whiskey Pete's Showroom in Primm, Nev., Nov. 29 - Dec. 1. Primm is located 25 miles south of Las Vegas on Interstate 15. Tickets for her 8 p.m. shows are $24.95, call 702-474-4000.
Newton an American pop music and country singer has sold more than 13 million albums and garnered 20 Top-40 hit singles across the country, pop and adult contemporary charts. She has won two Album Artist of the Year Billboard Awards, one Grammy and a CMA Award for "New Female Vocalist of the Year."
The Springs Preserve will be presenting its first Winter Lights Festival beginning Friday, Nov. 23 with festivities continuing through the end of the year. The lights display in the 8-acre garden and throughout the Preserve will be created from half a million LED lights illuminated by solar power, a leading example of a sustainable holiday celebration. Performances by the Chaparral High School orchestra, Sign Language Performing Arts Team, Sign Design Theater and Cockroach Theater's original puppet show "Dicken's Done Over," are scheduled for the Springs Preserve's Courtyard Plaza, Garden Amphitheatre and Tool Shed Theater throughout the holiday season.
The Winter Lights Festival is open Friday through Sunday from 6 p.m. to 10 p.m. starting Nov. 23, and will be open daily from Dec. 24 through Dec. 30. Admission to the gardens only is $4 for adults and $2 for children ages 5-17, and for the gardens and galleries is $9 for adults and $4.50 for children.
Springs Café by Wolfgang Puck will offer holiday-inspired refreshments, complemented by live music on multiple stages, roving carolers and kiosks offering sustainable holiday gifts.
Here's an interesting option. Celebrate this New Year's on Dec. 30 and 31 with a weightless adventure aboard Zero Gravity Corporation's (ZERO-Gr), G-FORCE ONE. ZERO-G is the first and only FAA-approved provider of commercial weightless flights offered to the general public from its home base at McCarran International Airport. This is the identical weightless flight experience used by NASA to train its astronauts and by Ron Howard and Tom Hanks to film "Apollo-13."
ZERO-G has established a relationship with the Sharper Image Corporation to exclusively market and sell seats on its public flights through Sharper Image's 187 specialty-retail stores, their monthly catalog and Web site: www.sharperimage.com. The ZERO-G Experience, which includes training led by a professional astronaut, a flight of 15 parabolas, flight suit, complimentary merchandise, awards, a post-event party, photos, and a DVD of the flight, is offered at a price of $3,500 per seat, call 800-937-6480.
Tony, Emmy and Grammy winner Robert Goulet, who has been a Las Vegas resident for more than 30 years, recently lost his battle with a rare and rapidly progressive lung disease. In honor of his phenomenal talent and personality, Broadway paid tribute by turning off theatre lights and Las Vegas had all the marquees recognize the royal man of "Camelot.
Comedy impersonator Gordie Brown recently celebrated a year of success in the showroom at The Venetian with a special show and party. He's supported by a five-piece band for his musical routines and keeps his act incredibly fresh by always changing his quick-witted material. A couple interesting facts about this versatile Canadian-born talent are that he draws caricatures of celebrities and with a pal wrote and recorded the theme song for the Emmy-Award winning animated series, "Life with Louie."
Shintaro, the Japanese restaurant at Bellagio that opened in 1998 and overlooks the dancing fountains is being replaced by a Light Group eatery with a Japanese concept.
In addition at Bellagio, the New York-based Light Group is replacing the Light nightclub with a new night spot called The Bank.
Triple Five Nevada Development Corp., a retail developer is getting ready to buy an 18- acre site on the Las Vegas Strip next to the Riviera that includes the 6-acre site of the former La Concha Motel and 11 to 12 adjacent acres behind the Strip that includes the Villa Roma Inn at 220 Convention Center Drive. The company's development plans haven't been announced.
The ultra chic and trendy Los Angeles-based premium denim company True Religion has opened its first venture in Las Vegas at the Miracle Mile Shops at Planet Hollywood. The store has distinguished itself as a leader in the high-end denim market for men, women and kids. The brand also includes a multitude of colored corduroy pants, skirts, shirts, shorts, jackets, blazers, hoodies, T-shirts and more.
Strip House at Planet Hollywood, along with luxury lingerie designer Kiki de Montparnasse, has introduced Studio Manasse-inspired cocktail dress uniforms. The design is a coy but classic cocktail mini-dress perfectly executed in a soft, black, fine rib jersey. A high elegant front harmonizes a dangerously low back to reveal a signature satin lace-up corselette bra embellished with tulle lace and flutter sleeves,
The New Year's Eve dinner dance party at Cili, which overlooks a golf course, will offer three seating options priced at $225, $25 and $300, call 702-597-6361.
Copper Creek Partners, a local firm, is positioned to provide rental and fabrication services to the Las Vegas market. The company's 70,000-square-foot fabrication facility supports millwork and theme needs for bars, restaurants and nightclubs. The rental division supports corporate events. Visitors can readily witness the company's masterful flair because they created the chandelier, dome and 18 faux opera boxes dressed with mannequins for "Phantom-The Las Vegas Spectacular" at the Venetian.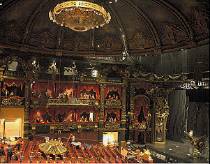 Arizona Charlie's, a local hotel / casino on Decatur, recently had its fourth major Zorro slot machine jackpot winner this year. The recent lucky Aristocrat's Zorro™ penny slot player won $50,000.
Hooters is offering round-the-clock dining by introducing Dan Marino's 24-Hour Dining, serving breakfast, lunch, dinner and late-night menus in a newly redecorated setting. Formerly named Dan Marino's Fine Food & Spirits, the 2007 Three Diamond Award recipient delivers upscale dining in a casual atmosphere. Marino's will take the place of the property's current 24-hour café, the DAM Restaurant, as it closed for reinvention on Oct. 23. Plans for the venue have not yet been announced.
Marino's refurbished venue includes splashes of brightness inspired by the Miami Beach landscape and features a wrap of the scenic southern Florida oceanfront covering the expansive windows of the exhibition kitchen.
CONTINUE ON TO...:
>THIS WEEK'S LAUGHLIN SEGMENT
>LAST WEEK'S LAS VEGAS SEGMENT
>VEGAS VIEW FULL ARCHIVES
>Return to "Heard Around Town"
>Return to Las Vegas Leisure Guide