FIRST RENDERINGS OF PLANNED LAS VEGAS ARENA UNVEILED!

Joint venture partners AEG and MGM Resorts International (NYSE: MGM), developers of a new world-class indoor arena in Las Vegas, have released the first images and details of the proposed 20,000-seat sports and entertainment venue, which is planned near the Strip and adjacent to the I-15 corridor.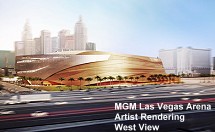 Expected to break ground in April 2014 and open in spring of 2016, the arena is being designed with an array of unrivaled premium offerings and club experiences. The project's anticipated cost is approximately $350 million.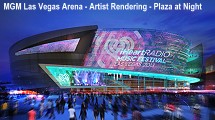 The renderings highlight exterior views of the arena, which reaches 145 feet at the highest point of the roof. A monumental glass entry façade with a giant LED overlay runs along the northeast side of the arena reaching a height of 118 feet at the parapet of the entry façade.
Column Continues Below Advertisement
CELTIC WOMAN TO LAUNCH VENETIAN'S 'WINTER IN VENICE'
Global music sensation Celtic Woman will kick off the holiday season during The Venetian's "Winter In Venice" celebration with four concerts in the Venetian Theatre: Nov. 22-23 and Nov. 27-28. Tickets start at $55.90.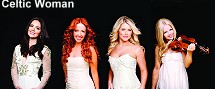 The 90-minute show, titled "Celtic Woman: Home For Christmas - The Symphony Tour," will feature a full symphony orchestra with Celtic violinist Máiréad Nesbitt and vocalists Lisa Lambe, Susan McFadden and newest singer Máiread Carlin. Since Celtic Woman's inception in 2004, all seven of their album releases have debuted at No. 1 on the Billboard World Music Chart.
The third annual "Winter in Venice" will feature 49 days of seasonal experiences throughout The Venetian and The Palazzo resorts from Nov. 18 through Jan. 5, 2014. Some event highlights will include a nightly winter parade, whimsical tree-lighting ceremonies, a 3D light projection show, an elaborate fantasy scene in The Palazzo Waterfall Gardens, and the skating rink above The Venetian's romantic outdoor Grand Canal.
HIGH ROLLER OBSERVATION WHEEL IS ATTACHING THE CABINS
The Las Vegas High Roller, which is the focal point of The Linq, Caesars Entertainment's $550 million center-Strip outdoor retail, dining and entertainment district, reached new heights when it attached the first passenger cabin on the wheel's rim and officially became the world's tallest observation wheel. The High Roller will feature 28 cabins that will each hold 40 passengers and weigh 22 tons. The process to attach the remaining cabins will take the next two months and forever change the skyline of the Strip.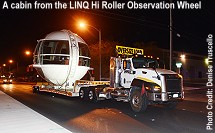 FLAMINGO RENOVATES GARDEN CHAPEL FOR WEDDINGS
The Flamingo has redesigned and renovated the Garden Chapel and offers all-new wedding packages ranging from $589 to $11,165. The renovation was completed in September and encompasses the chapel, lobby, reception, hallways, bridal room and restroom. Embracing a new element of glamour, the Garden Chapel showcases airy pink and neutral champagne tones complemented with sparkly elements and splashes of floral. The organic atmosphere features graceful columns, vaulted ceilings, interior draping and a centralized crystal chandelier. One of the main focal points is the infinity sculpture, designed to represent everlasting love, set above the contemporary interpretation of the altar. Pearlescent champagne pews are adorned with floral bouquets, complemented by modern flooring.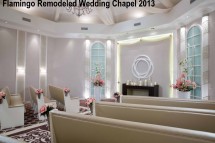 'ABSINTHE' SIGNS MULTI-YEAR EXTENSION AT CAESARS PALACE
Due to an overwhelming response, the acro-cabaret variety show "Absinthe" has signed a multi-year extension deal to stay in the spotlight in the Roman Plaza at Caesars Palace. The non-traditional show featuring The Gazillionaire, his assistant Penny Pibbets and a raucous bunch of characters, has been a Sin City favorite since opening in April 2011. Tickets are on sale through Oct. 5, 2014.
'MILLION DOLLAR QUARTET' STAYS ON AT HARRAH'S
The Tony® Award-winning musical "Million Dollar Quartet" that opened last February is set to continue its run at Harrah's in 2014. The show takes place on Dec. 4, 1956, when Sam Phillips, the "Father of Rock 'n' Roll," brought legendary musicians Elvis Presley, Johnny Cash, Jerry Lee Lewis and Carl Perkins together at the Sun Records storefront studio in Memphis for the first and only time. Tickets for performances through May 4 are on sale now and range from $62.70-86.90.
'THE PHAT PACK' ANNOUNCES A PHAT CELEBRATION AT CLOSING
"The Phat Pack," which opened in late November 2012, will close at the Plaza downtown on Saturday, Nov.16. At that performance, some of the alumni from the cast of "Phantom: The Las Vegas Spectacular" will come join the trio singing on stage. Although the show is closing, "The Phat Pack" made up of Randal Keith, Bruce Ewing and Kevan Patriquin is not disbanding.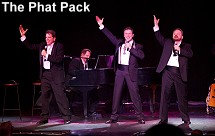 GOURMET FOOD TRUCK FESTIVAL PLANNED AT SUNSET PARK
A Gourmet Food Truck Festival will turn Sunset Park on Sunset Road at Eastern Avenue into an outdoor food court and family-friendly event from noon to 9 p.m. Saturday, Nov. 16. The park will host more than 30 local and regional food trucks and feature children's activities, a classic car show and live entertainment throughout the day. Headlining this year's event will be Crash Kings, an American rock band formed in Los Angeles, Calif., in 2006, along with local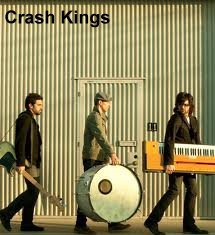 Las Vegas bands such as The Remedies, Lady Reiko and Sin City Prophets, Fleetwood Nicks, Paper Tigers, Love Vendetta, Ekoh and The Beau Hodges Band. The event, which Clark County Parks and Recreation plans to make an annual affair, is to celebrate the recent completion of a four-year, $11.7 million renovation project to the Las Vegas Valley's third-oldest park.
CRYSTALS HOLDS CHARITY EVENT 'FASHION GIVES BACK'
Fashion and philanthropy will collide on Thursday, Nov. 21 from 6 - 10 p.m. when The Shops at Crystals holds its "Fashion Gives Back" event hosted by celebrity fashion editor, stylist and co-host of E! Entertainment's "Fashion Police" George Kotsiopoulos. "Fashion Gives Back" partners more than a dozen designer boutiques with select local charities in an effort to raise money for their respective initiatives. Attendees will be treated to a fashion show and special in-store experiences. Admission is complimentary and open to the public. For additional details, visit crystalsatcitycenter.com.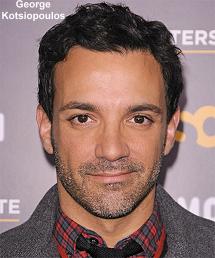 GIMME SOME SUGAR BAKE SHOPPE WILL OPEN IN HENDERSON
The duo behind custom cake studio Gimme Some Sugar, Kristen LoVullo and Ashley Mastowski who have been friends since college, will open the Gimme Some Sugar Bake Shoppe on Friday, Nov. 29 featuring a relaxed patisserie by day and an intimate dessert and wine bar at night. The Bake Shoppe features nostalgic and seasonal treats, vegan and gluten free items, coffee, teas, specialty wines, craft beers and sipping chocolate.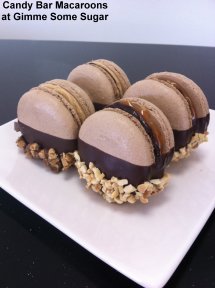 Open daily except Mondays at 19 S. Stephanie Street, Suite 150 in Henderson, the 1,400-square-foot space will be available for special and private events for up to 50 people. Hours will be: Tuesdays and Wednesdays from 11 a.m. to 10 p.m.; Thursdays through Saturdays from 11 a.m. to midnight; and Sundays from 11 a.m. to 5 p.m.
TOP OF NEXT COLUMN
DESERT SKYE PIPE BAND PRESENTS 'A CELTIC THANKSGIVING'
The Celtic Music and Dance Concert presented by Desert Skye Pipe Band will be held at the Clark County Library at 1401 E. Flamingo Road on Nov. 30 from 3:30-5:30 p.m. followed by an after-party with several of the performers at McFaddens at Town Square from 6:30-9 p.m. The concert and after-party are free to the public
The show will also feature Sharon Lynn's Celtic Crown Academy of Irish Dance, The Las Vegas Highland Dancers, "The Bard of Cornwall" ~ Jesse Ferguson and other guest performers for a presentation of Celtic music and dance.
Desert Skye Pipe Band has been performing in Las Vegas since 1999 and has become the premiere award-winning bagpipe band in the region. The band features 18 pipers and 10 drummers performing in traditional Celtic attire.
Jesse Ferguson will be traveling from Nova Scotia for this event. He is a folk musician who sings and plays several musical instruments including guitar, mandolin, fiddle, harmonica and bodhran.
SHOPPING LOCAL AT THE NEON HOLIDAY BAZAAR
On Saturday, Nov. 30, Small Business Saturday, the El Cortez and The Jeweler's Daughter, with support from Vegas Thread and Container Park, will join forces to present the Neon Bazaar, a local shopping event taking place in the Jackie Gaughan Parkway at the El Cortez downtown.
From noon to 6 p.m., the third installment of this eclectic, high-end pop up market will showcase more than 50 of the city's top retailers, designers, artists and small businesses. Shoppers will enjoy live music, local food trucks, photos with Santa, giveaways, and more. The Art Institute of Las Vegas will present fashion shows throughout the day featuring clothing and accessories from local designers and boutiques.
WINTERFEST GINGERBREAD HOUSE COMPETITION SEEKS ENTRIES
The city of Henderson is seeking entries for the WinterFest Gingerbread House Competition. All entries must be 90 percent edible, made of gingerbread, frosting and candy, and reflect the theme, "An Old-Fashioned Christmas Delight." It's complimentary to participate and cash prizes are awarded to top three gingerbread creations. Applications are available at HendersonLive.com and the registration deadline is Thursday, Dec. 5.
The WinterFest Gingerbread House Competition is a special tradition held during Henderson's annual Christmas celebration at the Henderson Convention Center. The elaborate and festive confectionary homes will be on display Friday, Dec. 13 from 6 -9 p.m. and Saturday, Dec. 14 from noon-8 p.m. Winners will be selected by popular vote and presented around 7:30 p.m. on Dec. 14.
SECOND 'HEADLINERS BASH' PLANNED AT THE QUAD
Win-Win Entertainment, a local nonprofit organization that pairs performers with charity events, will celebrate its second fundraiser show, "The Headliners Bash 2013," presented by the John C. Kish Foundation at The Quad on Friday, Nov. 22. The event will commence at 7:30 p.m. with a pre-reception and silent auction and show at 9 p.m. hosted by Clint Holmes and Kelly Clinton. Featured headliners will include: Véronic DiCaire from Bally's; Taylor Hicks and Jersey Boys from Paris; Million Dollar Quartet and Mac King from Harrah's; Frank Marino's Divas and Recycled Percussion from The Quad; Frankie Moreno from the Stratosphere, Human Nature from The Venetian, the Kristef Brothers from "America's Got Talent," and Win-Win's founder, The Quad headliner Jeff Civillico. The performance will also feature Lon Bronson as musical director with his eight-piece band. Tickets range from $29.99 to $69.99.
'ZUMBA-A-THON' WILL BENEFIT HELP OF SOUTHERN NEVADA
Strong In 1 Fitness and the Eastside Cannery are teaming up to raise funds for HELP of Southern Nevada at the first "Zumba-A-Thon" event on Saturday, Nov. 16 at 7:30 p.m. in the casino's One Six Sky Lounge on the 16th floor. With a $10 minimum monetary donation or five canned food items per person, guests can dance the night away to high-energy music and easy-to-follow choreography in support of the local nonprofit.
PRESTO CAFÉ CELEBRATES ONE YEAR AND HELPS SHADE TREE
Presto Neighborhood Café specializing in delicious and nutritious foods is celebrating its one-year mark by rolling out a new dinner menu along with hosting a holiday fundraiser for The Shade Tree women, children and pet shelter. Presto Café is donating 20 percent of all profits from dinner sales from now through Dec. 31 and customers can drop off donation and gifts for the Shade Tree shelter at Presto Café.
COMMONWEALTH DITCHES THE RAZOR FOR DOWNTOWN HABERDASH
Benefitting the Sapphire Prostate Foundation in No Shave November, the downtown cocktail bar on East Fremont Street is partnering with Heineken for the HaberDash at Commonwealth two-mile race and mustache bash after-party. Starting at 6 p.m. on Sunday, Nov. 24, participants will race through Downtown Las Vegas, free of charge, sporting styled 'staches. Facial hair enthusiasts have the option to purchase a HaberDash bag, which includes two complimentary Heineken beers, race sweatbands and other mustache swag, priced at $20. For more information, racers can visit www.facebook.com/events/253622311457023.
CONTEST WINNERS HAVE SMASHBURGER WEDDING ON 11/12/13
At exactly midnight on 11/12/13, the first wedding in Las Vegas will take place at Smashburger with a faux Elvis, Brendan Paul from Graceland Chapel, as the officiant. This Tuesday will be the busiest wedding day of the year, with 11/12/13 being the penultimate sequential date of the century. The six-tiered "wedding cake" will be made entirely of Smashburgers. The Florida couple won a nationwide search by submitting a video about their love for burgers and one another. They were high school sweethearts who lost touch and got reconnected decades later over beers and burgers.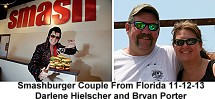 VEGAS PBS WILL HOST FOURTH ANNUAL 5K RUN & 1 MILE WALK
Vegas PBS will host its fourth annual 5K Run & 1 Mile Walk to benefit Keeping Kids Fit, an educational outreach program targeting childhood obesity. The family-friendly event will kick-off at 9 a.m. Saturday, Nov. 16 at the Vegas PBS Educational Technology Campus, 3050 E. Flamingo Road. Registration fees are $35 through Nov. 14 at VegasPBS.org/KKF5K and $40 the day of the race.
Celebrity pro BMX biker, Ricardo Laguna will appear at the event on his bike for a meet and greet, signing autographs and photo ops at the Jump 4 Joy booth. Vegas PBS star Daniel Tiger from "Daniel Tiger's Neighborhood" will also be on hand at the event to welcome the children and for photo ops. Other highlights include an obstacle course, fitness games and prizes, a social media booth, a high energy DJ spinning Top 40 favorites, health information booths, healthy refreshments, and 5K race awards.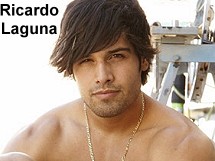 HAPPENINGS TO PONDER
Country superstar Shania Twain who is a headliner at The Colosseum at Caesars will serve as the Grand Marshal of Opportunity Village's Las Vegas Great Santa Run on Saturday, Dec. 7. Marking the 5k's ninth year, Twain will join thousands of Kris Kringles downtown for the nonprofit's largest annual fundraiser.
Surfset Las Vegas, the latest revolutionary workout trend from ABC's hit program "Shark Tank," will partner with Dress for Success Southern Nevada for a one-day donation drive on Saturday, Dec. 7, when a portion of each $20 class fee will go to the charity. Surfset offers four different styles of classes - Burn, Build, Balance and Blend - call 702-503-4780.
Chocolate & Spice Bakery at 7293 W Sahara will hold a hands-on holiday cookie-decorating class for kids on Thursday, Dec. 19 from 4 to 5 p.m. The $20 class offers tasty treats and refreshments and parents must be present. To sign up, email megan@chocolatenspice.com. Additionally, the neighborhood bakery is offering made-to-order seasonal pies and take-home holiday gift boxes through December.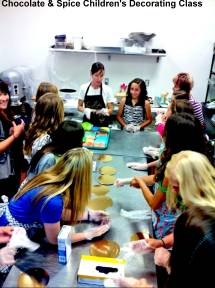 Firefly Tapas Kitchen and Bar's Westside location at 9560 W. Sahara Avenue has resumed serving lunch and also offers brunch every Saturday and Sunday. Firefly is celebrating the lunch service with a new menu and a new "10 buck lunch" deal.
The South Point Arena and Equestrian Center will host the Blenheim Equisports Las Vegas National Hunter and Jumper show Nov. 12 - 17. On Saturday, Nov. 16, guests have the opportunity to attend a special autograph session with 2016 United States Olympic Coach Robert Ridland and top equestrian riders including 2012 World Cup Qualifier and Grand Prix Champion Karl Cook. This event is free and open to the public.
Shingo Kobayashi from Tustin, Calif., was in town recently for SEMA, the premier automotive specialty products trade event at the Las Vegas Convention Center, when he won the progressive $273,003.84 jackpot on a quarter Wheel of Fortune slot machine at the LVH.
SAPPHIRE'S HOLDS SEVENTH ANNUAL PING PONG PALOOZA
The Seventh Annual Sapphire Gentlemen's Club Ping Pong Palooza benefitting Sapphire Foundation for Prostate Cancer will take place on Tuesday, Nov. 19 at 6 p.m. This event is the largest mixed team ping pong tournament in the world and has professional referees from the Las Vegas Table Tennis Association. The tournament pits teams of nightlife professionals against each other for a trophy. Teams must have minimum of four players and at least one female player. Heineken is the sponsor and will also be awarding prizes to the "Best Mustache" that evening.
Column Continues Below Advertisement
CONTINUE ON TO...:
THIS WEEK'S >LAUGHLIN NEWS
LAST WEEK'S >LAS VEGAS NEWS
>VEGAS VIEW FULL NEWS ARCHIVES
Return to >"Heard Around Town"
Return to >Las Vegas Leisure Guide