The much anticipated $100 million production marrying magician Criss Angel with Cirque du Soleil's highly interpretative creativity has opened at the Luxor. It's almost easier to say what the show isn't than what it is.
For Angel's avid fans of his A&E cable "Mindfreak" street-wise show, this is totally different because it takes on the melodic, extremely-stylized, artistic Cirque approach to theater. Angel appears throughout the show after a "dreamscape" is established when the illusionist is electrocuted and carried off stage on a gurney. From then on different scenarios take place making way for giant rabbits, monsters and Angel escaping death in pursuit of his true love.

Column Continues Below Advertisement


Illusions are buried inside of flowing scenes in such a manner that many viewers believe there are no magic tricks in the show. In traditional Cirque exploration, there are elaborate scenes like the wedding where the ghostly bride emerges and slowly moves downstage in a dress with an endless train that is raised into a vertical wall that Angel mystically walks down. Subtlety is key and slow moving is the pacing. The show is best described as artistic. Tickets range from $68.40-$168.50; call 702-262-4400.
Irishman Keith Barry has coined the word "hypnomagician" to describe his multi-talented act incorporating elements of magic, hypnosis, mentalism, psychology and humor. He's performing his one-man show at Planet Hollywood through Nov. 27 before he tours until next March when he plans to return to Las Vegas.
While Barry, 32, performs many standard tricks, his humorous approach is so fresh and new that you don't even know it. He involves dozens of audience members in his show and selects them randomly by tossing out jumbo foam darts and giant Frisbee-like discs. His tricks and illusions do astound and amaze but the real winning ingredient is his tremendous likeability. Tickets for his 9:30 p.m. shows are $55, call 474-4000.
Grammy award-winning country music singer and songwriter Travis Tritt will perform at the Tropicana, Dec. 5 at 10 p.m. and Dec. 6 at 9 p.m. in the Tiffany Theater. For tickets priced from $60, call 702-739-2411.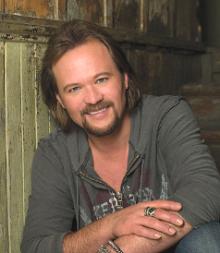 Tritt is best known for favorites such as "T-R-O-U-B-L-E," "It's a Great Day to be Alive," "Country Club," "I'm Gonna be Somebody" and "Here's a Quarter." Tritt continues to tour and highlight new selections from his latest album "The Storm."
Binion's downtown, which is iconic among poker players for its unmatched legacy in the game, has opened its brand-new poker room featuring 10 tables in a contemporary setting with deals such as a max rake of $3 on all live games, $2 comps per hour of live poker play, table-side food service and special room rates.
Historic photos are spaced around the room with eleven 42- and 50-inch plasma televisions. The Binion's Gallery of Champions and Poker Hall of Fame are located in the upscale concierge area, where available games are presented on electronic boards. The new 24-hour room is flanked by two full-service bars featuring cocktails and video poker.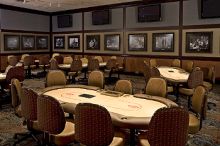 Since the acquisition of Binion's by TLC Casino Enterprises in March 2008, Binion's has opened a new race and sports book, introduced the new Benny's Bullpen Sports Bar & Cigar Lounge, revamped its $1 Million Display, added new table games, and reconfigured the casino floor. In addition, the property is nearing 100 percent completion to Ticket In Ticket Out technology on all slot and video poker machines and remodeling all 366 guest rooms.
The Henderson Fabtech Desert Classic will feature three races beginning at 6:30 a.m., 10 a.m. and 2 p.m. on Saturday, Dec. 6 in the Eldorado Valley, located between Henderson and Boulder City on U.S. Highway 95, near the Railroad Pass exit. Spectator admission is free.
This year for the event's 7th anniversary, there will be a new, more challenging race format. Some of the enhancements will include an improved 55-mile course, marked with tough terrain and scenic views of the McCullough Mountain Range; an infield with more spectator areas; and a grand prix finish.
As the season finale of the Best In The Desert 2008 racing season, the Henderson Fabtech Desert Classic will attract hundreds of drivers and riders representing 16 states with their racing cars, trucks, buggies, motorcycles and ATVs. Additionally, off-road race fans will be able to enjoy free ancillary events taking place in the Water Street District in Henderson from Dec. 5-7 including an Off-Road Expo complete with driver/rider meet and greets, vehicle displays, food, and merchandise vendors on Friday; and an awards ceremony on Sunday. For information, call 702-267-2171.
The 8th Annual "The Gift of Lights" featuring more than 400 holiday outdoor light displays that are being converted over to "green technology" will be open to the public from Friday, Nov. 14 through Monday, Jan. 4, 2009. This national award-winning event is held at Sunset Park on Eastern Avenue. Event hours are Sunday though Thursday from 5 - 9 p.m. and Friday, Saturday and Holidays from 5 to 10 p.m. Admission price is $13 per vehicle and you can get $2 off by bringing a bag of gently used items for Goodwill.
The Las Vegas Marathon will host a run-through wedding ceremony on the race course at A Special Memory Wedding Chapel at 800 S. 4th St. on Sunday, Dec. 7, 2008 at 7:15 a.m. At the start of the 2008 marathon, the "Running Reverend" Jaime Firzlaff will lead participating couples from the race starting line to the chapel. Once all the couples arrive, Firzlaff will conduct the ceremony before they continue along the race as newlyweds.
All couples registered for The 2008 Las Vegas Marathon may participate in the run-through wedding ceremony free of charge. For information or to sign up, e-mail Marti at Marti@TLCMediaWorks.com.
Pete George, the Rockstar of Comedy who has been a stand-up comedian and actor for more than 20 years, will headline at the Riviera Comedy Club with Tome Segura and Dan Gabriel, Nov. 17-23. Show times are 9 and 10:30 p.m. nightly. Tickets are $24.99, call 702-794-9433,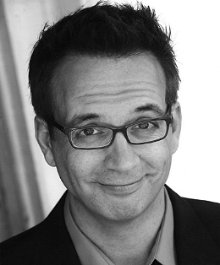 George ventured into a series of comedy competitions after several years of playing lead guitar in a Cleveland based rock band. A quick string of wins set him on a U.S. comedy tour, performing more than 6,000 shows at the country's most popular venues.
On the Hollywood side, his first acting job was on the seven-time Oscar nominated film, "The Shawshank Redemption." His starring role in "Round It Goes" written and directed by Joe Stillman has earned George honors at nine film festivals.
Rich Ceisler will headline at the Riviera Comedy Club, Nov. 10-16, with Carla Rae and Jacob Siros, who will make his debut appearance at the club.
Ceisler moved to Los Angeles and got involved with improv comedy in 1980 when he began a career in stand up, and epiphany prompted by the lure of half-priced drinks offered to performers. Since then, he has opened for Whitney Houston, Stanley Jordan, Jay Leno, Gladys Knight and The Pips, George Strait and many others and made many television appearances.
Bella, which is Italian for "beautiful," is a healthy dolphin calf born on Saturday, Sept. 6, to Huf n Puf, an Atlantic bottlenose dolphin. With this new addition, three generations of dolphins are represented at Siegfried & Roy's Secret Garden and Dolphin Habitat at The Mirage. An employee contest with more than 600 entries was held to name the youngster.
Huf n Puf, a first-time mother who was born at the habitat in March 2000, and Bella are in the Birthing and Research pool, which is open to public viewing during regular operational hours. Alongside the new mother and calf are Huf n Puf's mother, Duchess, and Duchess' son, Sgt. Pepper, who was born June 8, 2007. The calf's father, Lightning, is located in another pool.
Encore, the new signature resort in the Wynn collection, is now accepting room reservations for dates starting Jan. 12, 2009, call 888-320-7125 or 702-770-7171. Highlights will include five signature restaurants, 11 retail outlets, seven bars and lounges, a nightclub and spa and salon.
Singer T. Fox, who five years ago was working at the Tropicana in an open area, is now performing on the open outside patio at Trader Vic's at Planet Hollywood, which is an extension of the restaurant and overlooks the Strip. His free "Passion Patio Nights" show is from 8 p.m. to midnight, Thursday through Saturday.
AJ's Steakhouse located inside the Hard Rock is closing its doors after 10 years in business on Saturday, Dec. 13, at midnight. As a farewell until then, AJ's is inviting guests to "Dine Like Its 1999" with menu items priced equivalent to the time when the restaurant opened in 1999. In addition, AJ's will bring back the trademark grand piano every Friday and Saturday night from 9 p.m. to closing with local pianist Peter Radd playing signature tunes from the 1960s.

In celebration of the one-year anniversary of eyecandy sound lounge & bar™ located in Mandalay Bay, in conjunction with SpyOnVegas, will present famed hip-hop artist Tone Loc on Wednesday, Nov. 12 at 11 p.m. The event will feature a complimentary Snow Queen Vodka cocktail from 6 - 8 p.m. while a roaming magician performs sleight-of-hand tricks.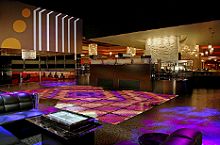 Wes Myles, commercial photographer and owner of Studio West Photography and the Arts Factory is planning to open Urban Lounge at Tinoco's downtown at 103 E. Charleston within six months.
The El Cortez downtown will celebrate Veteran's Day on Tuesday, Nov. 11 with free White Castle hamburgers for its players from noon to 6 p.m.
Buffalo Bill's Star of the Desert Arena lcoated off I-15 at the Californaia/Nevada border has the following headliners scheduled over the next month to do 8 p.m. shows. The B-52s will perform on Wednesday, Nov. 12. Originating as a new wave rock band formed in Athens, Ga., the band's name comes from a hairdo resembling the nose of an airplane. The B-52s are a party band with songs that focus on telling tall tales, glorifying youth and celebrating wild romance. Tickets are $54.95 and $39.95.
Country singer Lee Ann Womack will follow a few days later on Nov. 15. She grew up surrounded by country music and is the daughter of a DJ. Her album, "I Hope You Dance" was certified triple platinum by the RIAA and is her biggest selling album to date. Tickets are $39.95 and $29.95. Staying with country music, Dwight Yoakam will headline on Nov. 22. He has sold more than 25 million albums worldwide and had 12 gold albums and nine platinum and multi-platinum albums, including the triple platinum "This Time." Tickets are $74.95 and $44.95.
Now in their fourth decade performing, Three Dog Night will share center stage with the English pop band Herman's Hermits on Dec. 6. Both bands continue to grow and sing their many hit tunes. Tickets are $49.95 and $34.95.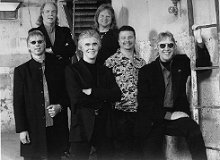 Michelin Guide's Las Vegas edition is a European nod to Las Vegas' evolution into one of the world's top dining destinations. Seven of the 17 restaurants honored with at least one Michelin star are within MGM MIRAGE properties. Receiving top honors is the Michelin three-star restaurant, Joël Robuchon at MGM Grand, the only Las Vegas recipient of this well-respected distinction. Earning an impressive two stars is Chef Julian Serrano's Picasso at Bellagio.
Rounding out the honors and capturing one star are five impressive restaurants - L'Atelier de Joël Robuchon at MGM Grand, Le Cirque at Bellagio, MICHAEL MINA at Bellagio, Aureole at Mandalay Bay and Mix atop THEhotel at Mandalay Bay.
CONTINUE ON TO...:
>THIS WEEK'S LAUGHLIN SEGMENT
>LAST WEEK'S LAS VEGAS SEGMENT
>VEGAS VIEW FULL ARCHIVES
>Return to "Heard Around Town"
>Return to Las Vegas Leisure Guide