HOT NEWS ITEMS
Barry Manilow will move to Paris Las Vegas on the Strip after his five-year contract with the Las Vegas Hilton ends Dec. 30. Manilow will open on Valentine's Day to coincide with the release of his new album of love songs.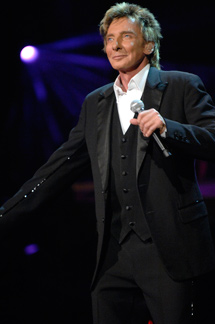 Comedy legend Shecky Greene will be at South Point on Jan. 8-10, 2010. He was outstanding at Suncoast this year with his phenomenal adlibbing.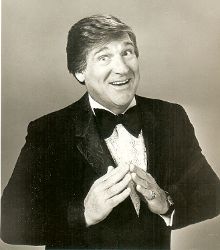 "Live! With Regis & Kelly" has scheduled a four-show visit Nov. 22-23 at the Encore Theatre at Wynn Las Vegas, which is less than three weeks before Garth Brooks' Dec. 11 debut in the same theater. The TV duo will tape at 11 a.m. and 1:30 p.m. on Sunday, Nov. 22 and Monday, Nov. 23. Ticket information is at https://register.go.com/ regisandkelly/tickets/index.
Column Continues Below Advertisement



CHICKENFOOT SET TO PLAY THE HARD ROCK DEC. 5
The new group calling itself Chickenfoot will perform at the Hard Rock on Dec. 5. Even though it's a silly name for a band -- and album – the talent lineup is four men with mind-blowing backgrounds that already fill the pages of rock history. There's Joe Satriani, Sammy Hagar, Michael Anthony and Chad Smith. The members of Chickenfoot admit that the band came together almost by accident, as a result of jams held at Hagar's club, Cabo Wabo Cantina, in Cabo San Lucas, Mexico. The news that they've pooled their inordinate talents to one collective whole quickly spread across the Internet last year. Tickets start at $39.50, call 800-745-3000.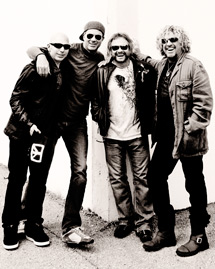 Satriani, who was 14 the day Jimi Hendrix died, upon hearing the news, quit his high school football team and decided to devote his life to the electric guitar. Satriani has become one of the world's most influential guitarists.
Hagar, the "Red Rocker," a Rock and Roll Hall of Fame inductee for his tenure with Van Halen, made his professional debut as the singer for the much-revered group Montrose during the early-70s.
A great band is nothing without a great rhythm section, and Chickenfoot has one of the best in the two-man team of bassist Michael Anthony and drummer Chad Smith. As a founding member (and fellow Rock and Roll Hall of Famer) of Van Halen, Anthony laid the bedrock for which guitar genius Eddie Van Halen could fly. Aiding Anthony is Smith, drummer for the Red Hot Chili Peppers.
THE CRANBERRIES WILL PERFORM AT THE PALMS
For the first time in seven years, The Cranberries original lineup headed by Dolores O'Riordan are embarking on a live tour Nov. 12 with a stop planned on Thursday, Dec. 3, at The Pearl Concert Theater inside the Palms. Tickets are $35, call 800-745-3000.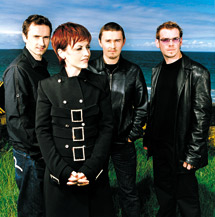 In January, O'Riordan played a set at Dublin's Trinity College with band members and brothers Noel and Mike Hogan to commemorate her being made an Honorary Patron of Trinity's Philosophical Society. The performance was the first time the band members had seen each other since 2003. Never officially broken up, the band instead has been on hiatus, and being in the same room and playing music together made them realize how much they had missed each other.
CHEF PIERRE GAGNAIRE WILL OPEN TWIST AT CITYCENTER
The hotel Mandarin Oriental will be prominently situated at the entrance of CityCenter. The new urban resort destination will introduce the award-winning cuisine of three-star Michelin Chef Pierre Gagnaire at the hotel's signature restaurant, Twist by Pierre Gagnaire. Opening in December 2009, Twist will be Gagnaire's first restaurant in the United States. It will seat 74, be located on the 23rd floor, and feature a dramatic, glass staircase leading up to a suspended wine loft. More than 300 gold globes will illuminate the space, appearing to float in the air across the ceiling. Elevated tables will allow every guest a view from the floor-to-ceiling windows that overlook the Las Vegas Strip.
PH TOWERS BY WESTGATE OPENS INFORMATION CENTERS
Two information centers for the two new PH Towers by Westgate have opened at the Miracle Mile Shops. The 50-story, blue glass PH Towers by Westgate will have 1,200 luxuriously appointed vacation villas ranging in size from one to four bedrooms and 28 exclusive penthouse suites varying from 4,000 to 10,000 square feet. The resort will be connected to the Miracle Mile Shops via a 100-foot-wide opening. Westgate Resorts is the largest privately-owned timeshare company in the world with 28 resorts and more than 400,000 owners worldwide.
SUNCOAST HOSTS INTERNATIONAL CAST IN 'VARIETY LIVE'
A troupe of international entertainers will perform in "Variety Live," a variety show direct from The London Palladium, at the Suncoast Showroom Nov. 27, 28 and 29. Tickets start from $19.95, call 702-636-7075.
"Variety Live" stars Las Vegas' own consummate magician and illusionist, Joseph Gabriel. He is joined by Kris Kremo of Switzerland, a world famous juggler with more than 30 years experience; the "Rolla Bolla" man, Spain's Tino Ferreira and his skillful balancing act; Hula Hoop performer and Russian beauty, Yelena Larkina; and singer Ben Stone with his English charm and fresh new sound.
'STEWIE AWARDs' WILL BE PRESENTED LIVE AT THE RIO
The third annual "Stewie Awards" co-hosted by two-time NASCAR Sprint Cup Series Champion Tony Stewart and Matt Yocum will be presented at the Rio On Dec. 3 during NASCAR Champions Week and honor the best, boldest and funniest moments from the 2009 NASCAR season. The two-hour event will be a live broadcast airing on SIRIUS NASCAR Radio.
Some examples of award categories are: "I Got Dumped" Award – acknowledging the year's most memorable on-track bumping; "Feels Like The First Time" Award – recognizing the most notable "first" of the NASCAR season; and Hal Needham Award (Best Stunt Sequence) – acknowledging the year's most spectacular crash.
TOP OF NEXT COLUMN
MARTIN NIEVERA RETURNS TO THE SUNCOAST
Popular Las Vegas entertainer and "Concert King" of the Philippines, Martin Nievera will return to the Suncoast Showroom for a weekend of solo performances Nov. 13 - 15. Tickets start from $19.95, call 702-636-7075.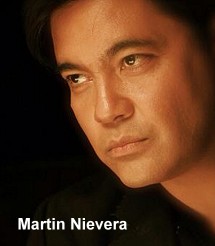 Nievera is a popular recording artist with several platinum albums, including "Martin…Take One," "The Best Gift," "Forever," and its sequels "Forever Forever" and "Return to Forever." He has appeared in 11 films and seven television series and specials.
Earlier this year, Nievera twice shared the Suncoast Showroom stage with fellow entertainers Clint Holmes, Susan Anton and Domenick Allen and together they call themselves Vocal Soup.
'PHANTOM' AT VENETIAN CELEBRATED 1,500 SHOWS
After three and a half years, "Phantom – The Las Vegas Spectacular" at the Venetian hit another milestone when the show celebrated its 1,500th performance on Friday, Oct. 30.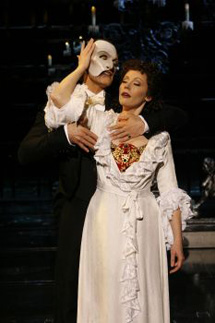 Some fun trivia items are: "The Phantom" has spent 1,500 hours in the make-up chair; ingénue "Christine Daaé" has had 16,500 costume changes and given 7,500 on stage kisses; Mr. Ubaldo Piangi has belted out 3,000 high Cs; more than 5,703 hours have been spent maintaining the other star of the show, the one-ton, 15-foot tall, 16-foot wide chandelier; and the crew has executed 21,000 elaborate set changes.
NINTH ANNUAL GIFT OF LIGHTS SET TO OPEN AT SUNSET PARK
The Ninth Annual Gift of Lights will illuminate Sunset Park at Eastern Avenue and Sunset Road from Nov. 13 through Jan. 3. The award-winning holiday nighttime light event is viewed by visitors from their vehicles. The display is open from 5 to 10 p.m. on Fridays, Saturdays and holidays, and from 5 to 9 p.m. Sundays through Thursdays. Admission is $13 per vehicle, Mondays through Thursdays, and $15 the rest of the time including holidays. A special $2 discount will be given to folks who donate gently-used items to Goodwill of Southern Nevada at any Goodwill location or on-site at the event. For information, call 702-455-8200.
VETERANS DAY SPECIALS
This Veterans Day, Carlos Santana is honoring the men and women who serve our country with a special ticket offer to see "Supernatural Santana: A Trip Through the Hits" at The Joint at the Hard Rock. Military members and their families can receive 20 percent off their tickets from Nov. 11-22 on Wednesday, Fridays, Saturdays and Sundays. Tickets start at $51 and the password is VETSANT while supplies last; call 800-745-3000.
Blue Man Group will honor America's heroes with proceeds from its 7 p.m. performance at the Venetian on Thursday, Nov. 12 benefiting the families of U.S. veterans. Proceeds from the show will go to ThanksUSA to provide education scholarships for the spouses and children of veterans. Tickets to the special performance begin at $100, call 866-641-SHOW (7469) and mention the code: ThanksUSA.
QUICK CLIPS
The World Chess Championship will be held at the Riviera, Dec. 1-13, 2009. This will be a historic event because for the first time in history, anyone in the world will be eligible to participate in the competition to determine a challenger to play the defending WCF World Chess Champion in a title match. For information, contact the World Chess Federation, Inc., call 702-418-4687 or e-mail: wcfworldchesschampion@yahoo.com.
World-renowned artist Peter Max returns to Las Vegas to host an in-gallery art exhibit at the Art of Peter Max Gallery at the Forum Shops at Caesars Palace on Saturday, Nov. 28 from 2 to 4 p.m. Max will unveil his newest collection of 16" x 14" acrylic on canvas paintings that pay homage to the masters of expressionism, including Rembrandt, da Vinci, Van Gogh and Picasso, priced at $22,000 each. This is a free public event.
On Nov. 13, A Taste for the Arts is a fundraising event being held in Boulder City at the Boulder Creek Pavilion. The event will have food tasting, live music, silent and live auctions, Christmas tree auction, and a wine pull. Tickets are $30, call 702-293-7731, and proceeds will benefit the Boulder City Public Art Scape, which is an outdoor sculpture exhibit in Old Town Boulder City. Sculptors loan their work free of charge for one year and at the end, judges select the top three choices for awards.
Comedy-magician and afternoon Strip headliner Mac King, who was interviewed on CBS's "Sunday Morning with Charles Osgood" on Nov. 1, will be celebrating his 10-year anniversary at Harrah's Las Vegas, and give a performance in the 53rd Annual "It's Magic," on Sunday, Nov. 8 at the Kodak Theatre in Hollywood, Calif.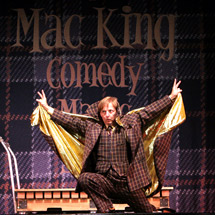 The mob-themed Capo's Italian Steakhouse on Tropicana is open again at its original location on West Tropicana between Decatur and Jones.
"Defending the Caveman" at the Excalibur moved its matinee performance time to 3 p.m. This one-man show starring Kevin Burke is a perfect comedy for couples.
The Las Vegas Boulevard section between Sahara and Washington avenues, which is about 3.5 miles long, has received a National Scenic Byway designation that the Strip south of Sahara Avenue received years ago. This north section has vintage buildings, the towering Stratosphere Hotel and lots of neon. A $300,000 grant will pay for restoring two more signs from the Neon Museum and eventually signs will decorate the median along this stretch.
Cher will be doing two benefit performances of her show at The Coliseum at Caesars Palace on Dec. 8 and 9 to support Nevada Public Radio (NPR). Four hundred tickets – 200 for each performance – will benefit NPR. Members' price is $200 and $225 for listeners. Tickets can be purchased through Nevada Public Radio, call 702-258-989.
Lunch Trays for Home Days is an art show and fundraising event featuring local artists and live entertainment on Friday, Nov. 20 from 7 – 10 p.m. at The Arts Factory, 107 E. Charleston Blvd. Local artists have designed individual lunch trays that will be on display and available for purchase with proceeds benefiting Three Square's Backpack Program. The event is open to the public.
Column Continues Below Advertisement
CONTINUE ON TO...:
>THIS WEEK'S LAUGHLIN NEWS
>LAST WEEK'S LAS VEGAS NEWS
>VEGAS VIEW FULL NEWS ARCHIVES
>Return to "Heard Around Town"
>Return to Las Vegas Leisure Guide