LADY LUCK WILL BECOME DOWNTOWN GRAND
The shuttered Lady Luck downtown will be revived as the Downtown Grand and the Lady Luck sign in the best condition will be donated to the nearby Neon Museum. When the project is completed, it will have 11 restaurants, seven bars, a 50,000-square-foot casino, and 22,000 square feet of retail space over 6.27 acres.
The Downtown Grand is the closest resort property to the $42 million, taxpayer-funded Mob Museum, which is set to open in February. One change will be the removal of the bridge that connects the resort's two towers and blocks the front view of the Mob Museum.
In addition, owners have acquired the nearby Binion's parking garage for $6 million.
Column Continues Below Advertisement
MAKEOVER PLANNED FOR THE SAHARA
The Sahara closed six months ago and owners are planning a remodel. Plans call for the existing room towers, Tunis, Tangiers and Alexandria, to be renovated, for the roller coaster to be dismantled, a 2,830-square-foot beer garden and a 21,000-square-foot nightclub to be built, a new pool deck area, and the addition of 41,000 square feet of meeting and convention space. Hotel rooms will be decreased from 1,700 to 1,622 with retail, tenant and restaurant spaces to be added, and the casino floor renovated.
JORDIN SPARKS WILL KICK OFF WINTER IN VENICE™
The Venetian® and The Palazzo® will feature Grammy-nominated recording artist and "American Idol" winner, Jordin Sparks, performing during the resorts' kick-off ceremony for Winter in Venice™. Open to the public, the complimentary festive event will take place on Monday, Nov. 21, from 6 to 8:30 p.m. at the front exterior of The Venetian.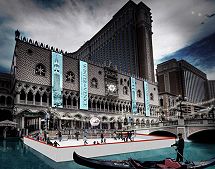 Winter in Venice will be a 49-day holiday celebration running through Jan. 8, 2012, with many special events including the outdoor ice skating rink at The Venetian's front exterior that will be open daily from 11 a.m. to 11 p.m. Made of recyclable polymer, the synthetic ice rink requires no refrigeration or electricity.
The kick-off evening will also feature the inaugural showing of the "Nightly Holiday Spectacular," a light show at The Venetian's Doge's palace nightly at 6:30, 7:30, 8:30, 9:30 and 10:30 p.m. that includes a majestic angel, tenor statues, dancing violinists and the lighting of a 65-foot LED holiday tree.
TROPICANA WILL OPEN NEW RPM NIGHTCLUB
Tropicana Las Vegas is continuing its transformation by introducing the addition of RPM Nightclub during New Year's Eve weekend. Starting Dec. 30, RPM Nightclub will be open Wednesdays, Fridays and Saturdays at 10:30 p.m. The nightclub will feature today's hottest stars and top recording artists as well as a variety of world-class DJs, dancers and specialty acts.
The sleek and stylish 16,500-square-foot venue will offer table games and roulette inside an elite gaming lounge, and have three bars.
BELLAGIO CONSERVATORY HIGHLIGHTS AUTUMN
Attracting more than 22,000 visitors daily, Bellagio's Conservatory & Botanical Gardens free autumn display running through Nov. 27 features three majestic hand-planted horse sculptures comprised of more than 31,000 plants, a 20-foot-tall cornucopia, a 15-foot-tall scarecrow, a 20-foot-tall fairytale talking apple tree, two three-foot-tall apples, a Newton high-wheel wagon circa 1870, and a towering 35-foot-tall cider mill powered by a gentle stream and surrounded by a bed of massive pumpkins, ranging in size from 300 to 1,000 pounds.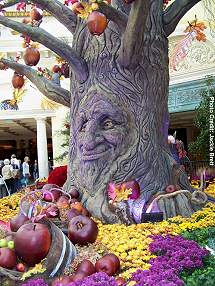 VENETIAN/PALAZZO HOST ANNUAL CARNIVAL OF CUISINE
The Venetian® and The Palazzo® will hold their fourth annual food festival Carnival of Cuisine on Saturday, Dec. 10 from 1 to 4 p.m. in The Palazzo Ballroom and showcase award-winning cuisine available exclusively at the two resorts' restaurants. Tickets are $60 and $85 with discounts for Grazie® loyalty card holders, call 702-414-9000 or visit venetian.com or palazzo.com.
There will be cooking demonstrations, tastings from more than 15 eateries including five James Beard Award winners, a variety of specialty drinks and prizes.
MGM GRAND REMODELS ROOMS AND SUITES
The MGM Grand plans a $160 million remodel project that includes all 3,570 guest rooms and 642 suites in the hotel's main tower. The remodel expected to conclude by September 2012 will incorporate environmentally responsible elements including LED lighting and improved thermostats and solar shades to better manage temperature and guest comfort.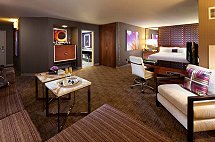 BOULDER STATION COMPLETES HOTEL REMODEL
The 300 guest rooms and suites at the AAA Three Diamond Rated off-Strip Boulder Station now sport a contemporary boutique feel resulting from a top-to-bottom interior remodel. In addition, room amenities include 40-inch plasma televisions, beds with pillow top mattresses and triple sheeting, computer desks and high-speed Wi-Fi, room service and built-in custom closets.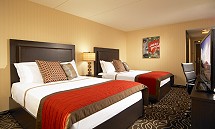 CIRQUE WEEK PLANNED IN DECEMBER
Cirque du Soleil will present the second Cirque Week, offering fans access to a 10-day series of exclusive events, Dec. 1-10. Activities will include technology demonstrations, behind-the-scenes dress rehearsals, Q & A with coaches and show technicians, a celebrity meet and greet and much more. In addition to the variety of ticket packages and an all-access pass to the private events, attendees will receive an exclusive commemorative gift.
AVIATION NATION CELEBRATES AMERICA's MILITARY
Aviation Nation is scheduled at Nellis Air Force Base in North Las Vegas, Nov. 12-13, and celebrates the work of America's military. The U.S. Air Force Thunderbirds will headline the two-day event which will also feature several military air demonstrations teams and some of the nation's top civilian air performers. Aviation Nation will showcase 100 aircrafts covering everything from the earliest days of aviation to some of the nation's newest military aircrafts.
FERRAGAMO REMODEL OPENS AS NEW BOUTIQUE
Salvatore Ferragamo, the leading Italian purveyor of luxury fashion, has reopened inside The Forum Shops at Caesars. The new storefront design is landmarked by high end polished stainless steel and a new signage fabrication highlighting the iconic Salvatore Ferragamo signature. The interior has traditional champagne tone finished metals, imported polished limestone, backlit glass, a new lighting design featuring extensive use of LED energy efficient lighting, as well as floating surfaces and suspended forms.
MAC PRO HOLDS TWO-DAY HOLIDAY EVENT
MAC Pro inside The Forum Shops has planned a large-scale two-day event on Nov. 11 and 12 from 1 – 8 p.m. to launch the 2011 Holiday Collection of Glitter & Ice. The event features stylish, glamorous displays and décor, complimentary makeovers, live DJs, refreshments and skaters in front of the store on a specially-created ice platform. MAC senior artist Tiffany Johnston will also be on hand to share her makeup expertise.
ERNEST BORGNINE AND LONI ANDERSON VISIT ANTIQUITIES
Oscar winning actor Ernest Borgnine, now 94 years old, will be making a historical signing and photo op appearance at Antiquities memorabilia store inside the Forum Shops at Caesars Palace on Friday, Nov. 18 from 4 - 7 p.m. Loni Anderson will appear from 7-10 p.m. Photo ops are $20 and $30 for autographed photos and collectibles.
TOP PARTY DJS FACE OFF AT PALMS
The Red Bull Thre3Style DJ contest finals will be held at Rain Nightclub inside the Palms on Thursday, Nov. 10, at 10 p.m. Eleven of the country's top DJs will each perform a 15-minute set that must contain at least three different musical genres. A panel of music industry judges will select the winner based on track selection, creativity, mixing skills, stage presence and crowd reaction, ultimately deciding who is best on the decks. The winner will represent the United States in the Red Bull Thre3Style International Final in Vancouver, B.C. in December.
The competition will be hosted by DJ Hapa (Scratch Academy) and DJ Hollywood (The Beatclan). DJ Vice will headline the night with a special performance along with other surprise guests.
Ages 21+ can text "3Style" to "72855" for free admission onto guest list; otherwise, there will be a charge at the door.
TOP OF NEXT COLUMN
16TH ANNUAL ELECTRIC DAISY CARNIVAL IS SELLING OUT

The return of Insomniac's Electric Daisy Carnival to Las Vegas on June 8-10, 2012, has proven to be one of the most anticipated in company history, with the first allotment of tickets selling out in less than 36 hours. The second tier of tickets will be released for purchase on Jan. 3, visit www.electricdaisycarnival.com

and www.insomniac.com.

After hosting more than 230,000 fans during Electric Daisy Carnival 2011, the world's top musical and artistic talent will return to the Las Vegas Motor Speedway for the 16th Annual three-day festival.

S.Y.L.K. OPENS FIRST LAS VEGAS LOCATION

S.Y.L.K., which features edited versions of current runway looks at affordable prices, has opened its first Las Vegas location at the Miracle Mile Shops. The boutique's concept is based on their belief that "Every woman is four women." S.Y.L.K. houses closet spaces of four trend-setting women, Sienna (Bohemian Hippie), Ynes (French Parisian), Liv (Rocker Chic) and Kim (Hollywood Glam). Shoppers will also find a great selection of fashion basics, premium denim, shoes, handbags and accessories.

VEGAS DESIGN CENTER HOLDS PUBLIC FALL SALE

The public can save up to 70 percent on select furniture, fabrics, lighting, floor coverings, wall decor, and accessories throughout the Las Vegas Design Center downtown, Nov. 11-12. Guests are encouraged to visit the Design Salon to learn about the products and services offered and can stop by Mundo, A Culinary Haute Spot for lunch.

SHAKESPEARE COMPANY MOVES TO REED WHIPPLE
The award-winning Las Vegas Shakespeare Company is moving to downtown's Cultural Corridor. In early 2012, the former Reed Whipple Cultural Center, located at 821 Las Vegas Blvd. N., will reopen as the Las Vegas Shakespeare Theatre. The 33,000-square-foot facility will house two performance spaces, scene and costume shops, rehearsal space, offices, classrooms, a gift shop and storage.
The Cultural Corridor also includes the Las Vegas Natural History Museum, the Neon Boneyard, the Old Las Vegas Mormon Fort and State Historic Park, the Las Vegas Library and Cashman Center.
QUICK CLIPS
Legendary artist, songwriter, musician and producer Stevie Wonder will ring in the New Year at The Chelsea in The Cosmopolitan at 9:30 p.m. Tickets are on sale, call 877-551-7778.
The 12th Annual Latin Grammy Awards will take place at the Mandalay Bay Events Center on Thursday, Nov. 10. This marks the fourth time Las Vegas will host the international showcase of Latin music.
Rock musician and original drummer for the legendary band, Scorpions, Herman Rarebell will host a book signing for the debut of his autobiography, "And Speaking of Scorpions," in the Hard Rock Store at the Hard Rock Hotel on Tuesday, Nov. 8, from 5-7 p.m.
The Jonas Brothers' band member, Kevin Jonas, will celebrate his 24th birthday at Chateau Nightclub & Gardens on Saturday, Nov. 12.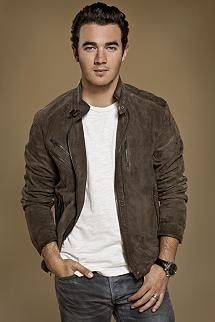 The Charlie Daniels Band will bring their country, southern rock and Christian music to The Orleans Showroom, Dec. 9 and 10 at 8 p.m. as part of Boyd Gaming's Wrangler National Finals Rodeo entertainment lineup. Tickets start from $29.95, call 702-365-7075.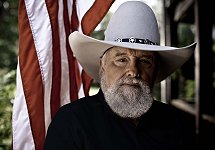 McFadden's Restaurant and Saloon at the Rio will celebrate National Area Code Day on Thursday, Nov. 10, with area code-inspired drink specials. All patrons will be eligible for discounted drinks based on the first digit of their phone number area code starting at 10 p.m.
After a two-year residency, Carlos Santana and his band will return to The Joint at Hard Rock with their show "Supernatural Santana: A Trip Through The Hits" for three final performances Nov. 11-13.
CSI: The Experience at the MGM Grand, based on the hit CBS show, celebrated its two year anniversary with two notable Vegas celebrities Holly Madison and Carrot Top gaining some hands-on knowledge. In honor of the anniversary, the attraction is donating to the celebs' favorite charities $1 from each ticket sold Nov. 3 - 10.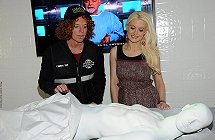 LeAnn Rimes has postponed her special acoustic performance to benefit StandUp For Kids at Green Valley Ranch, scheduled for Nov. 3, due to illness. The sold-out performance has been rescheduled for Saturday, Dec. 3.
Theater owner David Saxe is offering free show tickets to the men and women who serve our country on Veterans Day. Veterans and active-duty military will receive a complimentary ticket to see any of the four shows at Saxe Theater and V Theater inside Miracle Mile Shops at Planet Hollywood. The shows include: "V The Ultimate Variety Show," "BeatleShow!," "The Mentalist" and "VEGAS! The Show.
Celebrating a two-year renaissance, Caesars Palace has launched an interactive media player to provide consumers with the latest information, video and photography. The renaissance, which began in March 2011 with the return of Celine Dion, encompasses significant entertainment premieres, award-winning restaurant additions and the debut of two new highly anticipated hotel towers.
Non-profit New Vista will hold its first Zipathon Marathon at Bootleg Canyon Flightlines in Boulder City, Nev., on Sunday, Dec. 4 from 7 a.m. to 4 p.m. "Flying Fund Raisers" will spend their day completing the zip lines a minimum of 25 times and a maximum of 50 times in one day and raise $2,500 to $5,000 per flyer or team. For information, visit www.NewVistaNV.org or call 702-457-4677 ext. 25.
Raja Majid, owner of Origin India Restaurant and Bar located on Paradise Road across from the Hard Rock, has been awarded this year's Restaurant Neighbor Award from the Nevada Restaurant Association, which is given to restaurants that exemplify the industry's community support and philanthropic spirit.
Actor, singer, dancer Rick Faugno, who headlines his one-man show Body & Soul" at the Las Vegas Hilton, was honored recently with Orlando Film Festival's prestigious "Best Performance" award for his lead role as 26-year-old scrap hauler Alexander Mann in the multiple award-winning independent film, "Virgin Alexander" in October 2011.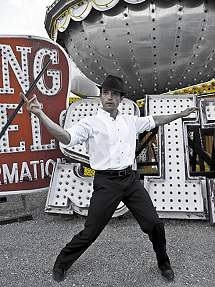 The Cleveland Clinic Lou Ruvo Center for Brain Health downtown will honor National Alzheimer's Disease Awareness Month by illuminating the Keep Memory Alive Event Center in purple from dusk through 7 p.m. all November.
ART VARGAS RECREATES GOLDEN ERA AT RAMPART CASINO
Las Vegas retro showman Art Vargas, who recreates the Golden era of Las Vegas live onstage with song and dance performances reminiscent of the Strip's legendary stars, will perform at the Rampart Casino, Nov. 18-20. The show includes the Swingin' Swank Set band featuring special guest star Laura Shaffer. Advance tickets are $15 with one drink included and $20 at the door, call 702-507-5900.
WALT BOENIG BAND BOOKED IN BRUCE TRENT PARK
There will be a free jazz concert in Bruce Trent Park ay 8851 Vegas Drive by the eight-member Walt Boenig Band on Saturday, Nov. 19, at 3 p.m. The eight-member band will perform on the east side of the park on the brightly colored Arts Connection show mobile, call 702-229-5902 for more information.
Boenig's career as a trombonist included such road bands as the Glenn Miller Orchestra, Harry James Orchestra, Jimmy Dorsey Orchestra and a Tom Jones South Africa tour. Since arriving in Las Vegas in the mid '70s, he has performed with the house bands at many Strip hotels.
Column Continues Below Advertisement
CONTINUE ON TO...:

>THIS WEEK'S LAUGHLIN NEWS
>LAST WEEK'S LAS VEGAS NEWS
>VEGAS VIEWS FULL NEWS ARCHIVES
>Return to "Heard Around Town"
>Return to Las Vegas Leisure Guide