The Luxor will welcome the legendary Dame Edna for a limited engagement at the Luxor Theatre with an exclusive 16-show run from Dec. 18 through 31. Tickets are $75 and $60 plus applicable service charges and taxes, call 702-262-4900.
Dame Edna arrives in Las Vegas direct from the triumphant Broadway season of her all-new extravaganza, "Dame Edna: Back With A Vengeance!" Dame Edna crafted her latest production, "Dame Edna: A Dame in the Desert," especially for Las Vegas from her private estate in her native Australia.

Column Continues Below Advertisement


Dame Edna will be assisted in her unique brand of caring and sharing by "the Gorgeous Ednaettes," scrumptious girl dancers in stunning costumes, and Wayne Barker, the unconventionally handsome Master of the Dame's Musick manipulating keyboard instruments.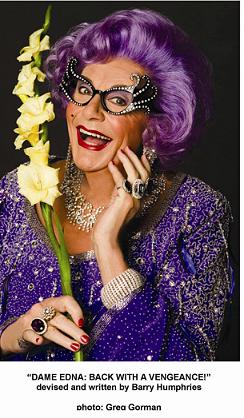 Created by Australian actor, author, painter, composer and racing car driver, Barry Humphries, Dame Edna is a national icon in her native Australia, as well as a housewife, talk show host, adviser to British royalty, widow, investigative journalist, guru and legend.
Wayne Newton will bring his acclaimed touring holiday show to the Flamingo from Thanksgiving evening, Nov. 24 through Dec. 23. It will mark the first time Newton's holiday show has been performed in the famed singer's hometown. Tickets are $65 and $75 plus a handling fee, call 702-733.3333 or 800-221.7299. A limited number of Golden Circle tickets, which will include a meet-and-greet and photo with Newton, will be available for $100.
"Mr. Las Vegas" will star in the show, singing favorite songs of the season on a winter wonderland set tailored for the Flamingo stage. Appearing with Newton will be his talented orchestra, ensemble singers, exotic animals and other holiday surprises.
Kanye West, one of hip-hop's elite, will perform in concert on New Year's Eve at the Aladdin Theatre. The show will begin at 8 p.m. with a soon-to-be-announced special guest. Tickets are $150, $95 and $75 plus tax and handling charges, call Ticketmaster at 702-474-4000.
West's new album, "Late Registration" debuted at No. 1 to the tune of 860,000 copies sold in early September. The second single from that release, "Gold Digger," featuring Jamie Foxx, sits atop the Billboard Hot 100. It's Kanye's first No. 1 single since last year's "Slow Jamz."
In 2004, Kanye was nominated for an astounding 10 Grammy's for his groundbreaking, multi-platinum Roc-A-Fella debut, "The College Dropout." Kanye took home three - including "Best Rap Song" for his anthem "Jesus Walks."
Dan Finnerty, dressed as a mechanic with two accountant-styled back-up singers complete with suits and glasses, form The Dan Band and have quickly become the hottest ticket in Los Angeles. The Dan Band sold out their first Las Vegas appearance last month at the Aladdin Showroom, where they will headline again on Nov. 25 and 26 at 10 p.m. Tickets are 39.50 plus service charges and tax, call 877-333-9474.
The Dan Band has been entertaining hip, in-the-know audiences in Los Angeles since lead singer Finnerty first experimented with "I Am Woman" while singing karaoke. The audience found the rendition hilarious and Finnerty founded the idea of a masculine band singing '80s and '90s diva pop hits. They have appeared on numerous network talk shows and gained some screen time in "Old School" covering Bonnie Tyler's "Total Eclipse of the Heart" and Roberta Flack's "Feel Like Making Love" in "Starsky and Hutch."
This past August, The Dan Band was celebrated with an hour-long special on Bravo produced by Steven Spielberg and McG of "Charlie's Angels."
Ethel M® Chocolates will create a "Chocolate Wonderland," at their local factory and Cactus Garden. From Nov. 17 through Jan. 2, 2006, families will be able to stroll down the illuminated cacti pathways of Ethel M® Chocolates Botanical Cactus Garden nightly and experience the sights, smells and sounds of a Chocolate Wonderland from sundown to 10 p.m. In addition to the more than 250,000 lights, award-winning Pastry Chef Patrice Caillot will demonstrate and showcase chocolate houses and other sculptures made from chocolate.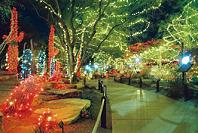 At various times during the season, local choirs will perform holiday tunes in addition to Santa making appearances in the garden on Friday and Saturday evenings through Dec. 23. All events and tours are free to the public. For information, call 1-800-4ETHELM (800-438-4356).
Lake Las Vegas Resort will welcome the holiday season with an evening of festivities to commemorate the opening of the MonteLago Village's floating ice rink on Friday, Nov. 18, from 6 to 7:30 p.m.
Beginning at 6 p.m., the Helen Joy Choir will serenade with holiday songs before an ice skating performance at 6:30 p.m. A tree lighting ceremony will take place under a glittering dusting of "snow" at 7:15 p.m. and then guests are invited to mingle and pose for photos with Santa Claus and his elves. Ice skating on the 40-foot by 70-foot floating rink will be available from Nov. 18, through Feb. 14, 2006, and open to the public daily at a cost of $12 per child and $15 per adult for an all-day pass. Times vary month to month.
The Cannery in North Las Vegas will present Johnny Lee & The Urban Cowboy Band on Nov. 19 inside The Club. Tickets are $12.95 plus tax and applicable fees, call 617-5585 or 866-287-4643 (toll free).
In 1968, he began a 10-year working relationship with Mickey Gilley, both on the road and at Gilley's nightclub in Pasadena, Texas. Lee became a major star after being featured in the film "Urban Cowboy," starring John Travolta and Debra Winger. Shot largely at Gilley's club, the 1980 box office hit spawned a series of hit singles including "Lookin' for Love."
During the '90s, Lee's recording career was largely on hold. He returned to the studio to record his 2003 album, "13th of July," on the Title Tunes label.
Actor, director and producer Kevin Sorbo will be speaking at the SAG Foundation's national "Conversations" series at the Suncoast in northwest Las Vegas on Saturday, Nov. 12 from 11 a.m. to 1 p.m. Sorbo has been named the third most bankable star in syndication behind Regis Philbin and Oprah Winfrey. Admission is free to the public; RSVP online by e-mailing conversations@sag.org or calling 702-636-7075.
Conversations is a part of SAG Foundation's "ActorSpeak" and was designed for high profile actors, producers, directors, writers to share their experience and knowledge of acting and the entertainment industry. The Foundation has produced over 350 events in 19 cities with more than 75,000 participating since November 2001.
Sorbo quickly rose to international stardom in the title role of the hit series, "Hercules: The Legendary Journeys." Beginning as five two-hour telefilms in 1993, the popularity of the made-for television movies resulted in the January 1995 launch of the weekly one-hour series, which became a breakout hit.
Sorbo stars as Dylan Hunt in the science-fiction, action-hour sensation, "Gene Roddenberry's Andromeda." Since its debut in 2000, the show has been the number one action hour in first run syndication and is entering into its third season.
Chef de Cuisine Eduardo Perez will host his annual cooking class at Wolfgang Puck's Spago inside the Forum Shops at Caesars at 10 a.m. on Nov. 12 and 19. Cost is $45 an there's a limit of 30 people. Participants will receive a Wolfgang Puck baseball cap and a $25 gift card for Namb'. To reserve space, call 702-369-0360.
Recently, the Las Vegas Monorail randomly surprised its 10 millionth passenger since opening the four-mile, driverless, state-of-the-art urban transportation system along the east side of the famous Las Vegas Strip in 2004.
Paul Savoia from St. Catharines, Ontario, Canada, was notified shortly after entering the fare gate where monorail officials hosted a small recognition ceremony and presented the winner with a lifetime pass on the Monorail; a three-day, two-night future stay at the Sahara Hotel; two tickets to see Barry Manilow at the Las Vegas Hilton; two tickets each to Legends in Concert and The Auto Collection at Imperial Palace and a golf shirt from MGM Grand Hotel.
PURE Nightclub at Caesars Palace will celebrate its one-year anniversary and the New Year with celebrity couple Nicky Hilton and Kevin Connolly and their friends. Advance tickets for this event are $200, call 702.474.4000.
In addition, one lucky bidder on Ubid.com will be a part of the duo's entourage for the weekend. The package includes everything from flying to town with the couple on their private jet and staying at Caesars Palace in a suite to a $2,000 shopping spree at Marciano with Hilton and having dinner with the couple and their friends at Spago. The auction ended Nov. 1.
The 24-hour Rainbow Bar & Grill has launched a two-for-one early bird special that will run through 2005. Patrons can enjoy the two-for-one special on all entrees when dining daily from 5 to 7 p.m. Just mention the special when ordering.
The Food & Beverage Directors Association of Las Vegas is hosting a day of golf and industry camaraderie at the Tournament Players Club (TPC) in Summerlin on Monday, Nov. 21. This event is open to the public with a participant fee of $175 per person or $600 for a foursome; contact Lloyd Wentzell at 702-794-9602.
Commander's Palace Las Vegas in The Shops at Desert Passage recently hosted its 125th birthday bash for Commander's Palace New Orleans, which has been a New Orleans landmark known for award-winning quality food, service and spacious dining rooms.
On Halloween, the Riviera released a limited edition of 500 themed $5 chips with three scary characters revealing their alter egos on the flip side of the fun chip "Ghouls Just Wanna Have Fun!"
As the nation remembers and honors the brave deeds and amazing accomplishments of veterans from all American wars, Las Vegas is planning an operation of its own, Operation Welcome Home to assure Vietnam Veterans receive their long-deserved welcome home.
The series of events taking place from Nov. 10 - 13 will provide a special four-day national kickoff of Operation Welcome Home, which will be a year-long celebration to publicly honor and thank America's 2.7 million military personnel who served during Vietnam.
The Las Vegas Veterans Day Parade on Friday, Nov.11, will host more than 110 parade entries, floats, and more than 2,500 individuals participating. Operation Welcome Home is putting a half-scale model of the Vietnam Memorial Wall located in Washington D.C. at Boyd Gaming's Main Street Station property from Nov. 10 - 13.
The free Fremont Street Experience Patriot Party downtown will take place under the 1,500-foot Viva Vision canopy that rises above Fremont Street. Scheduled headliners include Felix Cavaliere's Rascals on Nov. 11 and the legendary '70s rock band The Guess Who on Nov. 12. A special light show called "Above and Beyond" will debut in honor of the veterans on Nov. 11.
Capping the festivities will be Aviation Nation, the Nellis Air Force Base - Las Vegas Centennial Air Show, on Saturday and Sunday, Nov 13 and 14. There will be performances by the U.S. Air Force Thunderbirds demonstration team and the Boyd Gaming-sponsored Las Vegas Air Racing wingtip-to-wingtip demonstration of the world's fastest motorsport. The air show will also host an official Operation Welcome Home recognition ceremony with colorful Vietnam-era air and ground displays.
Domino teams from Mexico, USA, Spain, Venezuela, Puerto Rico, and the Dominican Republic will converge at "The World Domino Tournament '05" being held at the Las Vegas Hilton, Nov. 18-20. More than 256 two-person teams will put up $1,000 each to compete for the $150,000 Grand Prize, the richest domino tournament ever.
The Tournament action of the quarterfinals, semis and finals will be captured with seven one-hour, "reality-type" shows that will present the contestants as they go through their routines in reaching the finals. These shows will be broadcast on a National Spanish TV station during the first quarter of 2006.
Jimmie "Dyn-O-Mite" Walker, who starred as "J.J." in the popular six-year television sitcom, "Good Times," returns to headline at the Riviera Comedy Club during the Thanksgiving holiday, Nov. 21-27. Walker was a rising stand-up comedian before attaining stardom on television and making his phrase "dyn-o-mite" a household word.
These days Walker spends 30-35 weeks a year on the road, when he's not writing material for comedy specials, creating scripts for television and motion pictures, appearing on game shows or "Late Night With David Letterman."
CONTINUE ON TO...:
>THIS WEEK'S LAUGHLIN SEGMENT
>LAST WEEK'S LAS VEGAS SEGMENT
>VEGAS VIEWS FULL ARCHIVES
>Return to "Heard Around Town"
>Return to Las Vegas Leisure Guide