Impressionist Gordie Brown was very good while he headlined downtown at the Golden Nugget, but he's found a perfect fit for his show in his new 800-seat theater at the Venetian. A ballroom near the Blue Man Group's theater was converted to a raked showroom that has created an intimate environment with no bad seats.
The Montreal native, who was a political cartoonist in Canada before going into show business, has honed and crafted a fast-paced unpredictable show featuring his singing skill, incredible rapid-fire jokes, and adlibbing skillfully wrapped in tremendous impressions. You are never bored and can't predict what he'll do next. His act is definitely built around humor and less around painstaking celebrity recreations like fellow Mirage headliner Danny Gans' act.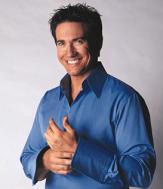 Column Continues Below Advertisement
The likeable Brown spent five years polishing his act in Lake Tahoe and Reno and then at the Golden Nugget downtown. Siegfried & Roy's longtime manager Bernie Yuman has taken over guiding his career and this move to the Venetian is definitely a home run. Adding to the show's success is a dynamite five-member band and flexible light-panel backdrops. Tickets for the must-see show are $64 to $74; call 702-414-1000.
At the time the $10 million, 1,065-room Stardust resort opened on July 2, 1958, it was the worlds' largest resort. It was also the prototype of the mass-market casino resort like Circus Circus and Excalibur. This week the 48-year-old Stardust closed to make room for the $4 billion Echelon Place. A public auction for Stardust items will be held Nov. 17 - 21, with inspection dates being held Nov. 13-16.of items Personally the Stardust holds a lot of great memories for me. It was the first Las Vegas hotel I visited in 1958 with my mother and on Oct. 28, I saw the resort's last headliner show starring the incomparable Steve and Eydie backed by a 28-piece orchestra with her. It was a moment I'll always cherish.
The Stardust encountered many milestones over the years. It was defined from the start by an innovative three-dimensional, 16-foot-diameter model of the solar system making up its facade. It pioneered the Strip's first keno lounge and staged the town's first topless stage production. In 1964, the Stardust added a nine-story tower and with 1,470 rooms, it remained Las Vegas' largest hotel-casino until the International opened in 1969. In 1975, the resort opened its $2 million, 8,000-square-foot race and sports book with an unbelievable $100,000 limit.
The Stardust's infamous early mob years were exploited in the hit film "Casino." The mob controlled days ended when The Boyd Group purchased the property in 1985.
It was the Stardust that solidified the iconic image of the Las Vegas showgirl when it imported the "Lido de Paris" from France for the hotel's opening. From 1978 through 1981, Siegfried & Roy were the specialty act in the show. The elaborate production ran through February 1991, and it was followed by "Enter the Night" through 1999. Wayne Newton headlined at the hotel from 2000 to 2005.
Then there are many fun facts such as the Stardust operated on the scale of a major city in the 1970s. It boasted a 72,000-square-foot casino, the world's largest at the time, and had its own power plant, a laundry that washed 11,000 sheets and pillowcases daily, dining rooms that served 40,00 meals a week and a security force bigger than most police department.
It's easy to go on and on about the Stardust's colorful history but suffice to say it will be missed.
The Comedy Festival has announced that Dave Chappelle will perform on Nov. 16 at 8 p.m. in The Colosseum at Caesars Palace. Also returning to TCF is Bill Maher, who will perform Nov. 16 at 10:30 p.m. in The Colosseum. Tickets are on sale, phone at 877-TCF-FEST.
Chappelle and Maher join TCF with the previously announced star-studded line up including Dane Cook, Sarah Silverman, Don Rickles, Kathy Griffin, Mario Cantone, Bob Saget and "Oh, Oh, Oh . . . The Tom Joyner Comedy Show" featuring Mike Epps, Mo'Nique, Damon Wayans, and Katt Williams.
The Comedy Festival (TCF), presented by HBO and AEG Live will take place for the second consecutive year at Caesars Palace, Nov. 14 - 18.
TFC has announced additional programming including Sarah Silverman and her "Magical Friends Weirdo and Beardo" (Brian Posehn and Zach Galifianakis), Triumph's Poopapalooza II with Triumph the Insult Comic Dog, Jim Gaffigan, Frank Caliendo and Harland Williams, and Bob Saget will be joined by Jim Norton and Jeffrey Ross "For Adults Only." In addition, George Lopez has been named the host of the "Stand Up or Sit Down Comedy Challenge" while David Spade, Tavis Smiley, and Mario Joyner will now join HBO Chairman and CEO Chris Albrecht in presenting The Comedian award to Chris Rock.
This year, 21 of the nation's top comedy clubs were asked to choose their favorite comedian to perform at The Comedy Festival and compete against each other in the Lucky 21 competition. Fans will vote for their favorite comedian and the winner will receive an invitation to the 2007 HBO Comedy Festival in Aspen, Colo. The shows will take place at the Emperors Ballroom on Nov. 16 at 7 and 10:30 p.m., Nov. 17 at 10 p.m. and 12:30 a.m., and Nov. 18 at 7:30 p.m. and 10 p.m.
Five fully-packed days of activities are planned for the new interactive TCF Village located in the outdoor Roman Plaza amphitheatre of Caesars Palace. Hosted by Woody Wittman and his co-host Mikalah Gordon, the TCF Village will feature free live performances, talent meet and greets, karaoke, cigar bar, vendors, hourly giveaways and a chance to win $10,000 or a trip to Aspen and the HBO Comedy Festival.
Tickets for individual shows and packages are available, phone 877-TCF-FEST. For festival information and schedule updates, visit www.thecomedyfestival.com.
Las Vegas Sands Chairman Sheldon Adelson has been named one of the tradeshow industry's most influential people by "Tradeshow Week" magazine and two of his executives Eric Bello and Wolfram Diener have also made the distinguished list.
Rumors have been going around lately and now more news is coming out that four-time Grammy winner and Jehovah's Witness convert Prince will be headlining at the Rio and opening a nightclub in the former Club Rio space, where Greg Thompson's topless revue "Erocktica" recently closed.
Prince's most recent album, released in March, is titled "3121" and his new Web site is 3121.com. There are hints that his admission charge may sometimes be $31.21. In addition, CBS reportedly has signed Prince to perform at the 2007 Super Bowl in Miami.
It's been announced that a 5.4-acre World Jewelry Center will feature a 1 million-square-foot commercial park designed to bring together jewelry retailers, manufacturers, wholesalers and consumers. The jewelry complex will be located across the street from the new World Travel Market Center downtown. Construction is scheduled to begin in 2007, with completion planned in late 2009 to mid-2010.
The center's office tower will contain about 800,000 square feet of space, with meeting and exhibition areas, gem-grading laboratories, classrooms and a private club. Services will include restaurants, secure shipping and receiving, and a foreign trade zone. A 125,000-square-foot retail center will be open to the public and house jewelry, a gem museum, a café and 90,000 square feet of store space. Up to 25 residential condominiums will line the office towers' top floors with units ranging from 1,800 to 5,000 square feet.
It is official now, Michael Gaughan, 63, now owns the 10-month-old South Coast outright and the south Strip property is renamed South Point. Gaughan's plans to add space for several more restaurants including Michael's, the upscale gourmet eatery that has been a dining magnet at the Barbary Coast since 1981. The new Michael's will relocate next spring and almost be a carbon copy of the current eatery with 12 booths and four tables in the middle of the room. Michael's will remain open at the Barbary Coast until the move.
South Point features 1,350 rooms, an 80,000-square-foot casino, a 300-seat race and sports book, 600-seat bingo hall, and a 4,400-seat equestrian complex. Gaughan could begin construction on a third hotel tower by the end of 2007 or early 2008. In addition, the South Point has 40,000 square feet for future casino space and 30,000 square feet of potential public space.
The Rampart Casino located in northwest Las Vegas will present Moments to Remember with The Four Lads and The Diamonds on Sunday, Nov. 12 in the Grand Ballroom at 8 p.m. Tickets are $20.
The Four Lads launched their professional career in 1950 singing in local clubs around Toronto. Mitch Miller discovered them in New York and put them on the million-selling Johnnie Ray records "Cry" and "The Little White Cloud That Cried." After that, the Lads were signed to their own recording contract, receiving their first Gold Record in 1953 for "Istanbul." Their success story includes the sale of some 50 million singles and albums.
It has been more than 49 years since The Diamonds released an instant million selling hit called "Little Darlin'," which to date has sold approximately 20 million copies. They followed that hit with an impressive string of other Top 40 tunes like "The Stroll" and "Why Do Fools Fall In Love?"
Greg Thompson's "Bareback" adult production at Harrah's has closed without fanfare.
The NY-based upscale fashion-forward new boutique Intermix at The Forum Shops at Caesars has embraced the concept of "mixing" unexpected combinations. The company's inception was in 1993.
The Billboard Music Awards will return to the MGM Grand Garden arena on Dec. 4. Tickets are $50, $100 and $195.
Veterans' Day weekend at the Fremont Street Experience includes free 9 to 11 p.m. concerts from rock legend Mark Farner formerly of Grand Funk on Friday, Nov. 10 and country great Aaron Tippin on Saturday, Nov. 11.
Hip-hop favorite Talib Kweli will hit the House of Blues at Mandalay Bay on Nov. 24. Tickets range from $22 to $45.
The free Sirens of TI outdoor sexy-pirate water show staged in front of Treasure Island has switched to new winter hours with appearances nightly at 5:30, 7, 8:30 and 10 p.m. The show will be closed Nov. 27 through Dec. 20 for maintenance.
The 26th annual Ms. Senior America Pageant will take place at the Imperial Palace, Nov. 7-11. Each of the 33 contestants from across the United States must be at least 60 years old. They will be judged in four categories including evening gowns. Four pageant events being held from 1 p.m. to 4:30 p.m. in the IP's Imperial Theatre are open to the public. Each event ticket is $25 at the IP's Show and Tour Desk or by calling 888-777-7664. Senior America Inc. was founded in 1971 to promote the positive aspects of aging in response to the then bleak media image of America's elderly.
The Carmel Room at the Rampart Casino in northwest Las Vegas is presenting another season of Afternoon Tea costing $29. The highly successful tea parties from last year have been complemented by the addition of a classic Sunday brunch for $39. Afternoon Tea and Brunch is available every Sunday from 10 a.m. until 2 p.m., call 702-507-5955.
Las Vegas attorney James "Bucky" Buchanan, whose "Las Vegas Law" reality show aired 12 episodes on Court TV this year, and Chip Lightman, who was Mirage headliner Danny Gans' manager for awhile, are teaming up to own and operate the old-time Las Vegas restaurant Coachman's Inn on Eastern Avenue and Desert Inn Road beginning next year.
Henderson is one of 70 cities included on Moscow Ballet's 14th annual United States holiday tour. The troupe will present Moscow Ballet's Great Russian Nutcracker at the Henderson Pavilion on Nov. 14 at 7 p.m. Tickets can be purchased at 702-267-4TIX (4849).
The seasonal poolside Imperial Hawaiian Luau at the Imperial Palace has officially closed for this year.
The upscale plush "13" Martini Bar at Hooters Casino offers different specials including happy hour cocktail and hors d'oeuvres specials Monday through Friday from 4 p.m. to 7 p.m. and again from 1 a.m. to 4 a.m. On Wednesdays, ladies drink free from 9 p.m. to midnight. On Tuesdays, there are two-for-one drink specials from 9 p.m. to 2 a.m. Football season deals happen Saturday through Monday. A band performs Tuesday-Thursday, 10 p.m. to 2 a.m., and Friday-Saturday, 11 p.m. to 3 a.m.
CONTINUE ON TO...:
>THIS WEEK'S LAUGHLIN SEGMENT
>LAST WEEK'S LAS VEGAS SEGMENT
>VEGAS VIEWS FULL ARCHIVES
>Return to "Heard Around Town"
>Return to Las Vegas Leisure Guide