LAUGHLIN EVENT CENTER WILL FEATURE KID ROCK!

American singer-songwriter Kid Rock will energize the outdoor Laughlin Event Center on Saturday, Nov. 10 at 8 p.m. Tickets start at $60.

In a career spanning more than 20 years, Kid Rock has made 11 studio albums. He burst onto the music scene in 1998 with his "Devil Without a Cause" album. The recording artist with hit singles like "Bawitdaba" and "Cowboy" to "Picture" and "All Summer Long" has sold more than 26 million albums. His last album in 2017 "Sweet Southern Sugar" was his first one recorded in Nashville.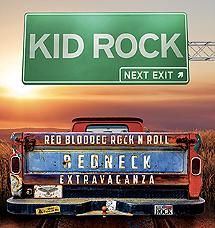 Rock's music has encompassed different genres including rock, hip hop and country. In addition, he's a self-taught multi-instrumentalist who can play every instrument in his backup band.
DWIGHT YOAKAM BRINGS HIS MUSIC TO THE EDGEWATER
Multiple Grammy Award winner Dwight Yoakam will headline The E Center at the Edgewater on Saturday, Dec. 1 at 8 p.m. Tickets start at $35.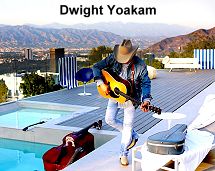 Yoakam has sold more than 25 million albums worldwide, with 12 being gold and nine reaching platinum or multi-platinum status. He is also the recipient of the Americana Music Association's prestigious "Artist of the Year" award.
For many folks, country music legend Yoakam is well known for his film and TV acting career. He's appeared in more than 40 feature films including "Sling Blade" and "Panic Room." Recently, he appeared in director Steven Soderbergh's film "Logan Lucky" with Channing Tatum and Daniel Craig. Yoakam has impressively appeared with many more famous actors including Matthew McConaughey, Tommy Lee Jones, Jared Leto, Forest Whitaker and Jodie Foster.
LEE GREENWOOD HEADLINES AT THE RIVERSIDE
American country music artist Lee Greenwood will perform in Don's Celebrity Theatre at the Riverside, Thursday-Sunday, Nov. 8-11 at 7 p.m. He has more than 30 albums to his credit and in 2013 released an album called "ICON." Tickets are $40.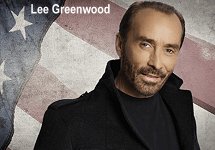 For Greenwood's latest CD "I Want To Be In Your World," he wrote three of the seven songs and plays saxophone on the original track, "Here Comes Love There Goes My Heart." Music has always been a part of his life. Greenwood started playing piano at 7-years-old and saxophone at 12. He had his first group the Moonbeams in junior high, and when he finished high school, he played most of the instruments in the orchestra.
Among his many awards, Greenwood is most famous for his song "God Bless the USA," which won CMA Song of the Year in 1985. This song has been voted the most recognizable patriotic song in America and is now part of the film for Homeland Security shown when swearing in new United States citizens.
ALWAYS AMUSING, LARRY THE CABLE GUY VISITS E CENTER
Top comedian Larry the Cable Guy will appear in concert at The E Center at the Edgewater on Saturday, Nov. 24 at 8 p.m. Tickets start at $45.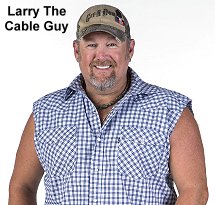 Larry, born Daniel Lawrence Whitney, won Billboard's 2005 Comedy Artist of the year and Comedy Album of the year and received the Billboard Top Comedy Tour Award in 2006. With his wit and abundance of material, he's released seven comedy albums and was one of the members of the famous "Blue Collar Comedy Tour," which included Bill Engvall, Ron White and Jeff Foxworthy.
As an everyman, Larry was born in Pawnee City, Neb., and raised on a pig farm before attending high school in Florida. He started his career in the early 1990s in radio before migrating to stand-up under his real name. He became famous after developing the Cable Guy character, which is the stereotypical redneck personality with a thick Southern accent he maintains all the time now. One of his expressions is the catchphrase "Git-R-Done!" and that's what he accomplishes every time he's on stage.
BOBBY COLLINS BRINGS LAUGHS TO THE AVI
Comedian Bobby Collins will visit the Avi Resort on Saturday, Nov. 17 with a show in the Grand Ballroom at 7 p.m. Tickets start at $20.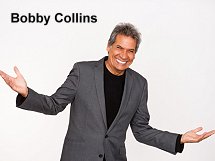 Native New Yorker Collins has an ability to translate the human condition in a relatable manner. He can skillfully dissect everyday life. With comedic characterizations he exposes the humor of day-to-day situations along with serving up resplendent rants on world events. He can creatively dismantle all socioeconomic, race and age divides.
Collins has a genuine everyman likeability, which he has earned having worked day jobs to pursue a dream. To pay bills, he's flipped burgers and been a substitute high school history teacher while performing in comedy clubs at night.
With hesitation, Collins ventured into sales in the high fashion industry and in the 1980s rose to vice president at Calvin Klein. The time came when he had to decide whether-or-not to stay with job security and substantial steady income or to pursue the dream of being a full time, stand-up comedian. Today, audiences have the joy of Collins' decision to make people laugh.
RICK MICHEL SALUTES FRANK SINATRA AND HIS MUSIC
Rich Michel is bringing his "Sinatra Forever: A Salute to Frank Sinatra" show to Don's Celebrity Theatre at the Riverside Wednesday-Sunday, Nov. 21-25 at 7 p.m. Tickets are $35.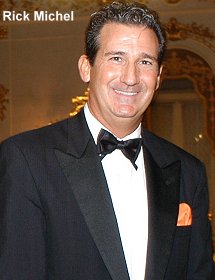 Even though Michel has been a master impressionist for more than 30 years, his Sinatra show is not an impersonation presentation but rather a perfect interpretation of the man's music. His "sound" is exact. Michel shares the stage with a live band and some being original members of Sinatra's band. "Sinatra Forever" is a timeless concert and part of the American Songbook with all the original arrangements.
Michel has been performing in Las Vegas since 1981, working from one end of the Strip at the Tropicana to the other at the Stratosphere.
NUTCRACKER BALLET MAKES SEASON BRIGHT
Anaheim Ballet's production of "The Nutcracker" will bring the holiday season to life for families at the Riverside in Don's Celebrity Theatre Dec. 6, 7 and 8 at 7 p.m. and Dec. 8 and 9 at 3 p.m. Adult tickets are $30 and $12 for children 12 and under.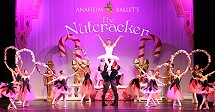 This ballet, which is the heartwarming tale of Clara and her Nutcracker doll, is a tradition and cornerstone of seasonal family entertainment. Audiences experience the battling toy soldiers and menacing mice, Russian athletic dancers, prancing Bon Bons and Tchaikovsky's "Waltz of the Flowers."
TOP OF NEXT COLUMN
COMEDIANS MAKE WEEKENDS LAUGHABLE AT THE EDGEWATER
Two different comedians are paired every weekend at "Comedy on the Edge" in the newly renovated venue at the Edgewater Friday-Sunday at 7 p.m. Tickets are $15 and U.S. veterans are eligible for a $2 discount on Sundays.
Future comedians include: Mike James and Romarick Anderson Nov. 2-4; Phil Johnson and Joel Bryant Nov. 9-11; Grant Lyon and Brian Apprille Nov. 16-18; Rick Izquieta and Leah Wyman Nov. 23-25; Chris Simpson and Charlene Mae Nov. 30-Dec. 2; Skip Clark and Joseph Nybyk Dec. 7-9; Tobe Hixx and Shanna Christmas Dec. 14-16; Joey Medina and Patrick O'Sullivan Dec. 21-23; and Manny Hernandez and Jerry Garcia Dec. 28-30.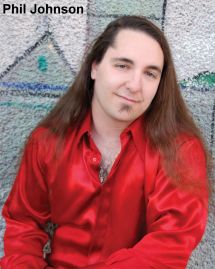 Phil Johnson will share the stage with Joel Bryan Nov. 9-11. Johnson has performed stand-up for more than a decade with a quest for self-awareness and our place in today's world with new social issues and keeping relationships alive. He appeared at the Sundance Film Festival and the Edinburgh Fringe Festival, using his comedy and music to dissect the dilemma of individuality verses acceptance in his own life and others. On stage his humor is playful. His likeable, endearing manner allows him to shake things up without antagonizing the audience.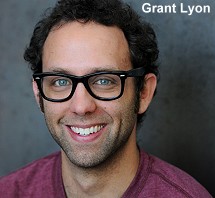 Grant Lyon is matched with Brian Apprille Nov. 16-18. Lyon, a 10-year stand-up veteran narrates a lot of personal experience comedy and social commentary about our society describing his approach as "sophisticated immaturity." He started his career at The Punch Line Comedy Club in San Francisco, and from there moved to the big-name comedy clubs. Lyon was once a collegiate soccer player but was lured to the field of comedy where he's become a sharp observer.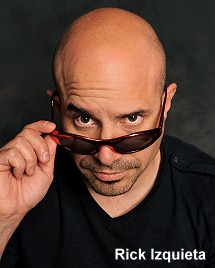 Rick Izquieta is teamed with Leah Wyman Nov. 23-25. The eight-year comedy veteran Izquieta's subject matter revolves mostly around family, Spanish culture, gay community, sports and some current affairs. He's also been heard on Sirius Radio and is currently producing a comedy documentary about the beginning of a comedy career titled "Making A Comedian." He has created comedy sketches on "Funny or Die," and been the voice for Black Belt TV's MMA fights and a Montejo Beer commercial.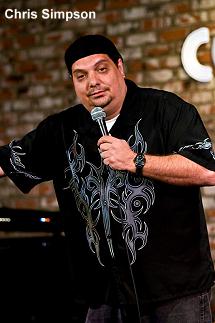 Chris Simpson make laughs with Charlene Mae Nov. 30-Dec. 2. Simpson has been on the stand-up scene for 20 years. His critical mass comedy is described as a midair collision of Don Rickles material with Rodney Dangerfield jokes. Simpson has hosted "Faizon Love's Televised Comedy Brawl" comedy competition and spent time entertaining U.S. troops.
GOLDEN NUGGET HOSTS CRAFT FAIR
In time for the holidays, the 22nd annual Craft Fair will take place Friday, Dec. 7 from 8 a.m.-4 p.m. in Gold Diggers at the Golden Nugget. Through Nov. 30 creative folks can purchase a table for $25 to sell their arts and crafts. All the proceeds will be donated to the Angel Tree Holiday Program.
RIVERSIDE SHOWS PAY TRIBUTE TO MUSIC STARS
On the schedule at the Riverside in Don's Celebrity Theatre are headlining shows honoring music superstars Johnny Cash, Jerry Lee Lewis and Elvis Presley Nov. 14-18 and The Carpenters Nov. 28-Dec. 2.
Leading the way will be the rock 'n roll "Cash, Killer and the King" tribute show featuring the hit music from the three music icons: Cash, Lewis and Elvis. This production covers the music of these artists from the 1950-s Sun Records era and beyond. The three singers were a significant part of the historic jam session on Dec. 4, 1956, which became known as "The Million Dollar Quartet!" The show is highlighted by a full band backing the artists. Tickets are $30.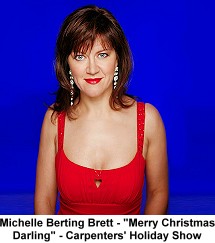 "Merry Christmas, Darling - A Carpenter's Holiday Show" will run Wednesday-Sunday, Nov. 28-Dec. 2 at 7 p.m. This family-friendly show celebrates the classic Carpenters' Christmas recordings and their biggest pop hits including "Close to You," "Top of the World," and "We've Only Just Begun." The brother-and-sister act released two classic Christmas albums and two Christmas-themed television specials. To this day, their music plays every holiday season with their Christmas records still topping "Favorite Holiday Album" lists every year. Michelle Berting Brett takes center stage as Karen Carpenter. She is accompanied by a seven-piece Nashville band directed by Harry Sharpe. Tickets are $35.
'THE RAT PACK' BRINGS NOSTALGIA TO THE AVI
"The Rat Pack" show in the Avi Grand Ballroom on Friday, Dec. 7 at 7 p.m. will be a time to look back to when friends and superstars Frank Sinatra, Dean Martin and Sammy Davis, Jr. were at the top of their game. Portraying these show biz masters will be Sebastian Anzaldo, Johnny Edwards and Nicholas Brooks respectively taking the audience back to an impromptu performance at the Sands Hotel in the 60s. The trio will perform each star's greatest hits and recreate the comradery and patter they made famous. Tickets start at $20.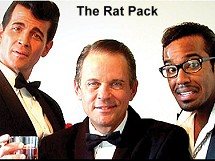 ABOUT TOWN NEWS
The second Classic Car Show will be held in the Parking Lot at the Laughlin River Lodge Friday-Saturday, Nov. 2-3 with food, spirits, music, etc. Vehicles being showcased will include cars, hot rods, lowriders, and motorcycles. It's free to view the vehicles and $25 to enter one.
The Colorado Belle's next Riverwalk themed weekend-long event will be the Freedom Festival Nov. 9-11 with free live country rock music by Aces & Eights and Rebel Heart on the Loading Dock Stage. The food and beverages for sale will promote all-American homestyle cooking. Festival hours are Friday 2-10 p.m., Saturday 2 p.m.-midnight, and Sunday noon-7 p.m.
The Veterans Weekend Celebration at the Tropicana will feature the VTT Traveling Vietnam Memorial Wall on display in the North Parking Lot, Friday-Sunday, Nov. 9-11. The 4th Annual Run for the Fund Charity Poker Run will be held Saturday, Nov. 10 with registration in the valet area at 8 a.m. Cost is $30 for the rider and $10 for a passenger. On Sunday, Nov. 11 the Veterans Day Pig Roast Dinner will take place at Victory Plaza 4-7 p.m.
The Grand Canyon Pro Rodeo Finals will be hosted at the Mojave Crossing Event Center across the Colorado River from the Avi in Fort Mohave, Ariz., on Friday, Nov. 9 at 7 p.m. and Saturday, Nov. 10 at 2 p.m. Tickets start at $10 for the family-friendly event.
The Spartan Race is set for Saturday-Sunday, Nov. 17-18 at Laughlin Events Park.
It will be two days of obstacle-filled racing: Sprint races (3-5 miles, 20-23 obstacles) on Saturday; Super races (8-10 miles, 24-29 obstacles) on Sunday; and Kids races both days. Ticket prices for participants vary by race type. The spectator fee is $20 per day. Cash parking fee is $10 per car, $20 per van, and $50 per bus or RV.
CONTINUE ON TO...:


THIS WEEK'S >LAS VEGAS NEWS
LAST MONTH'S >LAUGHLIN NEWS
>VEGAS VIEW FULL ARCHIVES
Return to >"Heard Around Town"
Return to >Las Vegas Leisure Guide