SOCIETY OF SEVEN AND JASMINE TRIAS WILL CALL GOLD COAST HOME
Hawaiian group Society of Seven will bring their lively variety show to the 400-seat Gold Coast Showroom for an extended run beginning Nov. 6. Joined by season three "American Idol" finalist Jasmine Trias, Society of Seven is scheduled to appear every Friday, Saturday and Sunday with two shows daily at 3:30 p.m. and 7 p.m. Tickets start from $29.95, call 702-251-3574.
Column Continues Below Advertisement
Society of Seven offers energetic shows that combine comedy sketches, celebrity impersonations, dance and live music performances. The seven-man group has been entertaining fans for more than 40 years.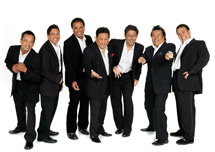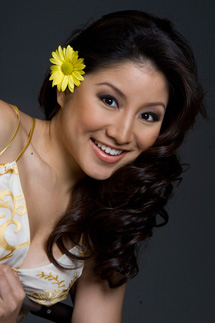 'FRANK MARINO's DIVAS LAS VEGAs' SIGNS WITH IMPERIAL PALACE
"Frank Marino's Divas Las Vegas" recently signed a one-year contract with the Imperial Palace for shows nightly except Friday at 10 p.m. Tickets are $69 and $79, call 888-777-7664.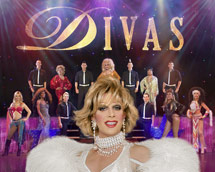 Presented by comedic icon and 25-year Strip headliner, Frank Marino, the 75-minute production with six back-up dancers features 16 male, lady look-alike impersonators showcasing female singing superstars and Marino as a Joan Rivers-emcee. Marino's "Queens" wear flamboyant costumes and in early 2010, an all-new custom set will be unveiled.
CABO WABO® CANTINA WILL HOLD EARLY NOVEMBER OPENING
Sammy Hagar will open his Cabo Wabo® Cantina in early November inside the Miracle Mile Shops at Planet Hollywood. On Friday, Dec. 4, the Rock and Roll Hall Famer will host an official grand opening bash with a live performance by his band, the Waboritas. The two-level, 15,000-square-foot live music venue, cantina and restaurant will be located on the Strip across from the new CityCenter complex.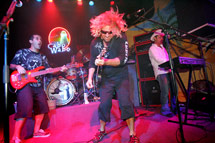 Cabo Wabo Cantina that opened in 1990 transformed Cabo San Lucas from a sleepy Mexican town into a major tourism and party destination. The Las Vegas venue will be the flagship U.S. location. There will also be a retail store with the world-famous logo merchandise and an adjacent Daiquiri Bar.
SHA NA NA BRINGS 40TH ANNIVERSARY TOUR TO SOUTH POINT
Sha Na Na is bringing their 40th Anniversary Tour to the South Point, Nov. 13-15. The group launched their career at Woodstock in 1969 going on stage just before Jimi Hendrix.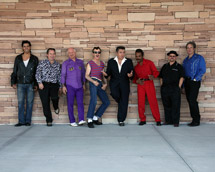 They starred in 97 episodes of their own TV variety show in the late 70s and early 80s and were in the movie "Grease." Still going strong, the group released 18 albums and had six songs on the Grammy nominated "Grease" soundtrack. Tickets are $25 to $30.
TWO ROCK ICONS PLAN TO OPEN 'DEAD MAN's HAND' ROCK BAR
Alice in Chains guitarist/vocalist Jerry Cantrell and Anthrax guitarist Scott Ian plan to launch a gritty new rock bar and performance venue, Dead Man's Hand, in November. The bar will be located at 3525 W. Russell Road, one block west of the I-15 Russell exit. For information, call 702-673-1700.
The 200-capacity place will feature a long, semicircle-shaped bar seating 30 and a stage showcasing DJs and live music. Cantrell and Ian plan to put together a Dead Man's Band with some other sub-partners from well-known bands.
The venue's first events will be the weekend of Nov. 6 with System of a Downs John Dolmayan and Friends and Nov. 7 with a party for "Bluff" magazine.
TERRY FATOR HAS NEW VERSIONS OF HIS WINSTON AND EMMA PUPPETS
Mirage headliner Terry Fator has debuted new versions of his beloved puppets Winston, The Impersonating Turtle, and Emma Taylor in his show.
The two puppets have been made over by design, fabrication and production company Puppet Heap. Winston and Emma, among others, helped Fator get his start on "America's Got Talent." Show tickets range from $59 to $129, call 702-792-7777 or 800-963-9634.
THE FOUR TOPS WILL RETURN TO THE ORLEANS
The Four Tops, whose meteoric rise to fame began with their 1964 Motown hit "Baby I Need Your Loving," will bring their soulful songs to The Orleans Showroom, Nov. 20, 21 and 22. Tickets start from $39.95, call 702-365-7075.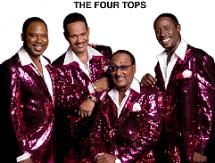 One of the few groups to have hits in three consecutive decades, The Four Tops' songs were splashed across the pop and R&B music charts from the 1960s through the 1980s. In 1990, the group was inducted into the Rock & Roll Hall of Fame.
Audiences also know the tunes of The Four Tops from their R&B hit "Are You Man Enough," from the movie "Shaft in Africa," and the song "Back To School Again," heard in the film "Grease 2." Their final solo Top 40 hit, "Indestructible," was the theme of the 1988 Summer Olympics in Seoul, South Korea.
PARIS LAS VEGAS PREPARES FOR 3RD ANNUAL WINE CELEBRATION
Paris Las Vegas has announced the return of the annual Beaujolais Nouveau celebration and uncorked a room package with tastings and special events. As regulated by French law, Beaujolais Nouveau is released no sooner than the third Thursday in November – six weeks after the grapes are harvested, this wine is ready to drink. Huge celebrations take place worldwide at one minute after midnight to taste the latest wine of the harvest, with 65 million bottles to be consumed in the following months.
The Beaujolais Nouveau package is available Nov. 18 - 22 and can be booked online at www.parislasvegas.com/wine.
TOP OF NEXT COLUMN
DINING NEWS
The Florida-based brand Anthony's Coal Fired Pizza is opening its 18th store in Town Square and first one in Las Vegas. The restaurant, which has authentic coal-burning ovens as its trademark, features coal-fired pizza, oven-roasted chicken wings. The new eatery has a private dining room for groups, a full-service bar, 10 flat-screen televisions and opens daily at 11:30 a.m.
Simon at Palms Place, Chef Kerry Simon's premier restaurant, will offer a five-course beer dinner on Tuesday, Nov. 10 at 7 p.m. Simon will unite with seventh generation Van Steenberge Brewery owner Jef Versele and acclaimed Belgian Beer Chef Achim Vandenbussche to present this dining experience. Cost is $75 per person.
After eight years, Chef Josette Leblond will close her Josette's Bistro on West Flamingo on Nov. 14. The reason is she is partnering with entertainer Tony Sacca to remodel a space at Neonopolis downtown and open the first Las Vegas Rocks Café.
Nove Italiano atop the Palms resort is offering a specially priced, chef-tasting four-course pre-fixe menu for $45 excluding tax and gratuity. It's available Friday and Saturday until 7:30 p.m. and Sunday through Thursday until closing.
Rubio's Fresh Mexican Grill, which has eight Vegas locations, is celebrating two new openings in the Vegas Valley.
Ricardo's Mexican Restaurant at 4930 W. Flamingo Road will host "Be Our Guest," a fundraising dinner from 6 to 10 p.m. to benefit The Shade Tree on Wednesday, Nov.11. Ricardo's will donate 30 percent of all sales.
Strip House at Planet Hollywood is offering the "America's Got Talent Live!" package that includes a dinner featuring signature menu items for $55 paired with any price level ticket to the show hosted by Jerry Springer. Offered through Dec. 13, the dinner must be redeemed between 5 and 6:30 p.m., call 702-785-5000.
X 107.5 XTREME RADIO WILL PRESENT HOLIDAY HAVOC '09
Holiday Havoc '09 presented by X 107.5 Xtreme radio at the Joint at Hard Rock will feature Alice in Chains with special guest Dead by Sunrise and others on Night 1- Friday, Dec. 11, and Muse with special guests Cage the Elephant, Paper Tongues & Afghan Raiders on Night 2- Saturday, Dec. 12. Tickets start at $39.50, call Ticketmaster 800-745-3000.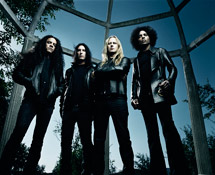 Rock band, Alice In Chains, is back on tour to promote their first studio album in more than 14 years, "Black Gives Way To Blue." Selling more than 17 million albums worldwide garnered the band two No. 1 albums and six Grammy Award nominations. After a three year break following the death of lead singer Layne Staley in 2002, the band got back together with a new lead singer William DuVall.
Muse, the multi award-winning trio from the UK is touring in promotion of their 5th studio album, "The Resistance," which was released this past September. The same month of their album release, Muse played their first U.S. televised performance at the MTV Video Music awards.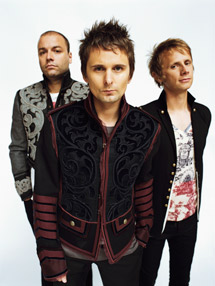 NEW YORK-NEW YORK HOLDS VINNEY VS. VINNEY COMPETITION
New York-New York has spent months searching Las Vegas for the quintessential "Vinny," which has led to two final candidates, Vinny Red and Vinny Blue. The duo is battling until the end in over-the-top contests at various locations throughout the Strip resort to determine which one can best walk the New York-walk and talk the New York-talk. The winning "Vinny" will be an accessible information source to tell guests where to go and what to do in a, no-apologies New York-kind of way.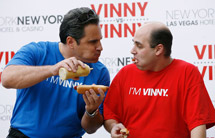 Points awarded during competitions and fan votes will determine the ultimate winner. Votes can be cast on the New York-New York Web site or on the Vinny vs. Vinny Facebook page. Appropriately colored ballot boxes are inside New York-New York for voting.
The final Vinny vs. Vinny contest will be a casino challenge held on Friday, Nov. 6. The two men will partake in a rascal race at Center Bar, fun facts memory quiz, and a steak challenge at Gallagher's Steak House.
RED ROCK HAS EXTREME BURGER CHALLENGE
Las Vegas resident and competitive eater "El Toro" Jimenez was the first to try the LBs' newly added menu item, the "Extreme Burger," but was defeated. The test has a one-hour time frame.
The "Extreme Burger" includes six half-pound patties loaded with American cheese, smoked bacon, a Portobello mushroom, lettuce, tomato, red onion, pickles, LBS Burger sauce, spicy mustard, herb mayo, "ghost" peppers, the hottest in the world as confirmed by the Guinness Book of World Records, and a pound of French fries. Finish it all, it's on the house. Also, the first person to finish it will have it named in their honor and be the inaugural member of the "Heroes of the Hamburger" wall.
QUICK CLIPS
The Golden Nugget downtown will open its new 500-room Rush Tower to the public on Nov. 20. The $150 million expansion, which includes a new restaurant, three retail shops and a casino floor expansion, will bring the property's total room count to 2,417 making it the largest downtown. The resort is also spending $1 million to build a new entrance at First Street and Carson Avenue.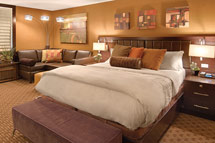 In celebration of Harlequin's 60th anniversary, the internationally recognized publisher is sponsoring an exhibition of original cover art. "THE HEART OF A WOMAN: Harlequin Cover Art 1949—2009" at the Paris Gallerie will be on display until Jan. 31, 2010, and open to the public for free. Hours will be 10 a.m. to 10 p.m.
The Star of the Desert Arena at Buffalo Bill's in Primm, Nev., located on the Nevada / California border about a 40-minute ride from Las Vegas, has a stellar lineup for November. Scheduled concerts are: Queen Latifah – Nov. 5; Foreigner – Nov. 11; John Fogerty – Nov. 14; Kenny G. – Nov. 20; Patti LaBelle – Nov. 27; Dwight Yoakam – Nov. 28. Ticket prices range from $19 up to $74.95 and vary by artist.
The Latin Recording Academy® observes a 10-year milestone anniversary this year when it hosts the 10th Annual Latin Grammy Awards on Nov. 5, in Las Vegas.
More than 4,000 walkers are expected to turn out for the Juvenile Diabetes Research Foundation (JDRF), Nevada Chapter's annual Walk to Cure Diabetes, on Saturday, Nov. 14 at the University of Nevada Las Vegas. For information, visit www.jdrf.org or call 702-732-4795.
The eighth annual Vegas Valley Book Festival, the largest literature event in Las Vegas, will be held Nov. 4-8. Most events will take place at the Historic Fifth Street School downtown. Events are free and open to the public. For information, call 702- 229-5431 or visit www.artslasvegas.org/vvbf/.
Column Continues Below Advertisement
CONTINUE ON TO...:
>THIS WEEK'S LAUGHLIN NEWS
>LAST WEEK'S LAS VEGAS NEWS
>VEGAS VIEW FULL NEWS ARCHIVES
>Return to "Heard Around Town"
>Return to Las Vegas Leisure Guide