<!A-- Left Column -->

The Southern Nevada Birding and Wildlife Trails Partnership (SNBWTP) is in the midst of planning a Birding and Wildlife Festival. The eco-tourism event is scheduled for March 12-15, 2009. Activities will include: educational workshops, seminars, guided birding and wildlife tours, a tradeshow, possible art show, guided tours, renowned speakers, a wine and cheese social as well as a special dinner banquet. There will be a $20 registration fee. Additional guided kayak and rafting tours and other specially-designed tours will also be available for an additional fee and more information will be available soon. Special room rates will be offered to registrants.
The man of many personalities and master mimic of more than 200 voices, Rich Little will headline at Harrah's Rio Vista Outdoor Amphitheater, Nov. 15-18, with 7 p.m. shows nightly and a second show at 9 p.m. on Saturday. Tickets are $35, $40 and $45, call 800-447-8700 or 702-298-8510.
Infamous for his skewing of political figures, Little has charmed, amused, annoyed, and lampooned politicians from here to his native Canada. He entertained at the Reagan inaugurals and spent much of 2003 touring the United States with his show "The Presidents."
Little says, "An impression is what you think a person sounds like. It could be an exaggeration or a cartoon. It's your impression. I think of an impersonation as more of an exact copy. Knowing the person personally is not important; it's knowing the speech patterns and mannerisms in order to imitate the person the way the public sees him." It took him seven years to perfect Frank Sinatra, but only several minutes to mimic Dr. Ruth.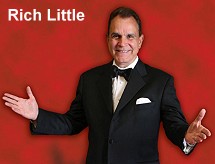 The son of a doctor in Ottawa, Canada, Little started his "career" at age 12 when he answered back to his teachers in their own voices. Observing the teachers in action was infinitely more fun than paying attention to class work. To get dates, he'd find out the girl's favorite actor, then call her up imitating that actor's voice. Then when Little would show up, he'd say, "Sorry, Cary can't make it."
Laughter is provided by comedians weekly at the River Palms when they take center stage at the River Palms Comedy Room. Comedians Eric Lyden, Kevin Jordan and Ron Morey will perform Nov. 18-22. Shows are presented Tuesdays through Saturdays at 9 p.m. Tickets are $17.95 for general seating and $22.95 for preferred seating, call 866-448-7849 or 702-474-4000.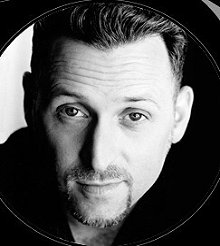 TOP OF NEXT COLUMN
Lyden's sarcastic and self-deprecating style of comedy celebrates the life and struggles of the working class hero. After dropping out of community college and failing to get promoted at Sears, Lyden pursued stand-up comedy--the only career that actually encouraged his philosophy of "life is way too hard." Making his lower-middle-class existence and lack of success the focal point of his comedy, Lyden gives his audiences someone they can both laugh with and relate to. He made his national television debut on "Comics Unleashed with Byron Allen."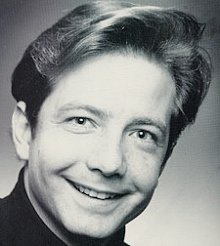 Morey's energetic act includes music, impressions, and characters. He has entertained troops for the USO in places such as Italy, Spain, Greece, Bahrain, and Kuwait.
Country entertainer Roy Clark will appear at Don's Celebrity Theatre at the Riverside, Nov. 12-16 at 7 p.m. Tickets are $32, call 800-227-3849, ext 616.
In the 70s, Clark symbolized country music in the United States and abroad. He did guest-hosting for Johnny Carson on "The Tonight Show" and performed to packed houses in the Soviet Union on a tour that sold out all 18 concerts. As one of the hosts of TV's "Hee Haw" (Buck Owens was the other) for more than 20 years, Clark picked and sang and offered country corn to 30 million people weekly.
Among his numerous vocal hits are "Yesterday, When I Was Young" and "Thank God and Greyhound." Instrumentally he has won awards, for both guitar and banjo. Clark also co-starred on the silver screen with Mel Tillis in the comedy "Uphill All the Way."
Hee Haw's audience was beginning to decline in the early 80s and Clark diversified his interests by investing in property, minor-league baseball teams, cattle, publishing, and advertising. In 2005, Clark released two albums, "Hymns from the Old Country Church" on Wonder Disc and "Bluegrass: It's About Time, It's About Me," a collection of his bluegrass-oriented tracks, on Varese.
Two big citywide events are set for next January in Laughlin. Winter Break, which is a festival celebrating life to its fullest and targeting the 50-plus age group, will take place Jan. 9-15. The Laughlin Desert Challenge is the annual off road desert racing event set for Jan. 22-25. An event highlight is the annual Laughlin Leap, where off-road vehicles and monster trucks compete for cash and bragging rights in a contest that sees vehicles fly off a hill, leaping more than 100' through the air.
The famous rhythm and blues / soul / doo-wop vocal group from New York, Little Anthony and The Imperials will appear at the Pavilion Showroom at the Tropicana Express, Nov. 28-29. Tickets for their 8 p.m. shows are $25, $29 and $35.
The group, which was first active in the 1950s, has been nominated for a possible 2009 induction in to the Rock 'n' Roll Hall of Fame. Lead singer Jerome Anthony "Little Anthony" Gourdine is noted for his high-pitched falsetto voice.
Staying relevant, Little Anthony and The Imperials have recently released a new recording entitled, "You'll Never Know." Their new Web site address is littleanthonyandtheimperials.net, which heralds their 50th anniversary.
CONTINUE ON TO...:
>THIS WEEK'S LAS VEGAS NEWS
>LAST WEEK'S LAUGHLIN NEWS
>VEGAS VIEW FULL ARCHIVES
>Return to "Heard Around Town"
>Return to Las Vegas Leisure Guide